There was no last-minute change of heart for Chris Olave.
In the days leading up to the Rose Bowl, Olave's continued participation in practice with the team even though he had opted out of the game left reason to wonder if there was perhaps a slim chance that he would end up playing against Utah after all. Even Ryan Day didn't completely rule out the possibility when he was asked about it at his final pregame press conference on Friday morning.
But while Olave was on the sidelines with the rest of the team on Saturday, he wasn't in uniform for the game, and while he might have felt tempted to run out onto the field at times, he ultimately stuck with his decision to not play against Utah and preserve his health for the 2022 NFL draft, in which he's projected to be a first-round pick.
"Of course it was a thought, but I trusted in my guys, all the younger guys and I trusted in C.J. (Stroud) and all the team," Olave said after the game. "I believed in my guys at the end of the day, and I was proud of them, the way they played."
Ultimately, Ohio State didn't need Olave to win Saturday's game, as C.J. Stroud threw for 573 yards and six touchdowns while Jaxon Smith-Njigba caught 15 passes for 343 yards and three touchdowns and Marvin Harrison Jr. caught six passes for 71 yards and three touchdowns. And Olave said he thought the Rose Bowl would be one of the lasting memories of his four-year Ohio State career even though he didn't actually play in it.
"Just being there with my teammates, all the energy on the sideline, it was fun for me," Olave said. "Just to be able to witness that, one of the best games ever, game of the year, so just to be able to be here is huge."
Ransom fractures leg
While most of Ohio State's players were running around the field and jumping for joy after the Buckeyes finished off their 48-45 win over Utah on Saturday, one player who wasn't able to participate in the postgame celebration was sophomore safety Lathan Ransom, who was carted off the field after suffering a leg injury during Britain Covey's 97-yard kickoff return touchdown for Utah in the second quarter.
As he attempted to make a tackle on Covey, Ransom's leg collided with teammate Cameron Martinez at full speed, knocking both players to the ground. Ransom got the worst of the collision, and stayed down on the grass for multiple minutes while Ohio State's medical staff attended to him and placed on his air cast on his injured leg before he was carted off the field.
While Ryan Day told reporters after the game that he was not sure exactly what Ransom's injury was, Ohio State assistant coach Kerry Coombs – who declined to address his own future after the game, saying "I expect to be having a good time tonight" – said Ransom suffered a left leg fracture and will have surgery to repair the injury as early as Sunday, according to cleveland.com's Nathan Baird. Coombs said Ransom's injury will keep him out of spring practice but he should be healthy in time for the 2022 season.
Day said the injury was similar to the injury Josh Proctor suffered in the second game of the season against Oregon, which knocked Proctor out for the rest of the year.
"Just standing over him just shows you what a tough game this is," Day said. "Prayers go out to Lathan and his family. Hopefully he gets a quick recovery."
Stover starts at linebacker
After moving from tight end to linebacker to the Rose Bowl, Cade Stover ended up playing a massive role for the Buckeyes' defense against Utah.
In a game where the Buckeyes primarily lined up with three linebackers on the field to match up with the two- and three-tight end sets used by Utah, Stover started the game at Sam linebacker and played 46 defensive snaps – more than he's ever played on either offense or defense in any previous game in his career – according to Pro Football Focus.
While Ohio State offensive coordinator Kevin Wilson said earlier this week that no decision had been made on whether Stover would remain at linebacker after the Rose Bowl, calling the position switch "a one-week deal," Stover said after the game that he thinks it's likely he'll remain on defense.
"I think so," Stover said. "We'll see."
Cade Stover says he thinks the move to LB might be a permanent one. pic.twitter.com/wdnqS9RBwv

— Griffin Strom (@GriffinStrom3) January 2, 2022
Standing alongside Stover, Steele Chambers said "I hope so, I really do," when asked whether Stover would stay at linebacker. Wilson said a decision on Stover's future would have to be made now that the offseason has begun, but said he has been impressed by what he's seen from Stover as a linebacker – the position he was initially recruited to play at Ohio State – over the past month.
"He's a better linebacker after a little time over here (at tight end)," Wilson said. "He just played a lot more loose, a lot more confident, he had a lot of learning to do but he was a different animal the last month than he was a year or two ago. He's not even close to the same guy."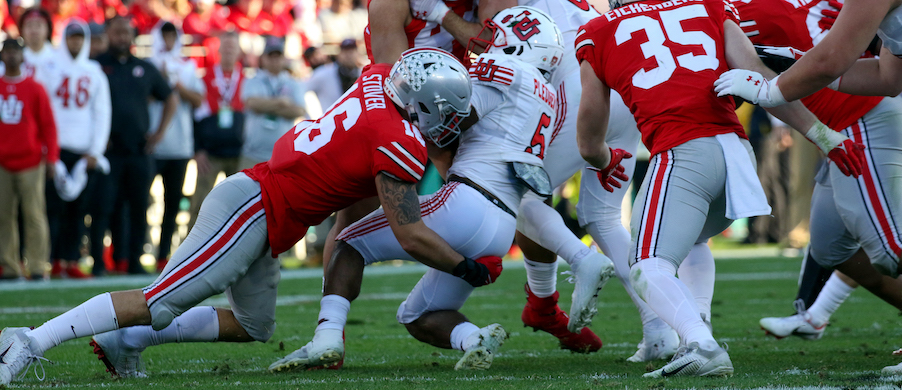 Ruggles undecided on future
If the Rose Bowl was Noah Ruggles' final game as Ohio State's kicker, he'd certainly be going out with a storybook ending.
Ruggles made both of his field goals in the Rose Bowl, including the game-winning 19-yard field goal with just nine seconds remaining, in what he said was "probably the craziest game I've ever been a part of."
"I'm so glad it came down to me," Ruggles said. "I'm so glad I was able to have that opportunity to get that kick to win the game for these guys. Man, I love this team."
Noah Ruggles said bye

pic.twitter.com/16U0fmoxkR

— PFF College Football (@PFF_College) January 2, 2022
But whether Saturday night actually will be the final chapter of Ruggles' Ohio State career remains to be determined. After an incredibly consistent season in which Ruggles made 20 of his 21 field goal attempts and all 74 of his extra point attempts, he'll certainly get looks from NFL teams if he chooses to enter the 2022 NFL draft. He could still return to Ohio State for one more year, however, thanks to the additional year of eligibility provided by all players to the NCAA in 2020.
Ruggles wasn't ready to announce any decision about his future after the Rose Bowl.
"I have not," Ruggles said when asked if he had made a decision. "I don't have much to say about that, sorry."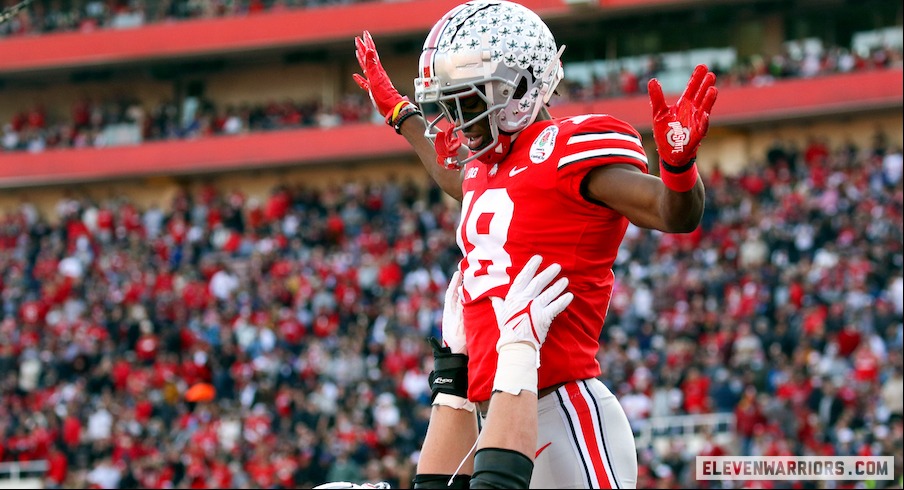 #6 Ohio State 48, #11 Utah 45
Jan. 1, 2022 • The Rose Bowl • Pasadena, CA