In a Rose Bowl shootout for the ages, Ohio State finished the 2021 football season and started the 2022 calendar year with a win.
Despite giving up 35 points in the first half, Ohio State rallied back to defeat Utah, 48-45, in a game where C.J. Stroud became the Buckeyes' first-ever 500-yard passer and Jaxon Smith-Njigba became Ohio State's first-ever 300-yard receiver in a single game.
The Buckeyes scored on all of their last five possessions to win the game, with Noah Ruggles making a game-winning 19-yard field goal with just nine seconds to play.
 
Q1
Q2
Q3
Q4
 

#6

 Ohio State
0
21
10
17
48

#11

 UTAH
14
21
3
7
45
Ohio State's defense forced a punt on the game's opening series, but the Buckeyes went 3-and-out on their opening possession. Utah got the ball back at the 44-yard line and took advantage of the short field, driving 56 yards in five plays – culminating with Britain Covey turning a short pass into a 19-yard touchdown – to score the game's first points.
After another 3-and-out by the Buckeyes on their next possession, Utah got back into Ohio State territory on a 27-yard pass from Cameron Rising to Brant Kuithe and followed that up seven plays later with a 12-yard touchdown pass from Rising to Micah Bernard, who beat Tommy Eichenberg on a wheel route and made a spectacular catch in the right rear corner of the end zone to give Utah an early 14-0 lead, marking the first time all season that Ohio State has allowed 14 points in the first quarter.
Ohio State's offense got going on its third possession of the game. After C.J. Stroud ran for a first down on 3rd-and-8, he completed a 30-yard pass to Emeka Egbuka, who made a spectacular catch along the left sideline. Four plays later, the Buckeyes went for it on 4th-and-1 and dialed up a pass play on which Stroud completed a 25-yard touchdown pass to Marvin Harrison Jr. for the first touchdown of Harrison's Ohio State career.
After that, the game rapidly went into full shootout mode.
Utah marched right back down the field on its next possession, driving 79 yards in nine plays, capping off the drive with a 6-yard touchdown run by Tavion Thomas one play after Jack Sawyer was ejected from the game for targeting.
| OHIO STATE | METRIC | UTAH |
| --- | --- | --- |
| 683 | TOTAL YARDS | 463 |
| 110 | RUSHING YARDS | 226 |
| 20 | RUSHING ATTEMPTS | 44 |
| 5.5 | AVERAGE per RUSH | 5.1 |
| 0 | RUSHING TOUCHDOWNS | 2 |
| 573 | PASSING YARDS | 237 |
| 37-47 | COMPLETIONS–ATTEMPTS | 19-24 |
| 15.5 | AVERAGE per COMPLETION | 12.5 |
| 6 | PASSING TOUCHDOWNS | 3 |
| 28 | 1st DOWNS | 25 |
| 67 | TOTAL PLAYS | 68 |
| 10.2 | YARDS PER PLAY | 6.8 |
| 4-5 | RED ZONE | 5-5 |
| 4-9 | third down conv | 5-12 |
| 7-70 | PENALTIES | 5-50 |
| 25:58 | POSSESSION | 33:53 |
Two plays into Ohio State's subsequent possession, Stroud completed a 50-yard touchdown pass to Jaxon Smith-Njigba.
Covey returned Ohio State's subsequent kickoff 97 yards for a touchdown to extend Utah's lead back to two scores.
Stroud and Smith-Njigba connected for a 52-yard touchdown on Ohio State's next offensive play to make it a one-score game again and complete a span of four touchdowns in just one minute and five seconds of game time between the two teams.
Less than two minutes later, Utah got back to the end zone when it opted to go for it on 4th-and-1 from its own side of the field and Ohio State allowed Rising to run all the way for a 62-yard touchdown.
Stroud and Smith-Njigba connected yet again for what was nearly a 50-yard touchdown on Ohio State's next possession, but Smith-Njigba was stripped by Utah cornerback and former Ohio State commit Clark Phillips III at the 6-yard line and Utes safety Cole Bishop recovered the fumble in the end zone.
Ohio State finally forced its second punt of the game on its next possession and attempted to score before halftime after getting the ball back with 35 seconds left in the second quarter, but ran out of time when Julian Fleming was tackled in bounds at the 32-yard line after Ohio State had used up its timeouts.
A 45-yard connection between Stroud and Smith-Njigba got Ohio State into the red zone on its opening drive of the second half, but the Buckeyes left points on the table again when a Stroud pass intended for Fleming was intercepted by Phillips in the end zone.
Ohio State caught a break after its defense forced a 3-and-out on its next series, however, when Utah's punter fumbled the snap and Bryson Shaw recovered the ball at the 11-yard line. Three plays later, Stroud and Harrison connected for an 8-yard touchdown to cut Utah's lead back to one score.
Utah drove back into the red zone on its next possession, but a pair of tackles by Tommy Eichenberg and a 3rd-and-7 stop by Kourt Williams held the Utes to a 24-yard Jadon Redding field goal, which would be the only points Utah would score in the third quarter.
Ohio State was also forced to settle for a field goal in the red zone on its final series of the third quarter, which Noah Ruggles made from 31 yards out.
Utah opted to go for it on 4th-and-3 from Ohio State's 31-yard line on its next possession, and Ronnie Hickman tackled Kuithe short of the line-to-gain on a two-yard catch, giving the Buckeyes the ball back with a chance to tie the game.
Ohio State delivered by driving 71 yards in seven plays, capping off the drive with a 5-yard touchdown pass from Stroud to Harrison for their third scoring connection of the day.
The Buckeyes forced another punt on their next defensive series for a chance to take the lead, and Ohio State's offense delivered once again as Stroud and Smith-Njigba connected for a spectacular 30-yard touchdown to take a 45-38 lead with 4:22 to play.
After holding Utah to just three points on its first four possessions of the second half, however, Ohio State allowed the Utes to score a game-tying touchdown with just 1:54 to play when Bryson Barnes – who entered the game after Cameron Rising was injured on a Kourt Williams sack – completed a 16-yard touchdown pass to Dalton Kincaid.
It didn't matter, as the Buckeyes drove 56 yards on seven plays in their final possession of the game before Ruggles made the game-winning kick. Chris Booker tackled Covey on Utah's subsequent kickoff return, on which the clock ran out, to seal the 48-45 victory for Ohio State.
In record-setting days for both players, Stroud finished the game with 37 completions on 46 attempts for 573 yards and six touchdowns with one interception while Smith-Njigba finished with 15 catches for 347 yards and three touchdowns.
With the Rose Bowl win, Ohio State finishes the 2021 season with an 11-2 record. The Buckeyes will play their next game Sept. 3, when they will begin their 2022 season with a home game against Notre Dame at Ohio Stadium.
Game Notes
Thayer Munford, Zach Harrison and Teradja Mitchell – the only three captains who were available for the Rose Bowl – were the game captains for the pregame coin toss. Ohio State lost the coin toss for the 10th time in 13 games.
Cade Stover started the game as a third linebacker while Kourt Williams also made his first career start as Ohio State started the game with bigger bodies on the field while Utah started the game in 13 personnel.
Lathan Ransom was carted off the field with a leg injury after being injured during Britain Covey's second-quarter kickoff return touchdown. Ryan Batsch was also injured on the same kickoff.
Julian Fleming left the game with an apparent shoulder injury in the third quarter, but later returned.
Jaxon Smith-Njigba broke Ohio State's single-game record and the all-time bowl record for receiving yards while also breaking Ohio State's single-season records for both receptions and receiving touchdowns and tying his own record for single-game receptions.
C.J. Stroud broke Ohio State's single-game passing record by becoming the first Ohio State quarterback to ever throw for 500 yards in a single game, while also tying the school record for passing touchdowns in a game.
Ohio State now has a 9-7 all-time record in the Rose Bowl, including four straight wins. The Buckeyes' nine Rose Bowl wins are now the second-most of any school behind only USC.
Ohio State has now won 12 consecutive games after a loss.
Ohio State is now 4-0 in non-playoff bowls in the College Football Playoff era.
Ohio State has now won at least 11 games in each of the last 10 seasons except 2020, when the Buckeyes played only eight games due to the COVID-19 pandemic.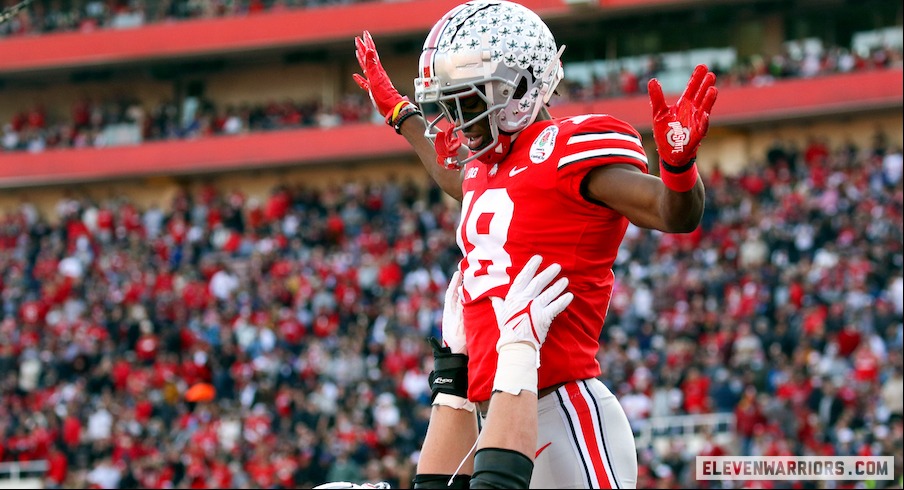 #6 Ohio State 48, #11 Utah 45
Jan. 1, 2022 • The Rose Bowl • Pasadena, CA