For a program used to playing postseason games with national championship implications, No. 6 Ohio State sure was dialed into its Rose Bowl date with No. 11 Utah - especially in the second half - as the Buckeyes overcame a 14-point halftime deficit on the way to a 48-45 win in Pasadena. 
The victory capped an 11-2 season in fine fashion while almost assuredly serving as a springboard into 2022. 
Despite missing starting wideouts Chris Olave and Garrett Wilson, along with starting left tackle Nicholas Petit-Frere due to opt-outs, Ryan Day's offense didn't skip a beat as Jaxon Smith-Njigba exploded for 15 catches for 347 yards and three touchdowns. His 347 receiving yards set Ohio State and bowl game records while pushing his season receiving yards to 1,606, also good for a new standard in Columbus. Oh and his 15 catches not only tied his own single-game school record but pushed his season total to 95, breaking Parris Campbell's mark of 90 set back in 2018. 
With C.J. Stroud and Smith-Njigba feasting all game, it took until the second half for Ohio State's depleted defense to solve the Utes which was just enough to complete the comeback and improve to 9-7 all-time in the Granddaddy of Them All. 
So let's get to it - Five Things from an insane game in Pasadena. 
---
STROUD SHREDS
C.J. Stroud made it known he felt disrespected by finishing just fourth in the Heisman Trophy voting and he didn't care much for Desmond Howard's bullshit either. It was clear Stroud had a chip on his shoulder coming into the game and the dude made a statement completing 37-of-46 passes (80.4%) for an Ohio State single-game record 573 yards including a Rose Bowl record six touchdowns.
And of course, all of this production came despite two of his top three targets opting out. 
Stroud even added a purposeful 10-yard run on a 3rd-and-8 snap to keep the chains moving on what became a touchdown drive in the early going, cutting Utah's lead to 14-7. 
His lone interception seemed like a killer, coming in the end zone on the first possession of the second half as Ohio State trailed 35-21, but Stroud regrouped to lead the Buckeyes on five straight scoring drives capping the comeback. 
Amid clutch throw after clutch throw, Stroud was 2-for-2 on fourth down with a 25-yard touchdown strike to Marvin Harrison Jr. on 4th-and-1 and a 9-yard completion on a 4th-and-4 to set up a 30-yard touchdown toss to Smith-Njigba on the next snap giving Ohio State its first lead, 45-38, with 4:22 left in the fourth quarter. 
Even his one-time non-believers have to be on board after this performance and it should serve as a nice launch point into the 2022 season. 
FRESH ROSES
While Smith-Njigba stole the show, Ohio State's next crop of stud wide receivers, Marvin Harrison Jr. and Emeka Egbuka, gave fans an exciting glimpse into the future combining for nine catches, 117 yards and three touchdowns. 
After logging just five receptions in Ohio State's first 12 games, good for ninth-most on the team, Harrison Jr. caught six balls on eight targets for 71 yards and three scores in a gigantic performance. 
His first collegiate touchdown came on a 4th-and-1 snap as he beat his man on a go route and hauled in a tear-drop from Stroud in the front-left corner of the end zone for a 30-yard score cutting Utah's lead to 14-7 early in the second quarter. 
Number two arrived early in the third quarter as he glided along the back of the end zone for an 8-yard score bringing Ohio State to within seven, 35-28. His final touchdown gave the Buckeyes a 38-38 tie early in the final quarter via a 5-yard hook-up with Stroud on 3rd-and 3. Thinking ahead to next year, his clutch performance has to be a huge confidence booster. 
Also thrust in the limelight, Egbuka posted three catches on three targets for 46 yards and was again a major factor as a lethal kickoff return man. 
Egbuka's 30-yard snag along the left sideline set up Harrison's 25-yard score and his 16-yard connection with Stroud in the third quarter helped set up a Noah Ruggles field goal cutting Utah's lead to 38-31.
On kickoff return, Egbuka's 39-yarder to the OSU 40 helped set up a score, he had a 75-yarder called back, and his 33-yard return to the OSU 42 was a key play in Ohio State's game-winning field goal drive. 
I can't see a scenario in which the 2022 receiver room doesn't shake out with JSN, Harrison Jr. and Egbuka as the clear-cut top three producers. 
NO, YOU LOCK IT UP
After the woefully short-handed Ohio State defense was bullied and confused in the first half, the group locked up Utah in the second half. 
Speaking of short-handed, Utah played the homestretch of the fourth quarter without quarterback Cameron Rising, after he'd amassed 305 total yards and three touchdowns but there's no question the Buckeye defense deserves a hat tip for the tale of two halves. 
As Utah built a 35-21 lead at intermission, the Utes racked up 324 yards on 6.6 yards per carry and 8.1 yards per play. Kyle Whittingham's squad also converted 4-for-7 on third/fourth down plays. 
But somehow, a beleaguered Buckeye defense playing a ton of reserves came out with its hair on fire in the second half and held Utah to 10 points and 139 total yards on 3.2 yards per carry and 5.0 yards per play while stopping the Utes on 2-of-8 third/fourth down conversion attempts. 
The rush defense in particular came up big. Utah entered the Rose Bowl ranked No. 2 in the country averaging 5.62 yards per carry and for OSU to hold it to that 3.2 in the second half and 5.1 for the game was impressive. That reality shines even more when you consider the Buckeyes played without defensive linemen Haskell Garrett and Antwuan Jackson up the middle and Cody Simon at linebacker.
For comparison, in losses to Oregon and Michigan - the two legit rushing attacks Ohio State faced this year - the Ducks and Wolverines both averaged almost two more yards per carry against the Buckeyes than they did over the course of the season. Oregon put up 7.08 yards per try against Ohio State and Michigan said hold my beer with 7.24 a pop. 
Defensive tackle Taron Vincent is one name to single-out for his run-stuffing exploits as the sixth-year guy recorded six stops, consistently penetrating the Utah front. Defensive end Zach Harrison also stepped up along Larry Johnson's front with five tackles.
A linebacking corps that struggled all season saw huge contributions from guys frankly not known for huge contributions. Cade Stover converted from tight end to Sam linebacker during bowl practice and was sensational with six tackles in a career-high 46 snaps. He played with an aggression not often seen from OSU linebackers this season and when he wasn't making tackles, he generally helped funnel Ute ball carriers back inside to teammates. Heck of an outing from him. I don't think we'll be seeing him back at tight end anytime soon.
Middle linebacker Tommy Eichenberg deserves the highest accolades on defense after tallying an Ohio State Rose Bowl record 17 stops - breaking the mark held by a guy named Spielman - after he averaged 3.9 tackles over the first 12 games. Eichenberg was all over the field in what is certainly a huge shot in the arm for him heading into 2022.
Finally, I want to give safety Kourt Williams some love for his six-tackle, one-sack effort. After seeing just one defensive snap against Michigan and only 36 over the previous five games, Williams played a huge role in a secondary missing Marcus Williamson and Craig Young coming in, and of course Lathan Ransom after a second quarter leg fracture. 
Williams looked a little rough in the first half but came up big over the final thirty minutes including a sack of Rising midway through the fourth quarter in a 38-38 game. Williams' sack triggered a 3-and-out and Ohio State's offense would take it's first lead, 45-38, on the ensuing possession. 
EARNING SZN
So new defensive coordinator Jim Knowles starts today and despite the defense's clutch second-half, there's no shortage of work to be done. 
Yes, it was great to see the defense step up in the second half but this is still a group, even prior to opt-outs, ranked outside the top-50 in total defense that was manhandled on the ground against the two of the three best running games it faced. 
Basically, Ohio State needs to get past wasting historically elite offenses. 
First up, and I'm sure a lot of this work is done just not public, is getting the staff set. We know Matt Barnes is headed to Memphis as its new defensive coordinator. I assume Kerry Coombs is gone though that's not official and there's still lack of clarity on defensive line coach Larry Johnson and linebackers coach Al Washington, among others. 
If I'm Ryan Day, I want LJ here as long as he wants to coach but between age and a new scheme to mesh with his current teachings/philosophies I suppose it wouldn't be shocking if he hung up the whistle. Washington hasn't caught as much heat at Coombs this year, it seems, but I have no idea why that's the case. 
Once he settles the staff, Knowles has to go about implementing what experts like our Kyle Jones say is a multiple/complex system, and therefore requires extensive time to not only install but optimize. 
After the first half, Knowles might've started thinking $1.9 million wasn't enough for this task but it's go time as Day continues his quest to land a defensive coordinator that can not only get the job done but won't be just a short-term solution. 
CULTURE CLUB II
I recently discussed how the Rose Bowl could be a measuring stick of the program's culture as Ryan Day was forced to prep a short-handed team for a game lacking national title implications. First world problem, yeah, but a challenge nonetheless. 
That article sure sparked some passionate thoughts on both sides from you all and Ohio State answered the bell last night. 
It didn't look good early as the Buckeyes fell into a hole and couldn't stop the run or pass. The defense looked dead in the water, then on Twitter, Marcus Williamson went on a long run of comments with a couple taking shots at the program and coaches (and fans/media). 
Almost as bad as some of these coaches

— Marcus Williamson (@WW_Marcus) January 2, 2022
Williamson didn't make the trip to Pasadena and he's a very cerebral guy but the timing and tenor weren't exactly fantastic. 
But what you can say about last night is the Buckeyes never quit, made adjustments and took advantage of opportunities on the way to coming back from three separate 14-point deficits. 
Now, instead of entering 2022 on a two-game losing streak with Notre Dame on deck, Day's program has a jumping off point that can serve as rocket fuel. 
The loss to Michigan will also cure any lack of focus or complacency as the Buckeyes welcome the Wolverines to Ohio Stadium next November. 
Yes, the plan was for Ohio State to make the CFP - that's the standard - but there are worse things in life than an 11-2 season complete with a Rose Bowl win for a program returning key parts of a lethal offense and focused on a defensive rebirth. 
And hey, thanks as always for following along with another season of Five Things gamers. I truly appreciate the discourse and readership.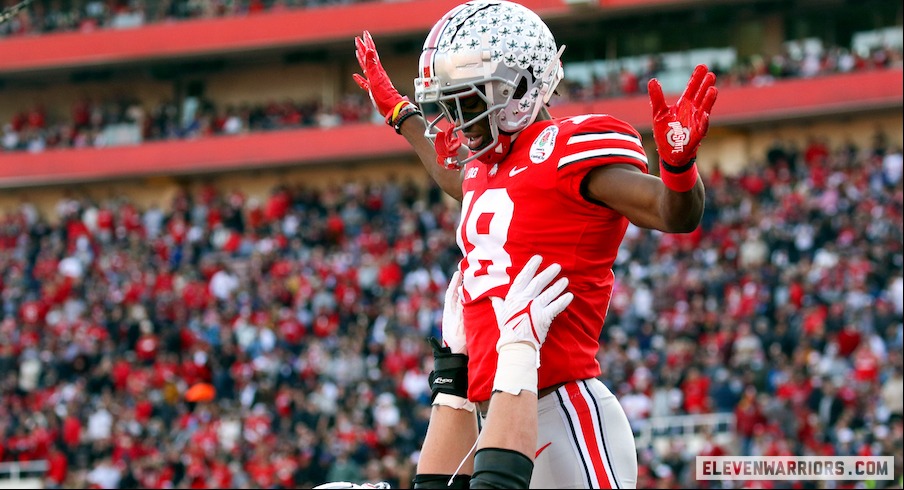 #6 Ohio State 48, #11 Utah 45
Jan. 1, 2022 • The Rose Bowl • Pasadena, CA