Even in a video game the numbers would be far-fetched.
Jaxon Smith-Njigba set the record books ablaze in Pasadena, and then he did it again. And again. And a couple more times after that in a Rose Bowl performance that won't soon be forgotten. So historically great was Smith-Njigba's 15-catch, 347-yard, three-touchdown outing against Utah that somehow it managed to overshadow perhaps the all-time greatest passing performance in Ohio State history, as C.J. Stroud tossed for 573 yards and six touchdowns.
Not only did the pair power a frenzied second-half comeback against the Utes that saw Ohio State erase a 14-point halftime deficit, but the quarterback-wideout duo also set the stage for a 2022 campaign that will justifiably feature astronomical offensive expectations given the sample they offered spectators Saturday.
"C.J. and (Jaxon) just have a great connection. They have a great feel, and I think there's a lot of trust there that's been built over the year," Ohio State head coach Ryan Day said after the game. "I think it happened a little bit in that Nebraska game. Who knows? You have to ask them. Maybe it happened last year, I don't know. But they read each other really well, and they've got a special connection."
With Chris Olave and Garrett Wilson opting out of Ohio State's final game of the year on Monday, it was widely expected that the Buckeye offense would lean much more heavily on Smith-Njigba, who already led Ohio State in receptions and receiving yards prior to the game.
It even seemed attainable, given his 15-catch, 240-yard performance against Nebraska in the absence of Wilson on Nov. 6, that Smith-Njigba could set Ohio State's single-season high marks for receptions and yards with a monster showing versus Utah. All that required was an 11-catch, 177-yard night from the Texas native.
With 186 yards in the first two quarters, Smith-Njigba already had one of those records by halftime.
The five-star 2020 recruit caught two touchdowns of 50-plus yards within 47 seconds of each other in the second quarter, and he almost had a third 50-yard score four minutes later before fumbling just a few yards from the goal line to give Utah possession. It appeared to be a costly error at the time, as Ohio State could have cut the Utah lead to just one score with another Smith-Njigba touchdown. 
"Certainly some of the plays he made tonight were tremendous. We leaned on him a lot," Day said. "At one point I asked him, are you tired? On the play there where Clark (Phillips) caught him, he looked at me like, 'What are you asking me for? Are you crazy? I'm going back out there.' And played one of the best games probably in the history of the Rose Bowl."
It's safe to say Smith-Njigba made up for the fumble thereafter.
Smith-Njigba had another 161 yards in the second half, including 89 in the fourth quarter, to lead the Buckeyes to victory. A 30-yard Smith-Njigba score on a pass from Stroud gave Ohio State its first lead of the game, 45-38, with 4:22 to play, but it was not all that was required from the pair to pull off the win.
JAXON SMITH-NJIGBA FOR THE LEAD!!

THIS MAN CAN'T BE STOPPED pic.twitter.com/AgDWhFSas6

— SportsCenter (@SportsCenter) January 2, 2022
Utah answered the Buckeye touchdown with one of its own, and with the score tied up 45-all, there was little question who Stroud would go to in a two-minute drill to try and win the game. Stroud found his favorite target twice on the final drive, picking up 20 yards on a pair of completions, and Ohio State effectively closed things out with a 19-yard field goal from Noah Ruggles with nine seconds left on the clock.
"We built that connection probably all the way back – we came in as freshmen together, came in early. We were throwing at the line the first day," Stroud said. "Scout team last year, we really built it. This doesn't surprise me at all. When I heard the numbers, I didn't really notice because he does this all the time. I'm just blessed to be around guys like this."
When all was said and done, Smith-Njigba set the single-game and single-season Ohio State records for both receptions and receiving yards. He also set the FBS all-bowl record for receiving yards and finished the year with the most receiving yards ever by a Big Ten player. His 15 catches also tied the single-game Buckeye record he had already set earlier in the year.
"It's the type of game that I dreamed of," Smith-Njigba. "I wouldn't want it any other way, so for that to happen, I'm just blessed."
JSN omg

— Garrett Wilson (@GarrettWilson_V) January 1, 2022
Outside of Stroud's 16 passes to Smith-Njigba, which resulted in just one incompletion on the night, the Heisman Trophy finalist connected with true freshman Marvin Harrison Jr. for the first three touchdowns of his career in the very first start. Stroud blew Dwayne Haskins' single-game passing yardage record out of the water by 74, and tied the single-game passing touchdowns record he had previously equaled against Michigan State on Nov. 20.
The Buckeye offense sputtered early on in the absence of Olave and Wilson, going three-and-out on each of its first two possessions, but it scored points on eight of its next 10 drives after that (excluding its final in the dwindling seconds of the first half), with touchdowns scored on six of them.
Utah entered the game with issues in its secondary, but it did close out its pre-bowl 2021 campaign with the 23rd-ranked pass defense and the No. 10 total defense in the country. The Utes allowed an average of just 20.6 points to its opponents through the first 13 games of the year, but the Buckeyes put up 48 points on that unit Saturday on a night when their running game didn't make many big plays.
We've already seen a full season with Smith-Njigba as a starter in the Buckeye offense, but Saturday seemed to be a glimpse at something different altogether. 
In the final impressions of each of their second seasons at Ohio State, Stroud and Smith-Njigba laid the groundwork for what could an even more explosive Buckeye pass attack in 2022 – as difficult as that is to fathom – and one that truly centers around Smith-Njigba for the first time.
"Honestly, I just trust the process, trust that Coach is going to put me in the right opportunity, that C.J. is going to put me in the right opportunity," Smith-Njigba said. "Just taking advantage of every opportunity that I get. That's the only thing I can do really.  
"It worked out."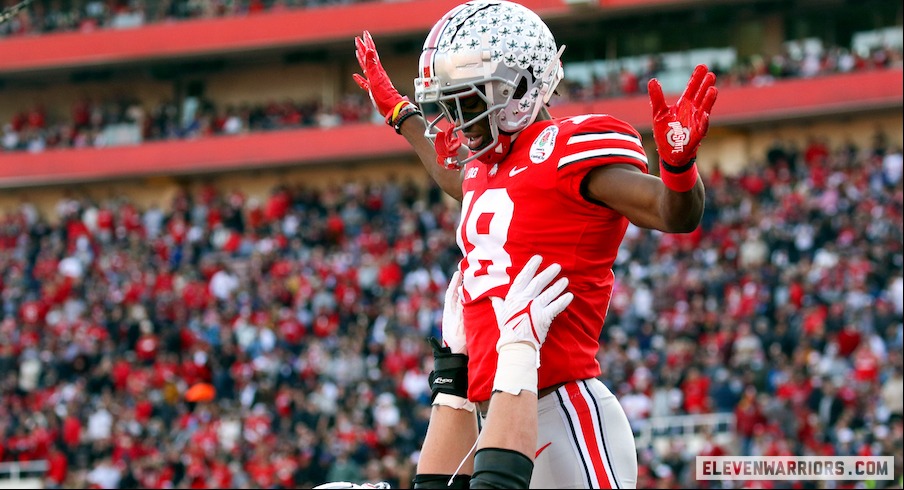 #6 Ohio State 48, #11 Utah 45
Jan. 1, 2022 • The Rose Bowl • Pasadena, CA