Wow.
This was one of the wildest games in recent memory, an absolute emotional rollercoaster. There were questions of motivation for the Buckeyes coming into this game, and frankly, even going into halftime, but the Buckeyes came out on top of a 48-45 nail-biter in the Rose Bowl over Utah.
In Today's Three Key Stats, we look at Jaxon Smith-Njigba's record setting performance, a defensive disaster and incredible play from the Ohio State offensive line. 
347 Receiving Yards
This is obviously the most eye popping stat of the game. This was one of the most dominant performance from an individual player you will ever see. The sophomore receiver had himself a game that will put him in Ohio State legend.
With Chris Olave and Garrett Wilson sitting out to prepare for the NFL Draft, Smith-Njigba was able to assume WR1 status. The game plan offensively was to exploit a weak Utah secondary, which worked to perfection.
With 573 yards passing, Ohio State proved that the receiver room is in good hands for the future. As for Smith-Njigba, his performance broke many records, including the most receiving yards in any bowl game in College Football history. 
463 Yards Given Up
There are many words to describe the defensive performance, more specifically the first half performance, but the word that sums it up the best is unacceptable. The Utes were able to essentially score at will to start the game, putting up 35 points in the first half.
Obviously the defense has struggled all year, but this is a performance almost felt like rock bottom at some points. Thankfully, the defense came out in the 2nd half and played much better, only giving up 10 points and playing with much more fire. 
Jim Knowles will have his work cut out for him, that is for sure, but it is hard to imagine this defense playing worse than they did at times in this game. 
0 Sacks
The unsung hero of this game was the offensive line, specifically in pass protection. The pass game would not have been able to put up the record numbers they did without the work from the line.
C.J. Stroud essentially had a clean pocket on almost every play, allowing him to sit back and pick apart a weak Utah secondary. There was some shuffling around on the line for this game, as bowl opt outs moved Thayer Munford back to tackle from guard.
When the line plays like this, it is hard to imagine the Ryan Day offense struggling to score.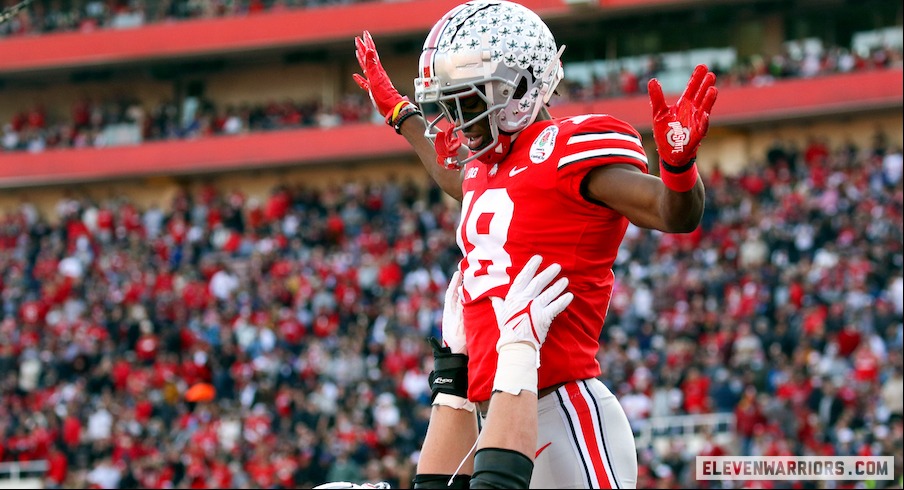 #6 Ohio State 48, #11 Utah 45
Jan. 1, 2022 • The Rose Bowl • Pasadena, CA