Saturday afternoon, The Best Damn Band in the Land journeyed out west to California for Ohio State's wild Rose Bowl win and one of the world's greatest celebrations of band fanfare: The Tournament of Roses Parade.
TBDBITL worked a triple shift this weekend, with a full schedule that included a host of pregame festivities in addition to the usual halftime performance. The final halftime show of the season for the band focused on the music of Canadian rock band Rush, and is available for viewing in the thumbnail above.
Ohio State's band also performed their traditional Script Ohio formation pregame and also led both the flag raising — or forming — and music for the event's national anthem prior to kickoff.
TBDBITL also marched among the numerous bands present in Pasadena for the first Tournament of Roses Parade since its brief cancellation a year ago. The Buckeyes ushered in their band through the downtown streets with a massive float ridden by Brutus and members of Ohio State's cheerleading squad.
The Buckeyes have won the 108th Rose Bowl, and now own nine total wins all-time in the Granddaddy of Them All — the most among Big Ten teams. Honor the program's historic performance in Pasadena and pay tribute to TBDBITL with a Wobble in Our Shoes drumline tee from Eleven Warriors Dry Goods.
Follow Eleven  WarriorsFacebook, Twitter, Instagram and YouTube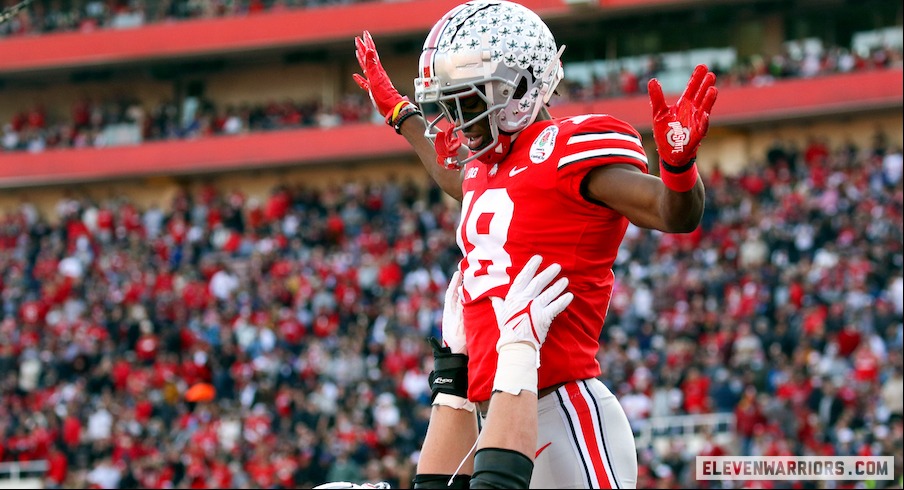 #6 Ohio State 48, #11 Utah 45
Jan. 1, 2022 • The Rose Bowl • Pasadena, CA