For a game that some branded "meaningless," Saturday's Ohio State win in the Rose Bowl felt rather momentous when the clocks hit zero.
The Buckeyes rallied back from a 14-point deficit at halftime, and both a defensive turnaround and record-setting pair of performances from C.J. Stroud and Jaxon Smith-Njigba spurred on a victory that helped wash the bad taste of last month's Michigan loss out of the Buckeyes' mouths.
When breaking down the contest, starting anywhere besides Smith-Njigba's FBS bowl record (and new single-game Buckeye high) 347 receiving yards would simply feel disingenuous. Buckeye head coach Ryan Day heaped plenty of praise on the star sophomore after the game, and said the 15-catch, three-touchdown showing was one of the best in the history of the Rose Bowl.
"I think Jaxon's done what he's done all year, and that's just play within himself. Certainly some of the plays he made tonight was tremendous. We leaned on him a lot," Day said. "At one point I asked him, are you tired? On the play there where Clark caught him, he looked at me like what are you asking me for? Are you crazy? I'm going back out there. And played one of the best games probably in the history of the Rose Bowl."
For Smith-Njigba, the performance that earned him the Rose Bowl's Offensive MVP award capped off a surreal night in Pasadena.
"It's the type of game that I dreamed of," Smith-Njigba. "I wouldn't want it any other way, so for that to happen, I'm just blessed."
Day also credited his Heisman Trophy finalist quarterback, as C.J. Stroud finished the night with a new Ohio State record 573 yards and six touchdowns through the air.
"I also thought C.J. and (Smith-Njigba) just have a great connection.They have a great feel, and I think there's a lot of trust there that's been built over the year," Day said. "I think it happened a little bit in that Nebraska game. Who knows? You have to ask them. Maybe it happened last year, I don't know.  But they read each other really well, and they've got a special connection. The throw on the touchdown pass, the inside slot fade, the throw and the catch there is probably as good as I've ever seen in a big time spot."
After the game, Utah head coach Kyle Whittingham agreed with one reporter who asked him if Stroud was the best quarterback in the country.
"I would say that's probably accurate. The kid is tremendous," Whittingham said. "Like I said, the QBR, the quarterback rating system that ESPN uses, which in my estimation is the most accurate and the most telling of statistics for determining how well your quarterback's playing, he leads the nation. I think you saw it tonight why."
The second half turnaround was reminiscent of Ohio State's comeback win in the 2019 Big Ten Championship Game, in which the Buckeyes came back from a two-touchdown halftime deficit. And much like that game, which featured a rousing halftime speech from C.J. Saunders, Day said team leaders stepped up to get the team back on track with some strong messages.
"I kind of took a step back. … at halftime, there was a bunch of guys in that locker room that stepped up in a big way," Day said. "We talked about how that 2019 Big Ten Championship game against Wisconsin, a bunch of guys did that. That same thing happened at halftime in this game. When you have that type of leadership from within, that's when you can do whatever you want. I think, as we springboard into this offseason, that's the part that we're really going to go back upon in this game is the leadership that drove us in the second half that we weren't going to be denied, and two of them are sitting right here. 

If we want to get to where we want to be next year – it's a long way away from now, but I'm already thinking about that first game and what that means is the leadership from these two guys has got to really springboard, especially the way they played in the second half of this game, but really the entire game, and it's really going to build some momentum."
Buckeye safety Bryson Shaw said it was sixth-year Ohio State veteran Demario McCall, who played in his final game Saturday, that stepped up in particular at halftime.
"Demario McCall, the passion he has for this program, it's unmatched," Shaw said. "I love Demario, I'm really gonna miss him, and without him, things could've gone sideways there. He really got in the group, brought us in and got us all going."
As for exactly what McCall told the team at halftime, Shaw said, "We'll just keep that in the locker room."
Another Buckeye defender that made an impact Saturday was Cade Stover, who switched to Sam linebacker for the Rose Bowl after playing the entire 2021 season at tight end, and actually started on defense for Ohio State. Stover finished with six tackles, and although Kevin Wilson had previously said the move wasn't guaranteed to be a permanent one, Stover indicated that it could be after the game.
"I think so," Stover said with a grin.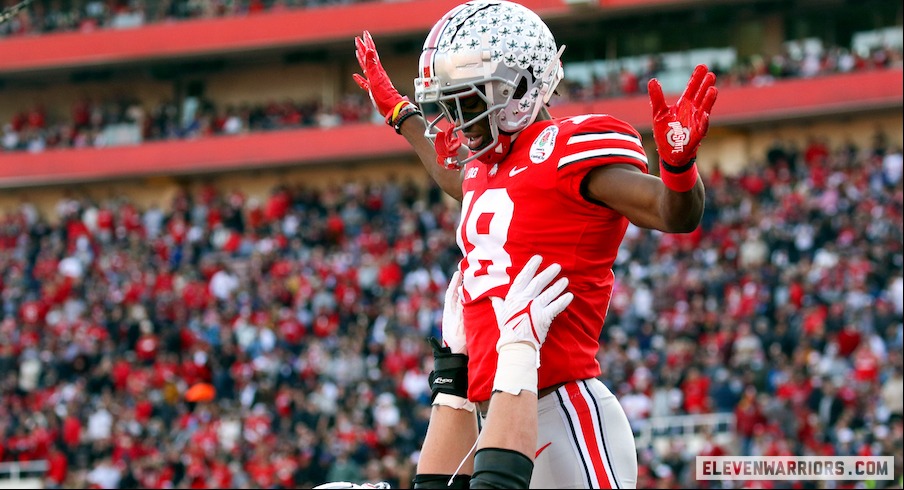 #6 Ohio State 48, #11 Utah 45
Jan. 1, 2022 • The Rose Bowl • Pasadena, CA