Cade Stover's practice jersey is now a different color.
Not scarlet, like the rest of the Buckeye offense with whom he logged 223 snaps as a tight end through the regular season, but white, signaling he'll be lining up on the other side of the ball as an Ohio State defender.
Stover, a linebacker recruit out of high school who also had a brief stint at defensive end for the Buckeyes as a freshman before transitioning to offense, played one snap as a linebacker against Michigan in a goal-line package. That single play foreshadowed a potential full-time position switch as the No. 114 overall prospect in the 2019 class continues to try to figure out where he fits best at Ohio State.
"I asked the defensive guys, I think we just thought they were a little bit shy of some body types with a couple of the injuries," Ohio State offensive coordinator and tight ends coach Kevin Wilson said Wednesday. "We thought with Jeremy (Ruckert) and Mitch (Rossi), Joe Royer has really come on very well, he'll be the third – matter of fact, he's technically the second tight end in this game with Mitch being the fullback kind of tight end. And then we got Gee Scott. So we thought we had enough guys to manage a one-week deal, and then we'll see how this goes."
In his second season playing tight end at any level of football, Stover grabbed five passes for 76 yards – both second only to Ruckert among Buckeyes at the position – and the Mansfield, Ohio, native played double-digit snaps in every game except Ohio State's most recent.
But leading up to the Rose Bowl, Stover has practiced exclusively with Al Washington's linebacker unit, although Wilson said he could still play tight end in a situational capacity.
"We can use him in short-yardage situations, but I think with Joe, Gee and the other guys we have, typically when we get to big goal-line sets sometimes, we put three and four guys out there. But I think for what we're doing, we've got it ready for where he can be out there for goal line, but we also could use the other guys," Wilson said. "But the bulk of normal down football, he has played defense the whole time and we have played offense with Jeremy, with Joe, with Gee and with Mitch Rossi, and that's how we'll play."
Nothing is final about the switch just yet. Wilson said Stover and the Buckeyes will talk more about his future in the program at the conclusion of the season and move forward from there.
"We'll go through after this game and decide long-term," Wilson said. "I said this to him when we talked to him, I said, 'I don't want to hear what's best for the team.' Because what's best for the team sometimes is a bunch of crap. When you're a player, it's what's best for you. If you don't want to go over to defense, well stay right here, we'll keep playing, you have a good role, you have a great opportunity to play in this game, you can play special teams – he's been a great special teams player for us – I said, 'Life's fine, if you think it's something you want to do.' So now as we finish this game up, we'll get back after our quick break, and we'll get into January and we'll start getting a plan for spring."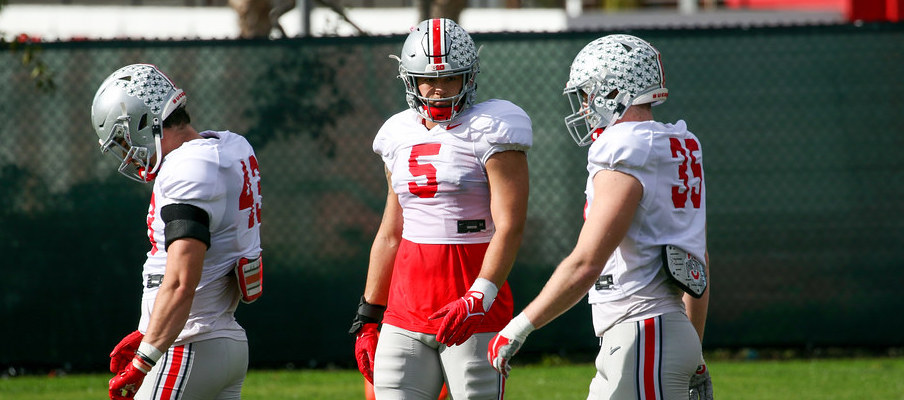 Wilson said he doesn't think it would be beneficial for Stover to spend much time caught between positions this offseason, as fully committing to one will allow him to hone the necessary skills that will give him the best chance to play a significant role in his fourth season as a Buckeye.
"I do think we're getting to the point though, we need to get a direction for him so he can have high success," Wilson said. "So whether that be he's coming back and going to be a tight end – because with Jeremy and Mitch being seniors, there's going to be a great opportunity at tight end – right now there's a little bit of a void at linebacker and there's an opportunity there."
Cade Stover, wearing No. 5, is working with Tommy Eichenberg, Steele Chambers, Al Washington and the Buckeyes LBs here. pic.twitter.com/0nZA7eB7kq

— Griffin Strom (@GriffinStrom3) December 28, 2021
There's been plenty of fluidity at linebacker in the Buckeye program as of late. Seniors Dallas Gant and K'Vaughan Pope both entered the transfer portal midseason, and Craig Young – a hybrid safety/linebacker – left the program at the end of the regular season.
Starting middle linebacker Cody Simon was absent from practice entirely on Tuesday and Wednesday, and Teradja Mitchell appears to be banged up after playing sparingly down the stretch of the season and not at all against Michigan.
Steele Chambers, who switched from running back to linebacker ahead of the season, has shown flashes of being perhaps the team's top player at the position, and the Buckeyes are bringing in another player to make a similar transition in former Arizona State running back DeaMonte Trayanum.
Stover's move is the latest development in the room, and Wilson said he's been performing well on the defensive side of the ball.
"I will say this; I think he loves playing over there and brings a lot of energy and a lot of fun, and I think he's been good for the defense in this short period of time," Wilson said. "Coach (Day) will talk about what's best for the team, personally I want what's best for Cade. He's one of my favorite guys on the whole team, he's been a pleasure to coach. Selfishly, I'd like to do it, I'm gonna do what's best for the team, I just want to make sure it's best for Cade Stover."
Should Rossi elect not to come back next season and Stover's switch to linebacker become permanent, Wilson's tight end room may be short a player or two. But the Buckeye coach said Ohio State is not likely to pursue a transfer tight end – though Ohio State did make a play for former Oklahoma tight end Austin Stogner before he transferred to South Carolina earlier this month – until after those final decisions have been made.
"We won't make any hard decisions for Cade until after the spring semester starts, so if there's anything on that realm, it'd be later," Wilson said. "And I don't know if that's good with the transition to summertime to get a guy up to speed. We think and look at that a little bit, we got Bennett Christian coming in, our mathematical numbers are to have five."
But Stover already seems to be fitting in quite well at linebacker. Regardless of the injuries at the position, the fact that Stover is already taking first-team reps in practice at the Sam spot after a short-notice switch is proof enough of his natural abilities as a defender.