As Ohio State's recruiting class of 2018 enters its pivotal third season in Columbus, we're taking a look back at each of their first two years as Buckeyes and look ahead at what to expect from them in 2020 and beyond with the Third-Year Reset.
Ohio State will be counting on its class of 2018, which is the highest-rated recruiting class OSU has ever signed, to step up in a big way as it looks to make another run to the College Football Playoff despite the departures of many key players from last season.
Each of them have now been with the Buckeyes for two years, and by the end of the upcoming season, all of them will either be on the back end of their Ohio State careers or off to the NFL. So while most of them haven't played major roles for the Buckeyes yet, the time for them to deliver on their potential is now.
Third-Year Reset
One player in that class who Ohio State fans have certainly been eager to see make an impact is Tyreke Johnson, who came to Columbus ranked as the No. 21 overall prospect in the class of 2018. The third-highest-ranked of Ohio State's 2018 signees, Johnson expected to contend for an early role in the Buckeyes' secondary, but that hasn't materialized yet.
Following the departure of three starting defensive backs from last season, though, Johnson will finally get his chance to compete for a significant role in 2020, and he has the potential to push for substantial playing time if not a spot in the starting lineup.
Before He Became a Buckeye
Johnson started playing varsity football at Trinity Christian Academy when he was in just seventh grade, and in a rare move for the Buckeyes, Ohio State offered him before he even started high school.
Alongside future Ohio State teammates Shaun Wade and Marcus Crowley, Johnson helped Trinity Christian tie a Florida record by winning four consecutive state championships. A playmaker in all three phases of the game for the Conquerors, Johnson returned six of his nine career interceptions to the opposite end zone for touchdowns while also contributing at running back, returning kickoffs and punts and even punting the ball himself.
Johnson saw playing time at both cornerback and safety for the Conquerors and was listed as a safety by recruiting websites 247Sports and Rivals, but was recruited by Ohio State as a cornerback and made it clear when he arrived in Columbus that he would play that position in college.
"I'm playing corner," Johnson said during his first media availability as a Buckeye in February 2018. "I came to Ohio State because I'm a corner. I am a corner, and that's what I was recruited as: a corner. Every school offered me as a corner."
Like Wade, Johnson was a five-star defensive back recruit who chose Ohio State over offers from just about every power program in college football, including Alabama, Clemson, Florida, Florida State, Georgia, LSU and Miami.
Career to Date
Johnson took a redshirt year as a true freshman in 2018, appearing in just three games – primarily on special teams, with his only two defensive snaps of the year coming at the end of a blowout win over Tulane – before spending the rest of the year on the sidelines in a slower-than-expected start to his Ohio State career.
Going into his second year with the Buckeyes, Johnson suffered a torn lateral meniscus just before preseason camp. Without the opportunity to make a summer push to climb the depth chart, Johnson remained buried on the cornerback depth chart once he was cleared to return to action, and he ended up playing just 57 defensive snaps and recording just three tackles in eight total game appearances.
So far, Johnson hasn't been called upon to play any meaningful defensive snaps for the Buckeyes, and he's fallen behind fellow third-year cornerbacks Sevyn Banks and Cameron Brown even though he was ranked 200-plus spots above both of them as a recruit. That said, he's learned from Wade – who also redshirted his first year at Ohio State – that he must stay patient and continue to work hard to improve so he can get on the field.
"It's just one of those things where you've got to wait your turn, work hard and when you get your opportunity, display it to the world," Johnson told Eleven Warriors in December after the Big Ten Championship Game.
Third-Year Outlook
With Jeff Okudah and Damon Arnette both now in the NFL, there's an open starting spot at outside cornerback that Johnson could have a chance to seize. Wade will take one of those starting spots after playing slot cornerback for the past two years, but Johnson is expected to compete with Brown and Banks for the other spot when the Buckeyes get back on the practice field.
Given that Banks and Brown were both ahead of Johnson on the depth chart and saw some snaps with the first-team defense last year, Johnson is probably the underdog in that competition entering preseason camp. He has a believer, though, in Ohio State defensive coordinator and secondary coach Kerry Coombs, who initially recruited Johnson to become a Buckeye before leaving to coach for the NFL's Tennessee Titans for two years.
"He is a very smart player, and I am looking forward to him competing his butt off in the fall," Coombs said in April. "I'm excited about Tyreke, so I think he's going to have every opportunity to prove himself out there on the field, and I'm looking forward to watching him play."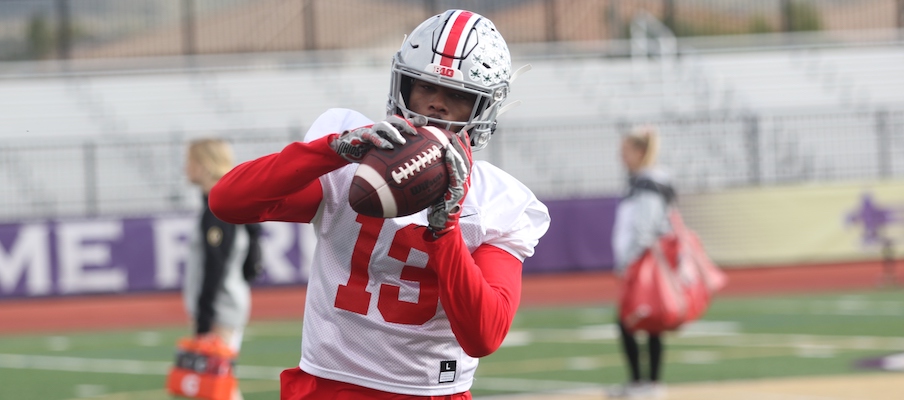 Coombs believes Johnson, who is listed at the same measurables at Wade (6-foot-1, 195 pounds), is a better fit to play outside than inside, so he isn't a likely candidate to replace Wade in the slot. It is possible Ohio State could move Banks or Brown inside, though senior Marcus Williamson is also a candidate to play that role.
Regardless of whether he earns a starting job, Johnson should have more opportunities to play as a redshirt sophomore than he had in either of his first two years at Ohio State. With only five scholarship cornerbacks who aren't true freshmen, Johnson should at least have a spot on the two-deep, and Coombs has said he plans to rotate defensive backs in and out of the lineup, just as he did during his previous stint with the Buckeyes.
"We would have every expectation that every one of those kids that were competing at the front end of spring – Sevyn Banks and Cam Brown and Marcus Hooker and Josh Proctor and Marcus Williamson and Tyreke Johnson – are all gonna have bigger roles," Coombs said. "I have every expectation of getting a lot of guys on the field."
"I think he's going to have every opportunity to prove himself out there on the field, and I'm looking forward to watching him play."– Kerry Coombs on Tyreke Johnson
Beyond 2020
If Johnson can start to put it all together and prove he belongs on the field at Ohio State, he absolutely has the tools to play in the NFL. He has the size and length that pro scouts look for in an outside cornerback, and the same athleticism and physicality that made him a five-star recruit out of high school could make him a coveted NFL draft prospect.
It's not out of the question that one big redshirt sophomore season could be enough for him to break through as an NFL prospect, as evidenced by Marshon Lattimore, who was the No. 11 overall pick in the 2017 NFL draft despite playing only one full season for the Buckeyes after battling injuries for his first two years.
That looks like a long shot for Johnson right now, considering he's not even a frontrunner to start this year. But starting to play up to his potential this year, even if only in a rotational capacity, could be the springboard he needs to become one of Coombs' next future pros over the next two to three years.
As Arnette proved by becoming a first-round pick after his fifth-year senior year, it's still possible to become a top NFL prospect after a shaky start to an Ohio State career, and if Johnson stays the course like Arnette did, it wouldn't be a surprise to see him have a similar rise.
With Wade likely to enter the 2021 NFL draft and Williamson also entering his final season at Ohio State, Johnson will probably be a starter for the Buckeyes next year even if he isn't this year. And with Coombs' track record of producing early-round NFL draft picks, he couldn't ask for a better position coach to pick up where Jeff Hafley left off and help him continue to develop.
Johnson has a lot to prove entering his third season at Ohio State, and in a year where the Buckeyes need inexperienced defensive backs to step up, it would be a disappointment if he doesn't start to make an impact this season. With three years of collegiate eligibility remaining, however, there's still plenty of time for him to have a chance to live up to the immense hype he came in with.