Ohio State's run to the College Football Playoff and 13 wins last season was largely fueled by its third-year players.
From J.K. Dobbins, Thayer Munford, Josh Myers and Wyatt Davis on offense to Chase Young, Jeff Okudah, Shaun Wade and Pete Werner on defense, many of Ohio State's top performers on both sides of the ball came from their recruiting class of 2017, solidifying that class' standing as one of the Buckeyes' best in recent history. 
With Young, Okudah and Dobbins now in the NFL, along with a large group of seniors who were key contributors on last year's team, Ohio State will be counting on its recruiting class of 2018 to make a similar impact this year as those Buckeyes enter their third years in Columbus.
Given that the class of 2018 arrived in Columbus as Ohio State's highest-rated recruiting class ever, its first two years have been a bit underwhelming, as most of the players in that class haven't yet made a major impact. They certainly have the potential to change that in a big way this year, though, as many of them are expected to take on bigger roles in what will be a defining year for the class.
So just like we did with the class of 2017 last summer at Eleven Warriors, we're profiling each member of Ohio State's class of 2018 – excluding those who are no longer in Columbus – with a series we're calling the Third-Year Reset, in which we'll look back at the expectations that preceded their Ohio State careers, what they've done so far as Buckeyes and what to expect from them this year – their final season before they'll have the option to go to the NFL – and beyond.
Third-Year Reset
Jaelen Gill, Brian Snead, Blue Smith, Matthew Baldwin and Alex Williams are no longer Buckeyes, but the other 21 members of Ohio State's 26-man class of 2018 are still on the team, and just about all of them have a chance to make a significant impact for the scarlet and gray this season.
That includes offensive tackle Nicholas Petit-Frere, the No. 7 overall prospect in his recruiting class, who will look to start living up to the hype this season and who kicks off this year's edition of the Third-Year Reset, which will once again be written in order of each player's 247Sports composite ranking.
Before He Became a Buckeye
Ohio State made a strong late push to sign Petit-Frere in February after missing out on fellow five-star offensive tackle Jackson Carman in December, but the Buckeyes certainly weren't settling for a second-rate talent. Ranked ahead of Carman as the No. 1 offensive tackle in the class of 2018, Petit-Frere is the highest-rated offensive lineman Ohio State has signed in the 247Sports composite ranking era.
Petit-Frere was a standout both on the field and in the classroom at Berkeley Prep in Tampa, Florida, where former Ohio State defensive coordinator Greg Schiano was a volunteer coach in 2014 and 2015, which helped the Buckeyes land Petit-Frere's pledge. He was named as a first-team All-American in 2017 by MaxPreps, received outstanding scholar-athlete honors from the National Football Foundation's Tampa chapter during his senior year of high school and was a finalist for the Watkins Award, which honors the top scholar-athlete among Black high school football players.
An elite athlete for his size with a long 6-foot-5 frame, Petit-Frere arrived at Ohio State with immense upside, but he weighed only 268 pounds, which meant he needed time to continue developing physically and is one reason why we haven't seen him play a major role yet in his Buckeye career.
Career to Date
Petit-Frere earned an immediate spot on the two-deep as Ohio State's backup right tackle and played in three of the Buckeyes' first four games of the 2018 season, but didn't play again the rest of the year as the team's defensive struggles meant the starting offensive line never came off the field the rest of the year. Petit-Frere took a redshirt as a result, preserving his four years of eligibility.
Going into his redshirt freshman year, Petit-Frere spent the offseason battling with Branden Bowen for the opportunity to replace Isaiah Prince as Ohio State's new starting right tackle. Ultimately, the more experienced Bowen beat out Petit-Frere in that competition.
In a season where the Buckeyes had many more blowout wins, though, Petit-Frere still played snaps at tackle in 11 games. Most notably, Petit-Frere made his first career start for the Buckeyes at Northwestern, where he moved over to left tackle and played 47 snaps – his career-high so far – with Munford battling an injury.
Petit-Frere, who is now up to 305 pounds after gaining weight through an 8,000-calorie diet, has focused on developing and getting better as a football player while waiting his turn to start over the past two years.
"At the end of the day, it's kind of more about realizing development, and at the end of the day, some people are just going to play and some people aren't," Petit-Frere told Eleven Warriors in December. "Some people are more suited to start at a time and some people aren't. A lot of people can see it as, 'Oh, I didn't play and I'm upset I didn't play. I can't believe I didn't get a chance to play.' But I always see it as I'm developing, I'm getting better.
"As the season went on, I learned a lot from Bowen. I learned a lot from Thayer, Josh (Alabi), all the tackles we have here, and then got better. So that's how I see this whole process, and I'm very glad to be a part of it. Whatever happened, whether I started or not, it's all about development and becoming a better player."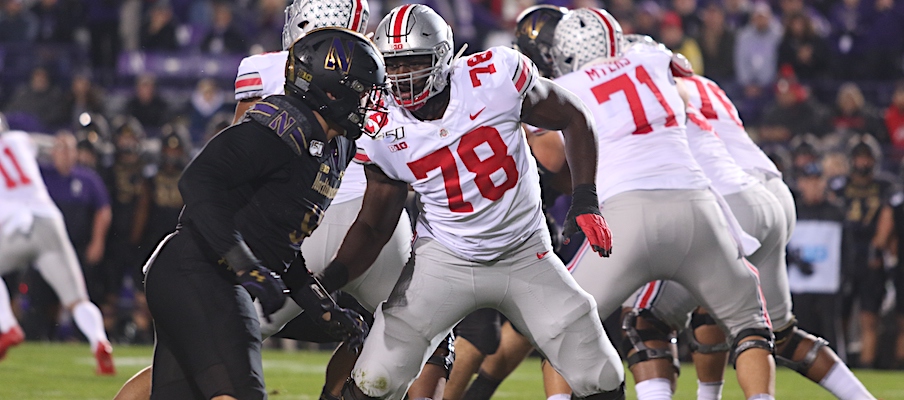 Third-Year Outlook
Considering that he was the highest-ranked recruit in the class of 2018, there's certainly an expectation that Petit-Frere should be ready to emerge as a star on Ohio State's offensive line in his third year as a Buckeye, much like Davis and Myers did last year. And Ohio State offensive line coach Greg Studrawa has expressed optimism that Petit-Frere will be ready.
"I think this is Nick's time," Studrawa said in April. "I think he's finally got his weight up to where it needs to be. He's finally got his strength up to where it needs to be. And I think he's finally learned, inside and out, what we're doing on the offense. So I think it's his time to shine.
"He is a rep guy – a guy that needs to do it and do it and do it. And all that he got last year late in games, I think he's got the confidence now. He walks around with a little bit different swagger, talks with a little bit more confidence."
Even so, it's not a foregone conclusion that Petit-Frere will be Ohio State's starting right tackle this year. True freshman Paris Johnson Jr., also a top-10 overall recruit in his class, took some first-team reps from Petit-Frere in the one week of spring practices that the Buckeyes had, and true sophomore Dawand Jones is also in the mix to compete for that job. Because the Buckeyes didn't have a full spring to evaluate their progress, that competition could continue well into August.
"Nick's played a little bit more, he's been in some games, so he's got a little more experience, but what I saw out of Dawand and Paris, two young guys, in three days was pretty impressive. I couldn't believe how far Dawand has come and how advanced and mature Paris is for a freshman," Studrawa said. "I believe all three of them are capable, so it's gonna be fun to see them work … when we get back together, it's gonna be a full-court press to go fight for the job."
Given that Petit-Frere is the most experienced of that trio, the starting job should be his to lose. But because Johnson and Jones also have enormous upside, it's not going to be handed to him, and he's going to have to prove he's the most ready-to-play out of the bunch – though it's likely any tiebreaker would go to him if the race is too close to call.
Petit-Frere has rare agility for an offensive tackle – Bowen said last year that he has "never seen faster feet on an O-lineman" than Petit-Frere – and if he can put everything else together, he has the potential to emerge as one of the Big Ten's best offensive tackles in 2020. But he still has to win the starting job first, and even assuming he does, he'll have to perform up to expectations quickly to lock down his place in the lineup with Jones and Johnson waiting in the wings.
"I think he's finally got his weight up to where it needs to be. He's finally got his strength up to where it needs to be. And I think he's finally learned, inside and out, what we're doing on the offense. So I think it's his time to shine."– Greg Studrawa on Nicholas Petit-Frere
Beyond 2020
While Petit-Frere certainly looked like a possible candidate to go to the NFL after just three years when he was a top-10 recruit out of high school, that possibility seems less likely now.
Only two Ohio State offensive linemen in the past 25 years have entered the NFL draft after just three years, and both of them – Orlando Pace and Michael Jordan – started for the Buckeyes from the first game of their freshman years. So it would be a significant break from precedent if Petit-Frere declared for the 2021 NFL draft.
Because Petit-Frere redshirted in 2018, he still has three years of eligibility at Ohio State, though it's not a stretch to imagine he could be an early-round pick in the 2022 draft if he can put together a pair of strong seasons as a starter over the next two years.
Given that Petit-Frere was chosen to fill in for Munford for one game last season, it's possible he could also move over to left tackle if he returns in 2021, though Johnson and/or Jones should also be groomed to potentially succeed Munford at that spot.
It wouldn't be a good sign for Petit-Frere's future at Ohio State if he doesn't win the starting right tackle job this year – though it perhaps says more about Johnson and Jones than it does about Petit-Frere that they have a chance to win the job – but assuming he wins the job this year and stays for at least one more year, he'll be poised to become a leader for an offensive line that will lose Munford and could also lose Davis and Myers after this season.