As Ohio State's recruiting class of 2018 enters its pivotal third season in Columbus, we're taking a look back at each of their first two years as Buckeyes and look ahead at what to expect from them in 2020 and beyond with the Third-Year Reset.
Ohio State will be counting on its class of 2018, which is the highest-rated recruiting class the program has ever signed, to step up in a big way as it looks to make another run to the College Football Playoff despite the departures of many key players from last season.
Each of them have now been with the Buckeyes for two years, and by the end of the upcoming season, all of them will either be on the back end of their Ohio State careers or off to the NFL. So while most of them haven't played major roles for the Buckeyes yet, the time for them to deliver on their potential is now.
Third-Year Reset
One such player who certainly came to Ohio State with high expectations yet hasn't seen the field much in his first two years as a Buckeye is Teradja Mitchell. The No. 44 overall prospect in the class of 2018, Mitchell was viewed as someone who could potentially make an immediate impact at linebacker.
Instead, Mitchell has seen only occasional playing time in his first two seasons while waiting his turn behind older linebackers. And with Tuf Borland, Pete Werner, Baron Browning and Justin Hilliard all back for another year, it's still unclear how big a role Mitchell will have in 2020. Given that he has not redshirted and is already going into his junior year, though, there should be urgency for Mitchell to get on the field for more significant playing time this fall.
Before He Became A Buckeye
Ranked as the No. 2 inside linebacker and No. 2 prospect from the state of Virginia in the entire class of 2018, Mitchell drew early interest from the Buckeyes, receiving an offer from Ohio State before the end of his freshman year at Catholic High School in Virginia Beach. 
He ultimately emerged as one of the Buckeyes' top targets in his recruiting class during his junior high school season, when he earned MaxPreps Junior All-American honors after recording 106 total tackles, 12 quarterback hurries, three sacks, three forced fumbles and two interceptions. Mitchell committed to Ohio State before his senior season, choosing the Buckeyes over Florida State.
In his senior season at Catholic, which was then known as Bishop Sullivan, Mitchell recorded a whopping 162 total tackles and 41 tackles for loss and added five sacks, three forced fumbles, two interceptions – including a 98-yard interception return touchdown – and two blocked field goals. He again earned All-American honors, was named Virginia defensive player of the year by USA TODAY and was one of five finalists for USA TODAY's national defensive player of the year award and the high school Butkus Award, which honors the country's best linebacker.
Career to Date
Mitchell appeared in 12 games in his freshman year at Ohio State, ultimately establishing himself as a regular on multiple special teams units, but played only two defensive snaps, which came at the end of a blowout win over Tulane. Despite the defensive struggles that the Buckeyes endured throughout the 2018 season, they never turned to Mitchell at linebacker, though he did show some glimpses of his potential on special teams.
MYHITTA #7EERAW BOOM HE IS READY GO BUCKS pic.twitter.com/C5TxVcYDme

— Terry Mitchell (@TMitch13_) October 1, 2018
Going into last season, Mitchell competed for a spot in the linebacker rotation but ultimately ended up being relegated to second-team duty while remaining a staple on special teams. He was also plagued by injuries, suffering a hamstring injury during preseason camp and missing four midseason games, but played 99 total defensive snaps – mostly at the Will linebacker spot – in the Buckeyes' other 10 games and recorded 12 total tackles with two tackles for loss.
Alex Williams tackling Dallas Gant > Teradja Mitchell tackling the Johnny Langan pic.twitter.com/hulUkwCeSc

— Colin Hass-Hill (@chasshill) November 16, 2019
Mitchell acknowledged that it was frustrating to miss time with injuries last season, and Ohio State linebackers coach Al Washington said those injuries played a part in Mitchell not earning more playing time. But Mitchell is using his disappointment of not playing more as fuel to work even harder this year.
"God has a plan for me," Mitchell said in March. "Just being patient and just waiting on my opportunity. Keep working every day, try not to think about that, just thinking about the process, coming in every day and putting in the work. My time is gonna come."
Supreme18 gone blow this year just watch

— Teradja Mitchell (@teradja_) June 27, 2020
Third-Year Outlook
When Mitchell arrived at Ohio State, the expectation was that he would be the Buckeyes' middle linebacker of the future. As of this spring, however, Mitchell said he was working exclusively at the weakside linebacker position.
Known for being a hard-hitting thumper, Mitchell fits the prototype that's often associated with the Mike linebacker spot. But Mitchell said he believes the Will position, which also functions as an inside linebacker in the defensive scheme Ohio State implemented last year, is a natural fit for his game.
"I love it," Mitchell said. "In this defense, the Will, you get a little bit of freedom blitzing and stuff like that."
Now that Malik Harrison is in the NFL, moving to Will also gives Mitchell a shot at potentially earning a spot in the starting lineup. While Borland is entrenched as the starter in the middle, it remains uncertain exactly how Ohio State will replace Harrison, and Mitchell could end up factoring significantly into those plans.
That's not a guarantee, as Ohio State also experimented with Werner moving to Will linebacker this spring and Browning, who rotated with Borland at Mike last year, is also a potential candidate to start at Will. Even if one of them starts at Will, though, it's likely the other would start at Sam, leaving the door open for Mitchell to still see regular playing time in a rotational or situational capacity.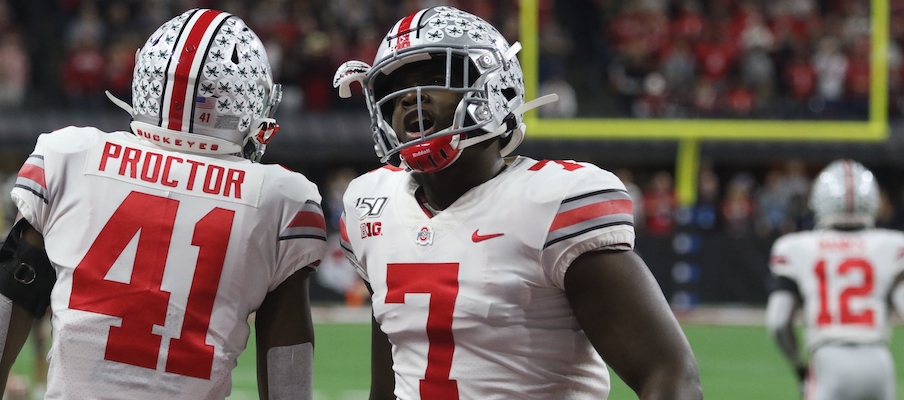 Because the Buckeyes only had one week of spring practice, their linebacker depth chart remains unsettled going into preseason camp, and there will likely still be some experimentation that takes place in July and August. That said, Washington has expressed that he expects Mitchell – who he nicknamed Bobby Boucher, after Adam Sandler's character from "The Waterboy," because "he has contact courage like no other" – to have a role in his linebacker corps this season.
"Teradja, man, he's one of the more talented guys we've got," Washington said in March. "He's shown great heart and work ethic, and he's had a great offseason. His body composition's changed, he's got a six-pack going and he's really bought in."
Mitchell said he is "determined as ever" to prove that he belongs on the field this fall.
"I've been dreaming about this since I was a little kid, and I'm just ready to take advantage of the opportunity," Mitchell said. "I'm gonna just bring my all to the table when I get out there." 
"He is incredibly instinctive, but he has contact courage like no other. We call him Bobby Boucher, you know The Waterboy? He'll roll up and just 'Pow.' And that mentality is awesome."– Al Washington on Teradja Mitchell
Beyond 2020
Mitchell looked like a potential candidate to go to the NFL after just three years coming out of high school, so the incentive to redshirt him two years ago didn't seem particularly high. Now that he's going into his junior year having only played sparingly and still without a clear path to a starting spot, though, it's fair to question whether not redshirting him in either of the past two seasons was a mistake.
If Mitchell – who, for his part, said taking a redshirt has never been in his mindset – continues to be a backup this season, he'll face the reality of only having one year to start for the Buckeyes before exhausting his eligibility.
The good news for Mitchell, along with fellow third-year linebackers Dallas Gant and K'Vaughan Pope, is he should finally get his chance to start in 2021 if he doesn't this season, since Werner, Borland, Browning and Hilliard are all entering their final seasons at Ohio State. If he performs well in whatever role he ends up with this year, he'll be well-positioned to be a top leader for the defense in his senior year, which should give him the chance to put his skills on full display and establish himself as a prospect for the 2022 NFL draft.
Because the linebackers in front of him have all seen their careers through to their senior seasons, Mitchell has been stuck in a logjam that he's still not quite out of yet, so it would be nice if he still had more than two years of remaining eligibility.
Of course, it's far from a given that Mitchell would have stayed for a fifth year even if he had one available anyway. He has more than enough talent to emerge as an NFL linebacker prospect over the next two years as long as he gets the opportunity to show it. And as long his role expands enough for him to have a healthy share of playing time with the first-team defense in 2020, he should be able to set himself up for a big finish to his Buckeye career in 2021.