As Ohio State's recruiting class of 2018 enters its pivotal third season in Columbus, we're taking a look back at each of their first two years as Buckeyes and look ahead at what to expect from them in 2020 and beyond with the Third-Year Reset.
Ohio State will be counting on its class of 2018, which is the highest-rated recruiting class the program has ever signed, to step up in a big way as it looks to make another run to the College Football Playoff despite the departures of many key players from last season. 
Each of them have now been with the Buckeyes for two years, and by the end of the upcoming season, all of them will either be on the back end of their Ohio State careers or off to the NFL. So while most of them haven't played major roles for the Buckeyes yet, the time for them to deliver on their potential is now.
Third-Year Reset
One of the most important third-year players for the Buckeyes this season will be Tommy Togiai, who is set to take over as Ohio State's starting nose tackle. He played the most snaps in 2019 of any returning defensive tackle, a position at which the Buckeyes lost three fifth-year seniors from last season and have only six players on scholarship entering 2020, and is expected to be the star – or at least one of them – of Larry Johnson's interior defensive line this fall.
Although he hasn't become a household name yet, there's no question that the Buckeyes have high expectations for Togiai going into his junior year, and it won't come as a surprise if he establishes himself as one of the nation's best nose tackles this season.
Before He Became a Buckeye
The highest-ranked recruit from Idaho in the 21st century, Togiai became the first-ever player from the Gem State to sign with the Buckeyes after committing to Ohio State in December 2017. Togiai picked the Buckeyes over Utah and Washington, eliciting a spirited reaction from Johnson and Urban Meyer when he gave them his pledge during an in-home visit:
Togiai was a dominant force at Highland High School in Pocatello, Idaho, earning first-team all-state honors three times. As a senior, Togiai recorded 93 total tackles, 11 sacks, five pass breakups, two forced fumbles and an interception en route to leading Highland to the class 5A state championship and earning the Idaho Gatorade State Player of the Year award.
Togiai was ranked as the No. 55 overall prospect and No. 3 defensive tackle in the class of 2018.
Career to Date
Togiai saw immediate playing time at the back of Ohio State's nose tackle rotation as a true freshman, appearing in all but one game for a total of 114 snaps in 2018. That said, his snaps behind Robert Landers and DaVon Hamilton were only occasional in his first year, as he never played more than 16 snaps in a single game. He finished his freshman year with 10 total tackles and two tackles for loss.
While he remained third on the nose tackle depth chart behind Hamilton and Landers last season, he saw a more significant share of the snaps as he was on the field for 250 total defensive plays over the course of 14 games. That increase in playing time came in part because the Buckeyes had more lopsided wins, which meant Hamilton and Landers often came out of games early, but he did rotate in for at least a few reps with the first-team defensive line in every game.
Togiai recorded 16 total tackles with two tackles for loss and a pass breakup in his sophomore year. 
While he doesn't play a position that leads to a ton of highlight-reel plays, his impressive athleticism at 6-foot-2 and 300 pounds has stood out in flashes, including the following two plays last season against Northwestern and in the Big Ten Championship Game against Wisconsin:
Third-Year Outlook
While Togiai only saw a limited share of snaps and never started a game in his first two seasons with the Buckeyes, he's in line to lead the rotation and play the majority of snaps at nose tackle this season.
As the only returning defensive tackle who has already been a fixture in the nose tackle rotation, Togiai is a virtual lock to start this fall and will be a player Johnson wants on the field when the game is on the line. Antwuan Jackson and likely either Jerron Cage or Jaden McKenzie should also see some snaps at nose tackle, but Togiai is the Buckeyes' most proven player at that spot, and he'll now get the chance to establish himself as one of the defense's leaders up front.
Widely regarded as the strongest player on the team, Togiai – who said in October that he put up 36 repetitions of 225 pounds in the bench press last summer – has the physical attributes to be an elite nose tackle for the Buckeyes, and he's now had two full years of training with Johnson to develop his technique and prepare him to take full advantage of his power and explosiveness.
As the Buckeyes' starting nose tackle, Togiai's objective will be to lead Ohio State's run-stuffing efforts in the middle of their defensive line while also creating push as a pass-rusher and occupying blocks to free up his teammates to make plays around him.
"I think so far, the biggest things (Johnson)'s wanted me to do is just try to wreck the line of scrimmage and try to knock the line of scrimmage back," Togiai said in October. "That's been the biggest thing for me is just trying to create disruptions in the backfield."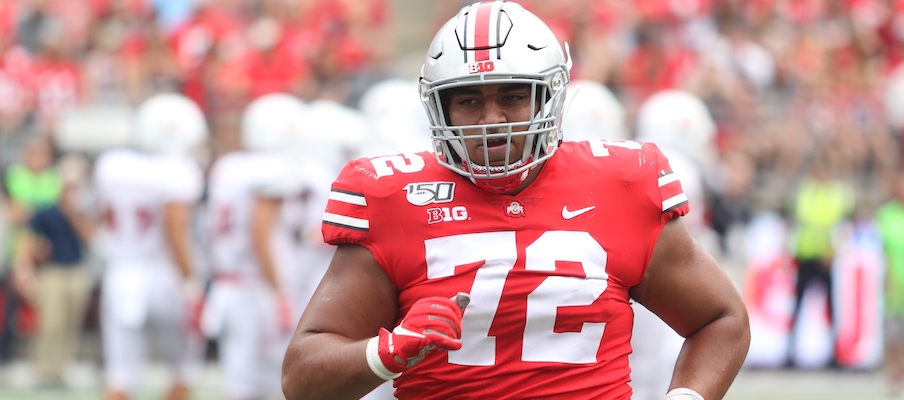 He has big shoes to fill, as Hamilton emerged as one of the Big Ten's best defensive tackles last season while Landers was disruptive throughout his four-year Ohio State career, but he has the upside to be even better than they were now that he'll have the opportunity to truly showcase his ability in a starting role.
Togiai fits the prototype for the nose tackle position, which is why he was such a highly ranked recruit despite playing in a state that isn't known for regularly producing top talent, and he's impressed his coaches with his work ethic since arriving in Columbus.
"He's very, very strong, he holds the point of attack, plays really, really hard," Ohio State head coach Ryan Day said of Togiai last season.
"The biggest thing for me is just trying to create disruptions in the backfield."– Tommy Togiai
Beyond 2020
Considering his physical tools and the amount of playing time he's in line for in his junior year, it's not out of the question that Togiai could emerge as a top nose tackle prospect for the 2021 NFL draft. He has the talent.
Ideally, though, Ohio State will be hoping Togiai sticks around for his senior season, especially given that two of their six scholarship defensive tackles on this year's roster (Jackson and Haskell Garrett) are seniors now. And it's likely that two full seasons as a starter for the Buckeyes would improve his chances of ultimately being an early-round pick in 2022.
Togiai will already be a leader for Ohio State's defensive line this season, but could take on an even bigger leadership role – and potentially even become a captain – as a senior in 2021.
By starting for the Buckeyes for the next two years, Togiai could also help bridge the gap to the next wave of defensive tackles for an Ohio State roster that currently has just one true defensive tackle in his first or second year (McKenzie) and will need to bring in some defensive tackles who will be ready to play early in the next two recruiting classes. If Togiai was to leave before his senior season, Ohio State could be forced to look to the transfer market to add a veteran nose tackle next offseason.
If Togiai has the kind of season that gives him reason to consider leaving for the NFL after this year, that will be great news for Ohio State's 2020 defense. But as Togiai is only scratching the surface of what he could become as a Buckeye, there's certainly reason to believe he would benefit from staying at Ohio State for four years, and Johnson will be hoping "Big Tom" is a stalwart in the middle of the defensive line for both of the next two seasons.