As Ohio State's recruiting class of 2018 enters its pivotal third season in Columbus, we're taking a look back at each of their first two years as Buckeyes and look ahead at what to expect from them in 2020 and beyond with the Third-Year Reset.
Ohio State will be counting on its class of 2018, which is the highest-rated recruiting class OSU has ever signed, to step up in a big way as it looks to make another run to the College Football Playoff despite the departures of many key players from last season.
Each of them have now been with the Buckeyes for two years, and by the end of the upcoming season, all of them will either be on the back end of their Ohio State careers or off to the NFL. So while most of them haven't played major roles for the Buckeyes yet, the time for them to deliver on their potential is now.
Third-Year Reset
One of the highest-ranked Buckeyes from the class of 2018 who hasn't been talked about much since he arrived at Ohio State is Matthew Jones. A backup offensive lineman so far in his collegiate career, Jones still doesn't have a clear path to a starting job entering his third year in Columbus, and he's been overshadowed by some of the other highly touted offensive line recruits who have come before and after him.
That said, it isn't out of the question that Jones could find his way into the starting lineup this season as the Buckeyes' new first-team left guard. Even if he doesn't open the season as a starter, he projects to be a very important depth piece for Ohio State's interior offensive line. And when remembering that Jones arrived at Ohio State as the top-ranked center in his recruiting class, he shouldn't be forgotten about as a player who still has the potential to become a star for the Buckeyes up front.
Before He Became a Buckeye
Jones was a star on both sides of the line for Erasmus Hall High School, the same Brooklyn program that produced former Ohio State star Curtis Samuel. Recruited by some schools to play defensive tackle, Jones drew offers from many of the nation's best programs before ultimately choosing to follow Samuel's footsteps, become a Buckeye and play offensive line.
After initially being rated by recruiting services as a defensive tackle, Jones ultimately finished the 2018 cycle as the 10th-ranked offensive lineman, No. 2 prospect from New York (trailing only fellow Ohio State commit Jeremy Ruckert) and No. 68 overall prospect in his class.
A second-team All-State selection on defense as a sophomore and a first-team All-State selection on offense as both a junior and senior, Jones led Erasmus Hall to appearances in the championship game of New York City's Public Schools Athletic League in each of his final two seasons with the Dutchmen.
Arriving in Columbus after Billy Price and Pat Elflein had won the Rimington Trophy in each of the past two seasons, Jones began his Ohio State career with visions of being the Buckeyes' next great center.
"You've always got to say that 'I could be great.' You could be the next Billy Price, and that's the mindset I have basically every day," Jones said after enrolling at Ohio State in the winter of 2018.
Career to Date
Left off of the two-deep as a true freshman, Jones didn't play a single snap in 2018 and took a redshirt year to start his Ohio State career.
As a redshirt freshman last season, Jones began the year as Ohio State's backup left guard behind Jonah Jackson and played in eight of the Buckeyes' first nine games for a total of 114 snaps before suffering an injury in the ninth game of the season against Maryland, after which he did not return to game action for the remainder of the year.
Even so, Jones felt the experience he was able to gain in 2019, and the lessons he learned from playing behind Jackson made him a better player going into 2020.
"I actually have experience on the field, so I learned every day, mastered my techniques, and I'm pumped for next year," Jones told Eleven Warriors after the Big Ten Championship Game in December. "Every day I go behind Jonah Jackson, learn from him and learn the techniques of what I can do to become a better athlete."
Third-Year Outlook
In most cases, an offensive lineman who was as highly recruited as Jones would be in line for a starting job by his third season, especially now that the starting spot is open at the position he played last season. But the returns of Josh Myers and Wyatt Davis at center and right guard, coupled with the rapid rise of Harry Miller, could force Jones to wait his turn for one more year.
While Miller is only a true sophomore and spent his first year with the Buckeyes backing up Myers at center, the five-star recruit from the class of 2019 is the frontrunner to take Jackson's place in the lineup as the new starting left guard this year. Having drawn rave reviews from his coaches and teammates since he stepped foot on campus last summer, Miller was already viewed as the next man up on the interior offensive line as a true freshman, and on the first day of spring practice in March, Miller took most of the first-team reps at left guard, and Ryan Day suggested the job was his to lose.
"We're going to try Harry at guard, see if he can be four," Day said, meaning that Miller would be the fourth starter on the offensive line in between returning starters Myers, Davis and Thayer Munford.
Because spring practices were cut short after just one week, though, that competition remains unsettled. But Jones made enough of an impression during that one week and in winter workouts to give himself a fighting chance to win the job in preseason camp. Davis said Jones showed in winter workouts that "he completely changed his whole mentality," and offensive line coach Greg Studrawa also liked what he saw from Jones early this offseason.
"Matt Jones opened my eyes a little bit," Studrawa said in April. "I think he's got a certain maturity level now that it might be time for him to play and start to contribute."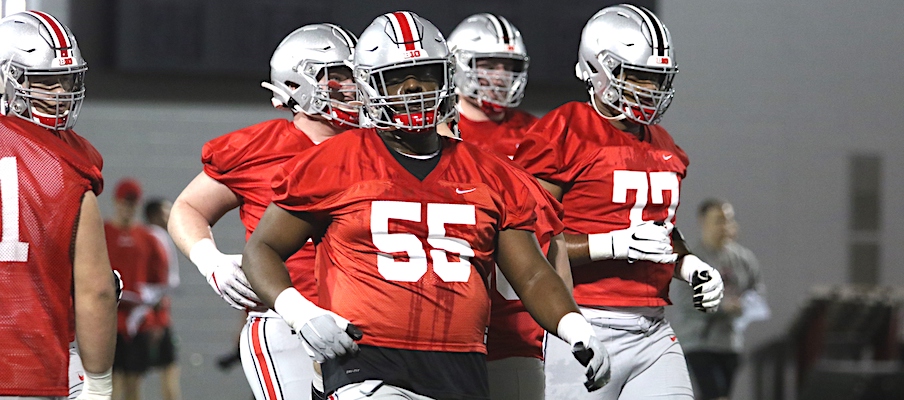 Jones came out of last season planning to do whatever he can to prove he deserves a spot in the starting lineup.
"Just got to grind, work harder than everyone else and show the coaches that I am the person for the job," Jones said in December.
Right now, Jones looks like the underdog to win that competition against Miller. That said, it's likely whoever doesn't win that competition will end up being the top backup on the interior offensive line. With his experience lining up at both guard and center, Jones could potentially be the next man up at all three interior offensive line spots, or at least the next man up at guard, as Miller could hypothetically move back to center if anything happens to Myers.
"Matt Jones opened my eyes a little bit. I think he's got a certain maturity level now that it might be time for him to play and start to contribute."– Greg Studrawa on Matthew Jones
Beyond 2020
If Jones doesn't break into the starting lineup this year, whether he finally gets his chance to start next year could depend on whether Davis and Myers enter the 2021 NFL draft. Given that Davis is considered to be the best guard in the country and Myers also has early-round pick potential, there's reason to anticipate that at least one if not both of them will go pro after this season.
Should that happen, Jones would likely fill a vacant starting spot at either guard or center; probably guard, as he's been practicing at that position since last year, and Miller seems likely to be Myers' eventual successor at center. He'll have some competition for any guard spot that opens up next season from current second-years Enokk Vimahi and Ryan Jacoby – and possibly from current freshman Luke Wypler as well – but he should be the frontrunner.
Jones still has three seasons of collegiate eligibility, so he has the potential to be a multi-year starter on the Buckeyes' interior offensive line even though he hasn't played yet and even though he still might have to wait his turn for another year. And at 6-foot-4 and 310 pounds with excellent athleticism for his size that made him a top recruit out of high school, he certainly has the potential to emerge as an NFL prospect if he performs well when his opportunity to start does come.