As Ohio State's recruiting class of 2018 enters its pivotal third season in Columbus, we're taking a look back at each of their first two years as Buckeyes and look ahead at what to expect from them in 2020 and beyond with the Third-Year Reset.
Ohio State will be counting on its class of 2018, which is the highest-rated recruiting class OSU has ever signed, to step up in a big way as it looks to make another run to the College Football Playoff despite the departures of many key players from last season. Each of them have now been with the Buckeyes for two years, and by the end of the upcoming season, all of them will either be on the back end of their Ohio State careers or off to the NFL. So while most of them haven't played major roles for the Buckeyes yet, the time for them to deliver on their potential is now.
Third-Year Reset
Among the 21 members of the class of 2018 who are still on the roster, Jeremy Ruckert is one of the most experienced in terms of playing time. Ruckert has played 533 snaps in his first two seasons at Ohio State, second-most among the third-year Buckeyes (not including Justin Fields); his four starts are also tied for the second-most among Ohio State's 2018 signees.
Even so, it still feels like Ruckert's first two years as a Buckeye have only scratched the surface of what he could become. While his opportunities to put up big numbers might still be limited in 2020 because of the position he plays, many Ohio State fans are still clamoring for Ruckert to have more passes thrown his way after he arrived in Columbus as one of the Buckeyes' most-hyped tight end recruits ever.
Before He Became a Buckeye
Ruckert was a star on both sides of the ball at Lindenhurst High School, leading the Bulldogs to a 12-0 record and their first-ever Class I Long Island Championship in 2017.
In his senior year, Ruckert had 61 receptions for 1,094 yards and 13 touchdowns on offense and recorded 61 tackles, 13 sacks, four forced fumbles and two interceptions on defense, while he also made six field goals and 48 of 50 extra points as the Bulldogs' kicker. He was named the New York Gatorade State Player of the Year for his efforts.
For his whole high school career, Ruckert had 222 catches for 3,133 yards and 37 touchdowns and was a three-time All-Long Island selection by Newsday, becoming only the fourth player in 56 years to receive that distinction three times.
Ruckert was ranked as the No. 1 prospect in the state of New York, No. 2 tight end and No. 37 overall prospect in the class of 2018, and Urban Meyer made it clear just how highly he thought of Ruckert on the day Ohio State signed him in December 2017.
"Jeremy Ruckert might be the best tight end prospect that I've ever seen and recruited," Meyer said then. "His skill set is ridiculous."
Career to Date
Ruckert played in 13 of 14 games in 2018 as Ohio State's third-string tight end, but finished his freshman season with just one catch for 13 yards, which came in his first-ever game as a Buckeye against Oregon State.
The 2019 season started with a bang for Ruckert, as he caught four passes for 38 yards and two touchdowns in the season opener against Florida Atlantic. In more typical fashion for an Ohio State tight end, he never had more than two catches in a game for the rest of the year, finishing the season with 14 total catches for 142 yards and four touchdowns.
That said, Ruckert's sophomore season certainly showed flashes of greatness, most notably in the Big Ten Championship Game, when he made one of the top plays of the entire season with a ridiculous one-handed, 16-yard touchdown catch that sparked Ohio State's second-half comeback against Wisconsin.
COME ONNNN @Jeremy_Ruckert1 makes an unbelievable one-handed catch for the @OhioStateFB touchdown! pic.twitter.com/VYAu1f7mJE

— FOX College Football (@CFBONFOX) December 8, 2019
Perhaps most importantly in the Buckeyes' offense, Ruckert established himself as a reliable blocker last season – showing significant improvement in that area since he played primarily as a wide receiver in high school – and surpassed Rashod Berry to become one of the top two tight ends on Ohio State's depth chart. He played 404 snaps for the season, just 55 fewer snaps than primary starter Luke Farrell.
Third-Year Outlook
The question of whether Ohio State will finally start using its tight ends more in the passing game gets asked every single year, and the answer always ends up being no. Ohio State's tight ends haven't combined to catch more than 37 passes in a season in the past decade, and they had only 25 total catches last year.
As Ruckert enters his junior year at Ohio State, though, his skill set is reason enough for the Buckeyes to at least think about drawing up some more pass plays for their most gifted tight end.
While Ohio State is loaded with talent at wide receiver, Chris Olave and Garrett Wilson are the only returning receivers with significant playing experience. Even with only 15 career catches, Ruckert has the fourth-most career receptions of any returning Buckeye behind Olave, Wilson and Farrell.
It's highly unlikely that Ruckert will suddenly have 50 passes thrown his way in 2020, but he has the tools to be one of the best tight ends in the country if the Buckeyes start to utilize him in the passing game more regularly, and his ability to create mismatches with his size and athleticism over the middle adds another dimension to Ohio State's offense that Ryan Day and Kevin Wilson should look to take advantage of.
"We watched a lot of 49ers, a lot of the Ravens and all the teams that really use their tight end a lot in the NFL. In the NFL, the biggest play that they always convert on is a tight end over the middle," Ruckert said this spring. "And I think I can see that being more of a play that they call down the road. We've been working at it."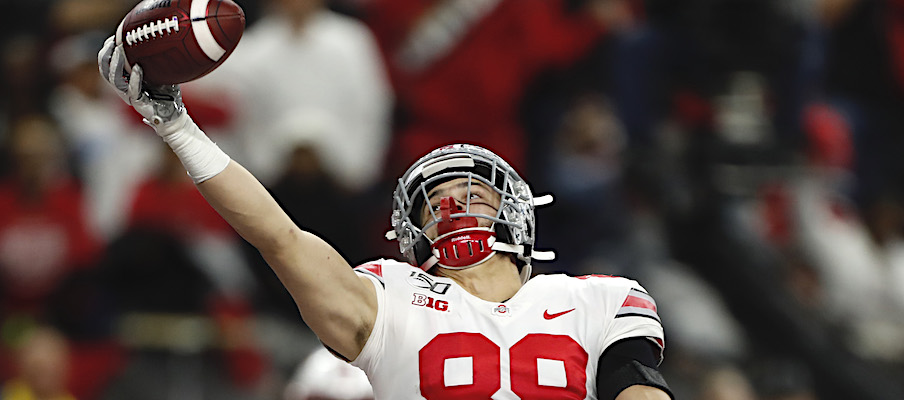 Wilson was noncommittal when asked this spring about the possibility of tight ends becoming a bigger factor in the passing game, noting his confidence in the Buckeyes' receiving corps. 
"It's kind of like those tight ends have got to show Coach Day and ourselves and the quarterbacks they're deserving to be No. 1, No. 2 (in the receiving progression)," Wilson said.
One thing that is for sure, though, is Ruckert should continue to see extensive playing time.
While Farrell is back for his third season as a starter, he and Ruckert's snaps should be just about equal this year now that both of them are established as two of the offense's most trusted players. It's also likely that the Buckeyes will continue to use a healthy dose of two-tight end packages, as they did throughout last season, to get both Ruckert and Farrell – with Jake Hausmann also mixing in at times – on the field together.
Beyond 2020
Even though his production at Ohio State has been meager so far, Ruckert should already be on the radar of NFL scouts. At 6-foot-5 and 253 pounds with receiver-like athleticism, Ruckert fits the modern prototype for an NFL tight end, and projects as a player – much like George Kittle, one of the tight ends he's been studying this offseason – who could end up posting bigger receiving numbers in the league than he'll ever have in college.
Given that, Ruckert will have a decision to make after his junior season. No Ohio State tight end has ever entered the NFL draft as a true junior, but Ruckert has unusual talent – he's the second-highest-rated tight end recruit the Buckeyes have signed since 2000, behind only Louis Irizarry, whose Ohio State career was cut short by a robbery conviction – and could emerge as one of the 2021 NFL draft's top tight end prospects if he can make his share of big plays in 2020.
That said, Ohio State will certainly be hoping Ruckert chooses to stay in Columbus for his senior year, as Farrell and Hausmann are both seniors. Behind Ruckert, the Buckeyes only have two other scholarship tight ends on the roster – redshirt freshman Cade Stover and true freshman Joe Royer – which means they are at risk of being thin and inexperienced at the position in 2021 if Ruckert leaves early.
That could be reason enough for Ruckert to stay at Ohio State for his senior season, as he'd be the clear-cut starter and leader in the tight end room in 2021, which could give him an opportunity to put up bigger numbers than he might this year.
If Ohio State doesn't start throwing the ball more to Ruckert this year, though, chances are that isn't going to change drastically in 2021. So one way or another, Ruckert will have reason to at least weigh his options and get feedback on where he might be slated to go in next year's NFL draft before making his decision on whether to be a four-year Buckeye.