Tyreke Johnson hasn't heard his name called in a while.
The redshirt freshman cornerback didn't play a single snap in the 11-point win against Penn State. When Shaun Wade didn't play the following week against Michigan, the trio of Cameron Brown, Amir Riep and Sevyn Banks had significant upticks in playing time but Johnson remained relegated to special teams. Then, in Saturday's Big Ten title game against Wisconsin, Johnson again remained on the sideline for the entire game in lieu of Brown and Banks, who played in place of Jeff Okudah for a chunk of the first half. 
Johnson has played only 57 snaps on defense, the eighth-most among cornerbacks. He remains behind both Brown and Banks, who were also members of the recruiting class of 2018, on the depth chart at outside cornerback.
"It's just one of those things where you've got to wait your turn, work hard and when you get your opportunity, display it to the world," Johnson told Eleven Warriors on Saturday after the Big Ten title game.
The on-field absence of Johnson has felt notable to those who follow Ohio State because of his status as a five-star prospect when he entered the program last year.
"All I've got to do is keep going on the track I am now. I feel like I've got everything somewhat figured out now. And then just follow the blueprint that Jeff Hafley's made for me."– Tyreke Johnson
Hailing from Jacksonville, Florida, he attended Trinity Christian Academy, the powerhouse high school that also produced both Marcus Crowley and Wade. There, he developed into a coveted prospect, earning scholarship offers from Clemson, Alabama, Georgia, Michigan, USC, Notre Dame and a bevy of other prominent programs. Ultimately, the No. 21 overall prospect and fifth-ranked Floridian in his recruiting cycle chose to play for Ohio State.
Since that point? Mostly silence. That's where what Johnson has learned from Wade has come in handy.
"From Shaun, I learned patience and you don't have to wait your turn, but your turn's always going to come and just be ready," Johnson said.
Wade's turn didn't come right away. Like Johnson, he redshirted his first year in Columbus. The next year, he worked his way into the rotation at cornerback, spending most of his time in the slot.
Johnson's opportunity for a significant bump in playing time hasn't come this year, with his defensive snap count going from two to 57. It didn't help his progress that he suffered a torn lateral meniscus in one of his knees right before preseason camp began, holding him out of practice until the second week of the regular season.
Next year, provided he remains healthy, could be what Johnson has been waiting for since committing to Ohio State.
Damon Arnette will have graduated. Okudah will be off to the NFL as a likely top-10 draft pick. Wade is also a possible early entrant into the NFL draft. With all of them potentially gone, the future at cornerback will fall upon the underclassmen.
"Of course we see it," Johnson said. "But like I said, it's us young guys and we're all here to make each other better. We're not in competition with each other. We all just want to help each other and we all want to see each other succeed and do what Marshon (Lattimore) and Gareon (Conley) and Eli (Apple) did. We just want to facilitate that and just go from there."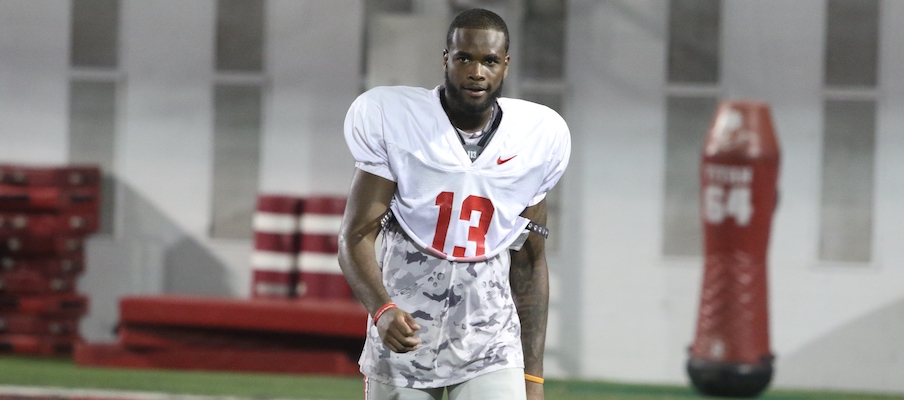 Should Wade return, he'd likely move from the slot to play outside. If he leaves for the NFL, it'll be up to Brown, Banks, Johnson, Marcus Williamson, Clark Phillips, Lejond Cavazos and Ryan Watts to replace the outgoing veterans, with Amir Riep likely taking Wade's spot in the slot.
What will help during the spring and summer, in Johnson's mind, is that he's in a better spot mentally away from the action.
"I feel like the biggest strides that I made came off the field," Johnson said. "I just grew into a better young man, just grew older just being around great guys. Jordan Fuller and (others) just helped me just grow up and stop being a little kid and complaining with everything that's going your way. Just put your head down and work."
Johnson said he has also developed an "unbreakable bond" with Arnette, crediting the fifth-year senior for teaching him "never to give up and to be resilient in everything you do." He has watched the fifth-year senior boost his NFL draft stock while playing with a broken wrist.
On Saturday, Arnette and the rest of the secondary helped Ohio State win another Big Ten championship, which is something Johnson said he doesn't take for granted.
"I mean, one, the experience to me is amazing," Johnson said. "Truly, I want to give thanks to God for allowing me to come to this great university and put us in this situation. To get to Indy is a goal. Like coach (Ryan) Day said, when you come in day one as a freshman, day one in winter workouts, the first thing they say is beat the Team Up North and get to Indy. That's the goal for the season, and once you get to Indy, you know that you had a successful season and it's going to put you in a position to do what you want to do."
Next season, it could be Johnson on the field making plays on the field at Lucas Oil Stadium, and he knows that.
By the third year of every player who comes through Ohio State, the pressure to make major contributions intensifies. And Johnson, noticing the opportunities ahead, thinks he'll be ready.
"All I've got to do is keep going on the track I am now," Johnson said. "I feel like I've got everything somewhat figured out now. And then just follow the blueprint that Jeff Hafley's made for me."
As Johnson knows from seeing it first-hand with Okudah, Wade and Arnette, that approach has worked before.