Ohio State trailed by multiple touchdowns and had to come back in the second half for the first time all year in its 34-21 Big Ten Championship Game win over Wisconsin, and as a result, some of the Buckeyes' most important players never left the field.
For the first time in his career, junior running back J.K. Dobbins played every single one of Ohio State's offensive snaps in last weekend's game against the Badgers. Starting quarterback Justin Fields and four of the Buckeyes' five starting offensive linemen – excluding right guard Wyatt Davis, who left the game briefly due to a shoulder injury – were also on the field for all 79 of the Buckeyes' offensive plays.
Deep safety Jordan Fuller played all 71 of Ohio State's defensive snaps to help the Buckeyes hold off the Badgers, while defensive end Chase Young played every snap but one and linebacker Malik Harrison played every snap but two.
In total, 61 players saw the field for the Buckeyes in this year's conference title game at Lucas Oil Stadium – two more than against Michigan State and Penn State, the only other two games in which Ohio State kept its starters in for all 60 minutes, and one more than in their first game against Wisconsin.
We take a look at how much each of them played in our Big Ten Championship Game edition of Snap Counts, Eleven Warriors' exclusive weekly look at who plays and how much on Ohio State's offense, defense and special teams.
All snap counts were compiled by Eleven Warriors and should be considered unofficial. It is not always possible to see all players on special teams units from TV camera angles for special teams units, so exact snap counts for those units are not listed.
Quarterbacks
Justin Fields: 79
Even though he wasn't fully healthy due to a sprained MCL in his left knee that he suffered against Penn State and aggravated against Michigan, Fields played all 79 of Ohio State's offensive snaps against Wisconsin, marking just the third game this year in which he has taken every snap at quarterback. Fields battled through his injury to complete 19 of 31 passing attempts for 299 yards and three touchdowns and earn game MVP honors.
Running Backs
J.K. Dobbins: 79
Neither Master Teague nor any other Ohio State running back played any snaps for the first time all season, as the Buckeyes kept Dobbins on the field for every single snap of the Big Ten Championship Game. In 79 total plays, his second-highest snap count of the season and third-highest of his career, he carried the ball 33 times for 172 yards and one touchdown.
Wide Receivers
K.J. Hill: 59
Garrett Wilson: 43
Austin Mack: 40
Chris Olave: 39
Binjimen Victor: 31
Jaylen Harris: Special teams only
Xavier Johnson: Special teams only
Demario McCall: Special teams only
Jameson Williams: Special teams only
Hill played more than 50 snaps for the fifth time this season and third game in a row – and had his most productive game of the year, catching seven passes for 83 yards and two touchdowns – as a mainstay in the Buckeyes' three-receiver packages at slot receiver. 
Olave started his second straight game over Mack at Z receiver while Victor started as he has every game this year at X receiver, but Wilson and Mack ended up playing more snaps off the bench. Wilson's 43 offensive snaps, on which he caught two passes for 17 yards, were his second-highest snap count of the year.
Tight Ends
Luke Farrell: 36
Jeremy Ruckert: 36
Rashod Berry: 20
Jake Hausmann: 12
Mitch Rossi: Special teams only
Ruckert, who delivered the highlight of the game with a spectacular one-handed touchdown catch on Ohio State's opening drive of the second half, tied Farrell for the most snaps played and tied his own career-high snap count as the Buckeyes made the most conscious effort they have all year to substitute Ruckert into the game in third-down passing situations.
Berry, who had played on both offense and defense in each of Ohio State's previous four games, played only at tight end in the Big Ten Championship Game.
Offensive Linemen
Thayer Munford: 79
Jonah Jackson: 79
Josh Myers: 79
Branden Bowen: 79
Wyatt Davis: 76
Nicholas Petit-Frere: 3
Joshua Alabi: Special teams only
Dawand Jones: Special teams only
Harry Miller: Special teams only
Kevin Woidke: Special teams only
Davis, who was tied with Jackson and Myers for the team lead in snaps played entering Saturday's game, missed the end of Ohio State's final drive of the first half when his shoulder popped out of its socket. He was able to return for the Buckeyes' kneel-down to end the first half and played the entire second half despite the injury.
For the three plays that Davis was out of the game, Bowen shifted inside to right guard – the position he started at for the Buckeyes' first six games of 2017 – while Petit-Frere came into the game at right tackle.
Defensive Ends
Chase Young: 70
Tyler Friday: 36 
Tyreke Smith: 18
Zach Harrison: 13
Javontae Jean-Baptiste: 7
Young played a season-high in snaps for the third week in a row as he was on the field for all but one of Ohio State's defensive plays in Saturday's game. On the one play that Young was out of the game, Wisconsin quarterback Jack Coan ran for a 14-yard touchdown.
Friday also played his highest snap count of the season, starting opposite Young and playing just over half of the Buckeyes' 71 defensive snaps.
While Friday – the best run stopper of the Buckeyes' other defensive ends with Jonathon Cooper redshirting the rest of the season – was on the field for a majority of plays in the Buckeyes' 4-3 base defense, he was subbed out of the game for most nickel packages. Smith and Harrison, who are more explosive pass-rushers than Friday, conversely saw most of their playing time in nickel packages, with Jean-Baptiste also working his way into the rotation.
Defensive Tackles
DaVon Hamilton: 43
Jashon Cornell: 36
Robert Landers: 26
Tommy Togiai: 12
Antwuan Jackson: 9
Haskell Garrett: 5
Jerron Cage: Special teams only
Hamilton played his highest snap count of his career in the Big Ten Championship Game as he took on a variety of roles against the Badgers, starting in his usual role at nose tackle in the Buckeyes' base defense while also playing six snaps at 3-technique alongside Togiai and a couple snaps at nose tackle in three-man fronts.
Cornell started at 3-technique and played at least 36 snaps for the third game in a row (after never playing more than 33 snaps in any of the first 10 games of the year). Garrett, who was the Buckeyes' second-string 3-technique tackle before he missed the Penn State game with a foot injury, played only five defensive snaps in Indianapolis while Jackson also mixed in at the position.
Landers also played his highest snap count of the season at nose tackle, including several snaps in 3-3-5 passing-down sub-packages.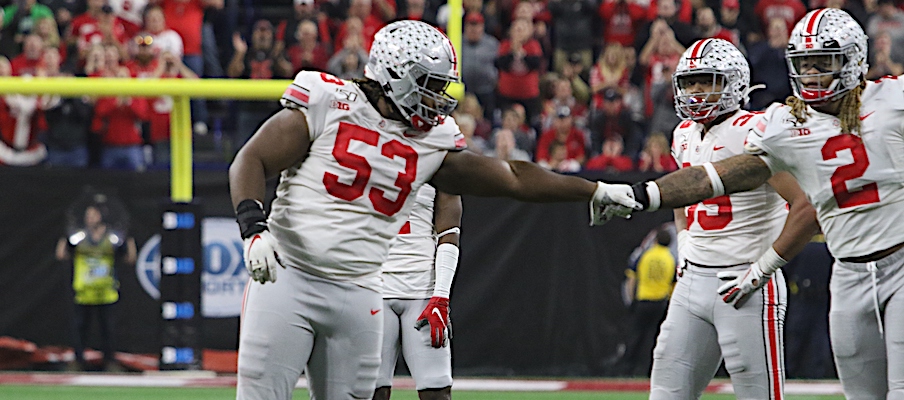 Linebackers
Malik Harrison: 69
Pete Werner: 57
Baron Browning: 47
Tuf Borland: 24
Justin Hilliard: 20
Teradja Mitchell: 2
Dallas Gant: Special teams only
Tommy Eichenberg: Special teams only
Cade Kacherski: Special teams only
Jahsen Wint: Special teams only
Harrison played exactly 69 snaps for the second game in a row as he continued to be a mainstay in all of Ohio State's defensive packages. Mitchell substituted into the game in his place for two plays, but Harrison was on the field for every other Wisconsin offensive play.
In a game in which the Buckeyes used more two-safety, three-cornerback nickel packages than they had all season, Browning – who is the only other linebacker on the field with Harrison in 4-2-5 packages and joins Harrison and Werner on the field in the 3-3-5 defense – played his highest snap count of the season and just under two-thirds of the Buckeyes' defensive plays while Borland, the starting middle linebacker, played just over one-third.
Hilliard joined Harrison, Werner and either Borland or Browning on the field for 20 plays as an outside linebacker in four-linebacker packages.
Cornerbacks
Damon Arnette: 65
Jeff Okudah: 49
Shaun Wade: 36
Cameron Brown: 26
Amir Riep: 15
Sevyn Banks: 2
Marcus Williamson: Special teams only
Okudah missed the final play of the first quarter and the entirety of the second quarter to be evaluated for a possible head injury, but he was cleared to return to the game for the second half and played every snap of the third and fourth quarters.
Wade returned after missing the Michigan game due to injury and was on the field for 36 snaps in three-cornerback packages in the slot, but left the game after going down with just over four minutes to play. Riep replaced Wade for the remainder of the game at slot cornerback, but Wade told Eleven Warriors after the game that he is "going to be good."
Arnette played all but six snaps of Saturday's game while continuing to play through a broken wrist. Banks was the first cornerback to substitute in for Okudah when he initially left the game, but Brown ended up playing the entire second quarter in Okudah's place as well as five second-half snaps in place of Arnette.
Safeties
Jordan Fuller: 71
Josh Proctor: 16
Marcus Hooker: 6
Fuller, the lone Buckeye to play every defensive snap in the Big Ten Championship Game, was on the field for a season-high 71 plays as a result.
Hooker was the first safety off the bench and played six snaps in nickel packages as a second safety – five in the first half and one early in the third quarter – before Proctor replaced him in that role for the remainder of the game.
Field Goals/Extra Points
Blake Haubeil (kicker)
Drue Chrisman (holder)
Liam McCullough (long snapper)
Luke Farrell (wing)
Harry Miller (rocker)
Joshua Alabi (tackle)
Josh Myers (guard)
Jerron Cage (guard)
Dawand Jones (tackle)
Kevin Woidke (rocker)
Jeremy Ruckert (wing)
Alabi returned to the place-kicking unit for the first time since the Buckeyes' first six games of the season, replacing Wyatt Davis. The rest of the unit for the Big Ten Championship Game remained the same as previous weeks.
Kickoffs
Blake Haubeil (kicker)
Amir Riep (gunner)
Justin Hilliard (gunner)
Tommy Eichenberg (gunner)
Cade Kacherski (gunner)
Jameson Williams (gunner)
Dallas Gant (gunner)
Sevyn Banks (gunner)
Marcus Hooker (gunner)
Marcus Williamson (gunner)
Jahsen Wint (gunner)
Eichenberg replaced fellow freshman linebacker Craig Young while Gant replaced fellow sophomore linebacker K'Vaughan Pope from the Buckeyes' starting kickoff unit for their previous game at Michigan. The rest of the kickoff coverage lineup remained unchanged.
Kickoff Returns
Demario McCall (returner)
K.J. Hill (blocker)
Xavier Johnson (blocker)
Mitch Rossi (blocker)
Teradja Mitchell (blocker)
Dallas Gant (blocker)
Amir Riep or Jeremy Ruckert (blocker)
Marcus Hooker (blocker)
Jahsen Wint (blocker)
Jaylen Harris (blocker)
Binjimen Victor (blocker)
With the exception of Riep playing one snap in place of Ruckert, Ohio State's kickoff return lineup was unchanged from the previous game against Michigan. McCall did not return any of Wisconsin's kickoffs.
Punts
Drue Chrisman (punter)
Liam McCullough (long snapper)
Jake Hausmann (upback)
Tuf Borland (upback)
Luke Farrell (wing)
Justin Hilliard (tackle)
Malik Harrison (guard)
Dallas Gant (guard)
Jordan Fuller (tackle)
Austin Mack (gunner/wing)
Chris Olave or Cameron Brown (gunner)
Ohio State used the same starting lineup on its punt team as it did in the previous game against Michigan, even for its second-quarter fake punt, on which Chrisman completed a 21-yard pass to Farrell. 
Punt Blocks/Returns
Garrett Wilson (returner)
Sevyn Banks (rusher/blocker)
Marcus Hooker (rusher/blocker)
Cade Kacherski (rusher/blocker)
Teradja Mitchell (rusher/blocker)
Josh Proctor (rusher/blocker)
Xavier Johnson (rusher/blocker)
Dallas Gant (rusher/blocker)
Jahsen Wint (rusher/blocker)
Jameson Williams (rusher/blocker)
Cameron Brown (rusher/blocker)
Hooker, Mitchell, Proctor and Gant replaced Chris Olave, Pete Werner, Baron Browning and Rashod Berry on the punt block/return unit from the Michigan game, allowing Wilson to go back to wearing his regular No. 5 at punt returner (though he was in No. 18, which he wore on his punt returns against the Wolverines, for Wisconsin's first punt of the day). Wilson had just one punt return for one yard in the Big Ten Championship Game.
Field Goal/Extra Point Block
Shaun Wade (blocker)
Sevyn Banks (blocker)
Pete Werner (blocker)
Tommy Togiai (blocker)
DaVon Hamilton (blocker)
Chase Young (blocker)
Robert Landers (blocker)
Tuf Borland (blocker)
Malik Harrison (blocker)
Jeff Okudah or Cameron Brown (blocker)
Jordan Fuller (blocker) 
Ohio State stuck with regular members of its defensive rotation for its kick-blocking unit against the Badgers.
Snap Tracker: Offense

| POS | PLAYER | FAU | UC | IU | MIAMI | NEB | MSU | NW | WISC | MD | RU | PSU | MICH | WISC (B1G) | TOTAL |
| --- | --- | --- | --- | --- | --- | --- | --- | --- | --- | --- | --- | --- | --- | --- | --- |
| QB | JUSTIN FIELDS | 73 | 67 | 63 | 43 | 67 | 76 | 55 | 64 | 51 | 41 | 85 | 64 | 79 | 828 |
| QB | CHRIS CHUGUNOV | 5 | 5 | 8 | 18 | 9 | DNP | 12 | 10 | 29 | 31 | DNP | 14 | DNP | 141 |
| QB | GUNNAR HOAK | DNP | 4 | 5 | 14 | DNP | DNP | DNP | DNP | 17 | 8 | DNP | DNP | DNP | 48 |
| RB | J.K. DOBBINS | 49 | 43 | 44 | 34 | 51 | 57 | 48 | 53 | 40 | 36 | 81 | 59 | 79 | 674 |
| RB | MASTER TEAGUE III | 18 | 17 | 23 | 24 | 21 | 19 | 11 | 22 | 40 | 24 | 4 | 18 | DNP | 241 |
| RB | MARCUS CROWLEY | 5 | 1 | 5 | 6 | 4 | DNP | 5 | DNP | 10 | DNP | DNP | DNP | DNP | 36 |
| RB | STEELE CHAMBERS | DNP | 3 | DNP | 10 | ST | DNP | DNP | DNP | DNP | 20 | DNP | DNP | DNP | 33 |
| RB | AMARI McMAHON | DNP | DNP | DNP | 1 | DNP | DNP | DNP | DNP | DNP | DNP | DNP | DNP | DNP | 1 |
| WR | K.J. HILL | 45 | 45 | 38 | 30 | 42 | 63 | 40 | 55 | 37 | 33 | 63 | 56 | 59 | 606 |
| WR | CHRIS OLAVE | 41 | 33 | 29 | 25 | 29 | 35 | 21 | 57 | 44 | 31 | 40 | 38 | 39 | 462 |
| WR | BINJIMEN VICTOR | 41 | 31 | 32 | 25 | 40 | 45 | 31 | 36 | 24 | 26 | 55 | 36 | 31 | 453 |
| WR | GARRETT WILSON | 29 | 21 | 30 | 32 | 27 | 31 | 24 | 29 | 51 | 38 | 27 | 33 | 43 | 415 |
| WR | AUSTIN MACK | 30 | 31 | 36 | 22 | 35 | 31 | 29 | DNP | DNP | DNP | 44 | 32 | 40 | 330 |
| WR | JAMESON WILLIAMS | 5 | 6 | 7 | 14 | 8 | ST | 20 | 14 | 33 | 37 | ST | 7 | ST | 151 |
| WR/RB | DEMARIO McCALL | 6 | 12 | 4 | 6 | 1 | DNP | 7 | 7 | 35 | 5 | ST | 7 | ST | 90 |
| WR | JAYLEN HARRIS | 5 | 22 | 14 | 9 | 9 | ST | 7 | 9 | DNP | 7 | ST | 7 | ST | 89 |
| WR | JAELEN GILL | 6 | 10 | 14 | 5 | 8 | DNP | 6 | DNP | DNP | 14 | DNP | DNP | DNP | 63 |
| WR | XAVIER JOHNSON | ST | ST | ST | 10 | ST | ST | 2 | ST | 15 | 8 | ST | ST | ST | 35 |
| WR | SAM WIGLUSZ | DNP | DNP | DNP | 9 | DNP | DNP | DNP | DNP | 17 | 8 | DNP | DNP | DNP | 34 |
| WR | ELLIJAH GARDNER | 2 | 3 | 6 | 7 | DNP | DNP | DNP | DNP | DNP | DNP | DNP | DNP | DNP | 18 |
| WR | AUSTIN KUTSCHER | DNP | DNP | DNP | 10 | DNP | DNP | DNP | DNP | 6 | DNP | DNP | DNP | DNP | 16 |
| TE | LUKE FARRELL | 53 | 29 | 28 | 16 | 33 | 32 | 36 | 31 | 25 | 21 | 48 | 28 | 36 | 416 |
| TE | JEREMY RUCKERT | 34 | 23 | 20 | 23 | 26 | 22 | 33 | 27 | 24 | 28 | 36 | 25 | 36 | 357 |
| TE | RASHOD BERRY | DNP | 25 | 24 | 23 | 23 | 18 | DNP | 18 | 22 | 16 | 23 | 21 | 20 | 233 |
| TE | JAKE HAUSMANN | 16 | 21 | 21 | 23 | 16 | 15 | DNP | 8 | 45 | 34 | 4 | 16 | 12 | 231 |
| TE | MITCH ROSSI | 2 | 1 | 5 | 6 | 7 | 3 | 15 | 4 | 14 | 14 | ST | 7 | ST | 78 |
| TE | DERRICK MALONE | 1 | 1 | DNP | 4 | DNP | DNP | DNP | DNP | 2 | DNP | DNP | DNP | DNP | 8 |
| TE | BROCK DAVIN | 2 | 2 | DNP | 1 | DNP | DNP | DNP | DNP | 1 | DNP | DNP | DNP | DNP | 6 |
| OL | JONAH JACKSON | 73 | 67 | 63 | 43 | 67 | 76 | 55 | 65 | 51 | 41 | 85 | 71 | 79 | 836 |
| OL | JOSH MYERS | 73 | 67 | 63 | 43 | 67 | 76 | 55 | 65 | 51 | 41 | 85 | 71 | 79 | 836 |
| OL | WYATT DAVIS | 73 | 67 | 63 | 43 | 67 | 76 | 55 | 65 | 51 | 41 | 85 | 71 | 76 | 833 |
| OL | THAYER MUNFORD | 54 | 56 | 63 | 43 | 67 | 76 | 14 | 65 | 51 | 41 | 85 | 71 | 79 | 765 |
| OL | BRANDEN BOWEN | 63 | 56 | 63 | 43 | DNP | 70 | 55 | 65 | 51 | 41 | 85 | 71 | 79 | 742 |
| OL | NICHOLAS PETIT-FRERE | 15 | 20 | 13 | 32 | 9 | ST | 47 | 9 | 46 | 39 | DNP | 7 | 3 | 240 |
| OL | HARRY MILLER | 5 | 9 | 13 | 32 | 9 | DNP | 12 | 9 | 46 | 39 | ST | 7 | ST | 181 |
| OL | JOSHUA ALABI | 24 | 20 | 13 | 32 | 73 | 6 | DNP | DNP | DNP | DNP | DNP | 7 | ST | 175 |
| OL | GAVIN CUPP | 5 | 9 | 13 | 32 | 9 | ST | 12 | 9 | 46 | 39 | DNP | DNP | DNP | 174 |
| OL | MATTHEW JONES | 5 | 9 | 8 | 32 | 9 | DNP | 12 | 9 | 30 | DNP | DNP | DNP | DNP | 114 |
| OL | DAWAND JONES | DNP | ST | DNP | ST | DNP | DNP | 6 | 9 | 36 | 39 | ST | ST | ST | 90 |
| OL | ENOKK VIMAHI | DNP | DNP | DNP | DNP | DNP | DNP | DNP | DNP | 16 | 39 | DNP | 7 | DNP | 62 |
| OL | KEVIN WOIDKE | ST | ST | 5 | ST | 3 | ST | 12 | ST | 10 | ST | ST | 7 | ST | 37 |
| OL | BRANDON PAHL | DNP | DNP | DNP | ST | DNP | DNP | DNP | DNP | DNP | DNP | DNP | DNP | DNP | ST |
| OL | MAX WRAY | DNP | DNP | DNP | ST | DNP | DNP | DNP | DNP | ST | ST | DNP | DNP | DNP | ST |
| K | BLAKE HAUBEIL | ST | ST | ST | ST | ST | ST | ST | ST | ST | ST | ST | ST | ST | ST |
| K | DOMINIC DIMACCIO | DNP | DNP | DNP | ST | DNP | DNP | DNP | DNP | ST | DNP | DNP | DNP | DNP | ST |
Snap Tracker: Defense

| POS | PLAYER | FAU | UC | IU | MIAMI | NEB | MSU | NW | UW | MD | RU | PSU | UM | UW | TOTAL |
| --- | --- | --- | --- | --- | --- | --- | --- | --- | --- | --- | --- | --- | --- | --- | --- |
| DE | CHASE YOUNG | 42 | 34 | 35 | 33 | 29 | 63 | 35 | 42 | DNP | DNP | 63 | 67 | 70 | 513 |
| DE | ZACH HARRISON | 24 | 17 | 22 | 23 | 25 | 14 | 29 | 21 | 19 | 24 | 22 | 6 | 13 | 259 |
| DE | TYREKE SMITH | DNP | 21 | 20 | DNP | DNP | 28 | 26 | 28 | 18 | 18 | 22 | 13 | 18 | 212 |
| DE | TYLER FRIDAY | DNP | 15 | 33 | 28 | 22 | DNP | 5 | DNP | 15 | 26 | 18 | 7 | 36 | 205 |
| DE | JAVONTAE JEAN-BAPTISTE | 33 | 16 | 28 | 21 | 14 | 9 | 27 | 9 | 13 | 16 | 4 | 4 | 7 | 201 |
| DE | JONATHON COOPER | DNP | DNP | DNP | DNP | 22 | 24 | 24 | DNP | DNP | DNP | DNP | 51 | DNP | 121 |
| DE | ALEX WILLIAMS | 14 | 5 | DNP | 13 | DNP | DNP | DNP | DNP | 9 | 23 | DNP | DNP | DNP | 64 |
| DE | NOAH POTTER | 8 | 6 | DNP | 7 | DNP | DNP | DNP | DNP | 16 | DNP | DNP | DNP | DNP | 37 |
| DE/LB | CADE STOVER | DNP | 7 | DNP | 6 | DNP | DNP | ST | DNP | DNP | 22 | DNP | DNP | DNP | 35 |
| DE | AARON COX | 6 | DNP | DNP | 3 | DNP | DNP | DNP | DNP | 13 | DNP | DNP | DNP | DNP | 22 |
| DE | RASHOD BERRY | OFF | OFF | OFF | OFF | OFF | OFF | OFF | OFF | 4 | 6 | 5 | 2 | OFF | 17 |
| DT | JASHON CORNELL | 32 | 23 | 22 | 27 | 24 | 33 | 24 | 25 | 12 | 18 | 36 | 44 | 36 | 356 |
| DT | DAVON HAMILTON | 26 | 20 | 16 | 27 | 17 | 29 | 19 | 19 | 12 | 16 | 28 | 39 | 43 | 311 |
| DT | TOMMY TOGIAI | 29 | 25 | 22 | 17 | 23 | 14 | 28 | 16 | 8 | 29 | 8 | 12 | 12 | 243 |
| DT | ROBERT LANDERS | 25 | 10 | 23 | DNP | 15 | 22 | 17 | 16 | 9 | 16 | 23 | 23 | 26 | 225 |
| DT | HASKELL GARRETT | 36 | 19 | 24 | 18 | 24 | 19 | 22 | 20 | 8 | 20 | DNP | ST | 5 | 215 |
| DT | ANTWUAN JACKSON | 18 | 10 | 14 | 13 | 9 | 9 | 21 | 8 | 18 | 26 | 22 | 15 | 9 | 192 |
| DT | JERRON CAGE | 14 | 4 | 10 | 12 | ST | 4 | 8 | DNP | 21 | 12 | ST | 3 | ST | 88 |
| DT | ZAID HAMDAN | 6 | DNP | DNP | 7 | DNP | DNP | DNP | DNP | 11 | DNP | DNP | DNP | DNP | 24 |
| DT | JADEN McKENZIE | DNP | DNP | DNP | 7 | DNP | DNP | DNP | DNP | 4 | DNP | DNP | DNP | DNP | 11 |
| LB | MALIK HARRISON | 53 | 41 | 45 | 37 | 39 | 55 | 53 | 48 | 25 | 37 | 64 | 69 | 68 | 634 |
| LB | PETE WERNER | 60 | 35 | 41 | 32 | 28 | 50 | 53 | 46 | 18 | 20 | 56 | 47 | 57 | 543 |
| LB | TUF BORLAND | 36 | 20 | 26 | 28 | 30 | 40 | 38 | 32 | 23 | 37 | 28 | 29 | 24 | 391 |
| LB | BARON BROWNING | 36 | 32 | 37 | 20 | 29 | 41 | DNP | 16 | 1 | DNP | 36 | 40 | 47 | 335 |
| LB/S | BRENDON WHITE | 19 | 15 | 27 | 16 | 18 | 17 | 16 | 3 | 18 | 24 | DNP | 3 | DNP | 176 |
| LB | DALLAS GANT | 6 | 13 | 12 | 15 | 14 | ST | 19 | 3 | 17 | 16 | ST | 3 | ST | 118 |
| LB | JUSTIN HILLIARD | DNP | DNP | 3 | 8 | 6 | ST | 1 | 18 | 4 | 18 | 9 | 16 | 20 | 103 |
| LB | TERADJA MITCHELL | 25 | 14 | 12 | 14 | DNP | DNP | DNP | DNP | 10 | 19 | ST | 3 | 2 | 99 |
| LB | K'VAUGHAN POPE | ST | 2 | 3 | 12 | ST | ST | 22 | 3 | 16 | 19 | ST | ST | DNP | 77 |
| LB/S | JAHSEN WINT | 19 | ST | DNP | 6 | 10 | ST | 4 | ST | 15 | 19 | ST | ST | ST | 73 |
| LB | CRAIG YOUNG | ST | ST | 3 | 1 | ST | DNP | ST | DNP | 7 | 4 | ST | ST | DNP | 15 |
| LB | BEN SCHMIESING | DNP | DNP | DNP | ST | DNP | DNP | DNP | DNP | 7 | DNP | DNP | DNP | DNP | 7 |
| LB | TOMMY EICHENBERG | DNP | DNP | DNP | 1 | DNP | DNP | DNP | DNP | DNP | 4 | DNP | DNP | ST | 5 |
| LB | CADE KACHERSKI | DNP | DNP | DNP | 1 | DNP | DNP | DNP | DNP | ST | DNP | ST | ST | ST | 1 |
| LB | LOGAN HITTLE | DNP | DNP | DNP | ST | DNP | DNP | DNP | DNP | DNP | DNP | DNP | DNP | DNP | ST |
| LB | TRAYVON WILBURN | DNP | DNP | DNP | ST | DNP | DNP | DNP | DNP | ST | DNP | DNP | DNP | DNP | ST |
| CB | JEFF OKUDAH | 63 | 37 | 51 | 45 | 39 | 59 | 53 | 48 | 23 | 32 | 64 | 64 | 49 | 627 |
| CB | DAMON ARNETTE | 61 | 41 | 51 | 41 | 38 | 33 | 44 | 47 | 17 | DNP | 64 | 39 | 65 | 541 |
| CB | SHAUN WADE | 42 | 35 | 54 | 40 | 36 | 68 | 49 | 30 | 25 | 37 | 54 | DNP | 36 | 506 |
| CB | CAMERON BROWN | 15 | 18 | 12 | 13 | 18 | 35 | 18 | 4 | 9 | 47 | 9 | 29 | 26 | 253 |
| CB | AMIR RIEP | 6 | 14 | 8 | 12 | 14 | ST | 16 | 3 | 28 | 24 | 1 | 44 | 15 | 185 |
| CB | SEVYN BANKS | 17 | ST | 8 | 9 | 17 | ST | 19 | 3 | 21 | 37 | 4 | 33 | 2 | 170 |
| CB | MARCUS WILLIAMSON | 7 | 15 | 9 | 9 | ST | 9 | 16 | ST | 21 | ST | ST | ST | ST | 86 |
| CB | TYREKE JOHNSON | DNP | 3 | 7 | 9 | ST | DNP | 10 | DNP | 15 | 13 | DNP | ST | DNP | 57 |
| CB | KEVIN DEVER | DNP | DNP | DNP | 1 | DNP | DNP | DNP | DNP | ST | DNP | DNP | DNP | DNP | 1 |
| CB | DARRYL SINCLAIR | DNP | DNP | DNP | 1 | DNP | DNP | DNP | DNP | DNP | DNP | DNP | DNP | DNP | 1 |
| CB | LLOYD McFARQUHAR | DNP | DNP | DNP | 1 | DNP | DNP | DNP | DNP | DNP | DNP | DNP | DNP | DNP | 1 |
| S | JORDAN FULLER | 61 | 43 | 54 | 45 | 50 | 59 | 53 | 48 | 25 | 37 | 64 | 69 | 71 | 679 |
| S | JOSH PROCTOR | 6 | 15 | 5 | DNP | 6 | 15 | 3 | 5 | 13 | 20 | DNP | DNP | 16 | 104 |
| S | MARCUS HOOKER | ST | ST | 7 | 6 | ST | ST | 19 | ST | 15 | 11 | ST | 18 | 6 | 82 |
| S | ISAIAH PRYOR | 12 | 2 | 15 | 12 | DNP | DNP | DNP | DNP | DNP | DNP | DNP | DNP | DNP | 41 |
| S | BRYSON SHAW | DNP | DNP | DNP | 6 | DNP | DNP | DNP | DNP | ST | ST | DNP | DNP | DNP | 6 |
| S | OWEN FANKHAUSER | DNP | DNP | DNP | 1 | DNP | DNP | DNP | DNP | ST | DNP | DNP | DNP | DNP | 1 |
| S | RYAN BATSCH | DNP | DNP | DNP | ST | DNP | DNP | DNP | DNP | ST | DNP | DNP | DNP | DNP | ST |
| P | DRUE CHRISMAN | ST | ST | ST | ST | ST | ST | ST | ST | ST | ST | ST | ST | ST | ST |
| P | ZACK HOOVER | DNP | DNP | DNP | ST | DNP | DNP | DNP | DNP | ST | DNP | DNP | DNP | DNP | ST |
| LS | LIAM MCCULLOUGH | ST | ST | ST | ST | ST | ST | ST | ST | ST | ST | ST | ST | DNP | ST |
| LS | BRADLEY ROBINSON | DNP | DNP | DNP | ST | DNP | DNP | DNP | DNP | ST | DNP | DNP | DNP | DNP | ST |