INDIANAPOLIS – Looking around the Lucas Oil Stadium locker room, K.J. Hill saw the drooped faces. He noticed, due to the 21-7 halftime deficit to Wisconsin, a quieter Ohio State team than the one he had become accustomed to being around. To the veteran wide receiver, it was a lack of fire. 
See, the Buckeyes had never been in that spot. Not this year, at least. This group that had thoroughly dominated every team it faced in the regular season en route to 12 straight double-digit victories had never fallen behind by more than seven points in any game before Saturday. It had never trailed entering halftime or in the second half throughout the regular season. But as Ohio State's players and coaches ran into the locker room after the first 30 minutes of the Big Ten championship, they did so with a scoreboard above them illuminating a 14-point deficit.
"I definitely felt the energy pick up in the second half," Hill said. "The first half, we got punched in the mouth. We had our backs against the wall."
Some of the younger, less experienced players on the reeling team hadn't been in that spot before. But as a fifth-year senior, Hill recognized the feeling, and so did C.J. Saunders. 
They had been in doom-and-gloom locker rooms when Ohio State trailed at halftime to Iowa in 2017 and Purdue in 2018, never recovering and losing each of those games. However, the fifth-year seniors also experienced halftimes while trailing Virginia Tech and Indiana in 2015, Wisconsin and Michigan in 2016, Penn State in 2017 and Nebraska, Maryland, Penn State and TCU in 2018, all games the Buckeyes came back to win.
"We was like, we've been here before. The senior class has. It's nothing to have your head down for," Hill said.
That's when Saunders took action.
The crutches that have become so synonymous with his presence the past few months no longer held him back. Wearing sweatpants and an unblemished Ohio State jersey without any shoulder pads, he jumped up onto a chair, steadied himself as best he could and delivered an emotional message to everybody in the room.
"I kind of just put on my heart and I told our guys, you know, in 30 minutes that clock's going to hit zero and we're either going to be hanging our heads or the scarlet and gray confetti's going to come down. And that's inevitable," Saunders said. "But I told them the secret is whatever we believe to happen, that's the thing that's going to happen. So I told our guys if you don't believe with everything in your heart that we're going to go out there and win this game, don't come out of the locker room. Don't go out on that field if you don't believe that we're about to win this game."
"That's why he's a captain right there," Hill said.
When Saunders retells the story in the locker room after Ohio State rattled off 27 unanswered second-half points to beat Wisconsin by 13 and win a third straight conference championship, his chin suddenly shoots straight up. A white, backward-turned hat with "CHAMPIONS" embroidered on it sits atop his head, and a white Big Ten champions towel is draped around his neck. There's a seriousness, an urgency that's suddenly visible on his face. He wants you to understand the undeniable passion oozing out of every single word, and because it's easy to tell that he believes everything he says, you start to believe the words coming out of his mouth.
Hill certainly did, and the confetti eventually fell.
---
At some point between when the Buckeyes ran into the locker room for halftime and when the offense took the field for its first drive in the third quarter, Hill made his pitch to the rest of the wide receivers. He said that in order for them to pull off a comeback win, it's "going to come through our room."
He had played alongside Parris Campbell and Terry McLaurin in recent years. Standing on the same field, he had seen Michael Thomas and Curtis Samuel make spectacular, game-changing plays. Finding himself in a moment that needed that type of performance, he thought it had to come from the wideouts.
"We can't go out like that," said Hill, recalling his mindset entering the third quarter. "We ain't come this far just to come this far."
First came the message, then came the production.
Chris Olave, heeding Hill's words, caught a 50-yard pass on the first drive of the third quarter. Jeremy Ruckert then caught a touchdown to chop the deficit in half.
Two drives later, Hill took over with three catches, including a 10-yard reception for a third-and-7 conversion. He ended the drive by catching a 16-yard touchdown to give the Buckeyes a 24-21 lead. In the immediate aftermath of the go-ahead score, Justin Fields found him to tell him, "We've got that connection," Hill remembers. The next time Ohio State got the ball, Hill scored again, this time from 13 yards out to give the Buckeyes a 10-point advantage.
Simultaneously, Hill had his most productive, most important two-drive stretch of the season and broke the Ohio State record for receptions in a career, passing David Boston. To him, how he broke the record meant more than actually breaking it.
"We won the Big Ten championship. I scored two times in the Big Ten championship," Hill said. "We was down. It wasn't no blowout. We was down, we had to come back. I just wanted to lead the team to a Big Ten championship. I know how it feels to be in that stadium with the confetti falling, so I wanted that feeling again for my senior year. I got it."
Hitting that team goal matters to him, especially because as a fifth-year senior, he hasn't got every single thing that he wants.
Despite the graduation of three key wide receivers last year, Hill's not on pace to have as many catches as a did a season ago. He has caught two or fewer passes in five games and had 50 or fewer yards in seven games. But his impact has increased down the stretch of the season, with five games in a row with at least one touchdown reception.
And now, with the goal of winning a national championship still ahead of him, Hill's the all-time leader in receptions at Ohio State. More than Cris Carter, Michael Jenkins, Parris Campbell, Ted Ginn, Jr., Santonio Holmes or anyone else who has ever suited up for the Buckeyes.
"Trying to make a legacy here," Hill said. "I came back to school to do that. So I hope I did that."
He has, and the legacy isn't quite finished yet.
---
Standing atop the chair in the away locker room at Lucas Oil Stadium, Saunders spoke – well, probably screamed – from the heart. It's often hard to quantify exactly how much something like a halftime speech can actually do to invigorate a team. But that was the first thing Hill cited when asked after the game about what changed between the halves.
Knowing he couldn't actually play in Saturday's game due to a knee injury, Saunders did the only thing he could in that moment at halftime.
"I'm thankful that I'm in this opportunity regardless, that God's put me in a position that maybe it's not catching touchdowns or passes on the field but on the sidelines motivating guys at practice, keeping dudes' heads on straight and just trying to be that positive impact for them," Saunders said. "It's been extremely hard, but it's so worth it at times like this."
Nothing about Saunders' story is typical. Essentially, before his redshirt senior season began, he had accomplished everything somebody with his background could imagine. 
The unranked recruit from Dublin Coffman High School walked on to Ohio State's football program as an undersized cornerback in 2015. Soon enough, the coaches turned him into a wide receiver. There, Saunders thrived, catching 17 passes for 221 yards and a touchdown as a redshirt sophomore before earning a scholarship in the spring of 2018. As a fourth-year junior, he had 10 receptions for 73 yards.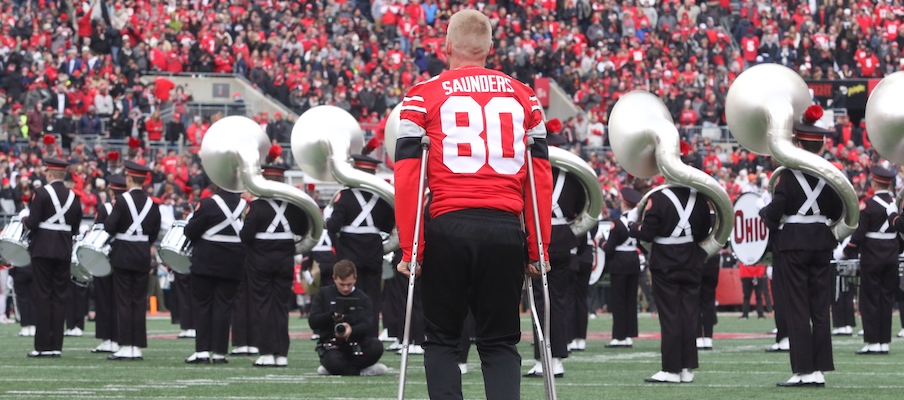 In August, Saunders' teammates voted him as one of their captains, along with Hill and five other players.
By that time, he found himself in a position he could never have imagined. But that also meant he more than ever didn't want to end up in his current predicament: swinging crutches around in celebration on the sideline, incapable of helping his team on the field during games.
"It wasn't how I would have scripted it out, that's for sure," Saunders said.
Before the season, he was slated to potentially back up K.J. Hill in the slot.
But on the last practice of fall camp, Saunders suffered an unfortunately timed knee injury. It required surgery, and he expected a quick turnaround, targeting Ohio State's game against Northwestern following the first off week as a return date. With an on-schedule recovery, the team listed Saunders as a game-time decision for its matchup with the Wildcats. Saunders didn't suit up, though.
He revealed on Saturday that he re-aggravated something in his knee, forcing him to have a second surgery, putting him back on crutches and ending his fifth-year senior season before it ever began. According to Joey Kaufman of the Columbus Dispatch, he has applied for a sixth season of eligibility.
"I wish I was out there with my guys on the field, obviously, but I'll be there for them whenever they need it," Saunders said. "If that's being a leader on the sideline, that's what it's going to be."
And that's what he was on Saturday.
---
The Ohio State careers of Hill and Saunders, both of which began in 2015, couldn't be much more different.
Hill, an Arkansas native, left his home state as a top-200 recruit for Columbus to play wide receiver. He has caught at least 50 passes for more than 500 yards in each of the past three seasons. After his fourth year, he could've left for the NFL but opted to return with goals of setting the all-time catch record and winning a national title. He accomplished the first, and the other sits two victories away. Should he catch passes in two more games, he'll break Gary Williams' school record for the most consecutive games with a reception, reaching 49 in a row.
Saunders walked on from a local high school, changed positions and became a contributor in the latter portion of his career. He won't set any records. Nobody will find his name atop a statistical category in a game program next year. Yet by earning a scholarship and becoming a team captain, he made it further than almost any walk-on ever does.
And on Saturday with the Big Ten championship on the line, both Hill and Saunders made impacts in their own ways.
One on top of a chair. One in the end zone. Both doing whatever they could to get Ohio State that ring.