If you look at Tyreke Johnson's recruiting profiles on 247Sports or Rivals, you'll see that both websites listed the new Ohio State defensive back as a safety.
If you ask Johnson himself what position he'll play for the Buckeyes, however, he'll tell you those recruiting profiles were simply incorrect.
"I'm playing corner," said Johnson, an early enrollee, while meeting with the media during Ohio State's National Signing Day media availability last Wednesday. "I came to Ohio State because I'm a corner. I am a corner, and that's what I was recruited as: a corner. Every school offered me as a corner."
In a world of cookie-cutter answers, where players often reply to questions about which position they will play by saying they will play wherever the coaches want them to play, Johnson's answer strikes a different tone: Yes, he has a preference about where he will play, and he's not afraid to say it.
Johnson, whose length at 6-foot-1 might be why some recruiting analysts projected him as a safety, instead believes that length will make him an asset to the Buckeyes on the outside of their secondary.
"That's what they're going to now. They're recruiting up the long corners," Johnson said. "(Playing cornerback) lets me be physical and it lets me be long, just be athletic, go out there and have fun and make plays."
Listen to the words of Johnson, who says he and fellow early enrollee cornerback Sevyn Banks "are the future of this program," and it's clear he does not lack confidence. Watch his play on the field, where he isn't afraid to talk a little trash but is also unafraid to make big hits on opponents or plays on the ball, and it's evident he backs up that confidence.
"I came to Ohio State because I'm a corner. I am a corner, and that's what I was recruited as: a corner. Every school offered me as a corner."– Tyreke Johnson
Johnson doesn't want that confidence, however, to be mistaken for arrogance. While being talkative on the field is a part of his game, Johnson said he doesn't want the game to be about himself.
"At the end of the day, the game's not about me," Johnson said. "I don't play the game for myself, I play it for my brother next to me. The guys that I'm out there on the field with."
Off the field, meanwhile, Johnson wants to be seen as "a very nice guy."
"I like to say, I give people my last," Johnson said. "Life is not all about you, it's about the person next to you and the person beside you. So that's kind of my outlook on life."
As a new Buckeye, Johnson's confidence – and his ability to quickly build relationships with his teammates – is bolstered by already having a connection in the Ohio State cornerback room in redshirt freshman Shaun Wade, who previously played with Johnson at Trinity Christian Academy in Jacksonville, Florida. Johnson said Wade, who he refers to as his cousin even though they are not actually related – "blood couldn't make us any closer," Johnson said – has given him "dead on" accurate advice that has helped him through his first month in the program.
"Like today, he gave me some insight on these mat drills on how to survive," Johnson said last Wednesday. "I did it, and sure enough I survived. I didn't get in trouble, I didn't get yelled at and I wasn't a hindrance."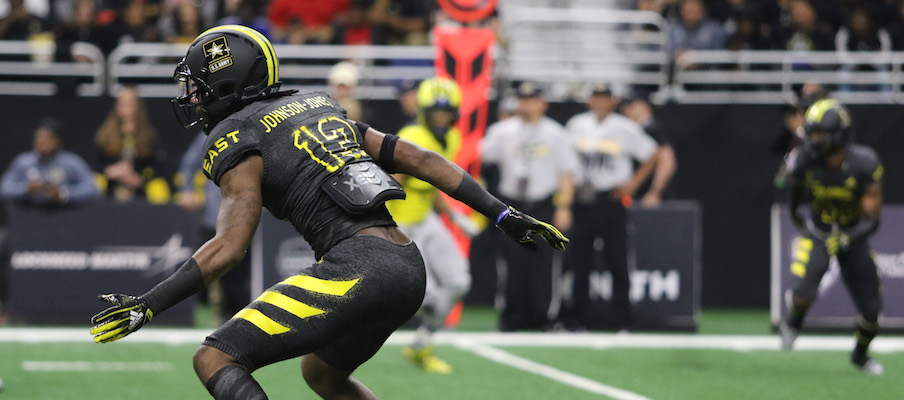 Many people believed that Johnson – who was also recruited by Alabama, Georgia, Clemson and UCLA among others – would choose to stay in the South. But Johnson, who lived in New York City as a young child before moving to Florida, ultimately decided with Wade's recommendation that Ohio State was the best place for him.
"Ohio State, they don't need to sell themselves," Johnson said. "The question I had for Shaun was, 'Would you mind if I came here and play with you?' Because he came to this school first and I didn't want to step on his toes. He said it's not a competition. We are all here to get each other better."
With Kendall Sheffield, Damon Arnette and Jeffrey Okudah likely to occupy the top three spots on the cornerback depth chart, and fellow cornerbacks Wade, Marcus Williamson and Amir Riep also each having a year in the program under their belts, it won't be easy for Johnson to crack the cornerback rotation as a true freshman. But Johnson, who finished the 2018 recruiting cycle as a composite five-star recruit and the No. 21 overall player in the class, says he will do everything he can to find a way onto the field and make an impact for the Buckeyes as soon as he can.
"I am going to work my tail off and, you know, as quick as it happens, I am going to be happy," Johnson said. "I can't put a time frame on it, but everyday, I am in here working, and I will be on the field soon."
Johnson is already working on putting his best foot forward in winter strength and conditioning work with Ohio State director of sports performance Mickey Marotti, who Johnson says he loves working with.
"He pushes me and makes me go hard on every rep," Johnson said. "And he demands nothing but greatness and excellence out of me."
Johnson and the rest of Ohio State's early enrollees will have their first opportunity to prove what they can do as football players for the Buckeyes, though, when spring practices begin March 6.
"I got to tackle this spring ball," Johnson said, "and then two, I just got to be disciplined and work on what I'm taught and just get it done in the classroom. At the end of the day, Ohio State is going to play their best. I just got to be ready when my number's called."