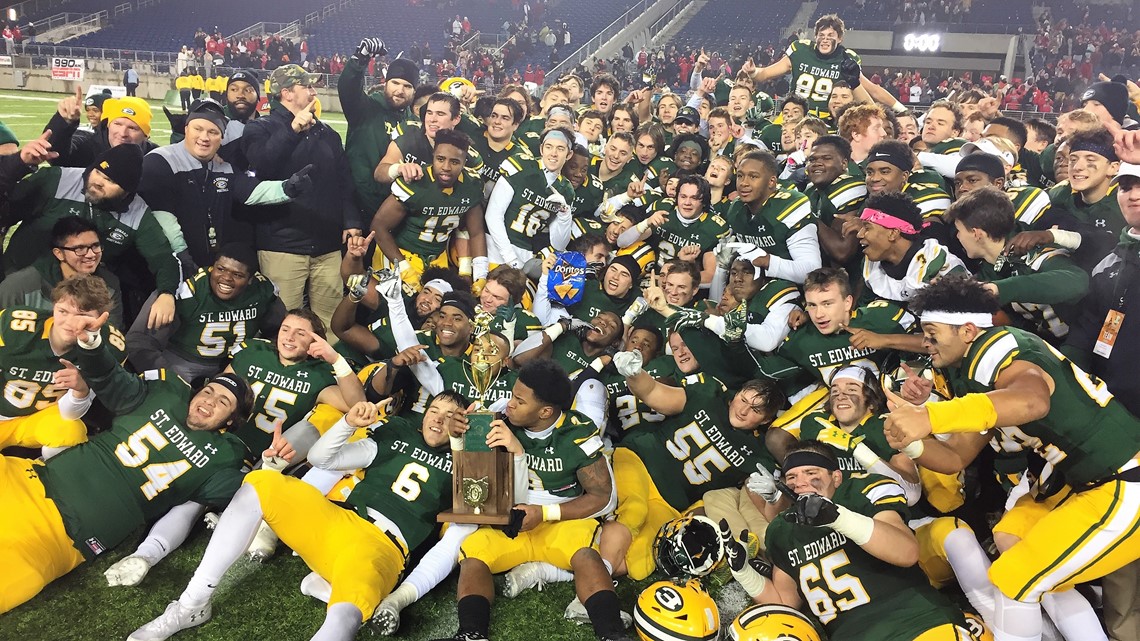 Recruiting is said to be the lifeblood of college football. This series will countdown the top 100 high schools in Ohio that have provided the Buckeyes with football players. The rankings are based on how many times a player from each high school has been listed on Ohio State's roster between 1970 and 2018.
No. 15, Lakewood St. Edward
Qualification
11 players from St. Edward have been listed on 34 Ohio State rosters.
LB Tom Cousineau (1975-78) was a two-time All-American and holds the Ohio State single season record with 211 tackles. Against Penn State in 1978, he recorded 29 tackles which is the program's single game record (Chris Spielman tied it). Cousineau also holds the single game record with 16 solo tackles against SMU in 1978 and ranks second on both the all-time OSU tackle list with 569 (three behind Marcus Marek) and on the career solo tackles list with 259. 
Cousineau was the Buckeyes' captain and Team MVP in 1978. He was earned All-American (1978, 1977), All-Big Ten honors (1978, 1977, 1976) and was the Defensive MVP of the 1977 Orange Bowl. In 1995, he was inducted into the Varsity O Hall of Fame.
The Buffalo Bills selected Cousineau with the No. 1 overall pick in the 1979 NFL Draft. The Bills acquired the pick by trading O.J. Simpson to the San Francisco 49ers. Instead of going to Buffalo, Cousineau signed with the Montreal Alouettes who offered him twice the amount the Bills could give him. He was the Grey Cup Most Valuable Player in 1979.
In 1983, he returned to the NFL after the Bills traded him to the Browns for their 14th overall pick of the 1983 NFL Draft. The Bills used the pick to select Jim Kelly. The Browns signed Cousineau to a five-year 2.5 million contract, which was the largest ever for a Cleveland player at that time.
All-Ohioan as a linebacker and was a state finalist in wrestling as a senior at St. Edward.
DL Rodney Bailey (1997-00) started in 34 games as a Buckeye and was a co-captain of the 2000 team. He was also named Ohio State's Defensive Player of the Year in 2000. The Steelers selected Bailey in the 6th round of the 2001 NFL Draft. He later won a Super Bowl as a member of the Patriots.
At St. Edward, he was named the Cleveland Division I Player of the Year by the Cleveland Plain Dealer and was an All-Ohioan as a senior. Bailey was also named the Player of the Year by the Cleveland Touchdown Club. In 2009, he was inducted into St. Edward's Athletic Hall of Fame. 
*Note, St. Edward's roster count will increase to 35 if Kevin Dever is on the 2019 roster.
St. Edward Buckeyes

| No. | POS | PLAYER | YEARS | OHIO STATE CAREER | HS CAREER |
| --- | --- | --- | --- | --- | --- |
| 96 | DE | MARTIN CUSICK | 1974-77 | Missed the 1975 season due to a knee injury, played in 2 games for 2.5 minutes during his career | Played FB, LB, tackle and end, older brother Pete was an All-American at Ohio State. |
| 36 | LB | TOM COUSINEAU | 1975-78 | See above. | See above. |
| 83 | DL | JOE HORNIK | 1975-78 | Played DE and DT for OSU, had 40 tackles and 4 TFL as a senior. | All-Ohioan at DE, took one snap at HB during the final game of his senior year and went 75 yards for a TD. |
| 62 | OT | TOM McCORMICK | 1982-84 | Career reserve who did not see the field. | All-Ohioan at OT. |
| 48 | LB/DT | JIM McCONVILLE | 1984-85 | Enrolled at That Team in the fall of 1982, dropped out and enrolled at Cleveland State, transferred to OSU in 1983, did not see the field. | Ohio's 1981 Lineman of the Year, All-Ohioan at LB, earned 11 letters in 4 sports, member of St. Edward's Hall of Fame. |
| 94 | DL | RODNEY BAILEY | 1997-00 | See above. | See above. |
| 64 | OG | NICK LEMBECH | 2004 | On the roster for 1 season. | Nothing listed. |
| 75 | OT | ALEX BOONE | 2005-08 | 4-year starter at left tackle, All-Big Ten selection in 2008. | All-Ohioan, USA Today and Parade All-American, 3-year starter at St. Edward. |
| 14 | DB | NATE OLIVER | 2007-11 | Finished his career with 30 tackles. Played in 12 of 13 games his senior year (missed Illinois) and recorded 7 tackles. | Was rated as the No. 11 safety in America and No. 5 overall recruit in Ohio. All-Ohioan as a junior and senior, his class only lost 3 games in high school. |
| 87 | WR | ALEX STUMP | 2015-16 | Caught 1 pass for 8 yards during his 2 seasons in Columbus. He transferred to Vanderbilt in March of 2017 and has not caught a pass for the Commodores. | Considered the No. 1 receiver in Ohio and No. 3 WR in the Midwest, injured his foot in the 4th game of his senior season |
| 30 | S | KEVIN DEVER | 2018 | Academic All-Big Ten in 2018, did not see the field last year. | Played OLB and had 136 tackles, 2 TFL and 2 INTs as a senior, state champs in 2015, also played basketball and track and was  National Merit Scholar. |
Back To School
St. Edward is located in Cuyahoga County and is currently in the Ohio Capital Conference. The team competes in Division I, Region 1. The Eagles went 6–3 in the regular season last year. Their game against COF Academy was cancelled. They made the playoffs and defeated St. Ignatius, Euclid, Mentor, Olentangy Liberty and Colerain to win the state championship. 
The football program has now won four state titles. The titles have all occurred in since 2010.
Notable
St. Edward has won 59 state titles.
The wrestling program has won 33 team state championships (has won every year since 1997, except for 2014) and 4 dual team state championships, ice hockey has a state record 11 titles, football 4 (2018, 2015, 2014, 2010), baseball 3 (2010, 2008, 1998), basketball (2014, 1998) and track & field (2013, 2012) have two.
Famous Alumni
Famous names you may know: NFL players DeJuan Groce, Kyle Kalis (there will be blood) and Justin Staples, NHL players Brett Harkins, Todd Harkins and Michael Rupp, NBA player Sam Clancy Jr, Jawad Williams, MLS player Darlington Nagbe, NCAA champion wrestlers Ryan Bertin, Alan Fried, Dean Heil and Gray Maynard, Olympic wrestler Andy Hrovat, MMA fighters Chris Honeycutt and Lance Palmer, Michigan State wrestling coach Roger Chandler, Illinois wrestling coach Jim Hefferman, Michigan State basketball player Delvon Roe, Xavier basketball player Matt Stainbrook, WWE NXT Superstar Johnny Gargano, WWE wrestler Nick Nemeth (Dolph Ziggler) Iron chef and co-host of The Chew Michael Symon and talk show host Phil Donahue. 
Explanation of the Rankings
School "A" had 14 players appear 16 times on Ohio State's roster. School "B" had 11 players appear 20 times on Ohio State's roster. School "B" will have the higher ranking. Why? Even though school "B" has less players, those players played for more years. 
If two or more schools have the same number of appearances, the tie will be broken by the school with the highest average of roster appearances per player. If there is a tie in the average, the tie breaker will be the school with the most prominent Ohio State player. 
2,820 days since Ohio State has not defeated That Team.
106 days until The Game.
Are you a former player, graduate, live near or have something to add about today's featured high school? Please share your story with us in the comments. What makes the 11W community unique is the amount of great information everybody is willing to share.
If you like Ohio high school football, or want to read about the best teams of the '50s and '60s, you should check out Tim Raab's book: Powerhouses of Ohio High School Football.