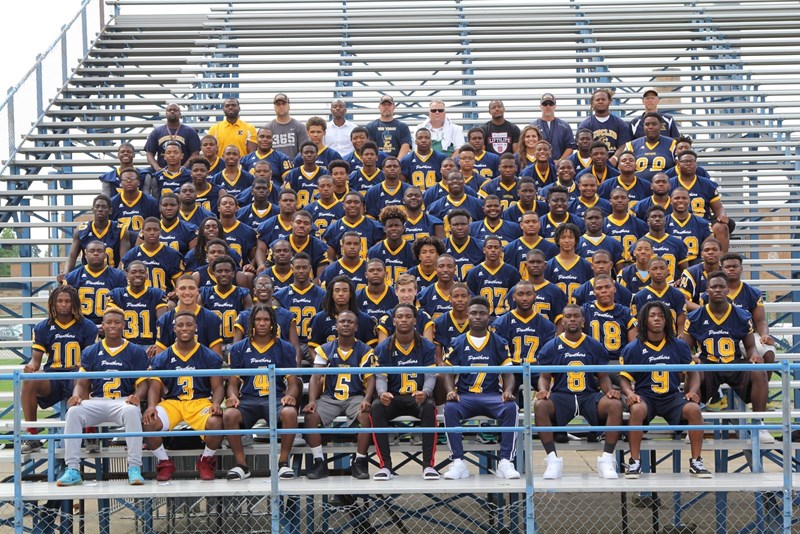 Recruiting is said to be the lifeblood of college football. This series will countdown the top 100 high schools in Ohio that have provided the Buckeyes with football players. The rankings are based on how many times a player from each high school has been listed on Ohio State's roster between 1970 and 2018.
No. 40, Euclid
Qualification
Eight players from Euclid have been listed on 20 Ohio State rosters. Safety Frank Andrulis was the first Panther to make a Buckeyes' roster. He was only listed during his sophomore season of 1970. 
Other Euclid players to only be listed for one season were linebacker Bob Miller (1972) guard Timothy Moriarty (1980) and WR Frank Kangah (2012).
HB Robert Smith (1990-92) was the first player in the state of Ohio to be named Mr. Ohio in consecutive years. He won the prestigious award in 1988 and 1989. During Smith's Euclid career, he rushed for 5,038 yards and 68 touchdowns. As a senior, he ran for an impressive 2,300 yards and 34 touchdowns. Smith also won the 100-meter dash as a junior and was second as a senior.
At Ohio State, Smith continued to earn awards. As a freshman in 1990, the UPI named him the Freshman of the Year after he rushed for 1,126 yards and 8 touchdowns. The rushing yards were the most ever for a true freshman at Ohio State and broke Archie Griffin's record. Although he was listed on the roster for the 1992 season, Smith did not play, saying that he needed to devote more time to his studies and questioned his desire to play college football.
Smith earned a track scholarship after he left the football team and competed for both indoor and outdoor Buckeye track teams. After a year off, he returned to the grid iron for his redshirt sophomore season and rushed for 819 yards (5.6 ypc) and 10 touchdowns. In his final game for Ohio State, Smith rushed for 112 yards and 2 touchdowns in the Citrus Bowl 21-14 loss to Georgia.
The Minnesota Vikings selected Smith with the 21st pick of the 1st round in 1993 NFL Draft. In Minneapolis, he made two Pro Bowls and was named the 2000 NFL Alumni Running Back of the Year, his last season. When Smith retired, he was all-time leading rusher in Vikings' history. He wore No. 26 every season except for his rookie year.
HB Pepe Pearson (1994-97) has the third most rushing attempts (659) in Ohio State history. He also ran for at least 100 yards 13 times during his Buckeye career. Pearson finished his collegiate career with 3,076 rushing yards and 32 touchdowns and is tenth on the all-time Ohio State career rushing list. With Pepe on the team, Ohio State was 41–10, won the 1996 Big Ten title and defeated Arizona State in the 1997 Rose Bowl.
At Euclid, Pearson helped lead the team to an 11–1 record and rushed for 1,500 yards as a senior. He was a USA All-American and rushed for over 4,300 yards during his high school career.
Today, Pearson is starting his fourth season as the running backs coach at Marshall. He started his coaching career at Ohio Dominican in 2004 and was with the school through 2014.
TE Brandon Smith (2004-08) Began his Ohio State career as a linebacker, but was switched to tight end after Rory Nicol and Ryan Hamby were injured in 2005. He played sparingly on offense and finished his time in Columbus with 16 catches for 139 yards. Half of his reception and yards coming during his last season. Smith received the majority of his playing time on special teams and earned four varsity letters. 
As a senior linebacker at Euclid, Smith was credited with 125 tackles, fours sacks and three interceptions.
LB/DL Thaddeus Gibson (2006-09) Like Smith, Gibson began his Ohio State career as a linebacker and was part of three special teams units during his redshirt freshman season of 2007. In 2008, he was moved to defensive end and recorded 26 tackles, 9 tackles for loss and 5 sacks. He showed out during his final year with the Buckeyes, 2009, by recording 45 tackles, 13 TFL and 4 sacks. His performance enabled him to leave after his junior season and he was selected by the Steelers in the 4th round of the 2010 NFL Draft. Over the next five seasons, Gibson was on five NFL rosters and two Canadian Football League teams.
As a Panther, he was named the Cleveland Touchdown Club's 2005 Defensive Player of the Year, was a Big 33 Game selection and had 39 tackles and 10 sacks during his senior season. Gibson was also a stud on the basketball court.
Back To School
Euclid is located in Cuyahoga County and is a member of the Greater Cleveland Conference. The team competes in Division I, Region 1. The Panthers went 8–2 in the regular season last year and made the playoffs. The team hosted and defeated Austintown-Fitch, 35-0, and then lost to St. Edward 56-35 in the second round. Euclid has made the playoffs every season since 2015.
Notable
Euclid's wrestling team has won three state championships (1958, 1952, 1949) and the baseball team has two state titles (1982, 1963).
Famous Alumni
Famous names you may know: NFL Players Michael Preston and Paul McFadden, MLB players Tom Murphy and Joe Nossek, world champion sprinter Jessica Beard, drummer and co-founder of the Raspberries Jim Bonfanti, the world's premier tenor saxophone player Joe Lovano and drummer for KISS, Alice Cooper and other bands, Eric Singer. 
Explanation of the Rankings
School "A" had 14 players appear 16 times on Ohio State's roster. School "B" had 11 players appear 20 times on Ohio State's roster. School "B" will have the higher ranking. Why? Even though school "B" has less players, those players played for more years. 
If two or more schools have the same number of appearances, the tie will be broken by the school with the highest average of roster appearances per player. If there is a tie in the average, the tie breaker will be the school with the most prominent Ohio State player. 
2,795 days since Ohio State has not defeated That Team.
131 days until The Game.
Are you a former player, graduate, live near or have something to add about today's featured high school? Please share your story with us in the comments. What makes the 11W community unique is the amount of great information everybody is willing to share.