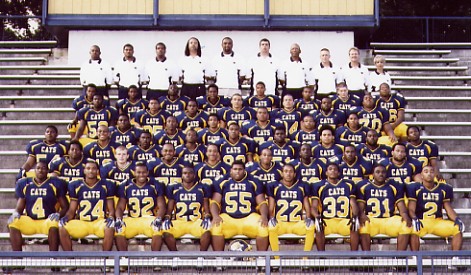 Recruiting is said to be the lifeblood of college football. This series will countdown the top 100 high schools in Ohio that have provided the Buckeyes with football players. The rankings are based on how many times a player from each high school has been listed on Ohio State's roster between 1970 and 2018.
No. 45, Brookhaven
Qualification
Six players from Brookhaven have been listed on 18 Ohio State rosters. The first Bearcat to make an Ohio State roster was defensive back Marlon Kerner. He earned four varsity letters between 1991 and 1994 and was voted a team captain his senior year. Kerner was second on the team in tackles in '94 making 82 stops. He also broke-up 7 passes, had 2 interceptions, blocked a field goal and had a defensive score. He finished his Buckeye career with 5 interceptions.
The Bills selected Kerner in the third round of the 1995 NFL Draft. At Brookhaven, he played quarterback and led his team to City League titles during his two seasons as a starter.
LB/DE Jayson Gwinn (1992-93) came to Ohio State as a linebacker, but was switched to defensive end. He was considered a "Good young football player whose only shortcoming is a lack of experience...has the size, speed and strength to be an excellent end." Gwinn was killed in a car accident on December 13, 1993. Kerner wore No. 49 in the 1993 Holiday Bowl in honor of Gwinn. The Buckeyes defeated BYU, 28-21.
With the Bearcats, Gwinn was Division I first-team All-Ohioan and shared the Dispatch's Lineman of the Year with Luke Fickell. He had 163 tackles as senior and 360 during his high school career.
S Anthony Gwinn (1993-1996) is the brother of Jayson Gwinn and came out of Brookhaven as the top defensive back in Ohio. With the Buckeyes, he started all 13 games during his junior season and recorded 47 tackles. He had a career high 8 tackles against Notre Dame in 1995. However, during his senior season, Gwinn was edged out of the starting lineup by Rob Kelly.  
WR Terry Glenn (1993-95) is arguably the most talented wide receiver in Ohio State history. He set a single-game school record against Pittsburgh in 1995 when he caught 9 passes for 253 yards and 4 touchdowns. When he ended his playing days in Columbus, Glenn also had the program record with 1,411 career receiving yards and had at least 100 yards receiving in 7 games.
What makes Glenn's numbers even more impressive is that he started his career as a walk-on and only had 15 receptions for 266 yards and zero touchdowns entering the '95 season. He went off in '95 by catching 64 passes and 17 touchdowns. Glenn finished his Buckeye career as the school's first Biletnikoff winner and was named to the '95 All-American and All-Big Ten teams. 
The Patriots selected him in the 1st round (7th overall) of the 1996 NFL Draft. Glenn set an NFL record for catches (90) during his rookie season in which he was named the NFL Rookie of the Year. His play helped lead the team to the Super Bowl. Glenn finished his NFL career with 8,823 yards and 44 touchdowns over 12 seasons.
At Brookhaven, he played with Kerner and the Gwinn brothers. The Bearcats made the playoffs his junior and senior seasons and he was named to the second team all-district team as kick return specialist. Glenn was the captain of the football team, earned three varsity letters in football, basketball and track and two varsity letters in tennis.
Terry Glenn lost his life when he crashed his Ford F250 after attending a game between the Cowboys and Eagles with his fiancée in Dallas. After an investigation and toxicology report, it was found that he had a BAC of over twice the legal limit and and also had marijuana in his system.
Glenn is survived by his four sons and three daughters.
Don't drink and drive.
HB Maurice Hall (2001-04) was named to the Academic All-Big Ten team three times and earned four varsity letters during his time in Columbus. He will always be remembered for his game-winning touchdown against Michigan in 2002. The score sealed Ohio State's berth to play Miami in the 2003 Fiesta Bowl. Hall played through injuries to both of his knees during his junior season that required surgery during the offseason.
At Brookhaven, he was a a Parade All-American and was the Division II Offensive Player of the Year. Hall rushed for 3,057 yards and 51 touchdowns as a senior and was the winner of the National Football Foundation and Hall of Fame Award. He was also a state finalist in the 100-meter and 4x100 relay. Today, he is pursuing a career in acting.  
WR Andrew Lee (2000) was only on one Ohio State roster.
Back To School
Brookhaven was located in Franklin County and was a member of the Columbus City League. The team last competed in Division III, Region 9. The Bearcats went 8–2 in their last regular season, 2013, and made the playoffs. They hosted and defeated Chillicothe, 29-27, in the first round, then lost to Marion Franklin, 19-20.
The football team won its only state title in 2004. Brookhaven went 15–0 and defeated Avon Lake 42-21 in the championship game.  
Notable
Brookhaven closed its doors for the final time after the 2013-14 school year. The school won a total of four state titles. The championships were from boys' basketball (2002), girls' track and field (1998) girls' basketball (1996) and the football championship mentioned above.
Famous Alumni
Famous names you may know: NFL player Jeff Cumberland and June Henley, MLB All-Star Paul O'Neill, WNBA player Helen Darling and Ohio State basketball player Ron Lewis.
Explanation of the Rankings
School "A" had 14 players appear 16 times on Ohio State's roster. School "B" had 11 players appear 20 times on Ohio State's roster. School "B" will have the higher ranking. Why? Even though school "B" has less players, those players played for more years. 
If two or more schools have the same number of appearances, the tie will be broken by the school with the highest average of roster appearances per player. If there is a tie in the average, the tie breaker will be the school with the most prominent Ohio State player. 
2,790 days since Ohio State has not defeated That Team.
136 days until The Game.
Are you a former player, graduate, live near or have something to add about today's featured high school? Please share your story with us in the comments. What makes the 11W community unique is the amount of great information everybody is willing to share.