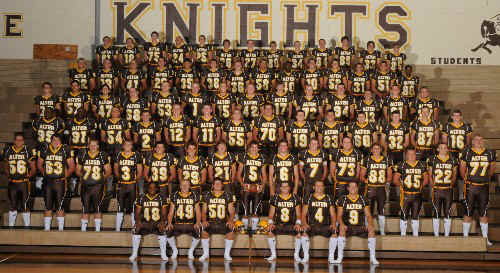 Recruiting is said to be the lifeblood of college football. This series will countdown the top 100 high schools in Ohio that have provided the Buckeyes with football players. The rankings are based on how many times a player from each high school has been listed on Ohio State's roster between 1970 and 2018.
No. 22, Kettering Archbishop Alter
Qualification
7 players from Kettering Alter have been listed on 26 Ohio State rosters.
WR Jeff Graham (1988-90) Finished his career in Columbus with seven games of 100 or more yards of receiving. Had a career-best 144 receiving yards in a 42-2 win at Purdue in 1990. Was a captain and team MVP in 1990. Graham missed the 1987 season because his entrance exam score was not high enough. The Steelers selected him in the 2nd round of the 1991 NFL Draft.
At Alter, Graham was an All-Ohioan in both football and basketball. He helped the football team to a 28–6 record during his three years as a player and was captain of the basketball team as a senior.
C Nick Mangold (2002-05) the Buckeyes were 43–8 with Mangold on the team, won two Big Ten titles and a national championship. He was a captain and All-American as senior. The Jets selected him with the 29th pick of the 1st round in the 2006 NFL Draft. He was an All-Pro in 2009, 2010 and 2011 and made the Pro Bowl in 2008, 2009, 2010, 2011 and 2013.
Mangold was a three-year starter on both offense and defense and was an All-Ohioan as a senior. He also earned letters in wrestling and track. 
Kettering Alter Buckeyes

| No. | POS | PLAYER | YEARS | OHIO STATE CAREER | HS CAREER |
| --- | --- | --- | --- | --- | --- |
| 34, 97 | LB/TE | JOE METZGER | 1988-92 | Switched to TE in the spring of 1990. Was expected to be the starter in 1992, but was beat out by Cedric Saunders. Started in 1 game and had 1 career catch for 2 yards and a TD.  | All-Southwest Ohio, had 218 career tackles and set the school record in the 100 and 200 meter dashes. |
| 84 | FB/WR | JEFF GRAHAM | 1988-90 | See above. | See above. |
| 60, 50 | C/LS | JIM BORCHERS | 1990-93 | Was a walk-on in 1989 and became Ohio State's long-snapper for four seasons. Never had a bad snap on a FG attempt. 4-time Academic All-Big Ten player. | Played for 3 seasons and helped the team to the state semi-finals as a junior. |
| 35 | LB | JERRY RUDZINSKI | 1994-98 | Earned 4 letters, was a 3-time Academic All-Big Ten recipient and was a captain in 1998. Started every game his junior and senior seasons. | DIII Defensive Player of the Year as senior and was an All-Ohioan at QB as a junior.  |
| 55 | C | NICK MANGOLD | 2002-05 | See above. | See above. |
| 18, 87 | WR | CHRIS ROARK | 2008-11 | Walk-on who was a reserve receiver who played on special teams. Entered his senior season without seeing varsity playing time. Earned Academic All-Big Ten 4 times. | Helped guide the team to a state runner-up finish as a captain during his senior year. Left the school with the second most career rushing yards (2,522).  |
| 29 | K/P | ALEX CRAFT | 2016 | Walk-on who was only the roster for one season. | All-State punter who averaged 45.5 yards per punt and made 59 of 61 extra point attempts as a senior. |
Back To School
Archbishop Alter is located in Montgomery County and is currently in the Federal League. The team competes in Division III, Region 12. The Knights went 9–1 in the regular season last year. They defeated Mount Healthy, Badin, Wapakoneta and Norwalk to make it to the state championship. However, Kenston defeated Alter, 42-6, to claim the title.
The Knights have made the playoffs every year since 2001. For those of you that a math averse, that's 18 straight years. The program also has two state titles. Alter won back-to-back championships in 2008 and 2009.
Notable
Kettering Alter has won 32 state titles. Boys' volleyball leads the way with six championships (2017, 2016, 2015, 2014, 2012, 2011), boys' soccer has five (2016, 1998, 1996, 1988, 1987), girls' basketball four (2017, 2016, 2015, 2008), boys' golf four (1999, 1998, 1993, 1992), girls' volleyball three (2006, 2003, 2002), boys' basketball three (2001, 1999, 1978), football two (2009, 2008), and girls' soccer (2016), girls' cross country (2007), girls' tennis (2001), boys' cross country (1996) and boys' tennis (1976) each have one title.  
Famous Alumni
Famous names you may know: NFL players Chris Borland and Joe Thuney, MLB player Jeff Reboulet, NBA players and general managers Jim Paxson and John Paxson (won NBA titles with the Bulls in the '90s), Olympic weight lifter Holley Mangold, Ice Age director Steve Martino, actress Amy Ferguson and inventor of "Control-Alt-Delete" David Bradley. 
Explanation of the Rankings
School "A" had 14 players appear 16 times on Ohio State's roster. School "B" had 11 players appear 20 times on Ohio State's roster. School "B" will have the higher ranking. Why? Even though school "B" has less players, those players played for more years. 
If two or more schools have the same number of appearances, the tie will be broken by the school with the highest average of roster appearances per player. If there is a tie in the average, the tie breaker will be the school with the most prominent Ohio State player. 
2,812 days since Ohio State has not defeated That Team.
114 days until The Game.
Are you a former player, graduate, live near or have something to add about today's featured high school? Please share your story with us in the comments. What makes the 11W community unique is the amount of great information everybody is willing to share.