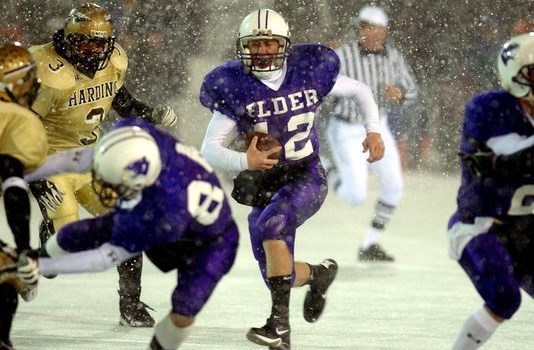 Recruiting is said to be the lifeblood of college football. This series will countdown the top 100 high schools in Ohio that have provided the Buckeyes with football players. The rankings are based on how many times a player from each high school has been listed on Ohio State's roster between 1970 and 2018.
No. 28, Cincinnati Elder
Qualification
7 players from Elder have been listed on 23 Ohio State rosters.
DT Matt Bonhaus (1990-94) Started 9 of the 13 games his senior season. In all he played in 35 games, started 11 and had 258 minutes of playing time. Bonhaus recorded 26 tackles, 6 tackles for loss and 2 sacks as a senior. He also forced and recovered a fumble.
Bonhaus had a sleep disorder that caused him to miss his junior season. As a sophomore, he played in all 12 games and started against Minnesota when Dan Wilkinson was injured.
As a player at Elder, he started all four years and was the Division I Lineman of the Year as a senior. Elder went 36–5–1 with Bonhaus on the team. He had 142 tackles as a senior.
LB Jason Ott (1997-2000) Started his Buckeye career as Andy Katzenmoyer's backup. In 1999, Ott started all 12 games at middle linebacker. He finished the season second on the team with 11 tackles-for-loss and fourth on the team with 79 tackles. However, Ott only played in one game for one minute during his final season of 2000. He finished his Ohio State career with 23 games played and 12 starts for 306 minutes.
At Elder, Ott was the Ohio Gatorade Player of the Year and Division I Player of the Year. Had 177 tackles and 12 sacks as a senior. Also the Cincinnati Defensive Player of the Year, a HS All-American and played in the Ohio-Pennsylvania Big 33 Classic.
LS Jake McQuaide (2006-10) was Ohio State's long-snapper between 2008 and 2010. He came to Columbus as a walk-on before earning the long snapping job in 2008. McQuaide was an Academic All-Big Ten player in 2008 and 2009 and was the Special Teams Player of the Week against Purdue in 2010.
The Rams signed McQuaide in 2011 and he became the team's first long-snapper to make a Pro Bowl. He made the Pro Bowl in 2016 and 2017 and is still playing for the Rams. McQuaide is the first Elder alum to play in a Super Bowl (LIII).
McQuaide also played tight end at Elder and had 10 receptions for 125 yards as a senior.
Elder Buckeyes

| No. | POS | PLAYER | YEARS | OHIO STATE CAREER | HS CAREER |
| --- | --- | --- | --- | --- | --- |
| 77 | OT | DAN RICE | 1975 | Made the roster as a freshman and played in 1 game for a total of 2 minutes. | Considered one of the top offensive linemen in Cincinnati and played in the North-South All-Star Game. |
| 68 | OG | TIM JAMES | 1984-85 | Never played a down during his two seasons on the roster. | All-Ohioan and earned Top Offensive Lineman honors of the Greater Cincinnati League. His dad, Dan, played for Ohio State (1956-58). |
| 70 | DT | MATT BONHAUS | 1990-94 | See above. | See above. |
| 16 | LB | DAVE BECKER | 1995 | Played three years as a catcher in the Toronto Blue Jays' organization before joining the Buckeyes. On the roster for 1 season. | Recruited by Ohio State, but chose to play baseball. Greater Cincinnati Player of the Year in football and Ohio Player of the Year in baseball |
| 16 | LB | JASON OTT | 1997-2000 | See above. | See above. |
| 96 | LS | JAKE McQUAIDE | 2006-10 | See above. | See above. |
| 19 | WR | JOE RAMSTETTER | 2013-16 | An invited walk-on in 2013, he became the first new player to lose his black stripe that season. A scout team player and OSU Scholar-Athlete. | Made the Cincinnati Enquirer Division I All-Area Team and was on the First-Team All-Greater Catholic League South. |
Back To School
Elder is located in Hamilton County and competes in the Greater Catholic League. The team competes in Division I, Region 4. The Panthers went 6–4 in the regular season last year and made the playoffs. They hosted Moeller and won, 35-0 to advance to the second round. The Panthers then defeated Lakota East, 34-6. Their playoff run ended when Colerain beat them 42-0.  
The football program has won two state championships. The first title was in 2002 and the second was in 2003. The Panthers were also state runner-up in 2008. The team plays its games at "The Pit". The stadium holds 10,000 fans, was completed in 1947 and was named a top 10 place to watch a high school football game by USA Today.
In 2004, Elder became the first school to stream a high school football game live on the internet. In 2010, Elder became the first school to live stream a game on an iPhone.
Notable
Elder is an all boys school and has won 22 state titles. The baseball team has won a state record 12 championships (2005, 1999, 1984, 1973, 1960, 1959, 1958, 1956, 1955, 1952 and 1943),  cross country has 5 (1989, 1988, 1986, 1982, 1973) basketball 3 (1993, 1974, 1973) and football the two mentioned above.
football program has the two titles mentioned above, boys' golf has three championships (1997, 1996, 1995) and baseball (1972) has one.  
Famous Alumni
Famous names you may know: NFL players Ricky Brown, Bob Fry, Robert Hoernschemeyer, Dan James (Buckeye 1957-58) , Steve Junker, Kyle Rudolph, Joe Schaffer, Steve Tensi, Eric Wood and Mike Windt, MLB players Buzz Boyle, Ralph Brickner, Jim Brosnan, Bill Earley, Gordon Massa, Ron Moeller, Chris Nichting and Dan Rohrmeier, MLS player Steve Keller, journalist Bill Hemmer and Pulitzer Prize winning cartoonist for the Cincinnati Enquirer and author of Zits, Jim Borgman.
Explanation of the Rankings
School "A" had 14 players appear 16 times on Ohio State's roster. School "B" had 11 players appear 20 times on Ohio State's roster. School "B" will have the higher ranking. Why? Even though school "B" has less players, those players played for more years. 
If two or more schools have the same number of appearances, the tie will be broken by the school with the highest average of roster appearances per player. If there is a tie in the average, the tie breaker will be the school with the most prominent Ohio State player. 
2,806 days since Ohio State has not defeated That Team.
120 days until The Game.
Are you a former player, graduate, live near or have something to add about today's featured high school? Please share your story with us in the comments. What makes the 11W community unique is the amount of great information everybody is willing to share.