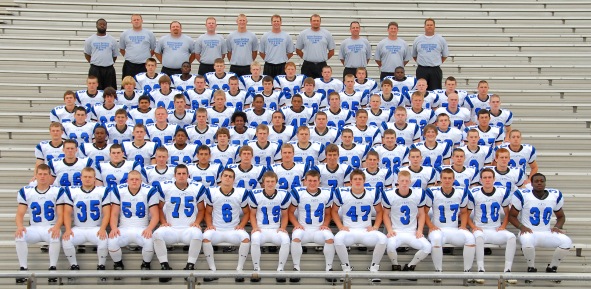 Recruiting is said to be the lifeblood of college football. This series will countdown the top 100 high schools in Ohio that have provided the Buckeyes with football players. The rankings are based on how many times a player from each high school has been listed on Ohio State's roster between 1970 and 2018.
No. 31, Hilliard Davidson
Qualification
11 players from Hilliard Davidson have been listed on 22 Ohio State rosters.
Hilliard (Davidson) Buckeyes

| No. | POS | PLAYER | YEARS | OHIO STATE CAREER | HS CAREER |
| --- | --- | --- | --- | --- | --- |
| 5 | K | THOMAS McBRAYER | 1972, 74 | Played in 2 games, for a total of 1 minute. |   |
| 3 | QB | JEFF DOTY | 1984-85 | A walk-on who was on the roster for 2 seasons. Never played. |   |
| 6 | QB/S | STEVE BAIRD | 1994-95 | Came to Columbus as a QB, but was moved to safety. Never played. | Led Hilliard to the schools' first playoff appearance in 1993. |
| 82 | WR | MIKE FURREY | 1996-97 | See below. |   |
| 1 | WR | MARK MINNIX | 2001 | Did not see the field. |   |
| 35 | HB | BO DeLANDE | 2007-11 | Reserve RB who also played special teams. | Ran for 3,600 yards and 35 TDs during his HS career. OCC player of the year and MVP of  the 2006 state title game. |
| 52 | LS | DON CURTIS | 2007 | Walk-on who never played. |   |
| 34, 9 | DB | NATE EBNER | 2009-11 | Special Teams star and resevere DB.  and special teams. Had 11 tackles in 2011.  | Played on the U19 and U20 National Rugby teams. MVP of the '07 and '08 Rugby World Cup. Youngest person to ever play in the National 7's. |
| 24 | DB | ADAM FRAZIER | 2011 | Walked-on in 2011, did not play. | Only sophomore starter on the 2006 title team. Had 83 tackles as senior. |
| 37 | HB | SPENCER DeLANDE | 2011 | Walked-on in the spring of 2011. | Earned 10 letters and won 2 state titles (2006, 2009). |
| 35, 37 | HB | ALEX BACKENSTOE | 2016-17 | 2015 walk-on. Scholar athlete in 2016.  | Lettered in lacrosse, football and wrestling. DI Defensive Player of the Year and an All-Ohioan. |
WR Mike Furrey (1996-97) walked-on in 1995 and earned one varsity letter during his two years on Ohio State's roster. He transferred to Northern Iowa where he set the Gateway Football Conference career receiving records for total receptions (242), yards (3,544) and touchdowns (27). 
After brief stints in the XFL and Arena Football League, Furrey made the Rams in 2003. He played in 21 games between 2003 and 2004 and became a starter at free safety in 2005. 
In 2006, he signed with the Lions and set an NFL record. From Wikipedia:
On December 31, 2006, Furrey set the pro football record for most catches for a non-rookie after a season with no catches the previous season. He had 98 receptions at the end of the 2006 season (which was the most in the NFC for that year), after none in 2005. The previous record was 92 catches, set in 1960 by Lionel Taylor, playing for Denver in the AFL.
He finished his playing career with the Browns and Redskins.
Today, Furrey is coaching wide receivers for the Chicago Bears. He started his coaching career as the head coach of Kentucky Christian University in 2010. In 2013 he left to become the receivers coach for Marshall. Before joining the Bears, he was the head coach for the Limestone Saints.
At Hilliard Davidson, Furrey was an All-Ohioan and caught 33 passes for 636 yards and 12 TDs.
DB Nate Ebner (2009-11) Although Ebner never played high school football, the standout rugby player he decided to walk-on after attending Ohio State for two years. He played in 36 games for the Buckeyes and had 30 tackles.
His tenacious play caught the eye of the Patriots who selected him in the 6th round of the 2012 NFL Draft. Ebner has played for New England for every season since 2012 and has won three Super Bowl titles. He was a second-team All-Pro player in 2016.
In 2016, Ebner was a key member for the United States Olympic Rugby team. He scored two tries during the Olympic run in which the US finished ninth.
Ebner had a close relationship with his dad, Jeff. Before Nate walked-on at Ohio State, his dad was murdered in November of 2008. For more information on Ebner's relationship with his dad and how he overcame the loss, go here.
Back To School
Hilliard Davidson is located in Franklin County and is currently in the Ohio Capital Conference. The team competes in Division I, Region 3. The Wildcats went 9–1 in the regular season last year. They hosted Wayne in the first round and won, 28-21. The defeated Springfield, 17-14, in the second round and lost to Pickerington Central, 13-20, in the regional final. The Tigers accounted for both of Hilliard Davidson's losses last year.
The football program has won two state championships. The first title was in 2006 and the second was in 2009. Since 2003, Davidson has made the playoffs 14 out of the 16 years.
Notable
Hilliard Davidson has won six state titles. The football program has the two titles mentioned above and boys' soccer (2007), boys' and girls cross country (2002) and boys' volleyball (1991).  
Famous Alumni
Famous names you may know: WWE wrestler Alexa Bliss, lead singer of House of Heroes, Tim Skipper and lead electric guitarist for Tenacious D, John Konesky.
Explanation of the Rankings
School "A" had 14 players appear 16 times on Ohio State's roster. School "B" had 11 players appear 20 times on Ohio State's roster. School "B" will have the higher ranking. Why? Even though school "B" has less players, those players played for more years. 
If two or more schools have the same number of appearances, the tie will be broken by the school with the highest average of roster appearances per player. If there is a tie in the average, the tie breaker will be the school with the most prominent Ohio State player. 
2,803 days since Ohio State has not defeated That Team.
123 days until The Game.
Are you a former player, graduate, live near or have something to add about today's featured high school? Please share your story with us in the comments. What makes the 11W community unique is the amount of great information everybody is willing to share.