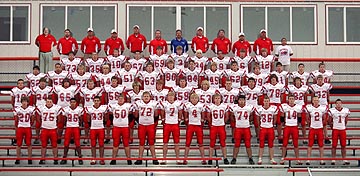 Recruiting is said to be the lifeblood of college football. This series will countdown the top 100 high schools in Ohio that have provided the Buckeyes with football players. The rankings are based on how many times a player from each high school has been listed on Ohio State's roster between 1970 and 2018.
No. 25, St. Henry
Qualification
7 players from St. Henry have been listed on 24 Ohio State rosters.
OL Jim Lachey (1981-84) was an All-American and All-Big Ten player in 1984. The Buckeyes won two Big Ten titles with Lachey on the team and won three bowl games (Liberty, Holiday and Citrus). Ohio State also went 3–1 against That Team. Lachey had a nice combination of speed and size and was the fastest interior lineman on the Buckeyes.
The Chargers selected Lachey with the 12th pick of the 1st round of the 1985 NFL Draft. He played in three Pro Bowls and was a three-time All-Pro player. He was a member of the Redskins when they defeated the Bills in Super Bowl XXVI. Lachey also coached the Columbus Destroyers to Arena Bowl XXI in 2007.
At St. Henry, Lachey was a two-time All-Ohioan, earned 11 high school letters and was captain of the football, basketball and track teams as a senior. He was also the starting center on the 1979 state championship basketball team.
QB Bobby Hoying (1991-95) was captain of the 1995 team and was an All-Big Ten player and won the Vincent DePaul Draddy Award (top student athlete in college football) as a senior. He was named to the Ohio State Football All-Century Team in 2000 and was inducted into the Ohio State Athletics Hall of Fame in 2008. Hoying was also named to the Academic All-Big Ten team four times.
At the time he graduated, Hoying had the record for season passing efficiency (163.4), games with at least 200 yards passing in a season (11), total offense in a season (3,290), touchdown passes in a career (57) and most completions in a year (498). He was selected by the Eagles in the third round of the 1997 NFL Draft and played five years in the league with the Eagles and Raiders.
St. Henry won the state title with Hoying as quarterback when he was Ohio's Mr. Football as a senior. He was also All-State in basketball and the Redskins won two state titles.
QB Todd Boeckman (2004-08) was an All-Big Ten player as a junior in 2007. That season, he led the Big Ten in passing efficiency and guided the Buckeyes to the BCS Championship Game against LSU. As a sixth-year senior, Boeckman lost the starting quarterback job to Terrelle Pryor after the Buckeyes lost to USC, 35-3, in Los Angeles. 
Boeckman was a four-year starter at St. Henry and took the team to the state title game as a freshman. He was All-State in football, basketball and baseball. On the gridiron, Boeckman threw for 7,021 yards and 64 touchdowns during his high school career. On the hard court, he led the team in scoring and rebounding as a sophomore, junior and senior and the Redskins won two state titles. The Dayton Daily News ranked Boeckman as the best football player to ever play for St. Henry.
St. Henry Buckeyes

| No. | POS | PLAYER | YEARS | OHIO STATE CAREER | HS CAREER |
| --- | --- | --- | --- | --- | --- |
| 64 | OL | JIM LACHEY | 1981-84 | See above. | See above. |
| 59, 55 | C/LS | RON LACHEY | 1989-90 | Former walk-on who found his niche by becoming the long-snapper. | All-Ohioan as a senior and three-year starter at center. Made it to the state semifinals. |
| 14 | QB | BOBBY HOYING | 1991-95 | See above. | See above. |
| 86 | TE | KEVIN KIEKAMP | 1991-92 | Did not see the field during his two years on the roster. | Won a football state title in 1990. |
| 10 | QB/TE | TOM HOYING | 1993-97 | Started his career as a QB, but switched to TE in the spring of 1996. An injury to Mark Garcia in August of '96 made Hoying switch back to the No. 3 QB spot. Was a back-up TE his senior season. Played in 12 games and caught 1 pass for 12 yards. | In his only year as the starting QB, he led St. Henry's to a state championship and a perfect 14–0 record. |
| 67 | OL | MATT ZAHN | 1999 | Only on the roster for his freshman season. | Honorable mention All-Midwest Team from the Detroit Free Press and was the No. 19 prospect in Ohio. |
| 17 | QB | TODD BOECKMAN | 2004-08 | See above. | See above. |
Back To School
St. Henry is located in Mercer County and competes in the Midwest Athletic Conference. The team competes in Division VI, Region 24. The Redskins went 8–2 in the regular season last year and made the playoffs. They beat Mechanicsburg, 37-7, on the road in round one. Then lost to Coldwater, 20-19, in the second round. 
The football program has won six OHSAA championships. The first was in 1990 and the latest was 2006. There have been seasons when teams in the MAC have not won a conference championship, but went on to take the state title.
Notable
St. Henry has 20 state titles. The girls' volleyball team leads the way with seven (2011, 2004, 1995, 1994, 1990, 1987 and 1985), football has six (2006, 2004, 1995, 1994, 1992 and 1990), basketball has four (2004, 1991, 1990 and 1979) and baseball has three (2003, 2000 and 1999).
Famous Alumni
Famous names you may know: NFL player Jeff Hartings and MLB player Wally Post.
Explanation of the Rankings
School "A" had 14 players appear 16 times on Ohio State's roster. School "B" had 11 players appear 20 times on Ohio State's roster. School "B" will have the higher ranking. Why? Even though school "B" has less players, those players played for more years. 
If two or more schools have the same number of appearances, the tie will be broken by the school with the highest average of roster appearances per player. If there is a tie in the average, the tie breaker will be the school with the most prominent Ohio State player. 
2,809 days since Ohio State has not defeated That Team.
117 days until The Game.
Are you a former player, graduate, live near or have something to add about today's featured high school? Please share your story with us in the comments. What makes the 11W community unique is the amount of great information everybody is willing to share.