The rich history of Ohio State athletics is filled with memorable years, but perhaps no year has been more tumultuous, victorious, catastrophic and memorable than 2011. For Eleven Warriors, 2011 was a transformational year: In January 11W was merely a popular Buckeye blog; by December it had become a destination site with monthly visits well into the millions.
This is part nine of an 11-part series reviewing 2011, as experienced by 11W readers and writers.
PREVIOUSLY: August | July | June | May | April | March | February | January
---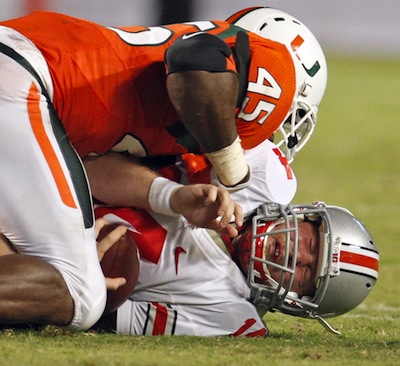 We waited all year...for this?
The relief of finally having football back abruptly intersected with the gruesome reality that Ohio State was quite mediocre without Terrelle Pryor bailing out Jim Bollman's underwhelming offensive line and comically bad playcalling.
Regardless, there was some new, valuable context: We were much more comfortable critiquing coaching decisions and football plays than were were ruminating over the athletic department's handling of the neverending summer.
The Buckeyes opened with a very efficient 42-0 home shutout, welcoming Fickell in his first game the same way Jim Tressel had been ten years earlier: With a win over Akron.
The following week it got significantly tougher; Ohio State was sluggish and had no answer for Toledo's Eric Page. The 15th-ranked (15th!) Buckeyes held on for the 27-22 win, but there were a lot of questions raised. Good, healthy football questions.
It appeared to be taking Fickell's staff far too long to simply thank Joe Bauserman for his loyalty before sitting him in favor of the eventual Freshman of the Year Braxton Miller.
Miller was curiously kept out of the Toledo game entirely and forced to play with the twos when he could have been getting valuable MACtion against both Akron and Toledo.
The Tatgate suspensions and Terrelle Pryor's departure had decimated the offense, but there were ample opportunities to get the freshman some experience. Unfortunately, the following week at Miami he got a taste of what the college football world outside of the MAC looks like.
Scandal-rocked Miami wasn't faced with the same number or caliber of suspensions as Ohio State was, nor were they all that talented (they would go on to match the Buckeyes' mediocre 6-6 record, including three home losses to unranked teams).
But on the third Saturday night in September, they looked head and shoulders better than Ohio State did. The offense was completely listless under Bauserman, who went 2-14 passing for just 13 yards.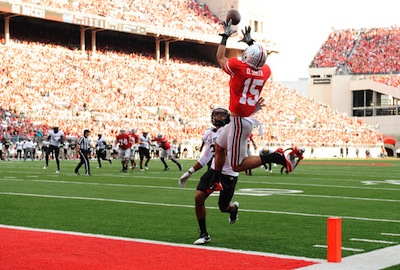 Miami held onto the ball for ten minutes longer than Ohio State did and won the game rather easily by a score of 24-6. Bauserman was caught smiling and laughing on the sideline by the cameras in the waning moments of the game.
Miller was named the starter the following week, just two weeks removed from not having played at all against Toledo.
Starting as a freshman in Ohio Stadium is no small task, but Miller handled his first shot with a palpable coolness and calm, throwing for two touchdowns on just 83 yards in an offense that was either dumbed down for his experience, or - as future games demonstrated in ample fashion - just plain dumb.
The Buckeyes got out of September with a 3-1 record, facing three straight games against ranked opponents Michigan State, Nebraska and undefeated Illinois. They had one more game (or so they thought) without the services of the Tatgate Five.
If the 2011 season was a live job interview for Fickell to take over the Buckeyes on a permanent basis, how Ohio State handled both its October schedule as well as the integration of its suspended starters back into the game plans was going to go a long way toward determining if the university already had Tressel's successor on its payroll.
September's most popular skull sessions
september's most popular 11W stories
9/19: The Difference Maker by Ramzy, who interviewed Maurice Clarett for the month prior to his second season with the Omaha Nighthawks:
"My physical condition is a credit to prison," says Clarett. "When you are incarcerated, you have to take care of yourself all day, every day. You end up eating smaller portions. You read a lot. You work out a lot. You carry these habits every single day, and I was incarcerated for three years and four and a half months."

He pauses, as if to re-digest the fact that he has spent about an eighth of his life in jail.

"That was a lot of time to get healthy."
9/21: Almost Famous by Ramzy, who was curious as to why Dennis Talbott seemed like a too convenient of a boogeyman:
As for ESPN's familiarity with Talbott, whom it profiled in its Outside the Lines segment on him, I quickly found this article from June, the same month that Talbott started seeing his name on national television. Look at the picture of Michael Brewster, and now look at the photographer credit beneath it. ESPN's OTL about Talbott was constructed as an investigation into a myserious figure: A mysterious figure from whom it was already purchasing photographs.

So the narrative was correct: It did appear that Talbott does in fact chase athletes around a lot. He does this to take pictures of them, according to my ten minutes of rigorous Internet research.

Just yesterday, the University of Michigan claimed that Talbott had deceived them by applying for a credential under the name of Jay Talbott from Icon/SMI, implying that he had changed his name in order to hoodwink them. (Here you go, Michigan: Try this next time, and you won't feel beguiled so diabolically by a guy using the same name that he's used for several years with ticky-tack organizations you've never heard of like the NFL, Major League Baseball and the ATP).
9/18: Five Things: Miami by Chris, who had to find words to describe the amateurish brand of whateverthatwas the Buckeyes tried to do against the Hurricanes:
Linebacker simply isn't a position of strength for this football team. Sweat would be (was) a decent 3rd best LB on a typical OSU linebacking corps, not the best. I actually like Sweat a lot so that's not a knock. I just don't think he's even in the conversation of #1 LB's at Ohio State over the last how ever many years. He's a gamer that plays hurt and never gives up. I like that. But he's not an elite OSU linebacker.

Sabino has some speed but often takes poor angles to the football and is not the sure tackler you need at the Mike. He also has a penchant for overpursuing plays.

Klein, who I thought would have a breakout year, currently projects to have a ceiling as a serviceable linebacker. That said, he's young so I do still have hope for him. He's got some talent but he also sometimes overpursues and misses tackles. He's also...I'll just call it not fast. Unlike Sabino, he appears to be a little sharper in understanding the defense so that might also bode well for him as his career progresses.
9/10: Ugliest. Win. Ever. by Chris, who for several harrowing minutes thought he might have to write about how we'll never be able to tell Toledo-beating-Michigan-at-home jokes ever again. And we love those jokes:
Another pooch kickoff kept Page from breaking loose and the Rockets punted after a five play series in which CJ Barnett almost picked off a 3rd and 10 lob intented for the deadly wideout.

Neither offense could get much going from there as the Buckeyes stalled with Bauserman failing to spot a wide open Fields on 2nd and 9 before derply checking down to Stoney on 3rd and 7 for three yards and a punt.

The D then forced another 3-and-out with freshman Michael Bennett wrecking havoc in the trenches. The cheers from his effort quickly turned to boos as Bauserman unleashed a poor 2nd and 11 throw befor trumping it was 3rd and 11 heave resulting in a punt. Thankfully, Buchanan pinned the Rockets at their own 8, the 3rd effort of the day inside the 20.
9/26: The Decider by Ramzy, who figured out quickly that Luke Fickell himself had not yet figured out what kind of a head coach Luke Fickell was:
As Ohio's greatest heavyweight wrestler, Fickell was dominant with quick decision making and instincts. That's how championship wrestlers perform. They cannot experiment or afford to make slow decisions. That's how wrestlers end up on their backs.

When he was winning multiple state titles and going undefeated for years, it was Fickell who did all of the pinning. As early as his sophomore year, he knew what kind of a wrestler he was, and he acted on it. Unfortunately, in his current position he may not be afforded the luxury of a sophomore year. He's got to be a senior, right now.

We may never find out what Fickellball really is. One-third of the way through his job interview, it seems likely that Fickell himself still doesn't know either.
september's buckshots, gray boxes of doom & miscellany
Coming tomorrow: Remembering October. The traditional month where Ohio State figures out what's ailing, fixes it hastily and gears up to destroy everything in its path in November. This year is just like every other, right?