MINNEAPOLIS – Of the seven players who started in the back seven for Ohio State's defense on Thursday night at Minnesota, only one of them had ever started a game for the Buckeyes before.
That player was Josh Proctor, and by the end of the game, he wasn't on the field anymore either.
It was already known all offseason that Ohio State would have to rely on inexperienced linebackers after losing every linebacker that started a game from last season. The Buckeyes ultimately went with Teradja Mitchell and Tommy Eichenberg as their two starting inside linebackers while Ronnie Hickman started at the bullet position, as all three of them made their first starts.
What wasn't known until Thursday was that the Buckeyes would also be without their only returning cornerbacks who saw significant playing time last season. Cameron Brown didn't even make the trip to Minnesota and was listed as unavailable for Thursday's game, while Sevyn Banks was also held out of action, though Ryan Day said after the game that Banks would have been available to play in an "emergency" capacity. Marcus Williamson, who started at the cover safety/slot cornerback position last season, also did not see the field on defense against Minnesota although he made the trip and was in uniform.
Instead, Ohio State turned to redshirt freshman Ryan Watts and true freshman Denzel Burke to start at outside cornerback – with Burke becoming the second true freshman ever, along with Andy Katzenmoyer in 1996, to start an Ohio State season opener on defense – while sophomore Lathan Ransom also made his first career start at cover safety.
Ransom was among the players who met with the media after Thursday's game, and he praised Burke and Watts for how they performed in their first starts.
"I think they handled themselves well, especially for being their first start. Especially Denzel, I mean true freshman out there, really did his thing I think," Ransom said. "I think they both played really well and handled themselves really well."
The collective inexperience of the back seven certainly contributed to what was an unspectacular season opener for Ohio State's defense, as the Buckeyes allowed Minnesota to put up 408 yards – 205 through the air and 203 on the ground – and score 31 points, yet all of those players had their moments on Thursday.
Hickman led the Buckeyes with 11 tackles while Mitchell had 10. Burke had his ups and downs as he was targeted frequently in coverage, but he made three pass breakups. Watts had a key third-down run stop early in the fourth quarter. Ransom forced a fumble that Eichenberg recovered late in the fourth quarter to effectively seal Ohio State's victory.
The Buckeyes also rotated heavily both at linebacker and in the secondary, so plenty of other players at the position saw significant snaps, too. Dallas Gant had eight tackles, though he did have a costly roughing the passer penalty that nullified a Proctor interception, while Cody Simon had seven tackles, including a big third-down sack. Steele Chambers had two tackles in his Ohio State debut at linebacker, while Bryson Shaw made a touchdown-saving tackle on a 56-yard run by Mohamed Ibrahim.
In a game where Ohio State had almost no proven veterans it could rely on in the back seven, Day wanted to get a wide variety of defenders on the field so the Buckeyes could see in game action what they have at those positions.
"When you're going in scrimmages and practice, you get a good feel for things, but you don't really know until you get into a game," Day said. "And I think it's gonna sort itself out a little bit. But we do like playing depth. And guys who deserve to play are going to."
Ohio State would certainly like to have Banks and Brown back in action at cornerback next weekend against Oregon, and Day said after the game that he is hopeful they will be able to play versus the Ducks.
"We're looking forward to getting those guys healthy to play next week," Day said.
The other concern coming out of Thursday's game is whether the Buckeyes will have Proctor against Oregon after he left the game and went back to the locker room after suffering an injury in the fourth quarter. No update on his status was provided after Thursday's game, but it would be a big hit to the back end of the defense if he's unable to play against the Ducks, which would potentially lead to Shaw making his first start at the free safety position if Proctor can't go.
Wypler steps up at center
On the offensive side of the ball, another projected starter who was unable to play against Minnesota was Harry Miller, who was listed as unavailable and did not make the trip to Minneapolis with the team.
With Miller out of the lineup, Luke Wypler made his first career start for the Buckeyes at center. And though a few of his snaps back to C.J. Stroud were off-target, he performed well enough to make a case that he should keep the starting job as he manned the middle of the offensive line in between Nicholas Petit-Frere and Thayer Munford on the left side and the right side of another first-time starter in Paris Johnson Jr. and new starting right tackle Dawand Jones.
"I thought he did an excellent job, stepping in in a big way," Day said of Wypler. "There's another young guy that has very, very little experience. Handled the weather, handled the calls, handled the environment, the fans. We'll see how he grades out, but I thought he handled everything really, really well."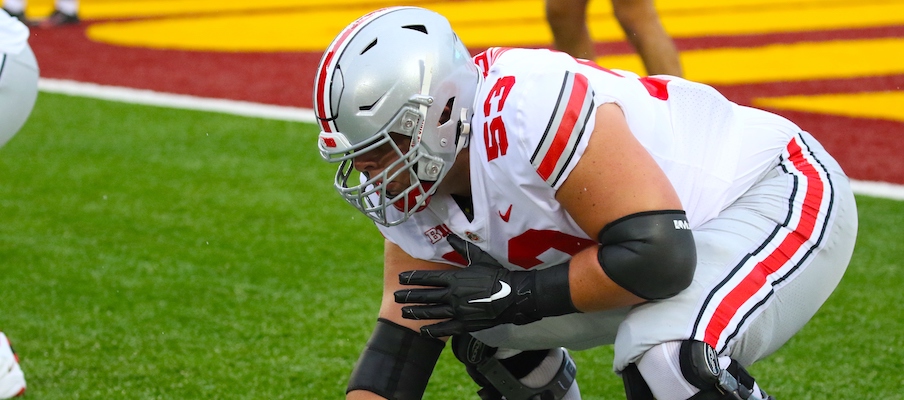 Day did not specify why Miller was unable to play against Minnesota but said Miller's status will be evaluated on a "day-to-day" basis.
Ruggles wins the kicking job
After competing with redshirt freshman Jake Seibert for Ohio State's starting kicking job in preseason camp, North Carolina graduate transfer Noah Ruggles officially became the Buckeyes' new kicker on Thursday night.
Surprisingly, Seibert didn't even make the trip to Minnesota – even though he was not listed as unavailable – as the Buckeyes decided to bring walk-on Dominic DiMaccio to Minneapolis as the second kicker on the travel roster. But while DiMaccio kicked off for the Buckeyes for most of last season, it was Ruggles who handled all of the kicking duties for Ohio State on Thursday.
Ruggles executed his job with no issues in his Ohio State debut, making his only field goal attempt from 35 yards out and all six of his extra point attempts. Only one of his eight kickoffs for the game was returned, and that return was stopped at the 20-yard line.
Presumably, that reliable performance will ensure he remains Ohio State's top kicker for at least the next game against Oregon.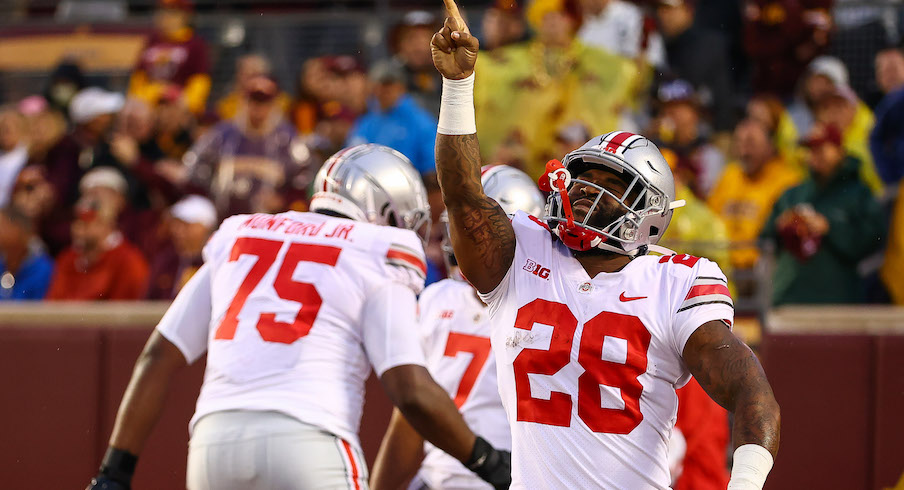 #4 Ohio State 45, minnesota 31
sept. 2, 2021 • Huntington bank stadium • Minneapolis, mn