Game 1 of the 2021 season is in the books for the Buckeyes.
No. 4 Ohio State handed P.J. Fleck and the Minnesota Golden Gophers a two-touchdown loss in their own backyard with a 45-31 win Thursday to kick off the new year, and head coach Ryan Day and the Buckeyes had plenty to say about it afterward.
C.J. Stroud, who made his first start for Ohio State under center, was not impressed with his first-half efforts against the Gophers, who took a 14-10 lead at halftime over the Buckeyes. Stroud was just 8-for-14 for 58 yards and an interception when the teams headed into the locker room, and the redshirt freshman missed a number of open targets.
"First-game jitters," Stroud said. "I mean, they're a great team, Minnesota's a great defense. Thank God I have great teammates, they encouraged me. So that's kind of what happened in the second half."
Stroud turned it on in the second half, throwing four touchdown passes on just five completions to finish with 294 yards through the air. However, Stroud admitted that he wasn't fully dialed in early on.
"In the game of football, you have your ups and downs. Everything doesn't go the way it's supposed to," Stroud said. "In the first half, my mind wasn't right, I was kind of all over the place a little bit. I was talking to my teammates, praying a lot, just trying to lock back in. I don't feel like I did terrible, but I definitely didn't do as best as I could in the first half."
Despite his new quarterback's struggles, Day said he told Stroud he would stick with him even if things got tough in his first start.
"He and I had a conversation early on that we're gonna keep swinging. No matter what happens. And we're not gonna play it close to the vest. That's not the way we do it. And he responded," Day said. "But I think really, it was the guys around him. I think when you look at the defensive score that we got, that was huge. But then the guys up front. Chris (Olave), Garrett (Wilson), those were big plays. And then obviously the play with Trey (Henderson) on that third down was big."
One Buckeye that didn't have a rough first start was redshirt freshman running back Miyan Williams, who finished with 125 yards on just nine carries. On just his second attempt of the evening, the Cincinnati, Ohio, native busted a run 71 yards for a touchdown to put the Buckeyes on the board 7-0 in the first quarter.
"It felt like a dream at first," Williams said. "Then I was like, 'You just gotta keep going.' But it felt amazing though."
However, the play wasn't exactly how Day drew it up for Williams in the offense. The former three-star recruit said he was supposed to take the handoff to the left, but accidentally went right instead.
"To be honest, it was actually the wrong play," Williams said. "It was the wrong play, but it was just crazy. I was supposed to go the other way."
Ohio State took a 10-0 lead into the second quarter, but things got dicey at times on both sides of the ball. After a 56-yard touchdown from Stroud to Garrett Wilson put the Buckeyes back on top 24-21, the defense made a huge play when Zach Harrison recorded a strip sack that was recovered by Haskell Garrett for a touchdown.
"(Defensive line coach Larry Johnson) always says sacks are good, but strip sacks change the game," Harrison said. "As a D-line, we take that to heart in practice. We're always working every time we come around the edge, it's, 'Swipe at the ball, swipe at the ball, swipe at the ball.' It was just second nature, just kind of muscle memory at that point."
Garrett, a returning All-American from the 2020 season, scored a touchdown on an interception against Michigan State last year too, and said he has simply been at the right place at the right time recently. Garrett also said his impressive wheels on Thursday night's 32-yard return were not by accident.
"It just shows that big dudes can run," Garrett said. "We got nimble feet nowadays. Back in the day, it used to just be big and plug up space, but I think there's an evolution of linemen that are athletic."
The Buckeye defense, which featured seven first-time starters Thursday – including true freshman cornerback Denzel Burke and second-year defensive backs Ryan Watts and Lathan Ransom – had some lapses as it gave up 31 points. However, Ransom was pleased with the way the young performers in the Ohio State secondary showed up overall.
"I think (they were getting) the same vibes that I was getting too, because this was my first start. So, a little anxiousness, a little nervousness, but it's nervous because we care so much, and I think that they handled themselves well, especially for being their first start, especially Denzel," Ransom said. "I mean, true freshman out there, really did his thing. I think Ryan Watts had a big play, that huge tackle on that third down, and I think they both played really well and handled themselves really well."
Day said he wasn't surprised with the mixed bag from his group on both sides of the ball, and came away from the game with mostly positive takeaways in the end.
"We learned a lot from this experience," Day said. "To say that I'm surprised with the way it played out, I'm not. We played a lot of young guys on the road, conference game, first time playing with fans in a long time. Quarterback hadn't thrown a college pass before. But the way we rallied and played, especially in that second half, we have a lot to build on here. Very excited coming out of that locker room."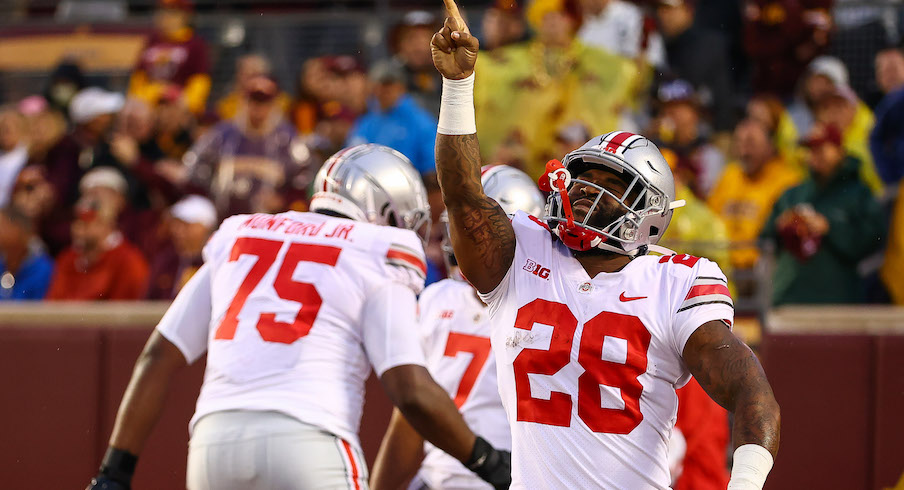 #4 Ohio State 45, minnesota 31
sept. 2, 2021 • Huntington bank stadium • Minneapolis, mn