Well that was fun, right? A young team starting a truckload of new – and unexpected – faces went to the Twin Cities and made it happen.
If you went into Ohio State's season opener thinking the Buckeyes would win comfortably, you were right! Also, if you went in to this game thinking Minnesota posed a major test for a team rolling out a new starting quarterback... on the road, at night, in the rain... well, you were also right!
Talking points heading into the game focused on C.J. Stroud's debut as Justin Fields' successor, how Ohio State would fare against a well-coached team on the road in primetime, and if the defense, particularly the much-maligned pass defense, would show any improvement from last season.
Stroud looked like a first-time starter in the first half as the offense opened strong thanks to Miyan Williams early rushing touchdown but then got bogged down in a lengthy second drive that ended up yielding only a field goal. The second half was a different story entirely, as the young Buck threw four touchdown passess after intermission.
P.J. Fleck's Gophers rowed the dang boat, going up on the Buckeyes prior to halftime and trading punches with the more-talented team for the better part of three quarters. The home crowd was fired up, and Mohamed Ibrahim seemed like he could run the ball at will until leaving the game late in the quarter with an injury.
As for Ohio State's defense... well, Haskell Garrett scored a touchdown off a Zach Harrison strip sack, so that was good!
TL;DR: Just the Facts, Ma'am
C.J. Stroud's debut got off to a shaky start, but the redshirt freshman settled down in the second half and threw more touchdowns in his college debut than any Big Ten quarterback in the past 20 years. Chris Olave, Miyan Williams and TreVeyon Henderson each clocked more than 100 all-purpose yards on the evening.
The Silver Bullets, on the other hand, looked like they were firing blanks much of the evening as Ibrahim ran hog wild, gaining 163 yards and 2 touchdowns. Minnesota's 31 points were the most the Buckeyes allowed in a season opening road game since giving up 40 to Oberlin in 1892, and the fifth-most in any season opener. Larry Johnson's defensive line was solid, but an unproven backfield did little to quash concerns about Ohio State not having a championship-caliber defense.
The absence of veteran cornerbacks Sevyn Banks and Cameron Brown was undoubtedly an issue, although redshirt freshman Ryan Watts turned in several notable plays in their absence.
How It Went Down
Offense
It should have come as no surprise that Stroud didn't make everyone suddenly forget Justin Fields. A.) Those are really big shoes to fill, and B.) Stroud is a young quarterback in his first collegiate start. After going an uninspiring 8 of 14 passing for 58 yards and an interception in the first half, however, he settled down and lit the Gophers up in the second, finishing the game completing 5 of 8 for 236 yards, including touchdown tosses of 38, 56, 70 and 61 yards.
Stroud's pass to Garrett Wilson 10 minutes into the second half was a great reminder of the incredible arm talent and accuracy Stroud has as a passer:
It was a perfectly-placed ball, and was one of a quartet of aerial scores that showcased not only Stroud's ability, but also the fact that he's throwing to the best receiving corps in the nation.
Oh, and one more thing: of the 10 different quarterbacks to start for Ohio State this century, only Dwayne Haskins threw for more yards in his Buckeye debut (313) than Stroud did last night (294).
Helmet Stickers:
The Buckeye offensive line: The big eaters got it done. Minnesota recorded just two quarterback hurries all night, and just a single tackle for loss. Oh, and no sacks.
 Miyan Williams: This cat not only put the first points on the board with a 71-yard scamper midway through the first quarter, but finished with an eye-popping 125 yards on just nine carries. Nine. Carries.
 Chris Olave: Stroud targeted the senior captain six times and connected with Olave four of them for 117 yards and a pair of touchdowns. Olave is the best in the business.
Defense
Well, if you thought Ohio State had probably solved its defensive problems over the offseason, you were likely disappointed by Thursday night's performance. The Buckeye defense coughed up more than 400 yards, including 203 on the ground and 205 through the air.
On the plus side, Larry Johnson continues to work wonders up front. Cody Simon and Zach Harrison each recorded sacks, the latter of which was a strip-sack recovered on a perfectly-timed bounce by Haskell Garrett, who proceeded to run it back 32 yards for a touchdown that gave Ohio State a comfortable lead and all the momentum it needed to close the door on a Gopher upset.
It's difficult to draw too many conclusions given the personnel who were unavailable Thursday night, but it's clear that Ohio State didn't suddenly become a top-10 defense in a single offseason.
Helmet Stickers:
 Haskell Garrett: see above. Gotta love a big-man touchdown.
 Zach Harrison: a strip-sack and a tackle for a loss
 Denzel Burke: for a guy nobody expected to start, Burke recorded a trio of pass breakups. He didn't play a perfect game by any stretch, but he made some key plays when it mattered.
Jim Tressel's Least Favorite Moment of the Game
After a relaxing evening raking up the first leaves of the season and scouting for any armyworms with untoward thoughts about his meticulously-maintained lawn, President Tressel settled in to see just how his former padawan P.J. Fleck would fare against the Buckeyes.
He'd heard a local radio host refer to Fleck's philosophy as being akin to "Tresselball," and while he didn't approve of the term on general principles, he approved of Fleck's appreciation of field position and managing the clock.
Although the Gophers' first drive failed to generate any points, Tressel certainly appreciated the methodical approach, and the fact that it chewed up nearly 6 minutes of clock. Top it off with a punt that pinned Ohio State back to the 8 yard line, and things were looking interesting.
Midway through the second quarter, Ohio State appeared to have Minnesota stopped on their own 29 yard line. "Ah, a perfect opportunity to flip the field," the former head coach thought to himself.
Instead, Fleck opted to go for it on fourth down, running Ibrahim up the middle for a gain of 56 yards.
"Oh cheese and crackers," Tressel muttered to himself. "I taught the boy nothing."
You will never be the person you can be if pressure, tension and discipline are taken out of your life. Dr. James G. Bilkey #QuietTime

— Jim Tressel (@JimTressel5) August 23, 2021
It Was Over When
...Haskell Garrett rumbled his way into the endzone. Yes, Minnesota still had a chance to come back at that point, but that sequence – coming less than 3 minutes after Wilson's touchdown catch – sucked the air out of the stadium and gave Ohio State the cushion it needed to play with full confidence in the outcome.
---
NEXT UP: Ohio State returns to Columbus, thankful for a couple of extra days to prepare to host No. 11 Oregon, Sat., Sept. 11 at high noon... or, if you prefer, 9 a.m. PDT.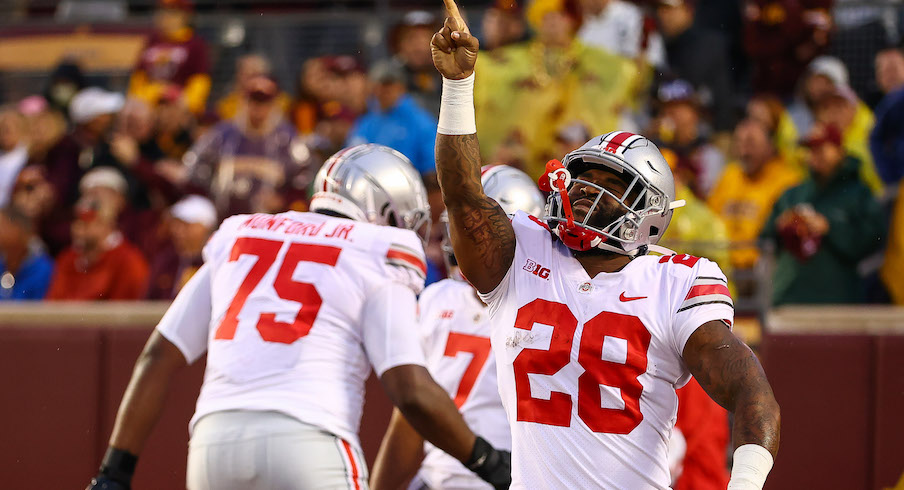 #4 Ohio State 45, minnesota 31
sept. 2, 2021 • Huntington bank stadium • Minneapolis, mn