Deficiencies were evident at several levels of the Ohio State defense throughout Thursday night's 45-31 Ohio State victory in Minneapolis, and they won't be easily remedied overnight.
However, the new-look Buckeye defense – which featured seven first-time starters and a whole lot of rotational fluidity – made just enough plays to stave off a valiant upset bid by season-opening host Minnesota. In fact, despite giving up 31 points, the Ohio State defense might just have made the most important play of the game in the third quarter.
Having just taken a 21-24 lead with a much-needed 56-yard strike from C.J. Stroud to Chris Olave at the 5:12 mark of the third period, the Buckeye defense returned the favor with a score of its own, as a Zach Harrison strip sack led to a Haskell Garrett scoop and score touchdown – his second trip to the end zone in the past nine months.
"I thought that was probably the difference in the game, and then some of the explosive plays on offense, certainly," head coach Ryan Day said after the game. "Any time you get a defensive score, whether it's a blocked punt or something like that, that flips the scoreboard and really is a huge game-changer."
The sack. The strip. The scoop. The score. pic.twitter.com/JomWq0hjVK

— Eleven Warriors (@11W) September 3, 2021
On a Minnesota second-and-7 from its own 39-yard-line with 2:32 remaining in the penultimate quarter, Gopher quarterback Tanner Morgan faked a shotgun handoff to running back Mohamed Ibrahim. Upon pulling the ball and dropping back, Morgan was met with immediate pressure from Harrison, who beat his man to the outside. Morgan stepped up in the pocket, but Harrison found him there too, swiping the ball from his unsuspecting hand to cause a fumble.
"(Defensive line coach Larry Johnson) always says sacks are good, but strip sacks change the game," Harrison said. "As a D-line, we take that to heart in practice. We're always working every time we come around the edge, it's, 'Swipe at the ball, swipe at the ball, swipe at the ball.' It was just second nature, just kind of muscle memory at that point." 
The loose ball bounced off the turf, then off the knee of Buckeye linebacker Teradja Mitchell before landing right into the hands of Garrett, who raced straight ahead 30 yards for a score. No opposing player was within five yards of the 2020 All-American when he reached the goal line, and Garrett celebrated with an O-H gesture to the hostile crowd as Ohio State took a 10-point lead.
"It just shows that big dudes can run," Garrett said after the game. "We got nimble feet nowadays. Back in the day, it used to just be big and plug up space, but I think there's an evolution of linemen that are athletic."
Minnesota scored again – two times in fact – but never regained the lead, and Ohio State eventually closed out its season opener with two more touchdowns and another defensive takeaway in a game that was tougher than many people expected it to be for the fourth-ranked Buckeyes.
The Buckeye defense looked strong early, even with true freshman Denzel Burke, redshirt freshmen Ryan Watts and Lathan Ransom and redshirt sophomore linebacker Tommy Eichenberg being just a handful of new faces that got starting nods. Ohio State forced back-to-back punts from the Minnesota offense with rapid-fire rotations at nearly every position, but that strategy did not look as effective after the end of the first quarter.
Redshirt freshman cornerback Lejond Cavazos missed a tackle on a 56-yard fourth-and-1 rush from Ibrahim to set the Gophers up deep in Buckeye territory, and was targeted on a pass attempt that resulted in a touchdown just two plays later.
Ibrahim found the end zone himself less than six minutes later, and finished the first half with 114 yards against the Buckeyes by himself, with the Gophers up 14-10.
Early in the third quarter, a roughing-the-passer call on linebacker Dallas Gant wiped out what would have been a game-changing interception and subsequent 60-yard return from Buckeye safety Josh Proctor. Two plays later, Ibrahim ran in a touchdown from 19 yards out to put Minnesota up 21-17.
Ibrahim finished with 163 yards and two touchdowns on the ground, as Minnesota racked up 408 total yards on an almost even split between pass and run, with four touchdowns and a 4-for-4 mark in the red zone for the night.
On one such red zone possession, Burke committed a pass interference penalty that led to a touchdown, and on the same drive as the aforementioned Gant gaffe, Watts committed one as well prior to the Ibrahim touchdown.
Yeah... we're preettttyyy sure this was PI pic.twitter.com/zF2jAdnLo6

— FOX College Football (@CFBONFOX) September 3, 2021
"We learned a lot from this experience," Day said. "To say that I'm surprised with the way it played out, I'm not. We played a lot of young guys on the road, conference game, first time playing with fans in a long time."
On the bright side for the Buckeyes, they made five tackles for loss to Minnesota's one, and the Ohio State defense sacked Morgan twice, while Stroud was never sacked for Ohio State.
With the Gophers trying to make it a one-score game in the final four minutes, the defense made one more big play, although not one without controversy. Morgan completed a 20-yard pass to wideout Mike Brown-Stephens down at the Ohio State 41, but Ransom made him pay with a crushing hit that jarred the ball free. The hit could have been called for targeting, but ultimately was ruled a fumble that Eichenberg recovered without any penalty, and the Buckeyes ran out the last few minutes of the clock to finish things off.
It wasn't always pretty for Ohio State, and defensive coordinator Kerry Coombs certainly will not dodge his fair share of criticism after most Buckeye supporters had hoped to see a vastly improved back seven in Week 1.
A win is a win, though, and even with Oregon waiting in the wings next week, a two-touchdown margin over a Big Ten opponent is nothing to scoff at – defensive flaws and all.
"The way we rallied and played, especially in that second half, we have a lot to build on here," Day said. "Very excited coming out of that locker room."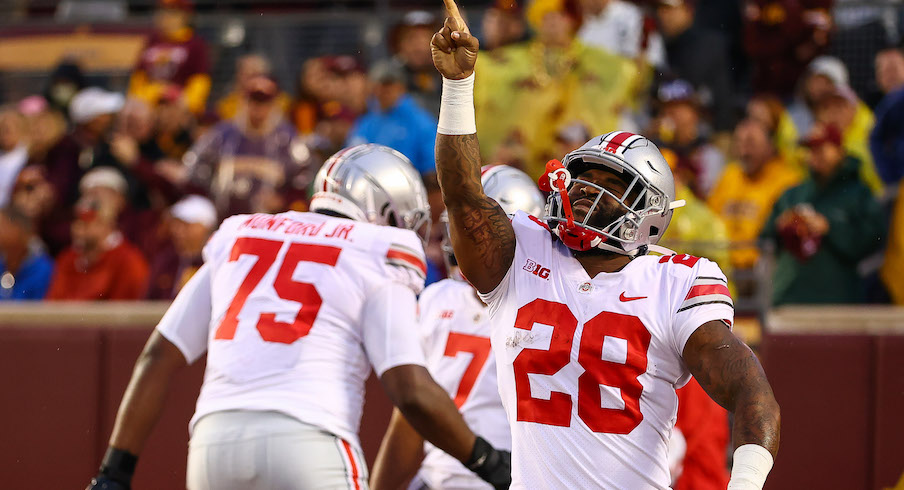 #4 Ohio State 45, minnesota 31
sept. 2, 2021 • Huntington bank stadium • Minneapolis, mn