Kicking off the season on the road, at night, with a brand new starting quarterback against a conference foe, Ohio State started slow but finished strong in a 45-31 win over Minnesota. 
The hopes that a full offseason would allow the defense to show drastic improvement went for naught but there were still some positive signs and of course the secondary also played without three of its most experienced guys in Sevyn Banks, Cameron Brown and Marcus Williamson. 
With C.J. Stroud looking shaky and timid in the first half while the defense struggled to keep Minnesota's Mohamed Ibrahim from hitting some big runs, Ohio State found itself trailing 14-10 at intermission before outscoring the Gophers 35-17 in the second half. 
Game one was certainly a struggle at times but trial by fire while still collecting a W is better than the alternative. And a ton of guys got their first taste of meaningful snaps, something that should pay dividends next week. 
Having some extra time to prepare for Oregon after a physical affair in Minneapolis will surely be welcomed by Ryan Day and company but before focus turns to the Ducks here are Five Things from a 14-point win over P.J. Fleck and the Flecktones. 
---
STROUD BOUNCES BACK
C.J. Stroud completed only 8-of-14 passes for 58 yards in the first half, including an interception that led directly to a Minnesota touchdown giving the Gophers a 14-10 lead they'd take into the locker room. 
After halftime however, Stroud fared much better. And I mean, let's be honest, his receivers were running wide open on numerous occasions but the fact is, Stroud completed 5-of-8 passes for 236 and four touchdowns over the final two quarters. 
With that second half boost, his final stat line read 13-of-22 for 294 yards with four touchdowns and a pick. 
I'm not here to tell you his night was perfect but damn, reading Twitter you'd think it's time to make a switch. I'm just saying I think it might be wise to realize guys like Justin Fields don't grow on trees and just because Stroud wasn't consistently dominant doesn't mean he won't grow quickly under Day's guidance. 
It's not like Ohio State played a cupcake. Opening in a hostile environment, dealing with some rain, throwing his first 22 collegiate passes.. it's a process and I'd expect Stroud will be more accurate against what should be a stiffer test versus the Ducks. 
PAIR AND A SPARE?
It looks like Day believes he has at least four running backs deserving of meaningful snaps but I uh, I guess that's not where I'm at. He's obviously smarter than all of us but it was frankly infuriating to see Miyan Williams take his first carry eight yards and then his second 71 yards for a touchdown only to give way to Master Teague in the second series and watch him carry it six times for almost the exact same mediocre yards per carry as all of last season (4.8 vs. 4.9).
Williams earned seven more carries on the night and averaged 6.6 a pop to finish with nine attempts for 125 yards and the long touchdown. 
True freshman TreVeyon Henderson earned three touches and ended up running for 15 yards on two carries while also catching a pass out of the backfield and racing 70 yards to the house. Three touches, 95 yards. 
I'm well aware we're dealing in small sample sizes here but is it not clear that Williams and Henderson are the 1-2 punch that can not only be productive on a play by play basis but give the team ability to hit a home run? 
Teague is by all accounts an awesome dude, student and teammate. I'm not trying to hate on him. I see him bringing value as a situational guy but giving him and Marcus Crowley 12 of Ohio State's 26 carries seems like maybe a misuse of resources in a relatively tight game and I hope Williams and Henderson can get some more run next week. 
QUICK STRIKE
I mentioned earlier Stroud only completed five passes in the second half but four went for touchdowns as Minnesota had no answer for Garrett Wilson and Chris Olave on the outside and Henderson out of the backfield. 
With Stroud connecting for touchdowns of 38, 56, 61 and 70 yards in the second half, the Buckeye offense posted scoring drives spanning eight seconds, 52 seconds, 58 seconds and 2:13. Lol. For the game, Ohio State possessed the football for just 21 minutes. 
Throw in Williams' 71-yard burst and the Buckeyes logged five plays of 38 yards or longer. 
For comparison, Minnesota's offense had one play go for more than 22 yards all night via a 56-yard Mohamed Ibrahim run sparked by what looked like Javontae Jean-Baptiste failing to set the edge and Lejond Cavazos missing a tackle. 
ZACH ATTACK
Ohio State's staff could not stop talking about Zach Harrison's progression for the duration of the offseason. 
Arriving at Ohio State as an elite 5-star recruit, Harrison's had his moments but not as many as probably most fans expected through his first two seasons. But with all the talk from spring camp forward, and Harrison's own commentary about being ready to take the next step, both on the field and in the locker room upon being elected a captain, fans were ready for him to blow up. 
Ohio State's defensive ends were somewhat of a non-factor early against Minnesota as the Gophers ran it 25 times while attempting just 10 passes in the first half. 
As the Buckeyes were able to get back on top of the scoreboard, the Gophers were forced to lean on Tanner Morgan's arm a bit more and Harrison was ready. 
He had a few near-misses at sacks early in the second half before finally getting to Morgan on a 2nd-and-7 play late in the third quarter. Coming hot off the edge, Harrison came up with a strip sack and Haskell Garrett was the recipient as the defensive tackle fielded the ball on one bounce and galloped 32 yards for a touchdown. 
Nursing a 24-21 lead at the time, Harrison's play proved a huge momentum shift as Ohio State took a 31-21 lead and never looked back. 
BURKE SHOWS PROMISE
With Ohio State's starting corners in Banks and Brown unavailable to play, Kerry Coombs and company turned to true freshman Denzel Burke to man one of those spots. 
Just barely a top-200 prospect in 247's composite and early enrollee back in January, Burke was thrown into the fire and for the most part, emerged showing he's a guy the defense can use, even when Banks and Brown return. 
Sure, Minnesota doesn't run the Air Raid but Burke looked confident, largely in position and a willing tackler. 
Burke led the Buckeyes with three pass breakups, one of which came in the end zone on a hell of play against Daniel Jackson. He did commit pass interference on the next snap to set up a score three plays later but the dude battled all night, looking pretty damn comfortable for a true freshman.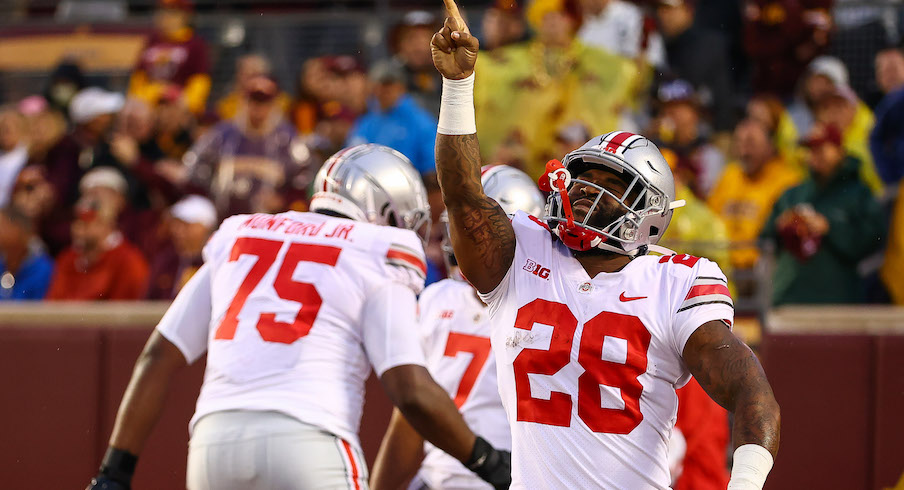 #4 Ohio State 45, minnesota 31
sept. 2, 2021 • Huntington bank stadium • Minneapolis, mn