Minnesota was never going to be a cakewalk; P.J. Fleck has created a program that is at least competitive against the various Big Dogs of the conference, even if they're yet to join them (yet).
What really separated these two teams were the playmakers on offense. Minnesota leaned hard on running back Mohamed Ibrahim before he got hurt, and maybe too hard, because he was what was keeping their hopes alive against an Ohio State team that was always just a couple of inches away from scoring on any given play in the first half. When the Buckeyes started actually doing that in the second, well... that was it.
We're not gonna talk about the defense.
THE TEAM
1-0 baby!!! Go Bucks

— Haskell Garrett (@HaskellGarrett_) September 3, 2021
That targeting scared me man . Proud of my brothers. Whats the best thing about going 1-0 ??

— Teradja Mitchell (@teeraaw__) September 3, 2021
Sending prayers @_MoIbrahim.

One hell of a player. Much respect

— Brian Hartline (@brianhartline) September 3, 2021
Im honored to announce that Ive been selected for @DennysDiner #AllPancakerTeam. Super excited and cant wait to see whats next! #ad pic.twitter.com/oVnfqUlOCG

— Nicholas Petit-Frere (@NicholasPetit) September 3, 2021
September 3, 2021
Come on now!!!

— Chop (@Miyann28) September 3, 2021
THE ALUMNI
Proud of these buckeyes. Confidence booster for a lot of the new faces out there. Those young corners got bright futures mark my words.

— Chimdi Chekwa (@ChimChek) September 3, 2021
@dawandj79 next to @_ackerrigan (57) for reference https://t.co/2DRCJERmJX pic.twitter.com/8tnhJgmxD2

— Liam McCullough (@LiamMcCullough2) September 3, 2021
The one & only Mr. Chris Olave

6 #GoBucks

— Cie Grant (@CieGrant) September 3, 2021
How about those buckeyes!

— Cardale Jones (@CJ1two) September 3, 2021
TREVEYON HENDERSON

— Parris Campbell (@PCampbell21) September 3, 2021
CJ can throw the ball. Usually this game is a nooner vs Miami of Ohio. Guys are more open, pass rush is slower. Hes throwing for the first time in a game since high school. Should be uncomfortable. He needs more reps and that takes time

— Joshua E Perry (@RIP_JEP) September 3, 2021
Guys, I said this game was going to uncomfortable at times for Buckeye fans and here we are. Gotta see how they respond. Big moment for the defense

— Joshua E Perry (@RIP_JEP) September 3, 2021
One thing I will say about CJ he gotta cannon! He letting that ball FLY #Buckeyes

— Tyvis Powell (@1Tyvis) September 3, 2021
It's my great pleasure to formally announce that it's time for The Ohio State University Buckeyes football @CFBONFOX pic.twitter.com/aB4LrqQJKQ

— Mark Titus (@clubtrillion) September 2, 2021
MICHAEL BENNETT KINDLY REQUESTS THAT YOU CHILL TF OUT
The Buckeyes are down 14-10 near the end of the second quarter. Look in your heart and tell me do you really think theyll lose? No. No you dont. Enjoy your Thursday night Buckeye fans.

— Michael Bennett IV (@mike96bennett) September 3, 2021
September 3, 2021
THE REST
This was just too easy for @OhioStateFB's Miyan Williams pic.twitter.com/zhlHFs15O9

— FOX College Football (@CFBONFOX) September 3, 2021
tackling Chris Olave at the snap and hanging onto his leg seems like the best strategy for an opposing DB

— BUM CHILLUPS AKA SPENCER HALL (@edsbs) September 3, 2021
Here we come... #GoBucks pic.twitter.com/fin8mSvzEL

— Ohio State Football (@OhioStateFB) September 2, 2021
September 2, 2021
Ohio State is unfair pic.twitter.com/GIGh4jQPlU

— PFF College (@PFF_College) September 3, 2021
Ohio State-Minnesota right at the moment the Buckeyes decide to play their starters pic.twitter.com/E2vVAGgDvO

— Ramzy Nasrallah (@ramzy) September 3, 2021
Out of the frying pan and in to a similar frying pan next week. Stroud and company are about to be tested in a new way but hey! It's at home! That'll be fun. See you next week.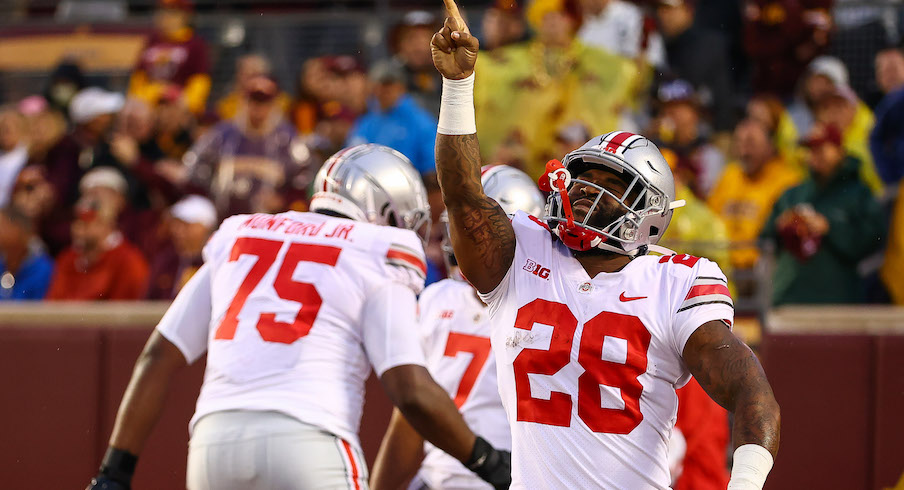 #4 Ohio State 45, minnesota 31
sept. 2, 2021 • Huntington bank stadium • Minneapolis, mn