As Ohio State prepares to begin spring football on March 2, Eleven Warriors is taking a position-by-position look at how the Buckeyes' roster stacks up entering the year's first practices. Today, we take a look at the secondary.
Nothing says "welcome back, Kerry Coombs" quite like him having to replace three starting defensive backs, including a top-10 NFL draft pick at cornerback. 
He's done it successfully before, but that doesn't make it any easier. 
At cornerback, the Buckeyes lost Jeff Okudah, arguably the top shutdown cornerback in college football last season, along with Damon Arnette, who put together his best season as a fifth-year senior. Jordan Fuller graduated, as well, after more than two years as a starting safety. With the help of new Boston College head coach Jeff Hafley, Okudah and Fuller were first-team All-Big Ten selections, and Arnette was a second-team All-Big Ten pick. 
And now they're all gone.
Shaun Wade, though, returns to Ohio State – for what will presumably be his last season before leaving for the NFL – as the cornerstone around which Coombs will build his secondary. Beyond him, nobody else in the defensive backfield has started a game.
What We Know
If Wade flew under the radar at all while playing in the slot in the same defensive backfield as Okudah, Arnette and Fuller last season, he won't have to worry about that whatsoever in 2020.
Wade will enter the season – and spring practice – as the clear, undisputed No. 1 cornerback on Ohio State's roster. He has showcased his versatility since arriving in Columbus, and with everybody else in last year's secondary now off to the NFL, it's up to him to blanket opposing wide receivers as he makes his case to be a top-of-the-first round cornerback in the 2021 NFL Draft.
Spring Previews
Beyond Wade, significant question marks exist throughout the rest of the secondary.
Third-year cornerbacks Cameron Brown and Sevyn Banks could enter spring practices as next in line to start for Ohio State – though neither of them has ever been a full-time starter before.
Brown, a converted wide receiver, made a move up the depth chart last season under Hafley that began in the offseason and continued into the season. He played 254 snaps, the most among non-starters in the secondary. He's always had top-level speed and athleticism, and last year he began to put the rest of it together. Banks, cited by Greg Schiano before the 2018 Rose Bowl as possibly being the next great Ohio State cornerback, played 226 snaps last year. 
Both senior Marcus Williamson and redshirt sophomore Tyreke Johnson will reunite with Kerry Coombs, who recruited them.
Williamson, entering his last year with the program, has yet to play more than 86 snaps in a season. He's dealt with a variety of injuries. At 5-foot-10, 186 pounds, he's undersized compared to the rest of the cornerbacks, but Coombs had success with Denzel Ward in 2016 and 2017. Johnson has also flown under the radar so far in his career. The one-time five-star recruit played only 57 snaps last season. 
They'll be joined by freshmen Ryan Watts and Lejond Cavazos, a pair of four-star prospects ranked outside of the top-200 nationally. They likely wouldn't be in line for much playing time at cornerback in a usual year, but because of the inexperience at their position, opportunities exist. Size stands out for Watts, who's 6-foot-3 and 195 pound, and Cavazos' 4.40-second 40-yard dash gives him raw athleticism for Coombs to mold.
At safety, junior Josh Proctor appears in line to take over the position that Fuller vacated. He's a rangy, ball hawk who might have a higher ceiling than Fuller but has yet to start a game in his college career. Because Fuller rarely came off the field in 2019 and Hafley typically went with single-safety looks, Proctor only played 123 snaps as a sophomore.
Marcus Hooker, Bryson Shaw, Ronnie Hickman and Kourt Williams make up the rest of the depth chart at safety. Hooker, the younger brother of Malik, was on the field for 82 snaps last season. Shaw played six defensive snaps as a freshman, taking a redshirt. Hickman also redshirted as he recovered from an ACL tear. Williams is listed as a safety, though it's unclear which position he'll end up playing in Columbus.
Once the summer enrollees arrive in June, Lathan Ransom and Cameron Martinez will join the team. Ryan Day deemed Ransom, a four-star safety from Arizona, "as good a safety as we've had here in a long time." Martinez will get a chance to play on both sides of the ball, per Day, and will begin at nickelback on defense.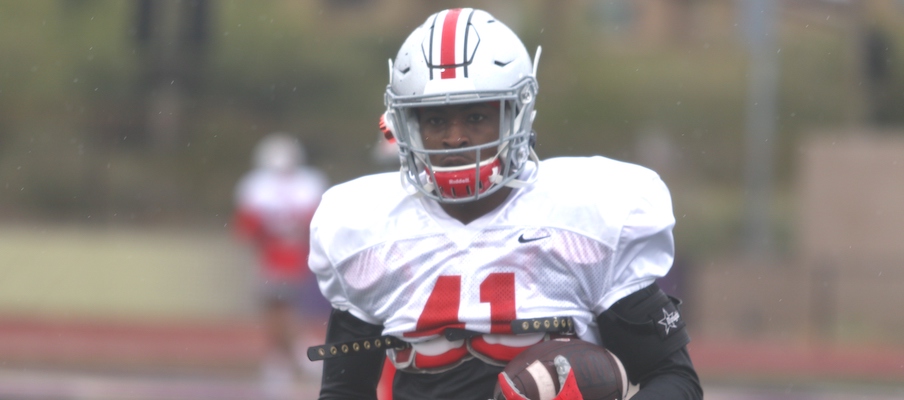 What To Watch For
Ohio State's Spring Secondary Roster

| No. | Name | Ht. | Wt. | Year | Hometown (High School) |
| --- | --- | --- | --- | --- | --- |
| 4 | LEJOND CAVAZOS | 6-0 | 195 | FR | San Antonio, Texas (IMG Academy) |
| 7 | SEVYN BANKS | 6-1 | 200 | JR | Orlando, Fla. (Jones) |
| 13 | TYREKE JOHNSON | 6-1 | 195 | RS SO | Jacksonville, Fla. (Trinity Christian Academy) |
| 15 | JOSH PROCTOR | 6-2 | 202 | JR | Owasso, Okla. (Owasso) |
| 16 | RYAN WATTS | 6-3 | 195 | FR | Little Elm, Texas (Little Elm) |
| 21 | MARCUS WILLIAMSON | 5-10 | 186 | SR | Westerville, Ohio (IMG Academy) |
| 23 | MARCUS HOOKER | 5-11 | 200 | RS SO | New Castle, Pa. (New Castle) |
| 24 | SHAUN WADE | 6-1 | 195 | RS JR | Jacksonville, Fla. (Trinity Christian Academy) |
| 26 | CAMERON BROWN | 6-0 | 192 | JR | St. Louis, Mo. (Christian Brothers College) |
| 28 | RONNIE HICKMAN | 6-1 | 205 | RS FR | Wayne, N.J. (DePaul Catholic) |
| 29 | KOURT WILLIAMS | 6-1 | 221 | FR | Belliflower, Calif. (St. John Bosco) |
| 30 | KEVIN DEVER | 6-0 | 195 | JR | Cleveland, Ohio (St. Edward) |
| 38 | BRYSON SHAW | 6-1 | 195 | RS FR | Eldersburg, Md. (Bullis School) |
| 42 | LLOYD MCFARQUHAR | 5-9 | 170 | JR | Cleveland, Ohio (Brush) |
| 43 | RYAN BATSCH | 6-2 | 200 | JR | Loveland, Ohio (Loveland) |
| 49 | DARRYL SINCLAIR | 5-9 | 180 | SR | Solon, Ohio (Solon) |
Everybody knows Wade's role. But can he make the same, reliable impact from the outside that Okudah had in 2019? That'll determine how high his NFL draft stock reaches, and if he becomes the Thorpe Award finalist that he surely desires to become, he'd give Coombs a reliable option to cover the best opposing wideouts.
Outside of Wade, it's unclear how the cornerback situation will shake out. Nor is it certain how Ohio State's cornerbacks will stack up in comparison to the talent-rich group that Hafley rolled out last year.
Brown and Banks seemingly will enter the spring as the most likely starters, but will they maintain that status under a new position coach and defensive coordinator? Will they both rotate outside? Will one of them shift into the slot? All of those questions will begin to get answered once spring practice opens on Monday.
Nickelback, even with spring practice just days away, remains quite possibly the most unclear position on either side of the ball.
Before Amir Riep was removed from the team for rape and kidnapping charges, he would likely have entered the spring taking first-team reps in the slot. Without him, there's an abundance of uncertainty. Nickelback, as Wade showed last season, is one of the defense's most important positions.
Banks or Brown might get a shot at nickelback. If not, Williamson and Johnson could be in line. It might be a fit for Williamson, undersized compared to traditional cornerbacks, but Johnson's almost the same size as Wade who thrived at the position in 2019. Luckily for Coombs, the Buckeyes have six months to figure it out.
Coombs also has the challenge of simultaneously developing the cornerbacks and safeties while implementing whatever changes he feels need to be made during the spring. It could be a tough balance, but Hafley struck it beautifully a year ago.
With so many turnovers, both among players and coaches, it's also worth noting that something totally unforeseen could happen.
Is Johnson suddenly with the first team? Does Williamson quickly grab a starting job? Will Proctor play in the slot to give Ohio State more multi-safety looks? Might Wade spend some time at nickelback? 
It's all on the table, which makes the secondary one of the most interesting position groups this spring.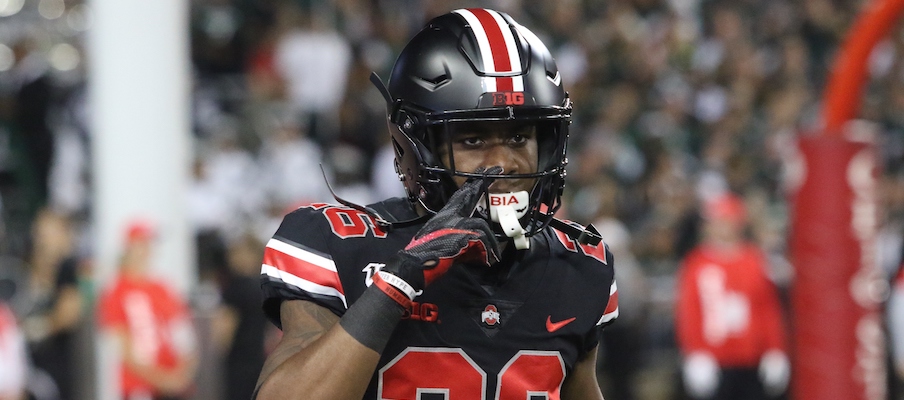 Three Questions
Can Wade Become A Top-10 Overall Pick, Shutdown Cornerback?
Nobody could dispute that Wade played at an extremely high level a year ago. He didn't, though, quite put himself in the NFL draft realm of Jeff Okudah, who's likely to become a top-10 selection in April and could go as high as third overall to the Detroit Lions.
Now moving to the outside to finish out his collegiate career, Wade has a chance to pull himself into the upper echelon of the first round. In order to increase his draft stock to that point, he'll have to consistently lock down the best receivers Ohio State will face this season, which is a task Coombs will need him to accomplish in an otherwise inexperienced defensive backfield. 
Wade is the cornerstone around which the rest of the secondary will be built.
Can Proctor lock down the starting deep safety spot?
For a while, Proctor has been viewed as a future starter – and potential star – at safety. Because of the upside of the 6-foot-2, 202-pound rising junior, it's seemed clear that he'll get the first shot to win the starting safety job. Can he secure it this spring? We'll find out over the next month and a half.
Since Ryan Day has expressed an expectation the Buckeyes will again use single-high safety looks the majority of the time, the pressure will be on the safeties to win the sole open starting spot vacated by Fuller.
Who will replace Wade at slot cornerback?
In such a depleted defensive backfield, no position holds more mystery than what Coombs plans to do at nickelback. Wade leaving the slot to move outside opens up an unknown at his former position.
Can Williamson finally break through as an undersized senior in the slot? Will Banks or Brown move inside? Since Johnson has similar size to Wade, might he be the prime candidate? Is there any chance a freshman wins the job? Legitimately every single cornerback seems like a potential candidate to fill the opening.
Projected Depth Chart
Cornerback
Shaun Wade
Tyreke Johnson
Cornerback
Cameron Brown
Lejond Cavazos
Slot Cornerback
Sevyn Banks
Marcus Williamson
Safety
Josh Proctor
Marcus Hooker
Only one spot in the secondary is set – Wade will start as an outside cornerback – at this point, making the secondary quite possibly the most intriguing position group this spring.
Proctor seems to be the best-positioned defensive back outside of Wade to earn a starting job, even though he's such a different player than Fuller, his predecessor. He will have to hold off Shaw, Hickman and Hooker, whose experience in 2019 gives him the edge to become the backup.
Brown and Banks are the top two options at cornerback, having spent the 2019 season backing up Okudah and Arnette. Will they both play – and presumably rotate with each other – on the outside, or will one of them shift inside the to slot? There's no clear answer yet. By the end of spring practice, we might have a better idea. But for now, we're projecting Banks moves inside. Williamson and Johnson, both of whom have been around Ohio State for multiple seasons, are two other options.