As Ohio State prepares to begin spring football on March 2, Eleven Warriors is taking a position-by-position look at how the Buckeyes' roster stacks up entering the year's first practices. Our Spring Preview begins with the quarterbacks, where Justin Fields returns to lead Ohio State's offense while Jack Miller and C.J. Stroud are set to begin their careers as Buckeyes.
In his eighth year as either a quarterbacks coach or head coach, Ryan Day enters this season with a luxury he's never had before: A returning starting quarterback who he's already coached for a year.
Unlike last year, when Ohio State entered the spring without a single quarterback who had thrown a pass for the Buckeyes, Fields returns for his second season with Ohio State having already established himself as one of the best quarterbacks in college football. While Fields entered last spring with a lot to prove after arriving on campus in January, this spring will be all about continuing his development and building rapport with the Buckeyes' younger and less experienced receivers as he works toward what he hopes will be a Heisman Trophy and national championship season in 2020.
The rest of Ohio State's scholarship quarterbacks, though, will be participating in their first spring practices as Buckeyes. Gunnar Hoak, like Chris Chugunov last year, is going through what will be his first and only full offseason as a Buckeye after graduate transferring to Ohio State last summer, while Stroud and Miller just arrived in January as early-enrollee freshmen.
All of them will have something to prove this spring as they compete to be the Buckeyes' No. 2 quarterback, a competition that for Stroud and Miller could also serve as the prelude to the competition for who will be Ohio State's next starting quarterback after this season.
What We Know
Spring Previews
We thought we knew that Fields would be Ohio State's starting quarterback at this time last year, but we know we know it this year. Coming off a spectacular first season at Ohio State in which he threw for 3,273 yards and 41 touchdowns, ran for another 484 yards and 10 touchdowns, led the Buckeyes to 13 wins and a College Football Playoff berth and finished third in Heisman Trophy voting, Fields is the clear-cut face of the Buckeyes and the biggest reason why they are projected to be in the thick of the championship race again.
Despite the knee injury that hampered him at the end of the 2019 season, Fields is expected to be full-go for spring practice, and Day is excited to see how his returning starter continues to develop now that he has a full season of starting experience under his belt.
"I thought from game one all the way to that last game, he really improved," Day said. "So it's exciting that we're going to have him back. That's what's so exciting."
Hoak, who served as Ohio State's third-string quarterback behind Fields and Chugunov last season, is the only other returning scholarship quarterback. A fifth-year senior who spent three years at Kentucky before becoming a Buckeye, he is entering his final year of collegiate eligibility. He completed all six of his passing attempts last season for 104 yards and a touchdown.
Stroud, who was ranked as the No. 41 overall prospect and No. 3 quarterback in the class of 2020, and Miller, who was ranked as the No. 332 overall prospect and No. 27 quarterback in the class of 2020, are the first pair of freshman quarterbacks to join the Buckeyes in the same recruiting class since Troy Smith and Justin Zwick in 2002.
The Buckeyes also have three walk-on quarterbacks. Danny Vanatsky, who has been with the Buckeyes since 2018, enters his third year at Ohio State as the longest-tenured Buckeye in the quarterback room. Jagger LaRoe, who transferred to Ohio State after one year at Texas A&M, and J.P. Andrade, who joined the Buckeyes as a preferred walk-on last summer, are both in their second year with the team.
What to Watch For
Unlike the past couple years, there aren't any major questions surrounding Ohio State's starting quarterback going into this spring. Fields has already proven he can carry the Buckeyes to great heights, and if he can just play as well this year as he did last year, Ohio State will have a chance to be the best team in college football.
Ohio State's Spring Quarterback Roster

| No. | Name | Ht. | Wt. | Year | Hometown (High School) |
| --- | --- | --- | --- | --- | --- |
| 1 | JUSTIN FIELDS | 6-3 | 223 | JR | Kennesaw, Ga. (Harrison) |
| 10 | DANNY VANATSKY | 6-1 | 205 | RS SO | Cincinnati, Ohio (Christian Academy) |
| 12 | GUNNAR HOAK | 6-4 | 212 | RS SR | Dublin, Ohio (Coffman) |
| 16 | JAGGER LaROE | 6-3 | 216 | RS SO | Colleyville, Texas (Heritage) |
| 18 | J.P. ANDRADE | 6-3 | 205 | RS FR | La Verne, Calif. (Bonita) |
|   | JACK MILLER III | 6-4 | 215 | FR | Scottsdale, Ariz. (Chaparral) |
|   | C.J. STROUD | 6-3 | 194 | FR | Rancho Cucamonga, Calif. (Rancho Cucamonga) |
But that certainly doesn't mean that Fields doesn't still have plenty to work on this spring. Day and new quarterbacks coach Corey Dennis haven't specified where they believe Fields can improve in 2020, but they do believe he can get better, and it's their job to help him do so.
"Justin wants to get better and Justin wants to enhance," Dennis said. "If you asked Justin, I'm sure he'd say he has a ton of things that he can do better. So whatever that is, whatever the task of the day, we're just going to try to get better and better and better every day. So that's kind of our mindset moving forward."
Fields was already prolific as a passer in 2019 – he threw only three interceptions and had the third-best passer rating in the Football Bowl Subdivision – but this spring and summer will be an opportunity for he and his coaches to work on the small details of his game that could make the difference between being one of the best players in the country and being the best player in the country. Leadership will also be an area of focus for Fields, as Day will be counting on his starting quarterback to take even more ownership of the team and help elevate younger players around him now that he is an experienced veteran.
That will especially be true within the quarterback group, where Stroud and Miller will have a fantastic example to learn from as they go through their first year in the program and prepare to potentially succeed Fields as Ohio State's starting quarterback in 2021.
Hoak's development this spring will be important too, as he'll likely enter spring as the No. 2 quarterback because of his veteran standing. While he didn't do enough last summer to wrest the backup quarterback away from Chugunov, he should be more ready for playing time now that he's had a full season at Ohio State, and the Buckeyes need to be able to trust him if anything happens to Fields.
That said, Stroud and Miller are expected to get a real opportunity to compete for the backup quarterback job too, and because of how important they could be to the future of the program, their development could draw the biggest spotlight among Ohio State's quarterbacks this spring.
Because the Buckeyes have only two veteran scholarship quarterbacks, they need at least one of their new freshmen to be ready to play this year, and if either of them are, it would be smart for the Buckeyes to get him as many reps as they can, considering the possibility that both Fields and Hoak could be in their final season at Ohio State.
This spring will certainly be a time of learning and adjustment for Miller and Stroud, who hail from Arizona and California respectively, but it's also a big opportunity for both of them to make a first impression. And how quickly they come along over the course of Ohio State's 15 March and April practices will go a long way in determining the Buckeyes' quarterback depth chart for 2020.
Both new quarterbacks are viewing this spring as a chance for them to get acclimated and begin their development with Day and Dennis while also starting to show what they're capable of.
"This spring will be more important for me to learn and to develop as a person and of course as an athlete," Stroud said. "Spring will be something where I can show my ability to play and everything will take care of itself."
Miller and Stroud have become friends as much as they are competitors, so the battle between them won't necessarily be hostile, but they will both have their eyes on doing whatever they can this spring to start to climb the depth chart.
"I think competition starts as soon as you get to Columbus, but we really haven't, we don't spend time talking about it when we're together," Miller said. "At the end of the day, we want the same thing, and we're both gonna work our tails off to get there."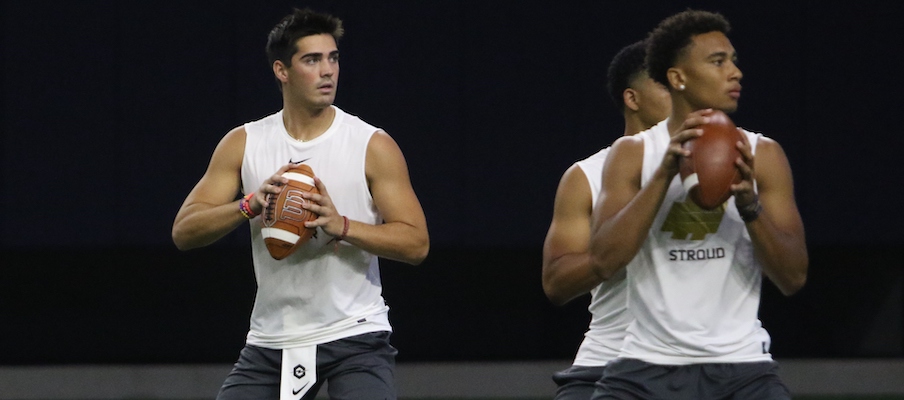 Three Questions
How will Ohio State split reps at quarterback this spring?
There's no question that Fields will take the majority of snaps with the first-team offense this spring, given that he is expected to be cleared to practice without restriction, and his development remains paramount for Ohio State's immediate goals. But the Buckeyes should be strategic about how they split quarterback repetitions this spring, too.
Reps are typically split more evenly in the spring than they are in the summer, so Hoak will likely get a bigger opportunity to show what he can do this spring than he did in last year's preseason camp. Miller and Stroud, meanwhile, would benefit from getting as many reps as they possibly can as they experience the increased speed of the college game for the first time.
Ohio State will start by keeping Fields on the field for however many reps they believe he needs this spring, but the Buckeyes should mix in each of their other three scholarship QBs as much as possible to give them the opportunity to grow. 
Can Stroud or Miller pull ahead of the other?
The competition to be Ohio State's next starting quarterback might not technically start until after this season, but Miller and Stroud need only look at Dwayne Haskins and Joe Burrow to understand the importance of positioning themselves on the depth chart early. When Haskins became the No. 2 quarterback in 2017 and ended up coming off the bench to lead the Buckeyes to a comeback win at Michigan later that season, he moved into the pole position to win Ohio State's starting job in 2018, and either Stroud or Miller could do the same by impressing this year.
Given that both of them are on campus this spring, that opportunity begins now, and given that there will be less reps to go around for the backup quarterbacks once the season draws closer, their performance over the next couple months could go a long way in determining where each quarterback fits on the depth chart. If one of them can seize the backup job this year and impress whenever his number is called this fall, though, he'll have a leg up to become the Buckeyes' next starter once Fields heads to the NFL. 
Is Dennis ready for the job?
While Dennis will play a key role in developing and evaluating Ohio State's quarterbacks this spring, the next couple months will also be an important time in his development as a coach, as he leads a position group through practices for the first time in his coaching career. 
Dennis has been on Ohio State's staff since 2015, and Day wouldn't have promoted him to quarterbacks coach if he didn't believe Dennis was ready for the job. Day himself will continue to work closely with the quarterbacks and play a vital role in their development. The stakes are much higher for Dennis now than they were when he was a quality control coach, though, and this spring – especially with two brand new quarterbacks in the room – will put his ability to command a position group to the test.
Projected Depth Chart
1. Justin Fields
2. C.J. Stroud
3. Gunnar Hoak
4. Jack Miller
With Fields locked in as the starter, the second through fourth spots on Ohio State's quarterback depth chart could potentially end up in any order, though it's likely that Hoak will remain ahead of at least one of the freshmen because of his seniority, and he could easily end up being the backup.
The Buckeyes shouldn't be afraid to make one of their freshmen the backup quarterback if they believe he is ready to play, though, and Stroud – who had a meteoric rise in the recruiting rankings over the past year and is the most similar quarterback to Fields on the roster – might offer the highest upside, both for this season if they need another quarterback to play and for the future beyond Fields. Miller is also capable of making a run at the backup quarterback job, and the Buckeyes should find opportunities to get him on the field too if they feel he's ready to play.