As Ohio State prepares to begin spring football on March 2, Eleven Warriors is taking a position-by-position look at how the Buckeyes' roster stacks up entering the year's first practices. Today, we take a look at the tight ends.
Once again, Ohio State's tight ends will fly under the radar this season. And once again, they'll be able to make a strong argument to be considered as one of the top position groups on the team.
Both those statements, even as we sit here nearly half a year from the season kicking off, are essentially locks.
Tight ends coach Kevin Wilson returns both of his top two tight ends from last season – Luke Farrell and Jeremy Ruckert – along with fifth-year senior Jake Hausmann and redshirt freshman Cormontae Hamilton. Rashod Berry, who played 240 snaps last year – the third-most among tight ends – is the only departee from the tight end room.
What We Know
Farrell, now a fifth-year senior, rarely gets any shine. Passes don't frequently come his way, and his main job comes as a run blocker. Yet he's completely fine with his role and plays it both quietly and consistently. 
Last year, Farrell caught seven passes for 119 yards and two touchdowns and was voted a third-team All-Big Ten honoree. In his final year in the program, Farrell won't suddenly turn into Justin Fields' top target down the field. But he's going to do exactly what Wilson wants as a blocker with an ability to line up at different spots and still surprise defenses as a pass-catcher at times.
Spring Previews
Ruckert, returning for his junior season, led the tight ends last year with 14 catches for 142 yards and four tight ends. The one-time near-five-star prospect remains the top pass-catching threat at the position. If there's any chance that a tight end has a breakout performance through the air, it'll come from Ruckert.
A second redshirt senior, Hausmann, will again provide depth at tight end. After playing sparingly his first three seasons at Ohio State, the Archbishop Moeller graduate smashed his previous career high by playing 235 snaps in 2019. Most of his contributions came as a blocker. He had two catches for 13 yards, including a touchdown versus Rutgers.
The three veterans will be joined by Hamilton, the sole underclassman participating in spring practices at tight end. He missed the majority of fall camp and then didn't play a snap as a freshman, taking a redshirt. 
Corey Rau, a rare graduate transfer walk-on, will use his last year of eligibility to provide depth for the Buckeyes at tight end. He comes from SMU, where he didn't catch a pass since signing in 2016 as a three-star prospect with offers from Houston, Minnesota and Washington.
Three-star Joe Royer, a Cincinnati native, will join the program in the summer. He's the No. 404 overall prospect and the 14th-ranked tight end in his class.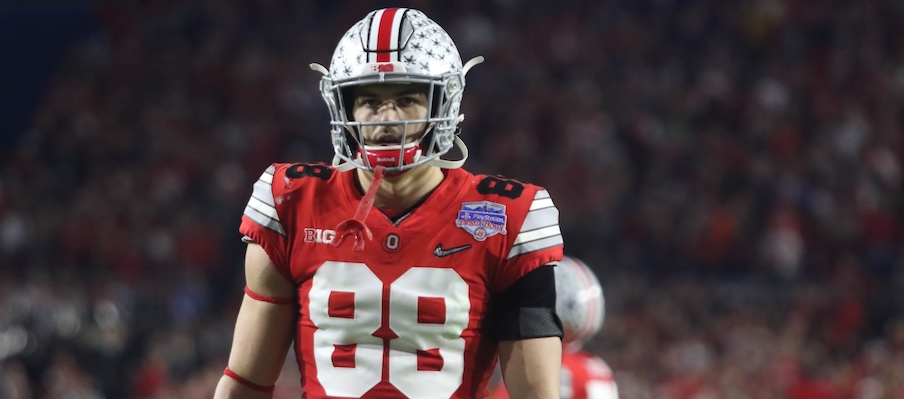 What To Watch For
Well, the first thing we're watching for, of course, is whether this is the year Ohio State finally starts throwing more often to its tight ends.
Kidding, kidding…
Ohio State's Spring Tight Ends Roster

| No. | Name | Ht. | Wt. | Year | Hometown (High School) |
| --- | --- | --- | --- | --- | --- |
| 81 | JAKE HAUSMANN | 6-4 | 245 | RS SR | Cincinnati, Ohio (Archbishop Moeller) |
| 83 | CORMONTAE HAMILTON | 6-2 | 263 | RS FR | Memphis, Tenn. (Whitehaven) |
| 88 | JEREMY RUCKERT | 6-5 | 250 | JR | Lindenhurst, N.Y. (Lindenhurst) |
| 89 | LUKE FARRELL | 6-6 | 250 | RS SR | Perry, Ohio (Perry) |
|   | COREY RAU | 6-3 | 260 | SR | Katy, Texas (Cinco Ranch) |
Most of the interest at tight end will center around Ruckert, who undoubtedly has the highest ceiling among those at his position. He entered the program in 2018 as the second-ranked tight end in his class. 
It's still hard not to think of Ruckert, who played only 55 snaps fewer than Farrell last season, without remembering Urban Meyer's comments when he signed. Meyer called him the best tight end prospect he had ever recruited. Since then, Ruckert has 15 receptions in two years. 
It's unfair to think he'll suddenly turn in a 40-catch season, especially in an offense that doesn't use tight ends heavily in the passing game. Yet it would seem like a misuse of resources if he didn't at least have somewhat of an uptick in targets. We could get a better idea of how he'll be used in the spring.
The presence of three upperclassmen could also give Wilson and Ryan Day more opportunities for multi-tight end sets. Those became popularized last season, and because of the turnover at wide receiver, they might remain in vogue in 2020.
Three Questions
Will Ohio State split Ruckert out more often?
Without K.J. Hill, the Buckeyes have the challenge of figuring out how to go forward at slot receiver.
Jaelen Gill? Jaxon Smith-Njigba? Mookie Cooper? C.J. Saunders, if he gets his waiver approved? Another wide receiver?
Well, how about Ruckert? Sure, he's not a traditional slot receiver, but neither are Gill (a running back in high school) and Smith-Njigba (a freshman who played outside in high school). He could provide the Buckeyes with a matchup advantage in the slot due to his size. Plus, Ruckert mainly played wide receiver in high school, so it wouldn't be a seismic shift for him.
If Wilson and Day want to get Ruckert more involved in the passing game, lining him up at wide receiver at times could be a possibility. 
Can Hamilton carve out a role?
No tight end at Ohio State has a build even remotely similar to Hamilton's 6-foot-2, 263-pound frame.
He'll never be a Ruckert-esque pass-catching tight end. But Wilson couldn't have recruited him with that in mind, either. At his size, he might offer the coaching staff a versatile weapon who can be used both as a blocking tight end and, if needed, as a lead-blocking fullback. In March and April, we could glean some insight into how the Buckeyes plan to deploy him, or if he'll even have a role in 2020. He's neither gone through spring practices nor played a single snap in a game, so there are plenty of obstacles before he turns into a player whom Wilson relies on in the fall.
Does Wilson calling some plays lead to more creativity with tight ends?
Nobody in the Woody Hayes Athletic Center likes tight ends quite as much as Wilson. So it's fair to wonder whether him seeming to take a larger role in play-calling will have an effect on their use.
"Kevin is a huge part of what we do on offense. And he's going to continue to do more," Ryan Day said in January. "And we've talked even about moving forward, having him share some of the play-calling roles with me. And we'll continue those conversations as we go through the spring."
Day, in a follow-up response, made it clear that he'll "be right there" even if Wilson calls some plays. So nobody should expect a large-scale difference from the plays that Day has called. But Wilson having a larger voice in the process could potentially lead to a greater involvement of the tight ends in the offense, even if it's minor. That'll be an under-the-radar development to watch play out.
Projected Depth Chart
1. Luke Farrell
2. Jeremy Ruckert
3. Jake Hausmann
4. Cormontae Hamilton
It's pretty hard to debate this order. Something completely unforeseen would have to happen to shake up this depth chart.
Farrell and Ruckert might as well be listed as co-starters, especially since they ended the 2019 season playing almost identical snap counts each game. We're only listing Farrell first since he's the fifth-year senior, which will almost certainly have him atop the official depth chart in the fall. 
Hausmann, another redshirt senior, will be third on the depth chart followed by Hamilton, who will have to hold off Royer once the incoming freshman enrolls in the summer.