As Ohio State prepares to begin spring football on March 2, Eleven Warriors is taking a position-by-position look at how the Buckeyes' roster stacks up entering the year's first practices. Today, we take a look at the running backs.
A year ago, there was no mystery at running back entering the spring.
With J.K. Dobbins returning and Mike Weber off to the NFL, Ohio State had everything lined up to turn the backfield over to the third-year Texan. During last spring, Dobbins told reporters that he wanted to become "legendary" and "be like Ezekiel Elliott and Archie Griffin." He proceeded to take a stranglehold of the starting job, became a bellcow running back and carried the ball 301 times for a program-record 2,003 yards and 21 touchdowns.
Mission accomplished.
This spring, there's no reason to expect anybody to mention their name alongside Ohio State's all-time great running backs. The Buckeyes don't even know who will start.
"I think we had it nailed down with J.K., what he needed to do," Day said in January. "And Coach Alford did a great job of that. But that's a young group."
Tony Alford has his work cut out for him when spring practices begin on March 2. None of the four running backs on the spring roster – Master Teague, Steele Chambers, Demario McCall and Marcus Crowley – have started since arriving at Ohio State, setting up a competition that's sure to last the duration of the spring and likely drag into preseason camp in August.
The Eleven Warriors Spring Preview continues today with a dissection of Ohio State's running back picture.
What We Know
Spring Previews
Teague, a rising redshirt sophomore, carried the ball more than twice as many times in 2019 as the other three returning running backs.
At one point last season, a 1,000-yard season seemed within reach, but his role decreased down the stretch run and he finished with 135 rushes for 789 yards and four touchdowns, an average of 5.8 yards per carry. Back for his third year in the program, Teague will have his first opportunity to claim a starting job. And because of his role as the backup to Dobbins a year ago, he has the leg up in experience at the position.
Chambers and Crowley, a pair of second-year running backs, will also find themselves in the mix. 
As the only one in the backfield who redshirted last year, Chambers played 33 offensive snaps in four games in 2019, picking up 135 yards and a touchdown on 19 carries. He entered the program last summer as a four-star athlete, able to play on both sides of the ball, but settled in at running back.
Crowley, a rising sophomore, had 25 carries for 237 yards and a touchdown in seven games last year before a season-ending lower-body injury suffered in the win against Maryland prematurely ended his season. Mickey Marotti said a few weeks ago he wasn't sure whether or not Crowley will be able to go through spring practices. He was spotted at a basketball game on Jan. 23 with a sizable sling on his left arm.
McCall, provided he remains at running back, rounds out the backfield. He's had a roller-coaster of a career, dealing with injuries and unable to find a home at any position. Over the past few years, the fifth-year senior from North Ridgeville has bounced between running back and H-back. McCall had 18 carries for 122 yards and two touchdowns last year.
Miyan Williams, a true freshman from Cincinnati, will be on the team in the fall but won't enroll at Ohio State until June. The Winton Woods senior is the No. 624 overall prospect in the 2020 recruiting cycle.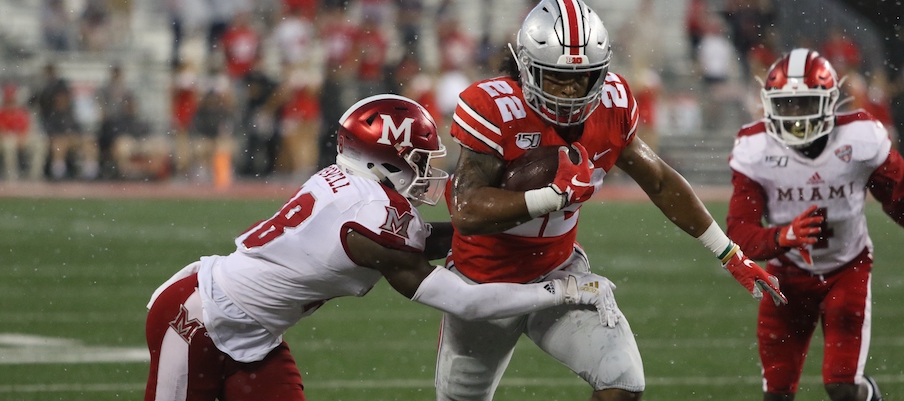 What to Watch For
With spring practice less than two weeks away, it's fair to say that what we don't know far outweighs what we do know at running back.
Teague has never started a game. Chambers has never gone through spring practices. Crowley might not be healthy enough to participate this spring. McCall's position remains unclear.
"Obviously in the running back room, those guys will be pretty green," Ryan Day said in January. "Master played some this year, but we're going to have to replace J.K."
If Teague can ascend and become a starter-quality running back this spring, much consternation could be avoided. Yet that's a tall task for the third-year back.
Most of his touches in 2019 came late in games that were already decided. When the Buckeyes faced Penn State, Michigan, Wisconsin and Clemson in succession to end the season, Teague managed only 45 yards on 21 carries.
Ohio State's Spring Running Back Roster

| No. | Name | Ht. | Wt. | Year | Hometown (High School) |
| --- | --- | --- | --- | --- | --- |
| 8 | XAVIER JOHNSON | 6-2 | 212 | JR | Cincinnati, Ohio (Summit Country Day) |
| 22 | STEELE CHAMBERS | 6-2 | 215 | RS FR | Roswell, Ga. (Blessed Trinity Catholic) |
| 24 | MARCUS CROWLEY | 6-1 | 205 | SO | Jacksonville, Fla. (Trinity Christian Academy) |
| 30 | DEMARIO MCCALL | 5-9 | 195 | RS SR | North Ridgeville, Ohio (North Ridgeville) |
| 33 | MASTER TEAGUE III | 5-11 | 220 | RS SO | Murfreesboro, Tenn. (Blackman) |
| 34 | MITCH ROSSI | 6-0 | 240 | SR | Franklin, Tenn. (Franklin) |
| 43 | ROBERT COPE | 5-9 | 200 | JR | Dublin, Ohio (Jerome) |
"It's hard with Master because he came into some of those games late in the games and really was a great change of pace," Day said in January. "He was downhill. He got through it. And he got to the next level and rolled. But what really didn't happen for Master this year is in big moments early in the game – he didn't get a ton of those carries. J.K. got the meat of those carries. So that's the next step for Master is now taking on that responsibility and knowing what he's doing and having some confidence in that because he does have the ability."
Becoming a more varied runner would go a long way for Teague, too.
The 5-foot-11, 220-pound back is a bit of a bowling ball when he gets a carry. He ran a sub-4.4-second 40-yard dash before even enrolling and is one of the most physically fit players on the team, per Marotti, giving him the power to run defenders over. But he's largely been a straightforward runner who hasn't showcased much wiggle. Should he win the starting job, he'd be a stark contrast to Dobbins, whose ability to make sharp cuts shined in 2019.
With Crowley's status unknown, Chambers could be the only other pure running back healthy enough to go through spring practices.
The door is suddenly open for him to make a run for the starting job, even though he appeared in only limited action as a true freshman. Chambers has flown a bit under the radar because he – not Crowley – was the freshman running back who redshirted in 2019. A strong spring could change that.
McCall's role in the running back room is a complete unknown at this point. It seems unlikely that he'd become the starter, yet he's a fifth-year senior who has flashed playmaking ability. Could he be a situational back who comes into the game on some passing downs? Maybe. Will he be a return specialist only? Possibly. By the end of spring practices, hopefully we'll have a better idea of what to expect from McCall in the fall.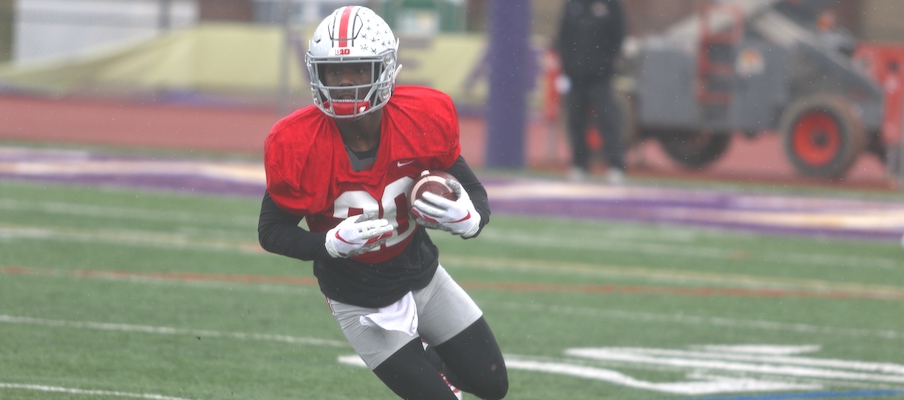 Three Questions
Does somebody take the lead in the competition to start?
Because of the lack of experience in the room, Ohio State more than likely will implement a backfield by committee in 2020. Neither Teague, Chambers, Crowley nor McCall have ever started, and though Teague might have the edge in recent experience, he's not a shoo-in.
What happens over the course of the next two months could change that, though.
Maybe Teague turns into the clear starter. If healthy, Crowley could quickly ascend. Chambers might have a breakout performance in his first-ever spring. McCall could finally turn the corner.
With such uncertainty, there are a bevy of possibilities, which makes this the most interesting offensive position to watch this spring.
Will Marcus Crowley be healthy for spring camp?
If nobody had any questions about Crowley's status for the spring, he'd be a trendy pick by many to win the starting running back spot. But should he have to sit out, he'd suddenly find himself at a disadvantage entering the summer.
His health in March and April will both determine whether he'll have to wait to make his push for the starting job until the summer and whether Teague and Chambers have another prototypical running back to compete with this spring. 
How will McCall factor into Ohio State's plans?
Nobody in the running back room – or possibly on the entire roster – has been quite as much of an enigma as McCall, whose career nears completion.
The redshirt senior running back has never found a consistent role on Ohio State's offense, has battled multiple injuries, has bounced back-and-forth between positions and now enters his final spring with the team. Only one season remains for him to live up to the potential he had as an in-state four-star prospect once ranked as the 44th-best player in his recruiting class. 
When he has the ball in his hands, McCall has shown dynamic abilities with it. Yet it remains unclear what kind of role he'll have in this offense, even with Dobbins gone. 
Projected Depth Chart
1. Master Teague
2. Steele Chambers
3. Marcus Crowley
4. Demario McCall
There's no wrong answer. At least, not right now.
These four running backs could legitimately enter the fall in any order on the depth chart. As spring practice nears, it seems most likely that Teague will get the nod to start due to his experience as the backup in 2019. Of course, there's more than enough time between now and the Sept. 5 season opener for that to change.
If Crowley misses the entirety of the spring – or even a significant portion – he could suddenly find himself behind Chambers and needing to make up ground.