As Ohio State prepares to begin spring football on March 2, Eleven Warriors is taking a position-by-position look at how the Buckeyes' roster stacks up entering the year's first practices. In the third installment, we break down Ohio State's wide receivers, where the Buckeyes are set for what should be a highly competitive spring between potential future stars.
Ohio State doesn't have as much returning experience in its receiver room as it had for the past couple of seasons, as only two members of last year's five-man rotation are back for 2020. It has as much young talent in its receiving corps, however, as it's ever had before.
With Julian Fleming, Jaxon Smith-Njigba, Gee Scott Jr. and Mookie Cooper all already on campus as early enrollees, Ohio State has eight receivers on its spring roster who were top-100 overall prospects in their respective recruiting classes – and that doesn't include Chris Olave, who is back as the Buckeyes' leading receiver from last season.
Olave and Garrett Wilson are the only returning receivers who caught more than six passes last season, so Ohio State needs several inexperienced players at the position to prove they are ready to play this offseason, but there are no shortage of candidates to begin doing so this spring.
What We Know
Spring Previews
Olave established himself as Ohio State's top wide receiver in 2019, leading the team with 849 yards and 12 touchdowns on 49 catches all while splitting snaps at Z receiver with Austin Mack. Now that Mack, K.J. Hill and Binjimen Victor are gone, Olave becomes by far the Buckeyes' most experienced and proven wide receiver – he's the only one who's started a game – and they'll be counting on him to be a veteran leader for the position group as a junior.
An otherwise spectacular sophomore season for Olave ended on the sourest of notes, as his self-admitted route-running mistake led to the game-sealing interception in the Fiesta Bowl loss to Clemson, but Ryan Day and the Buckeyes are confident that setback will only make him stronger.
"Chris is the ultimate competitor. I love Chris Olave," Day said. "Nobody cares more than Chris, and I know he's going to come back even more hungry. I think he's going to be a leader in that room."
Wilson, a five-star recruit in the class of 2019, was also a regular in the rotation last season. After rotating in behind Victor and catching 30 passes for 432 yards and five touchdowns as a true freshman, Wilson is in line to start at X receiver and expected to play a starring role on Ohio State's offense as a true sophomore.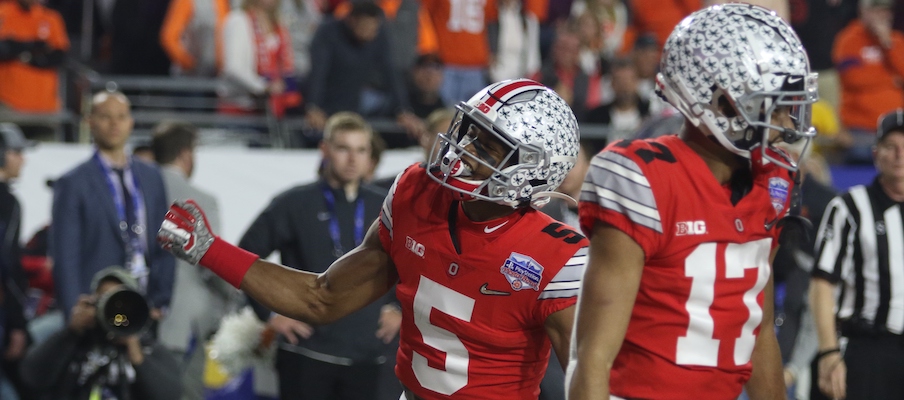 Jameson Williams, also a true sophomore, is the only other returning receiver who played more than 100 snaps (151, to be exact) in 2019. The No. 82 overall prospect in the class of 2019 caught six passes for 112 yards as a freshman, highlighted by a 61-yard catch-and-run touchdown against Miami (Ohio) that put his elite speed on display. He'll be going through spring practices for the first time this year after arriving last summer.
Veteran receivers who will be looking to break into the rotation for the first time in 2020 include redshirt sophomores Jaelen Gill and Kamryn Babb, who were both top-75 overall recruits in 2018, and redshirt juniors Jaylen Harris and Ellijah Gardiner. C.J. Saunders, who missed all of last season with a knee injury, could also be back for 2020 if his request for a sixth year of eligibility is approved by the NCAA, though it remains unclear whether that will happen.
Fleming, Smith-Njigba, Scott and Cooper were all ranked among the top 16 wide receivers in the recruiting class of 2020, and every one of them also has a chance to climb up the depth chart and push for a spot in the rotation this spring and summer.
Smith-Njigba and Cooper are both expected to start their careers at slot receiver, where Gill and Saunders also line up, while the rest of the receivers are expected to compete primarily at the outside positions, though Day and wide receivers coach Brian Hartline have said they will move receivers around as needed to get their best six on the field.
"We're going to rank our top six wide receivers and figure out who are the top six," Day said. "And whoever those top six are, they're going to get on the field. What you don't want to do is just pigeonhole a guy, you only play this position, and have three really good players at one position and only one is on the field. So we're going to look at that here as we move into the spring."
What to Watch For
Ohio State's Spring Wide Receiver Roster
No.
Name
Ht.
Wt.
Year
Hometown (High School)
2
CHRIS OLAVE
6-1
185
JR
San Marcos, Calif. (Mission Hills)
5
GARRETT WILSON
6-0
188
SO
Austin, Texas (Lake Travis)
6
JAMESON WILLIAMS
6-2
170
SO
St. Louis, Mo. (Cardinal Ritter)
7
KAMRYN BABB
6-0
195
RS SO
St. Louis, Mo. (Christian Brothers College)
15
JAYLEN HARRIS
6-5
215
RS JR
Cleveland, Ohio (Cleveland Heights)
26
JAELEN GILL
6-0
195
RS SO
Westerville, Ohio (Westerville South)
80
C.J. SAUNDERS
5-10
190
RS SR*
Dublin, Ohio (Coffman)
82
SAM WIGLUSZ
5-11
185
RS SO
Brecksville, Ohio (Brecksville-Broadview Heights)
85
AUSTIN KUTSCHER
6-0
200
RS SO
Massillon, Ohio (Washington)
86
CHRIS BOOKER
6-0
185
SR
St. Louis, Mo. (John Burroughs)
87
ELLIJAH GARDINER
6-4
205
RS JR
Kemp, Texas (Kemp)
 
MOOKIE COOPER
5-9
195
FR
Maryland Heights, Mo. (Pattonville)
 
JULIAN FLEMING
6-2
199
FR
Catawissa, Pa. (Southern Columbia)
 
GEE SCOTT JR.
6-3
207
FR
Seattle, Wash. (Eastside Catholic)
 
JAXON SMITH-NJIGBA
6-1
188
FR
Rockwall, Texas (Rockwall)
*Pending sixth year of eligibility
Olave and Wilson have the ability to be two of the best wide receivers in college football in 2020, and this spring will be a step in their process of trying to get to that point. While Olave will be expected to become more of a vocal leader for the Buckeyes' large group of receivers as a whole, they'll also be looking for Wilson to improve his consistency and set an example for his position group after coaches sometimes called his practice habits into question during his freshman year.
Both of them, though, have already solidified their place in the lineup next season. The bigger storyline this spring will be who emerges among the other 10 scholarship receivers to prove they belong in the rotation this fall. And even though there's no shortage of talent among the group, that's still a question that needs to be answered.
"The only guy that's really been a starter is Chris," Day said. "So all those other guys, Garrett, Jameson and those guys, got to step up. And then you're talking about Jaylen Harris and Ellijah Gardiner and Jaelen Gill, those guys got to step up their game up now. Now they're three years into the program, they have to take the next step for us."
Outside of Olave and Wilson, Williams seems like the surest bet to join them in the rotation in some capacity. Much like Olave in 2018, Williams was called upon to temporarily join the rotation last year when Mack missed several games due to injury, seemingly putting him on a trajectory to join the rotation – likely in tandem with Olave at Z – in his second year with the Buckeyes.
Gill, who also had six catches last season highlighted by one spectacular touchdown – a 32-yarder against Rutgers on which he made several defenders miss – is another receiver with high upside whose time to shine seemingly should be now, especially given that the slot receiver is now wide open following Hill's departure. 
Yet the fact that the Buckeyes didn't trust Gill enough to play him in meaningful game situations – Day said earlier this month that other than Hill, Ohio State "didn't have an H that we felt great about, that we could put in the game, to be frank" after Saunders was injured last season – suggests that there are still significant strides his coaches need to see him make in order to secure a spot in the 2020 rotation.
When spring practices open, it's likely that all the veteran receivers – also including Harris, Gardiner and Babb, who is expected to be back on the field this spring after missing the last two seasons with knee injuries – will be ahead of the new freshmen on the depth chart. But they'll have to perform well to stay there.
Fleming, who had the second-highest recruiting ranking of anyone on Ohio State's entire roster (behind only Justin Fields) is likely to prove too talented to keep off the field for long. Smith-Njigba and Cooper both have very real opportunities to push for early spots in the rotation at slot receiver, especially with Saunders' status still up in the air. Scott, like Fleming, is more than capable of making an early run at playing time at one of the outside receiver spots.
With only Olave and Wilson locked into the rotation for 2020, the Buckeyes are going to give everyone else the opportunity to show what they can do this spring, and whoever impresses the most in practices could be the receivers who are also on the field most this fall.
"They all do," Day said when asked if the freshman receivers have a chance to play this year. "I mean, it's not like we're coming back with five or six returning starters like we have in the past couple of years. That's a huge emphasis point. So Brian, he's got his hands full this spring with making sure that we get guys ready to go."
Three Questions
Can third- and fourth-year receivers take advantage of open depth chart?
With the exception of Olave, Ohio State's wide receivers from the recruiting classes of 2017 and 2018 haven't done much in Columbus. Aside from Trevon Grimes and Blue Smith, who both transferred out of Ohio State as freshmen, Gill, Harris and Gardiner have played only sparingly and Babb hasn't been healthy enough to play at all.
Each of those four receivers could have their best opportunity yet to earn playing time in 2020, but it could be now or never. If they aren't able to stay in front of the freshmen this spring, their chances of becoming regular contributors for the Buckeyes could pass them by – and considering how talented those young receivers are, that's going to be easier said than done.
Which freshmen will be most ready to contribute in year one?
As high as the upside is for each of Ohio State's four newest receivers, their recruiting stars won't get them on the field now. If they're going to play in their first year as Buckeyes, they have to pick up Ohio State's offense quickly and display the same skills that made them high school stars as they go through their first practices at the Woody Hayes Athletic Center.
Fleming might be the obvious candidate to break into the rotation as a freshman, but he is coming from a Wing-T offense in high school, meaning he might need to develop as a route-runner to be ready to play in the Buckeyes' spread offense. Smith-Njigba might have the most complete skill set of the freshman receivers coming in, but he's still got to prove it against collegiate competition. 
Scott is already a great route-runner and blocker for a receiver fresh out of high school, but he has to show he's ready to play with the speed he'll need to get open at the collegiate level. Cooper wasn't allowed to play his senior season of high school football after transferring schools, so he'll have to shake off the rust and quickly make up for lost time.
Any one of them could break into the rotation this season – where they were ranked in comparison to each other as recruits really doesn't matter anymore – but that's all going to be determined by how they perform this spring and summer. And even though they all probably could contribute right away if needed, Ohio State could consider redshirting one or two of them to preserve their eligibility if they're on the lower end of the depth chart.
Will any other receivers need to move inside?
Hypothetically, if Saunders is still on the team and everyone is healthy, Ohio State will open spring practices with four scholarship receivers at each of their three receiver spots. Whether those receivers stay at those same spots throughout the spring, though, will depend on how many receivers at each spot are among the position group's top performers.
As Day said, the Buckeyes want to get their six best wide receivers in the rotation for 2020, so if two of those six aren't some combination of Gill, Smith-Njigba, Cooper or Saunders, they could explore the possibility of moving other receivers to the slot, as well.
Ohio State also needs to consider whether it makes sense for Olave and Wilson to truly split snaps with another receiver at their respective positions, or whether they need to be on the field more often than not. While they and Williams and Fleming are probably all best suited to play outside, it could make sense to move one of them – or even Olave – inside in order to get them all on the field together if one of them emerges as the Buckeyes' third-best receiver.
The good news for Ohio State: There are plenty of promising options, and it's probably more likely that the Buckeyes will have more receivers who deserve playing time than they have to go around – which would be a good problem to have – than not enough.
Projected Depth Chart
Z Receiver
1. Chris Olave
2. Jameson Williams
3. Ellijah Gardiner
4. Kamryn Babb
X Receiver
1. Garrett Wilson
2. Julian Fleming
3. Jaylen Harris
4. Gee Scott Jr.
Slot Receiver
1. Jaelen Gill
2. Jaxon Smith-Njigba
3. C.J. Saunders (if eligible)
4. Mookie Cooper
If Olave, Wilson and Williams all stay on the outside, that will leave just one open spot in the two-deep at outside receiver, and Fleming should be on the Wilson trajectory toward immediate playing time if he makes steady progress in spring and summer practices.
While Harris and Gardiner have the advantage of experience, they haven't shown enough in their first three years at Ohio State to prove they belong on the field, and Fleming might simply be too talented to hold off. Scott is more than capable of making a quick leap up the depth chart, too, but there will probably only be room for one of them in the rotation this year, which makes Scott a possible redshirt candidate (though he's also a strong candidate to make an early impact on special teams). Babb has the talent to make a move up the depth chart, as well, but he needs to prove first that he can return to form after so much time on the sidelines.
Gill needs to have a big spring and summer to earn his place in the lineup, but he should get a shot to win the starting job inside and still has star potential. Saunders will get an early opportunity to win that job too if he's granted an extra year of eligibility, but at this point, it's unknown whether he'll even be on the team and whether he'll have any setbacks from last year's injury.
The Buckeyes probably won't want to start a true freshman receiver, but Smith-Njigba – who could potentially play both inside and outside in his Ohio State career – is expected to start out in the slot for a reason. He might very well be the most ready to play among any of the Buckeyes' four newcomers, and he'll have a big opportunity to get on the field immediately as a slot receiver. Cooper could as well, but he could also be a potential redshirt candidate, especially if Saunders gets to stick around.