This was supposed to be Jaelen Gill's breakout year.
After redshirting and playing just 15 snaps in two games as a true freshman, Gill looked like a prime candidate to take Parris Campbell's place in the slot receiver/H-back rotation with K.J. Hill. Ohio State coach Ryan Day said before the season that the Buckeyes wanted to have a six- or seven-man rotation at wide receiver, so seemingly, the plan was for either Gill or C.J. Saunders to rotate regularly with Hill.
That hasn't happened. With Saunders sidelined all year by knee injuries, the Buckeyes have stuck with a five-man wide receiver rotation in their most competitive games: Binjimen Victor and Garrett Wilson at X, Chris Olave and Austin Mack at Z and Hill taking all the snaps in the slot in three-receiver packages.
Gill, conversely, has played just 65 snaps this season, with most of those snaps coming in the second half of blowout wins. As the season has gotten more competitive, Gill's opportunities to play have decreased, as he's appeared in just two of the Buckeyes' last eight games (Northwestern and Rutgers).
Ranked as the No. 30 overall prospect in the recruiting class of 2018, Gill was viewed as a candidate to make an immediate impact when he arrived at Ohio State. He showed a flash of the ability that made him such a coveted recruit in the fourth quarter of the Rutgers game, when he made four defenders miss and finished through another in turning a screen pass into a 32-yard touchdown.
.@jaelengill21 gave a free ride to the end zone. @OhioStateFB is rolling: pic.twitter.com/CB8Z2FFo0C

— Big Ten Network (@BigTenNetwork) November 16, 2019
Even that wasn't enough to propel Gill into the regular receiver rotation, however, as he hasn't played in any of the Buckeyes' three games since.
Gill acknowledges that it has been disappointing to spend most of the season watching from the sidelines for the second year in a row, which certainly wasn't the start to his career that he expected coming in. He also recognizes, though, that there's still time for his opportunity to come.
"You definitely get frustrated, you definitely get down on yourself but I try to have my close ones by me help me with that, talk to them, talk to (wide receivers coach Brian Hartline) and stuff like that and just keep faith, just keep praying to God," Gill told Eleven Warriors after the Big Ten Championship Game. "I just got to take everything day by day, keep learning from the older guys like Austin, like Ben, like K.J., Coach Hart, (assistant wide receivers coach Keenan Bailey)."
Gill primarily played running back at Westerville South High School, so he's had to learn the intricacies of playing wide receiver since he arrived at Ohio State. While the H-back position was more of a true hybrid between wide receiver and running back early in Urban Meyer's tenure with the Buckeyes, it's become more strictly a receiver position in Day's offense, and Gill said that adjustment has been challenging.
"That's been the main thing that's been difficult for me, just still learning that wide receiver position, being in the slot and stuff like that from Coach Hart," Gill said. "So what I tell myself every day is just take it day by day and try to get better every day, and don't get frustrated at everything, because everything's a process."
That said, Gill believes he has "developed a lot" in his two seasons at Ohio State so far. He's become a better route-runner with Hartline's tutelage, and while he'd like to be on the field more, he says he has learned from practicing with and watching Hill, who also redshirted his first season at Ohio State and caught just 18 passes as a redshirt freshman, yet continued to develop and is now the all-time receptions leader in school history.
"K.J.'s been like a big brother to me, especially me being here for two years, just being with him every day has just been a blessing," Gill said. "The main thing he taught me is about being patient and stuff like that. Your time is gonna come."
That time could come next season, when Hill will be in the NFL and Ohio State's slot receiver depth chart will be, as Gill said himself, "wide open."
Olave and Wilson will be back to lead the Buckeyes' receiving corps, Jameson Williams will be a prime candidate to back one of them up and Julian Fleming, Jaxon Smith-Njigba and Gee Scott Jr. are all real candidates to earn significant playing time as true freshmen, but all of them might project to play outside more than inside. That leaves a very real opportunity – with Mack, Victor and Saunders also seniors – for Gill to play a major role in Ohio State's 2020 offense.
"Next year's a big year for me," Gill said. "Hopefully, I'll be able to come in, step in and take the position."
"What I tell myself every day is just take it day by day and try to get better every day, and don't get frustrated at everything, because everything's a process."– Jaelen Gill on waiting for more playing time
Gill has the talent to be a difference-maker in Ohio State's offense. His touchdown at Rutgers demonstrated that, and gave him a boost of confidence, as well.
"Yeah, that was a big thing," Gill said when asked about that touchdown. "Definitely something I had been waiting for. Obviously it was a dream to be able to play for the Buckeyes but also score touchdowns and stuff like that. So to get the first one out of the way was a big weight lifted off my shoulders."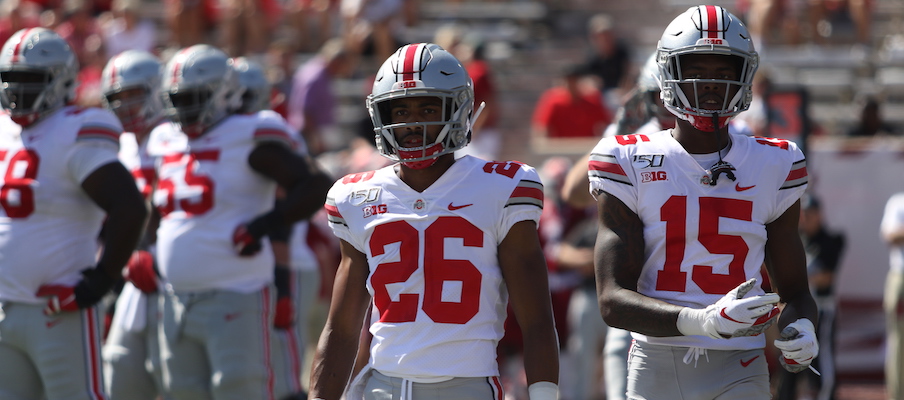 Whether Gill ultimately emerges as that difference-maker, and earns the consistent playing time he's been yearning for, will depend on how he continues to develop over the next year. Day indicated after the Rutgers game that he thought Gill "had one of his better weeks of practice" leading up to that game and that he wanted to see Gill continued to make strides.
"That's typically how it works," Day said. "It's one of things where as a player, the more opportunities you have, the more you have a chance to make a play and make a name for yourself. So you got to take those opportunities."
If Gill is going to become the impact player that he's been expected to be since he became a Buckeye, he knows he must continue to work hard and buy into what Hartline and Day are teaching him.
"I just got to keep getting bigger and stronger, just get the coaches' trust," said Gill, who is listed at 6-0, 195 pounds on Ohio State's current roster. "At the end of the day, I got to be consistent with everything, all aspects of my game, whether it's on the field or off the field."