PISCATAWAY, N.J. – One week after Maryland linebacker Keandre Jones had the opportunity to return to Ohio Stadium and reunite with his former Ohio State teammates, Ohio State left guard Jonah Jackson had the same opportunity to return to Rutgers and reunite with his former Scarlet Knights teammates on Saturday.
A graduate transfer from Rutgers, Jackson made his 10th consecutive start on the Buckeyes' offensive line in Saturday's 56-21 win, then spent some time catching up with his former teammates after the game, which he said was "awesome."
Rutgers-turned-Ohio State offensive lineman Jonah Jacksons a popular man. pic.twitter.com/BMmNWAwyRI

— Colin Hass-Hill (@chasshill) November 17, 2019
"I basically grew up here for four years of my basically adult life, and to be able to see the guys I grew up with and the coaches and the staff and everything, it was a great experience," Jackson said. "Once the season's over and everything, I'm definitely excited to come back here and pay them a visit and see my brothers."
Returning to play one last game in SHI Stadium brought back memories of his time at Rutgers, many of which were fond. Unlike his four games against Ohio State as a Scarlet Knight, though, Jackson was on the winning sideline on Saturday, and he enjoyed that feeling.
"Yeah, it was pretty good," Jackson said.
Rutgers' current left guard, Zach Venesky, was among the players who shared a moment with Jackson after the game and said postgame that he is happy to see his former teammate performing well for the Buckeyes.
"Me and him came in together here, we've experienced a lot of things together, lot of hardships," Venesky said. "I consider him a brother, cool seeing him have success."
Gill breaks through
Jaelen Gill's redshirt freshman season at Ohio State hasn't lived up to expectations. While the class of 2018's No. 30 overall recruit was expected by many to be a breakout playmaker for the Buckeyes this season, he played just 49 snaps and had just four catches for 13 yards in Ohio State's first nine games of the season, with most of his playing time coming in the second half of blowout wins.
Gill played only in the second half of Saturday's game at Rutgers too, but he finally showed the playmaking ability that made him a top prospect out of Westerville South High School with a 32-yard touchdown catch-and-run – the first touchdown of his Ohio State career – in the fourth quarter against the Scarlet Knights.
After catching a screen pass, Gill exploded downfield and made several defenders miss with a couple sharp cuts and a spin move before carrying Rutgers cornerback Tre Avery (a one-time Ohio State commit formerly known as Kareem Felder) into the end zone.
.@jaelengill21 gave a free ride to the end zone. @OhioStateFB is rolling: pic.twitter.com/CB8Z2FFo0C

— Big Ten Network (@BigTenNetwork) November 16, 2019
While that could lead to questions about why Gill hasn't been on the field more all season, Ryan Day said after the game that Gill set himself up to make that play with the way he performed during the week leading up to the game.
"I thought Jaelen had one of his better weeks of practice this week and then lo and behold, he makes a big run, so there you go," Day said. "That's typically how it works. It's one of things where as a player, the more opportunities you have, the more you have a chance to make a play and make a name for yourself. So you got to take those opportunities."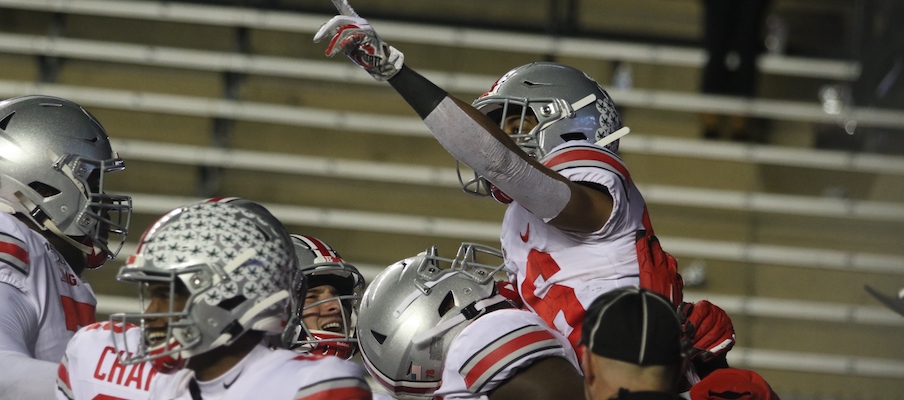 Gill wasn't the only Buckeye who scored his first career touchdown against Rutgers. Redshirt junior tight end Jake Hausmann, on just the second catch of his Ohio State career, scored his first career touchdown on a 3-yard pass from Chris Chugunov in the third quarter of Saturday's game.
Luke Farrell also caught a touchdown pass in the third quarter – his second touchdown of the season and third of his career – to mark the first time since Ohio State's Oct. 14, 2017 game against Nebraska that two Buckeye tight ends caught touchdown passes in the same game. Marcus Baugh and Rashod Berry both had touchdown receptions for the Buckeyes in that game.
Wade continues to show playmaking ability, versatility
Ohio State redshirt sophomore defensive back Shaun Wade has become known for two things over the past two seasons – his knack for making big plays and his versatility – and he put both of those traits on display once again for the Buckeyes on Saturday.
Wade forced two turnovers in the first three minutes of Saturday's game. On Rutgers quarterback Johnny Langan's first attempt of the game, Wade tipped his pass then caught the ball off his own deflection for his first interception of the season and fourth of his career.
Turnover No. 1. pic.twitter.com/W2uFGm0y7s

— Eleven Warriors (@11W) November 16, 2019
On Rutgers' next possession, Wade knocked the ball out of Rutgers wide receiver Isaiah Washington's hands to force a fumble – Wade's second forced fumble of the season and third of his career – that Jordan Fuller recovered for a takeaway.
Turnover No. 2. pic.twitter.com/0O2Dv0PGix

— Eleven Warriors (@11W) November 16, 2019
"It was great making them and making a play for the Buckeyes and just doing what I do," Wade said when asked about the forced turnovers after the game.
After playing almost exclusively at slot cornerback in Ohio State's first nine games of the season, Wade also demonstrated his versatility on Saturday by playing both inside and outside. While Wade still played primarily in the slot in the Buckeyes' base defense, he played in a two-cornerback lineup for the first time this year when Ohio State put its four-linebacker package on the field.
Wade spent more time practicing at outside cornerback during the week in anticipation of playing that role against Rutgers because Ohio State opted to hold Damon Arnette, who has been battling a wrist injury all season, out of Saturday's game.
"I was prepared for it," Wade said.
Sevyn Banks, meanwhile, made his first career start at cornerback in place of Arnette in the Buckeyes' base defense, while Cameron Brown also saw some playing time opposite Jeff Okudah with the first-team defense at outside cornerback.
Day said after the game that Arnette, who had not missed any previous games while playing with a cast on his wrist and was not listed on Friday's status report, is "good" from a health standpoint.
Fields feeling fine
In a game where the most important thing outside of winning was staying healthy for next week's game against Penn State, Ohio State did not suffer any major injuries on Saturday night, though there was a brief scare for Buckeye quarterback Justin Fields.
Fields could be seen favoring his throwing hand at the end of a run in the second quarter, and following the conclusion of that possession – which ended with J.K. Dobbins being stopped for a turnover on downs on fourth-and-goal – he received some attention from an athletic trainer on the sideline. Ultimately, though, Fields returned to the game to play for three more possessions and threw two more touchdown passes.
In the process, Fields topped the 300-yard passing mark for the first time in his Ohio State career; he finished the game with 15 completions on 19 attempts for 305 yards and tied his season-high with four passing touchdowns.
Fields said after the game that Ohio State wide receiver Binjimen Victor accidentally stepped on his thumb while trying to help him up after that run, which is why Fields was in pain, but he was "all good."
Ohio State's starting quarterback will be good to go for next week's game against Penn State but naturally, even the briefest of injury scares can be enough to incite panic among Buckeyes fans, especially after seeing what happened earlier on Saturday to Alabama quarterback Tua Tagovailoa, who is out for the season after dislocating his hip in the Crimson Tide's win over Mississippi State.
Fields will be among those hoping Tagovailoa makes a full and speedy recovery.
"I'm just going to be praying for him, and I hope he gets better," Fields said.
Jean-Baptiste starts, Stover makes debut at DE
With Chase Young and Jonathon Cooper both out for a second consecutive game, Javontae Jean-Baptiste made his first career start at defensive end for the Buckeyes on Saturday, opposite fellow New Jersey native Tyler Friday in their return to their home state.
Tyreke Smith and Zach Harrison, who started for the Buckeyes one week earlier against Maryland, also saw regular playing time in the defensive end rotation but came off the bench against Rutgers.
Those four played only sparingly in the second half, which opened up the opportunity for some others to get snaps at defensive end in the third and fourth quarters, including true freshman Cade Stover, who made his debut at defensive end on Saturday.
Stover started his Ohio State career as a strongside linebacker, but because the Buckeyes are loaded with depth at that position, he played only 13 defensive snaps in Ohio State's first four games of the year. It's uncertain whether his future beyond this season will be back at linebacker or as a defensive end, but there had been speculation before he arrived at Ohio State that he could eventually end up on the edge after bulking up, and the Buckeyes appear to at least be experimenting with that possibility.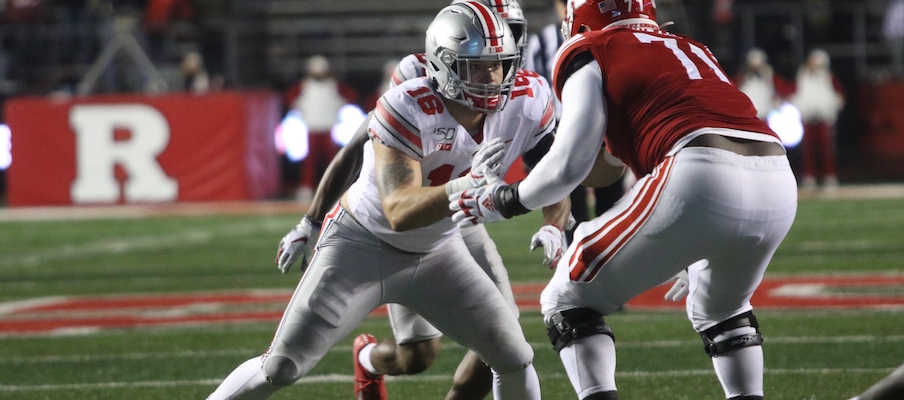 Now that Stover has played in four games this season, though, Ohio State could choose to sit him out for the remainder of the season in order to preserve his redshirt. The same is true for true freshman running back Steele Chambers, who also played in his fourth game of the season against Rutgers, rushing for 56 yards on nine carries in the process.
Rashod Berry also saw playing time at both tight end and defensive end for the second game in a row, while Alex Williams – who played in just four of the Buckeyes' first nine games of the year – saw extended playing time at defensive end in the second half against Rutgers, as well.