Going into Ohio State's final two games of the season, Ryan Day downplayed the severity of Justin Fields' knee injury.
One day before the Big Ten Championship Game, Day said Fields "had a good, strong week of practice" and that it wouldn't affect Ohio State's play-calling against Wisconsin, describing his quarterback and "100 percent go and he's ready to roll." At the time, Day said Fields' knee injury – which the quarterback himself said was a sprained MCL – was "very different" than the knee injury J.T. Barrett battled through to play in the conference title game two years earlier.
In that game itself, though, it was evident that Fields was hobbled, as he had his worst game of the season as a runner (a net gain of one yard on 12 rushing attempts or sacks) and wasn't able to extend plays with his feet the way he had for most of the regular season. 
Asked again about Fields' knee injury on Wednesday, Day revealed the truth: Fields "really didn't practice much at all and wasn't able to do much" in the week leading up to the Big Ten Championship Game, meaning Ohio State's quarterback was in a situation that was actually "very similar" to that which Barrett faced leading up to the 2017 Big Ten Championship Game against Wisconsin after suffering a knee injury at Michigan one week earlier.
One day before the College Football Playoff semifinal at the Fiesta Bowl, Day again shrugged off concerns about Fields' knee injury, saying simply that he was "doing great." Fields himself said that week, though, that his knee was only 80-85 percent healthy and not where he wanted it to be going into the game.
In the Buckeyes' season-ending loss to Clemson, it was apparent once again that Fields wasn't quite running at full speed – even with a 21-yard run, he finished with only 13 net rushing yards – and with no strategic reason to downplay his quarterback's injury anymore, Day acknowledged Wednesday that Fields was hampered by his knee ailment.
"It wasn't something that was catastrophic, but at the same time, he wasn't 100 percent," Day said. "And there were times this year where he missed practice. And so the whole arsenal of stuff was not there. But I'll tell you what, he's tough, and he worked through it and he competed and he played hard. And it's a tribute to how tough he is, and his ability to work through things."
While Fields made plays with his arm all the way through the end of the season – throwing for at least 299 yards in each of the Buckeyes' final three games – his ability to make plays with his legs was diminished for the rest of the year after Fields was sacked by Penn State defensive back Lamont Wade while rolling out to extend a play on fourth down late in the fourth quarter of the Buckeyes' 28-17 win over the Nittany Lions. It was on that play, in the final three minutes of Ohio State's 11th game of the season, on which Fields suffered the sprained MCL that would limit his mobility for the rest of the year.
Questioned about that play on Wednesday, and whether Fields really should have been in harm's way with Ohio State up two scores that late in the game, Day said he had zero regrets about the play he called in that situation.
"Not at all," Day said. "Not even close. It was a pass, and he rolled out to his left, and it wasn't there. But, no, I would have done the same thing again."
Fields aggravated his knee injury when he took a hit in the third quarter of Ohio State's 56-27 win over Michigan one week later, and for the rest of the year, he had to wear a bulky brace on his left knee – similar to the type of brace an offensive lineman would wear – and wasn't able to move as freely or as fleetly as he can when he is healthy.
The injury limited Fields in practice, too, and Day believed that had an adverse effect on his first-year starting quarterback.
"I think it's very hard for a college quarterback to play at a high level without practicing," Day said. "I think if you're Aaron Rodgers and you've been doing it for X number of years, it's OK. But when you're (young), the timing and everything, it's very hard."
"There were times this year where he missed practice. And so the whole arsenal of stuff was not there. But I'll tell you what, he's tough, and he worked through it and he competed and he played hard." – Ryan Day on Justin Fields
All of that said, Fields still made plenty of plays for Ohio State's offense down the stretch of the year. 
In his first play back on the field at Michigan after briefly leaving that game when he aggravated his injury, Fields delivered what Day described as a "magical moment" by rolling out to his left and completing a 30-yard touchdown pass to Garrett Wilson. Fields was the MVP of the Big Ten Championship Game after throwing for 299 yards and three touchdowns to lead the Buckeyes' comeback win against the Badgers. And though he threw two interceptions against Clemson, one of which could have instead been a game-winning touchdown pass if not for a route-running error by Chris Olave, Fields impressed Day with his 320-yard passing performance in his first CFP game.
"He played good against Clemson. I mean, he played good," Day said, emphasizing the last word. "He made some really good throws. Some throws we just missed."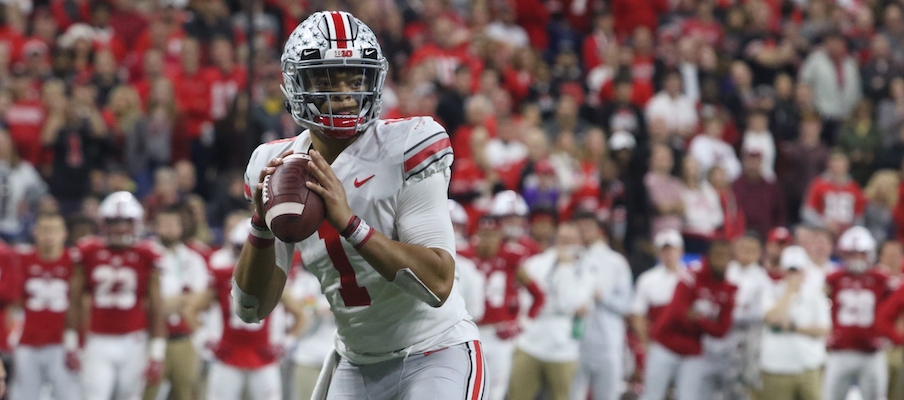 Altogether, Day said he was "really proud" of the way Fields developed over the course of the 2019 season, in which Day thought Fields "really improved" from the Buckeyes' first game to their last game. And now, Day is in a situation he's never been in before as either a head coach or quarterbacks coach – going into a second season with the same starting quarterback – which has him really excited about Fields' potential for continued growth this offseason.
"There's a lot of things that we can really work on," Day said. "He's made a lot of great strides. But there's certain things in his game that we can really take to the next level."
Day declined to answer whether Fields underwent a procedure on his knee following the loss to Clemson, but he did say the Buckeyes "don't see any issues moving forward." He said they will be cautious with Fields as they ramp up winter conditioning workouts, which began in the weight room this week, but their hope is that Fields will be fully healthy and able to practice without limitations this spring.
"If his knee (injury) is still there as we start kind of into the running phase of things, then we'll be smart about it," Day said. "But we're hoping that by the time we get to that point, he's rehabbed and he's 100 percent."