As Ohio State prepares to begin spring football on March 2, Eleven Warriors is taking a position-by-position look at how the Buckeyes' roster stacks up entering the year's first practices. Today, we take a look at the linebackers.
For the second year in a row, Ohio State returns the majority of its starters at the second level of its defense.
After a much-maligned 2018 season, Ohio State brought back Pete Werner, Tuf Borland and Malik Harrison, each of whom played a significant role in the team ranking first nationally in opponent yards per play allowed in 2019. Harrison is now off the the NFL, participating in the combine this week as a projected second-day pick, but both Werner and Borland will be in Columbus to lead a veteran-laden linebacker room in 2020. 
Replacing Harrison, a first-team All-Big Ten honoree, certainly won't be an easy task. But the Buckeyes have a deep, experienced crop of linebackers that features four seniors and three juniors who will be in the mix to either start or wedge their way into a rotation. When spring practice opens in less than a week, the on-field competition will commence.
What We Know
For the third straight year, Werner will man the strongside linebacker position that he first secured in the Billy Davis era before taking off under Al Washington. The Indiana native earned an honorable mention All-Big Ten selection in 2019 with 64 tackles, three pass breakups and two fumble recoveries.
Spring Previews
Werner locked down his position to such a degree that the much-discussed Bullet never became an integral part of the defense, and Brendon White opted to transfer to Rutgers after the season ended. In 2020, with Washington and Greg Mattison expected to run the same scheme, Werner will find himself in the same role as a coverage-heavy outside linebacker.
In the middle, Borland will almost certainly hold onto the starting gig that he maintained hold of in Washington's first year as position coach. He'll also follow in J.T. Barrett's footsteps as the second-ever three-year team captain in Ohio State history. Nobody within the program mentions Borland without referencing his leadership.
Browning figures to heavily impact the 2020 plans at linebacker, too. It's just unclear whether he'll be in the middle or at weakside linebacker. The one-time five-star prospect has spent the past couple years splitting time with Borland at middle linebacker, and with the incumbent still around, Browning could have to shift to the other inside spot – weakside linebacker – to make a case to become a full-time starter.
Beyond them, there's a lot of uncertainty of who will make a push up the depth chart.
Teradja Mitchell, Dallas Gant and K'Vaughan Pope made up a trio of rising juniors once rated as four-star recruits who haven't gotten many opportunities yet. 
Injuries have slowed the ascension of Mitchell, a former top-50 overall prospect whom many pegged as the middle linebacker of the future when he signed. After having 12 tackles in 99 snaps last year, he'll play either either middle or weakside linebacker. Gant played the most in 2019 among the rising juniors, seeing the field for 118 snaps and picking up 21 tackles. Like Mitchell, he's expected to play one of the two inside linebacker positions – middle or weakside. Pope, who made waves with two interceptions last season, could play at any of the linebacker spots.
Hilliard, preparing for his sixth year at Ohio State, is a bit of a wild card. He's dealt with numerous injuries, which gave him the rare sixth-year eligibility, so his health will be something to closely monitor. Last year, he played 106 defensive snaps, with most meaningful playing time coming in four-linebacker packages. Hilliard, a five-star prospect in 2015, has one final year to attain his college football goals. 
Craig Young and Tommy Eichenberg also could factor into Ohio State's plans, though the experience ahead of them on the depth chart could make getting onto the field difficult. Young played 15 snaps but didn't redshirt. He might be an option down the line to replace Werner once the starting strongside linebacker graduates after the 2020 season. Eichenberg's future remains at middle linebacker. He redshirted last season and only played five defensive snaps.
In the summer, Cody Simon and Mitchell Melton will enroll to add a pair of freshmen at the second level of the defense. They likely will play minor roles in 2020, though, due to the depth atop the position group.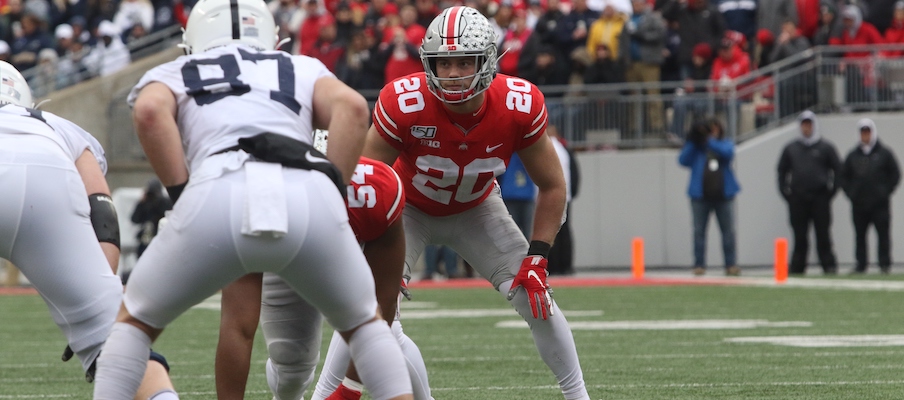 What To Watch For
Though Ohio State returns two starters, which typically brings a certain degree of stability, the presence of seven upperclassmen makes linebacker one of the most interesting positions to watch in the spring.
Ohio State's Spring Linebacker Roster

| No. | Name | Ht. | Wt. | Year | Hometown (High School) |
| --- | --- | --- | --- | --- | --- |
| 3 | TERADJA MITCHELL | 6-2 | 242 | JR | Virginia Beach, Va. (Bishop Sullivan) |
| 5 | BARON BROWNING | 6-3 | 240 | SR | Fort Worth, Texas (Kennedale) |
| 19 | DALLAS GANT | 6-3 | 232 | JR | Toledo, Ohio (St. John's Jesuit) |
| 20 | PETE WERNER | 6-3 | 242 | SR | Indianapolis, Ind. (Cathedral) |
| 32 | TUF BORLAND | 6-1 | 234 | RS SR | Bolingbrook, Ill. (Bolingbrook) |
| 36 | K'VAUGHAN POPE | 6-1 | 231 | JR | Dinwiddie, Va. (Dinwiddie) |
| 37 | CRAIG YOUNG | 6-3 | 228 | SO | Fort Wayne, Ind. (Wayne) |
| 41 | TOMMY EICHENBERG | 6-2 | 238 | RS FR | Cleveland, Ohio (St. Ignatius) |
| 44 | BEN SCHMIESING | 6-1 | 225 | JR | Piqua, Ohio (Piqua) |
| 46 | CADE KACHERSKI | 6-2 | 225 | JR | Dublin, Ohio (Jerome) |
| 47 | JUSTIN HILLIARD | 6-1 | 231 | 6TH-YR SR | Cincinnati, Ohio (St. Xavier) |
| 51 | TRAYVON WILBURN | 5-11 | 222 | JR | Cincinnati, Ohio (Mount Healthy) |
Most of the initial focus will be on weakside linebacker situation.
To say Washington doesn't lack options when he thinks about how to replace Harrison would be a gross understatement. He has a plethora of players to consider, including many of whom have spent years in the program. 
To some, Browning seems like a logical candidate. He's been on the cusp of a starting job for the past two seasons, and he played 368 snaps in 2019 while rotating with Borland. Washington will have to decide whether he wants Browning and Borland to rotate for the third year in a row, or he could see how Browning fares at weakside linebacker. It's important to remember that the middle and weakside spots are both viewed as "inside" linebacker positions, meaning Browning should be able to move between them with ease.
Mitchell, Gant, Pope and Hilliard each might also find themselves in the mix for the opening at weakside. Could Werner shift from strongside to weakside linebacker for his final season? Maybe. With so many options, it's hard to rule anything out before spring practice opens.
Should Browning win the weakside linebacker competition, the question would then become whether he or Borland rotates with anybody. That might finally open up long-awaited opportunities for the trio of juniors – Mitchell, Gant and Pope – who have never seen regular playing time. 
Mitchell would seem to be a prime candidate to spell Borland, though his strengths as a thumping, run-stopper might not make him the best option. A Borland-Browning rotation worked because Browning could substitute into the game on passing downs. Might that mean Mitchell could back Browning up at weakside linebacker, and Gant or Pope could be the backup coverage linebacker in the middle? It's certainly possible. 
With so many potential combinations at linebacker, Washington has a somewhat difficult – yet enviable – task this offseason.
Three Questions
Can Someone Lock Up The Weakside Linebacker Starting Spot?
Oftentimes, position battles drag into preseason camp. Sometimes, though, somebody blows the coaching staff away and wins a job by the time spring practice concludes. It's happened before, and it'll happen again.
Browning will enter the spring with most projecting him to win the job, but because of the veteran depth populating the second level of the defense, it's certainly not a clear-cut decision. Mitchell, Gant, Pope and Hilliard could all make runs for the starting job. 
How Will The Three Rising Juniors Factor Into The Plans?
Ever since Mitchell, Gant and Pope joined the team in 2018, their names have been bandied about as potential-filled future starters at linebackers. Yet all three of them could find themselves as backups in 2020 for the third year in a row.
Since four seniors remain on the roster, each of them will have to make strong impressions in the spring to wedge their way into rotations.
Can Baron Browning Become The Player Everyone Once Envisioned?
When Browning signed to play for Ohio State in 2017, almost everybody projected him to win a starting job within his first three seasons, and many expected him to even leave for the NFL before his fourth year in Columbus. Yet as he enters his senior season, he's still looking both for a full-time starting gig and to realize the potential that once made him the No. 11 overall recruit and top-rated linebacker prospect in the nation.
At 6-foot-3 and 240 pounds, Browning has all the physical attributes anybody could ask for from a linebacker. The tools are there. He has one year left to develop into the player he wants to become, and that'll begin this spring.
Projected Depth Chart
Strongside Linebacker
Pete Werner
Justin Hilliard
Middle Linebacker
Tuf Borland
Dallas Gant
Weakside Linebacker
Baron Browning
Teradja Mitchell
Werner seems to have his starting spot locked up at strongside linebacker, and it would be a major upset if Borland doesn't start at middle linebacker. Beyond those two players, just about anything could happen.
Because of Browning's athleticism, experience and seniority, it would make sense for him to take advantage of the opening on the weakside and finally become a full-time starter. Since Mitchell's style might be overly similar to Borland's, he could back Browning up, allowing Gant to slide over as the backup middle linebacker.