As Ohio State prepares to begin spring football on March 2, Eleven Warriors is taking a position-by-position look at how the Buckeyes' roster stacks up entering the year's first practices. This week, we flip over to the defensive side of the ball, beginning with the defensive line, where the Buckeyes still have plenty of talent but big shoes to fill.
The hallmark of Larry Johnson's tenure as Ohio State's defensive line coach has been his ability to reload his unit and develop elite players year in and year out. In his seventh year leading the front of the Buckeyes' defense, he'll have to do that again.
Chase Young, who was not only the best defensive end but the best defensive player in all of college football, is on his way to the NFL. The Buckeyes' top three defensive tackles from last season – DaVon Hamilton, Jashon Cornell and Robert Landers – are gone, too.
That leaves Ohio State lacking proven stars on its defensive line entering the 2020 season, yet because of Johnson's history and the talent he's recruited, there's still plenty of reason for optimism.
Ohio State is going to need a multitude of defensive linemen to step up, though, to keep from taking a step back without Young and the others who are now pursuing pro careers. This spring will be a crucial time to start to make that happen.
Spring Previews
What We Know
Young's departure from Ohio State is a massive one that's hard to overstate. A one-man wrecking crew who had one of the best seasons by any defensive player in Ohio State history in 2019, recording 46 total tackles with 21 tackles for loss, 16.5 sacks and six forced fumbles, Young's ability to create disruption and command attention from opposing offensive lines made everyone around him better and was a huge reason why the Buckeyes ranked No. 1 nationally in total defense in 2019.
That said, the Buckeyes are returning almost everyone else from their defensive end roster last season (only excluding Alex Williams, who transferred to Vanderbilt after playing only sparingly in his two seasons at Ohio State). That includes Jonathon Cooper, who gives the Buckeyes an unanticipated boost of experience and leadership this season after taking a redshirt last season due to a nagging ankle injury.
Cooper, who started all but one game for Ohio State in 2018 and was a team captain for the Buckeyes in 2019, is expected to return to the starting lineup in 2020 after playing in only four games last year.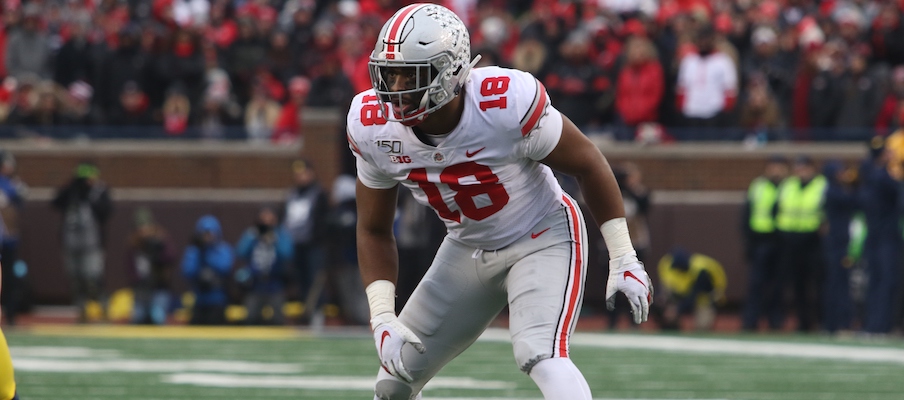 The Buckeyes also return four defensive ends who were regulars in last year's rotation: Zach Harrison, Tyreke Smith, Tyler Friday and Javontae Jean-Baptiste, who all played at least 200 snaps and started at least one game for Ohio State in 2019. Smith, Friday and Jean-Baptiste are all now entering their third years with the Buckeyes, while Harrison will be a true sophomore in 2020.
Fellow second-year defensive ends Noah Potter and Cade Stover are also candidates to compete for playing time after redshirting in 2019 (though there have been rumblings about Stover potentially playing tight end, as well), while early-enrollee freshmen Jacolbe Cowan and Darrion Henry-Young will also be on the field for their first Ohio State practices this summer. Fellow class of 2020 signee Ty Hamilton, the younger brother of DaVon Hamilton, will join the defensive end group this summer.
Inside, the Buckeyes return three defensive tackles who were rotation regulars and played at least 200 snaps last season: Tommy Togiai, Haskell Garrett and Antwuan Jackson. Garrett and Jackson are both now entering their senior seasons at Ohio State, while Togiai is a true junior. Togiai was the Buckeyes' third-string nose tackle (but played the fourth-most snaps among all defensive tackles) behind Hamilton and Landers last season, while Garrett was Jashon Cornell's backup at 3-technique and Jackson saw playing time at both spots.
Redshirt sophomore defensive tackle Taron Vincent, a five-star recruit from the class of 2018, will return to the field this spring after missing all of last season with a torn labrum in his shoulder. Redshirt junior Jerron Cage, who played 88 snaps last season, and redshirt freshman Jaden McKenzie, who appeared in just two games in his first year as a Buckeye, round out Ohio State's roster of scholarship defensive tackles.
What to Watch For
Ohio State's Spring Defensive Line Roster

| No. | Name | Ht. | Wt. | Year | Hometown (High School) |
| --- | --- | --- | --- | --- | --- |
| 6 | TARON VINCENT | 6-2 | 293 | RS SO | Baltimore, Md. (IMG Academy) |
| 8 | JAVONTAE JEAN-BAPTISTE | 6-5 | 245 | RS SO | Oradell, N.J. (Bergen Catholic) |
| 11 | TYREKE SMITH | 6-4 | 267 | JR | Cleveland, Ohio (Cleveland Heights) |
| 18 | JONATHON COOPER | 6-4 | 257 | RS SR | Gahanna, Ohio (Lincoln) |
| 33 | ZACH HARRISON | 6-6 | 255 | SO | Lewis Center, Ohio (Olentangy Orange) |
| 51 | BRETT NOVICK | 6-1 | 275 | RS FR | Katonah, N.Y. (John Jay) |
| 52 | ANTWUAN JACKSON | 6-2 | 299 | RS SR | Ellenwood, Ga. (Cedar Grove) |
| 54 | TYLER FRIDAY | 6-3 | 260 | JR | Ramsey, N.J. (Don Bosco Prep) |
| 56 | AARON COX | 6-3 | 255 | RS JR | Mantua, Ohio (Crestwood) |
| 57 | ZAID HAMDAN | 5-11 | 260 | RS SO | Mason, Ohio (Mason) |
| 72 | TOMMY TOGIAI | 6-2 | 300 | JR | Pocatello, Idaho (Highland) |
| 90 | JADEN McKENZIE | 6-3 | 285 | RS FR | Wake Forest, N.C. (Wake Forest) |
| 92 | HASKELL GARRETT | 6-2 | 295 | SR | Las Vegas, Nevada (Bishop Gorman) |
| 97 | NOAH POTTER | 6-6 | 262 | RS FR | Mentor, Ohio (Mentor) |
| 98 | JERRON CAGE | 6-2 | 295 | RS JR | Cincinnati, Ohio (Winton Woods) |
|   | JACOLBE COWAN | 6-5 | 262 | FR | Charlotte, N.C. (Providence Day School) |
|   | DARRION HENRY-YOUNG | 6-5 | 279 | FR | Cincinnati, Ohio (Princeton) |
While Cooper can be penciled in as one starter at defensive end and Togiai is likely in line to start at nose tackle, multiple players will be competing this spring for the opportunity to start at the other two defensive line spots this fall.
At defensive end, the top two candidates to start opposite Cooper are Harrison and Smith, who both had five tackles for loss last season – tied for the most among returning defensive linemen – and are the top candidates to step up and be impact pass-rushers for the Buckeyes following Young's departure. Smith started four games last season while Harrison started only two, but it was Harrison who got the call to start opposite Young against Clemson in the College Football Playoff.
Regardless of who starts, it's likely that Harrison and Smith will rotate regularly and play a similar amount of snaps – while Cooper will also rotate out and Friday, Jean-Baptiste and potentially others should also see regular playing time – but nonetheless, there will be a competition this spring that could determine who's first on the field when the games begin in September.
Whether the top-of-the-rotation defensive ends can start to show signs of becoming dominant players will certainly be an area of focus this spring, as will the development of young players like Potter, who will be trying to force his way into a crowded rotation. Henry-Young and Cowan will be interesting players to watch this spring, as well; while both of them are expecting to begin their careers at defensive end, the Buckeyes could need to move at least one of them (or one of their other defensive ends) to defensive tackle in order to balance out depth between positions.
As for the returning defensive tackles, Togiai will look to cement his spot in the starting lineup and take the first steps what could be a breakout junior season for him while Vincent and Garrett will lead the competition to start alongside him. Jackson could be a candidate to start at 3-technique, too, but he'll likely be needed in the nose tackle rotation with the departures of Hamilton and Landers.
Vincent, in particular, will be a player to watch this spring as he has star potential but remains unproven, and will need to shake off the rust quickly after being sidelined all fall to make a run at the top spot on the depth chart. Garrett, who also arrived at Ohio State as a top-100 national recruit, will also be looking to set himself up for a big finish to his Buckeye career after recording just 10 tackles with 2.5 tackles for loss last season.
With only six scholarship players currently listed as defensive tackles on the Buckeyes' roster, they'll need everyone at the position to be ready to contribute in 2020. Among them, this spring will be an especially important time of development for McKenzie, who was not on campus for spring practices last year.
Three Questions
Is Harrison ready to be Ohio State's next superstar defensive end?
Ohio State's last two five-star composite defensive ends, Young and Nick Bosa, have both gone on to become All-Americans for the Buckeyes and top NFL draft prospects. Harrison, the No. 12 overall prospect in the recruiting class of 2019, now becomes the logical candidate to follow in their footsteps.
To expect Harrison to simply pick up where Young left off last season is unrealistic, but he's certainly capable of being a breakthrough star for the Buckeyes and a future first-round NFL draft pick himself. Possessing rare athletic ability at 6-foot-6 and 255 pounds, Harrison often turns teammates' and coaches' heads with the plays he makes in practice, and he'll look to continue to do that this spring with an eye toward making them more regularly in game action this fall.
No one should predict that Harrison in 2020 will be what Young was in 2019 – to truly make up for Young's departure, the Buckeyes are going to need a committee of defensive ends to step up – but it's more than possible that Harrison could make a comparable impact as a sophomore as Young did in 2018, when he had 15.5 tackles for loss and 10.5 sacks as a first-time starter.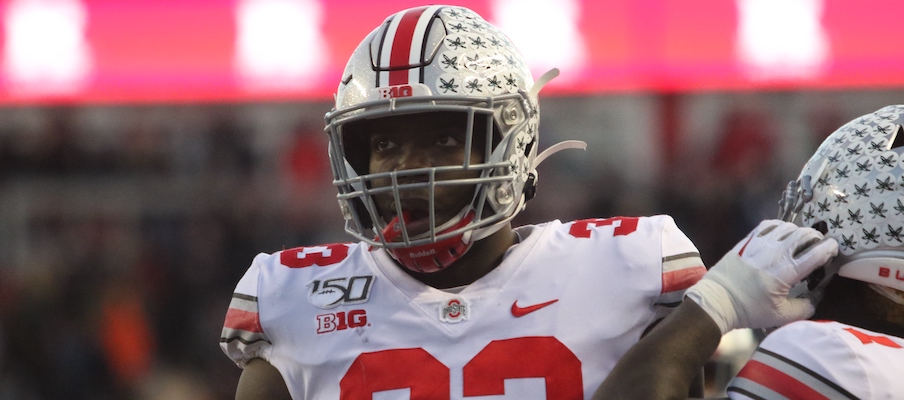 Can rotational contributors break through and become consistent impact players?
While Young drew nearly all of the spotlight on Ohio State's defensive line last season, another crucial development for the Buckeyes' success was the steps that Hamilton and Cornell made from being forgettable rotational players to excellent starters as fifth-year seniors. Their contributions didn't necessarily get the recognition they deserved – at least not outside the walls of the Woody Hayes Athletic Center – but their efforts to clog running lanes and bring interior pressure were substantial to the defense's success.
The Buckeyes need more defensive linemen to make similar steps forward in 2020, especially now that they don't have a proven star in Young.
From Cooper, Smith and Friday at defensive end to Togiai, Vincent and Garrett at defensive tackle, they have no shortage of candidates to potentially make that leap this year. All of them will have their sights set on career-best seasons in 2020, and Ohio State needs at least a few of them to deliver.
How deep will this year's rotation be?
Beyond the superstars he's developed, the other hallmark of Johnson's tenure at Ohio State has been the deep rotation he's deployed across the defensive line year in and year out, and that isn't likely to change in 2020.
That's especially true at defensive end, where Cooper, Harrison, Smith and Friday will all be on the field week in and week out as long as they're healthy. Jean-Baptiste's playing time waned down the stretch as the Buckeyes played their biggest games of last season, but he could work his way back into the regular rotation with continued development. Potter, Stover, Cowan or Henry-Young could easily make the rotation six-deep.
At defensive tackle, the rotation might have to be shorter because of the lower numbers at the position. If any defensive tackles miss time with injuries, their depth could really be put to the test. The good news for the six defensive tackles themselves, though, is every single one of them could have a real path to playing time if they prove they are ready for it.
Projected Depth Chart
Defensive End
1. Jonathon Cooper
2. Tyler Friday
3. Javontae Jean-Baptiste
Defensive End
1. Zach Harrison
2. Tyreke Smith
3. Noah Potter
Defensive Tackle (Nose)
1. Tommy Togiai
2. Antwuan Jackson
3. Jerron Cage
Defensive Tackle (3-Tech)
1. Taron Vincent
2. Haskell Garrett
3. Jaden McKenzie
Cooper has started every game he's played in dating back to the start of the 2018 season, so it would be a big surprise if he doesn't return to the starting lineup this year. Harrison, Smith and Friday are all potential candidates to start opposite him – and they could split starts like they did last year – but it's easy to envision Harrison's talent propelling him to the top of the depth chart, especially since it already did at the end of last year.
The 3-technique position is another spot where the competition will likely continue into preseason camp, multiple players could split starts and at least the top two in the rotation will probably play a similar number of snaps anyway, but as long as Vincent has no ill effects from his injury, he'll have a shot to ascend to the top of the depth chart – though Garrett will likely begin the spring in that spot and will try to hold Vincent off.
Togiai didn't start any games in his first two seasons at Ohio State because of Hamilton and Landers, but he's the surest bet outside of Cooper to be on this year's starting defensive line.