Ask Taron Vincent how his right shoulder feels right now, and he'll say "I'm good."
The true answer, though might be "I'm better." Much better. In the final week of Ohio State's preseason camp, Vincent suffered an unfortunately timed torn labrum in his right shoulder. 
"I didn't think it was that bad, but then the pain just never went away," Vincent told Eleven Warriors on Saturday after Ohio State won the Big Ten championship.
An MRI ensued, and surgery soon followed. That injury forced him to don a bulky brace that offered his shoulder stability for five weeks. Since eschewing it in the second month the regular season, he has continued to heal but hasn't practiced. Vincent has been limited to running every day and doing loads of work to strengthen the "small fibers" in his shoulder.
Instead of playing defensive tackle for Larry Johnson, the sophomore has spent the fall relegated to the sideline every Saturday.
"The beginning of the season was hard just standing there," Vincent said. "I'm used to it now, and I'm just here to encourage everybody and keep their heads up and stuff."
In the long term, he thinks he'll be able to return to the field soon enough.
"By spring time I'll be good," Vincent said. "So I'm working to the spring."
By that time, Ohio State will have lost a bevy of interior linemen, which will almost certainly be overlooked when projecting this defense in 2020. 
Two nose tackles – starter DaVon Hamilton and backup Robert Landers – will have graduated, and fifth-year senior Jashon Cornell, the starting 3-technique will no longer have any remaining collegiate eligibility. Their collectively stout play on the interior of the defensive line can be directly attributed to the Buckeyes allowing just 2.82 rushing yards per carry.
Without them, Johnson will have to somewhat overhaul his defensive tackle rotation, and that includes Vincent potentially stepping into a prominent role.
Tommy Togiai is in line to start at nose tackle, and Antwuan Jackson Jr. will be in the mix, too. At 3-technique, Vincent will be part of a rotation that could also include Haskell Garrett and Jerron Cage. 
Garrett, who has the most on-field experience at the 3-technique position, has shown to be more of a stout run stopper rather than somebody who consistently gets into opponents' backfields against the pass. Vincent could offer more versatility at the position as somebody both difficult to move against the run and able to pass rush, somewhat in the mold of Dre'Mont Jones, which is why some had Vincent pegged for a potential breakout sophomore season this fall before he suffered the injury. 
"Taron's so disruptive, so disruptive in the run game, in the pass rush," Jashon Cornell said in the spring. "We call him battering ram because once he gets off the ball, he's knocking everybody off."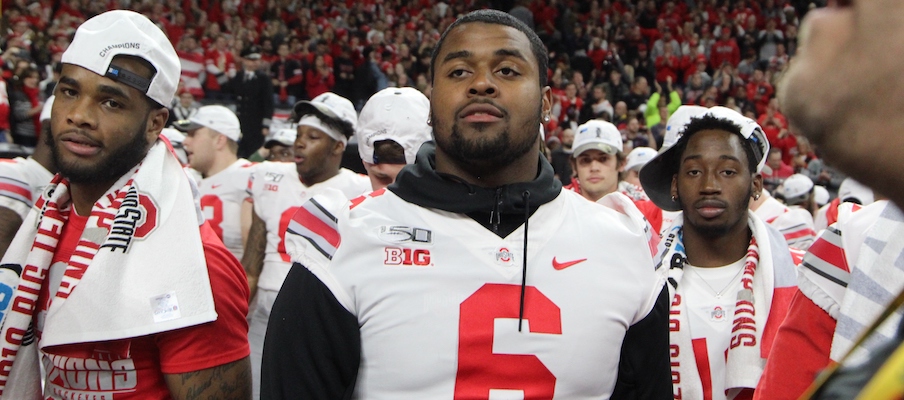 That's the type of player Ohio State expected when Johnson added him to the recruiting class in 2018.
As the son of former NFL star Troy Vincent, Taron Vincent has quite the football pedigree, and he has always had the on-field skills to match it. As the No. 20 overall prospect in his recruiting cycle, he become the top-ranked defensive tackle to sign with Ohio State since Adolphus Washington in 2012 – though Washington was a defensive end at the time. Out of IMG Academy in Florida, he was the top-rated defensive tackle in his class.
Vincent showcased some of his penetration skills as a 6-foot-2, 293-pound freshman last year, playing 98 snaps, including a career-high 19 snaps in the Rose Bowl, and picking up three tackles and a sack. Since he's on track to be healthy for spring football, he'll be in line for a significant uptick in playing time.
So, what should everybody expect to see from Vincent as a redshirt sophomore next year?
"Just a whole lot of plays," Vincent said. "Making a lot of plays."
What types of plays?
"Sacks, tackles for loss, all that," Vincent said.
Simple enough. 
With Hamilton, Landers and Cornell gone after this season, Ohio State will need that type of production from Vincent.