Before last season began, Shaun Wade encapsulated fellow Ohio State cornerback Cameron Brown by simply calling him "very, very fast."
In December, Brown finally put a number to those words. The rising junior says he ran a 4.3-second 40-yard dash in May. For reference, only three cornerbacks at the 2019 NFL Scouting Combine broke 4.4 seconds, and nobody ran faster than Auburn's Jamel Dean, who clocked a 4.3-second sprint.
But Brown, when he revealed his 40-yard time, made sure to note that it comes with an asterisk. A 4.3? No, no. He thinks he can do better.
"I just came off a torn hamstring, so I think I was faster than that," Brown told Eleven Warriors after the Big Ten championship game in December. "I tripped in it too, so you never know. I think I can run a 4.2."
Oh, yes. Now that's the confidence of a cornerback. And based on his rise up the depth chart as a sophomore throughout 2019, it might be the confidence of a corner who starts opposite Wade next season. 
The Buckeyes lost Damon Arnette and Jeff Okudah to the NFL, meaning they'll need to replace two starters. Wade's move outside means whichever secondary coach is hired to replace Jeff Hafley – Kerry Coombs is widely reported to be the frontrunner – will be looking for a new starter at nickelback and outside cornerback. 
"Not really. But I'm not trying to force that. I'm just trying to work on my game until it's my time to shine."– Cameron Brown on whether many people know of him
Brown has positioned himself as well as – or better than – any other cornerback on the roster to enter the spring with the first crack at winning the starting job on the outside, which is a thought that popped up in his mind fairly often late in the fall.
"It was more of at the beginning of the season I wasn't really thinking about it," Brown said. "But now, I'm like, 'OK, they might be leaving, so it's really my time to step up.' We've got some guys who are ready to step up, too. We're just all ready to go."
For Brown, this rise could take him from relative obscurity to the spotlight.
He entered last year's spring practice as just another name, as a reserve cornerback fighting for a spot on the depth chart. After Ohio State initially recruited him as a wide receiver who wasn't even ranked among the top-300 prospects in his cycle, he hadn't played much as a freshman due to a torn hamstring that cut his season short.
Beginning in the spring, though, Brown's name started popping up more frequently. As the year progressed, he soon positioned himself as one of the two top backups at outside cornerback, along with Sevyn Banks. That reflected itself both on the depth chart and on the field.
"Came back during spring, was grinding hard, was still trying to recover at the same time," Brown said. "Then this fall camp, I was healthy, so I was really going hard, grinding, really trying to just show that I belong here."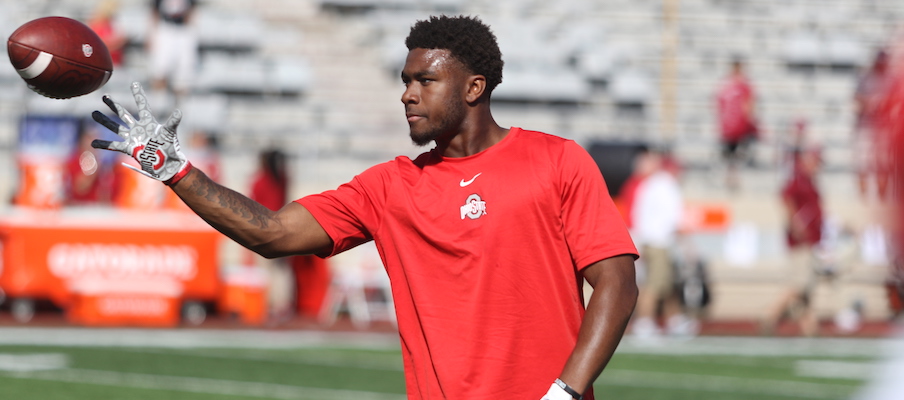 He showed enough to Hafley, who played him 254 snaps, the most among all non-starting defensive backs last season.
In each of the first seven games of the season, Brown played at least 12 snaps, including 35 snaps filling in for Arnette against Michigan State. When Arnette sat out the entirety of the Rutgers game, Brown led the defense with 47 snaps. He then played 29 snaps against Michigan and 24 snaps the following week when the Buckeyes topped Wisconsin to win the Big Ten championship.
"I got to just lock in and take their spot like they never left, really," said Brown, explaining his mindset in times when he had to step in for starters. "I've got to be prepared to go in and make sure it doesn't seem like they came out."
Rarely did there ever seem to be a notable drop-off when he played, which is especially notable given his lack of experience in coverage.
Originally, Brown fully intended to play wide receiver in Columbus. The Buckeyes' coaching staff had visions of him at wideout, so they signed both him and Kamryn Babb out of Christian Brothers College High School in St. Louis, hoping to make them the next great pass-catchers. Brown lasted only a few weeks on offense before he got switched to cornerback, though.
His coverage skills lagged behind his athleticism for a while, but those skills developed over the past year.
"They changed a lot, dramatically," Brown said. "Last year, they wasn't really all that. Now they're getting really good. Just got to stay focused, more detailed on my technique, but it's good."
More than anything, Brown needed – and still needs – to make technical advancements as a cornerback.
"I had the speed, athleticism," Brown said. "I just had to get the strength. I had to get the technique, the stance and all that. Just reading more, because on the other side of the ball, it's easy: just go run your route."
Brown has the physical attributes and speed of a top-line cornerback, so he has a higher ceiling than some might imagine of a player who wasn't a prolific five-star recruit. Refining the rest of his skill set would go a long way to softening the blow of losing three starting defensive backs, including a pair of lockdown cornerbacks.
As of now, he still sees himself as an under-the-radar cornerback who most people don't know much about.
"Not really. But I'm not trying to force that," Brown said. "I'm just trying to work on my game until it's my time to shine."
That time could come this fall.