We're four days from Ohio State opening fall camp, which means position battles are about to gain steam.
For a first-time head coach, Ryan Day won't have too many tough positional decisions to make immediately, but a couple starting spots remain unsettled.
We're taking a look at every battle for a starting spot that's still lingering as the Buckeyes prepare for their first preseason practice on Friday.
Middle Linebacker
Leader: Tuf Borland
Contenders: Teradja Mitchell and Baron Browning
All eyes on offense will be focused on the quarterbacks – specifically, Justin Fields. On defense, the middle linebacker situation will garner the most attention.
Tuf Borland has 20 games of starting experience and is one of two team captains who returned for the 2019 season, but he's in danger of losing his job. Baron Browning played the majority of snaps during spring practices when Borland was held out due to a knee injury, and Day said at Big Ten media days that Teradja Mitchell has "pushed" Borland.
Al Washington, the first-year linebackers coach, has a tough decision ahead of him. Malik Harrison is locked in at weakside linebacker and Pete Werner is likely to retain the starting strongside linebacker spot. But in the middle? Plenty of questions remain.
With so much experience, Borland has to be viewed as the favorite to start the season in the middle. But his lack of speed contributed to Ohio State's disappointing defense in 2018, opening the door for one of his backups to rise to the top of the depth chart. Mitchell appears to be the most likely linebacker to go from backup to starter after impressing the coaches this spring. 
Ensuring improvement in play at middle linebacker – regardless of whether it comes with Borland, Mitchell or Browning – is a must for Washington in Year 1.
Right Tackle
Leader: Nicholas Petit-Frere
Contenders: Branden Bowen and Joshua Alabi
Petit-Frere appeared to exit spring practice with a lead at right tackle, starting at the position with the first-team offense in the spring game. On the same offensive line, Bowen started at left guard.
In fall camp, Petit-Frere must lay claim to the job, for he'll have to hold off a pair of fifth-year starters – Branden Bowen and Joshua Alabi – desperate to play.
A year ago, Petit-Frere entered the program as the top-rated offensive lineman and seventh-ranked overall prospect in the nation. Despite playing in three of the first four games, he redshirted as a freshman. As he sat out, then as he prepared for spring practices, he focused on adding weight with an 8,000-calorie diet. It paid off as he seemed to enter the summer as the most likely starter at right tackle.
Bowen, Petit-Frere's main competition, is finally healthy after multiple surgeries following a broken leg he suffered during the 2017 season. Petit-Frere will have to hold him off to take the season-opening snaps on Aug. 31.
Alabi could factor into the competition, too, but he spent the majority of the spring working at left tackle.
Defensive Tackle
Leader: Jashon Cornell
Contenders: Taron Vincent and Haskell Garrett
With the attention focused at linebacker and widespread confidence in Larry Johnson, there hasn't been much focus at who will start at 3-technique on the defensive line. Nobody exited spring with the starting job locked down, though a leader emerged.
Cornell, a fifth-year defensive tackle, is the most likely starter after switching from defensive end back to his natural position. He didn't offer much as an edge rusher last season, but he expressed plenty of confidence this spring that he'll contribute considerably up the middle. The 6-foot-3, 280-pound Minnesotan has seven tackles for loss and three sacks in 32 games.
Taron Vincent, a five-star prospect in his second year, will push Cornell for playing time. He entered the program as the top-ranked defensive tackle in his class, and after a year in the program, he has expectations of contributing similar to those placed on Petit-Frere. Cornell likened him to a "battering ram."
Before leaving for the NFL, Dre'Mont Jones said Johnson expected Haskell Garrett to replace him. But the junior defensive tackle will enter fall camp third on the depth chart behind Cornell and Vincent.
Ultimately, all three defensive tackles will likely rotate. In the spring, Johnson said "you can never have too many" of them, noting all will play.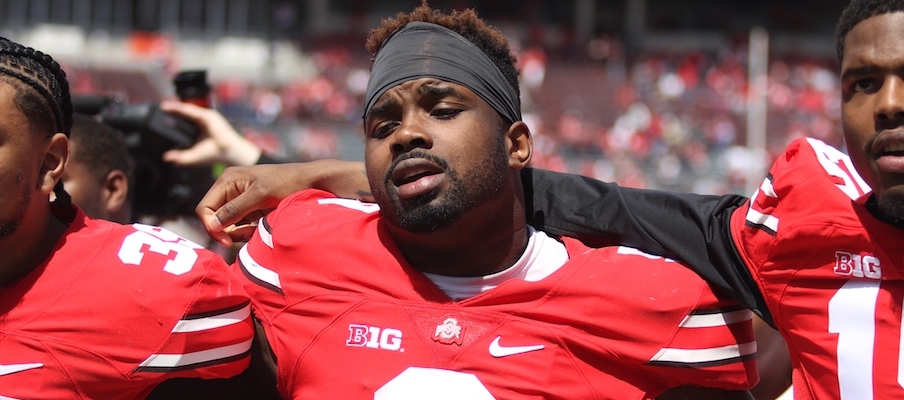 Other Quasi-Position Battles
Quarterback
Leader: Justin Fields
Contender: Gunnar Hoak
Nobody has any question about who will start. The only unknown remaining is when Day will name Justin Fields as the starter.
He has a date by which he'll want to have named a starter by, though. 
"If it goes into the third week of preseason camp, then either they're both competing at a high level or nobody's stepped up yet," Day said during Big Ten media days. "So we'd like to have it within the second week of camp, but if not, then we'll just keep it going."
When Hoak transferred to Ohio State, Day told him he'd have a chance to compete to earn the starting job. Day also doesn't want to simply hand a starting job to a quarterback who joined the team in January and has never started a game in college.
But while he has reason not to name a start quarterback by now, it's a foregone conclusion that Fields will take the season-opening snap from center Josh Myers against Florida Atlantic on Aug. 31.
Wide Receiver
Leaders: Binjimen Victor, Austin Mack and K.J. Hill
Contenders: Chris Olave and Garrett Wilson
Is it really a position battle if Day already openly said he wants to have a rotation of six or seven wide receivers? Not really. Still, though, he hasn't officially named a couple starters.
Of course, K.J. Hill has the starting H-back role locked up after catching 70 passes last season. On the outside, seniors Austin Mack and Binjimen Victor will both likely join Hill.
"Ben and Austin are going to play a lot for us, they'll most likely start for us," Day said at Big Ten media days.
Chris Olave, a second-year wideout who broke out with two touchdowns against Michigan, could push to start. But both he and Garrett Wilson lack the experience of Mack and Victor, which likely mean they'll come off the bench. In a heavy rotation, though, that might not mean much.
Tight End
Leader: Luke Farrell
Contenders: Rashod Berry and Jeremy Ruckert
If Kevin Wilson has his way, all three tight ends will feature prominently into Ohio State's offense.
Farrell played the majority of snaps down the stretch of the 2018 season and is the most well-rounded tight end. Berry, a fifth-year senior, has spent the most time in the program and will be counted on as a blocker. Ruckert had just one catch as a freshman, but the second-year tight end has the best pass-catching potential among the three.
Since Farrell doesn't have many holes in his game, he'll likely be the starter. But all three tight ends will impact the Buckeyes in 2019.
Left Guard
Leader: Jonah Jackson
Contenders: Branden Bowen and Gavin Cupp
Jackson didn't choose to transfer from Rutgers to Ohio State instead of Oklahoma to come off the bench. Unless he completely underwhelms during fall camp, the fifth-year interior lineman will start at left guard.
The focus on left guard at preseason camp will be more about Jackson earning the job than wondering who will start at the position. 
If Jackson leaves a sliver for somebody else to step up and claim the starting job, Bowen might make the most of the opportunity. He played the position during the spring game and started six games at right guard in 2017. Now healthy, Bowen wants to start. If he falls short at right tackle, his focus could turn to left guard.
Cupp, who spent much of the spring with the first-team offense due to depth issues, is likely still a year from competing for a starting spot.
Nose Tackle
Leader: Robert Landers
Contender: Davon Hamilton
Similarly to how Ohio State approaches its 3-technique situation, both Landers and Hamilton will rotate, so there isn't much concern over who starts.
Regardless, Landers likely has the edge after starting ahead of Hamilton last season. He didn't have the year he'd hoped due to injuries that knocked him out of two games, but the undersized nose tackle returns for a fifth season and should be at full strength. 
Hamilton, a fellow fifth-year lineman, impressed this offseason. At Big Ten media days, Day specifically mentioned him as somebody who "changed his body" and "has a chance to change the line of scrimmage" for the Buckeyes. 
Either Landers or Hamilton will start, but the other nose tackle will likely play a similar amount of snaps, with Tommy Togiai factoring into the rotation, as well.