When the Big Ten announces which players will be attending media days each year, it's often an early indicator of who Ohio State's captains – or at least some of them – will be for the upcoming season.
In the past 10 years, at least two of the Buckeyes' three Big Ten Media Days player representatives have gone on to be named captains for the upcoming season each year. In the past five years, only Adolphus Washington (2015) and Dre'Mont Jones (2018) have not been captains after making the trip to Chicago for the preseason event.
So if you're betting on which players will be captains for the 2019 Ohio State football team, the senior trio of Jonathon Cooper, Jordan Fuller and K.J. Hill – the three players who will be representing the Buckeyes at this year's event – would be a good place to start.
That said, they're certainly not the only candidates to be the Buckeyes' elected team leaders this fall. After all, that trio doesn't include a returning captain from last year – redshirt junior linebacker Tuf Borland – and there are a multitude of other upperclassmen who have a chance to be among the team's top leaders in 2019.
Right now, the biggest unknown variable in predicting who Ohio State's captains will be is whether new head coach Ryan Day will continue Urban Meyer's practice of naming as many captains he sees fit – which led to as many as nine captains in one year (2017) during Meyer's tenure – or whether he will look to bring the Buckeyes back to a more traditional three or four captains, the numbers they typically had prior to Meyer's arrival.
Meyer's argument for having more captains was that he did not anyone who deserved to be a captain to be deprived of the recognition; critics have argued that such a large number of captains waters down the captaincy for everyone. So far, Day has maintained some of Meyer's traditions at Ohio State but eschewed some others, so it remains to be seen what approach he will take to naming captains.
Regardless of what the final number ends up being, these are the players who are most likely to be bestowed with the responsibility of being captains for the 2019 Buckeyes.
Returning Captains
Jordan Fuller, S
Fuller was already a captain for Ohio State last season and is a virtual lock to be a captain again this season. 
A third-year starter at safety, Fuller has been one of the Buckeyes' best defensive players for the past two years. He's also been a role model off the field, earning Academic All-American honors while participating in multiple campus organizations. Fuller is regarded by teammates and coaches alike as one of Ohio State's best leaders, and he could be – as Sam Hubbard described J.T. Barrett two years ago – the de facto "captain of the captains."
Tuf Borland, LB
Borland was also a captain in 2018 – putting him in position to potentially follow in Barrett's footsteps and become the second-ever three-time captain in Ohio State history, as he was only a redshirt sophomore last season – so it would be a surprise if he is not chosen as a captain again. 
It's still not guaranteed that he will be the Buckeyes' starting middle linebacker this season, as Baron Browning and Teradja Mitchell are also vying for that role, but he's expected to be one of the team's top leaders regardless. Borland has commanded respect from his teammates and coaches with his toughness, work ethic and vocal presence, so the Buckeyes will continue to count on Borland to be a tone-setter as they seek for better defensive performance this year.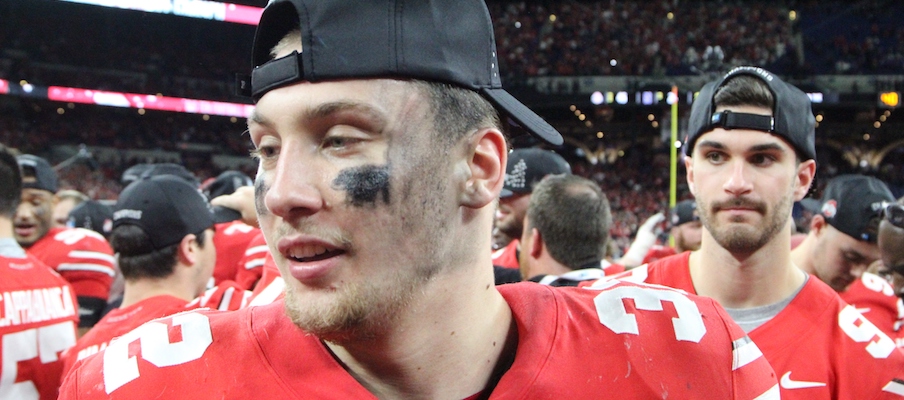 Strong Candidates
Jonathon Cooper, DE
Robert Landers, DT
Davon Hamilton, DT
With four senior defensive linemen (also including Jashon Cornell) who are all expected to see regular playing time this year, it's likely that at least one of them will be a team captain. Cooper, who demonstrates both the maturity and the personality to be a natural captain, is the odds-on favorite, but Landers and Hamilton – both fifth-year senior nose tackles – are also likely to warrant consideration. 
Landers, who has been a staple in the nose tackle rotation since his redshirt freshman year, is perhaps the biggest personality on the entire team, which makes him a player teammates gravitate around. Hamilton is less flashy both on and off the field, but he's quietly become one of the team's most respected players and one who should be looked up to as a leader this season.
K.J. Hill, WR
Austin Mack, WR
Like on the defensive line, Ohio State has four seniors at the wide receiver position, so there's a good chance at least one of them will be a captain. None of this year's senior receivers (also including Binjimen Victor and C.J. Saunders) have emerged yet as the revered leaders that Parris Campbell, Terry McLaurin and Johnnie Dixon were for the past couple years, but Hill and Mack both appear capable of filling at least some of that leadership void.
Hill, a fifth-year senior who decided to stay at Ohio State for one more year to have the opportunity to lead the wide receiver room, is the likely frontrunner, but Mack also exhibits the qualities of a captain. Hill has been one of the Buckeyes' most consistently reliable players for the past two seasons, so it's easy to see why he'd get the nod. Mack hasn't been quite as productive on the field, but he's become a respected player nonetheless all the while demonstrating leadership off the field as the president of Redefining Athletic Standards, a student organization for black male student-athletes at Ohio State.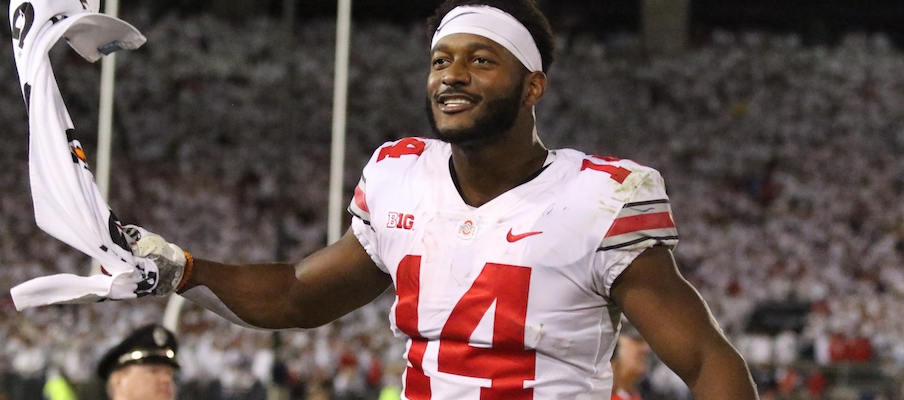 Damon Arnette, CB
Arnette hasn't always been a player who appeared to be on a track toward becoming a future captain at Ohio State, but he just might be right now. Several Buckeyes, including Fuller and Shaun Wade, have specifically named Arnette when asked this offseason who else is stepping up as a leader on defense – and the players are the ones who ultimately vote for the captains.
New Ohio State secondary coach and co-defensive coordinator Jeff Hafley praised Arnette earlier this summer, describing him as someone who has "given everything that he has had," and Arnette has also been one of Ohio State's most visible players in the community this offseason, making multiple speaking appearances at local schools. The fifth-year senior cornerback is also one of the most experienced players on the team as he enters his third season as a starter in the Buckeyes' secondary.
Others to Watch
Chase Young, DE
J.K. Dobbins, RB
As perhaps the two most established stars on the roster, Young and Dobbins have to be considered as potential captains. Both are juniors who are likely entering their final seasons at Ohio State, as they are both prime candidates to enter the 2020 NFL draft, and they are both players who certainly command respect not only from their teammates but throughout the Big Ten and the rest of the nation. Whether they are captains or not, both will be expected to be key team leaders in 2019.
Luke Farrell, TE
Farrell isn't the most veteran player in the tight end room – that's fifth-year senior Rashod Berry – but Farrell has nonetheless emerged as a leader of his position group and perhaps, a candidate for captaincy in his redshirt junior season. He served as one of the offensive captains for the spring game, along with K.J. Hill, and has established himself as a reliable blocker and pass-catcher who sets a strong example for the rest of the Buckeyes' tight ends.
Thayer Munford, OT
Branden Bowen, OL
Ohio State has had at least one offensive lineman serve as a captain in each of the past four years, so there's reason to believe a captain could emerge from the big bodies up front once again. Munford, as the only returning starter on the offensive line, is the obvious candidate. Bowen, a fifth-year senior who is competing to be the Buckeyes' starting right tackle, could also be a dark-horse candidate for captaincy, as he appeared to take on a leadership role with the offensive line this spring while Munford was sidelined by injury.
Malik Harrison, LB
Pete Werner, LB
Borland's presence as a returning captain probably makes it less likely that any other linebacker will be a captain, but Harrison and Werner could each potentially fit the bill for captaincy, as well. Both are returning starters from last season; Harrison is a senior who has established himself as Ohio State's most productive linebacker, while Werner was a favorite of Meyer who has continued to make a strong impression on his new coaches – particularly co-defensive coordinator Greg Mattison, who said Werner "had a really, really good spring" – heading into his junior year.
Brendon White, Bullet
White has been splitting time with both the linebackers and safeties since being selected to play the new Bullet position in Ohio State's defense this spring, but while he isn't spending all of his time in a singular position room, he is positioned to be a leader for the defense as a whole. He's a confident and intelligent player with a strong presence, so it wouldn't be a shock to see the junior end up among Ohio State's captains this season. 
Liam McCullough, LS
Specialists aren't usually common choices to be captains, but if Ohio State considers going down that road, McCullough would fit the bill. The fifth-year senior is entering his fourth year as the Buckeyes' starting long snapper, and he's as personable and outgoing as any player on the team. He's also been a top performer for the Buckeyes off the field, earning Big Ten Distinguished Scholar recognition and taking advantage of several internship opportunities with an eye toward a post-football career in finance.