As Ohio State went through what should have been his final round of spring practices as a Buckeye, Jordan Fuller wasn't able to practice with his team.
The senior safety sat out spring practices after undergoing offseason surgery, relegating him to rehab work and watching from the sidelines while his teammates went through their first 15 practice sessions of 2019. That wasn't easy for Fuller, who wanted to be on the field with his teammates as much as anyone.
"It was definitely tough sitting out this spring," Fuller said during an interview Friday following Ohio State's job fair. "Especially me, because I love football, I love competing. And I love being out there with my DBs and stuff, just getting hyped, having fun."
Fuller still did his best to stay engaged with the team, though, despite being unable to physically practice. He went through daily rehab to work toward getting healthy while continuing to attend meetings and watch as much film as he usually would.
"I was in at like 6 a.m. every day just trying to get my stuff right," Fuller said. "Getting stronger, getting healthier by the day."
Now that the Buckeyes are going through summer workouts and getting closer to the run-up to the season, Fuller is confident he'll be ready to go when preseason camp begins. He wouldn't disclose exactly what his injury was, but estimated that he is "92" percent healthy and said he has been able to do most of what his teammates are doing in offseason strength and conditioning drills.
"I'm basically doing everything but just at a lower capacity," Fuller said. "The stuff I don't do, I'm making it up with like an hour-and-a-half rehab."
It's important for Fuller to be back on the field with the Buckeyes in preseason camp because he's expected to play a crucial role on Ohio State's defense once again. Entering his third year as a starting safety for the Buckeyes, Fuller is a returning team captain and was the Buckeyes' most consistently reliable player in the secondary last year.
While it's unclear exactly how the back end of Ohio State's defense will look under new co-defensive coordinators Jeff Hafley and Greg Mattison, the Buckeyes often deployed single-high safeties during spring practice. While Isaiah Pryor and Josh Proctor took most of the reps at that spot this spring, with Brendon White also mixing in, Fuller should step right into that role once he's a full participant in practice again.
Even though Hafley hasn't yet been able to coach Fuller as a participant in practice, the Buckeyes' new secondary coach and co-defensive coordinator is excited by what he's seen from the veteran safety so far.
"He is able to do some stuff at half-speed, but he looks good doing it," Hafley said. "Great kid. You guys probably know him better than I do right now. But from meeting with him, what a super human being who does so much more than just play football."
Fuller could have opted to enter the 2019 NFL draft after last season, but he chose to stay at Ohio State for his senior season instead. Fuller said last December that he felt like he "just played OK" in his junior season, citing that he did not make the "game-changing plays" he felt he was capable of making.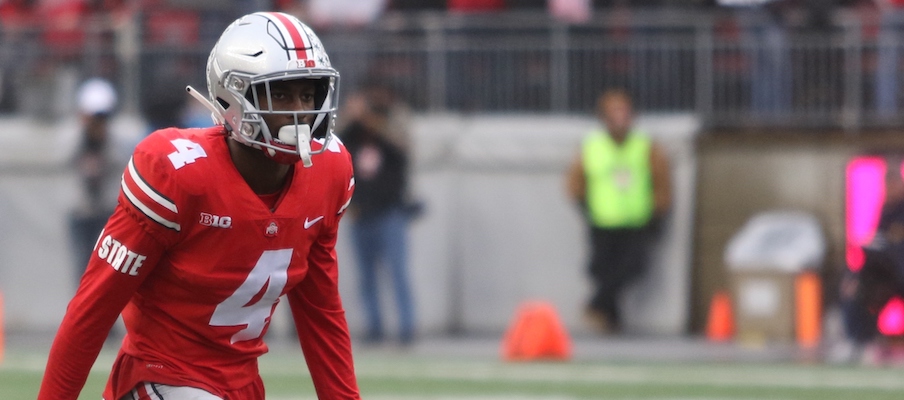 Staying at Ohio State also gives Fuller, an Academic All-American for each of the past two years, an opportunity to work toward completing his degree and take advantage of the opportunities available through Ohio State's Real Life Wednesdays program. A marketing major, Fuller has been working as a sports law intern this summer for Porter Wright Morris & Arthur LLP, a Columbus-based law firm. He also had a shadowing opportunity at the NFL Players' Association last summer alongside Ohio State wide receiver C.J. Saunders.
As he enters his final season as a Buckeye, Fuller is trying to make sure he takes advantage of those opportunities while he still can.
"I definitely try to make the most of my experience here," Fuller said.
Fuller said the past three years at Ohio State have "really flew by," so he's still grasping the fact that he is a senior now. Knowing that it his final season as a Buckeye, though, makes him as motivated as ever to perform at his best this season and do his part to help his team compete for a championship.
"I've always worked hard, but I mean, everything just means a little more," Fuller said of being a senior. "Just knowing it's my last year, last ride, I'm giving it everything I've got."