Throughout each year, the same trope frequently pops up.
"Recruit more Ohio kids."
All of Ohio State's head coaches have heard that message in various forms, and all of them – including Ryan Day – have made sure to publicly say they prioritize Ohio on the recruiting trail. There's no reason not to make that a message to both the fan base and high schools in the state, even though the program's recruiting has trended toward a national focus since Urban Meyer was hired.
In recent years the Buckeyes have recruited the top players in Ohio, targeted highly regarded out-of-state prospects and filled out the rest of their classes with lower-ranked Ohioans. Day has continued that strategy. Four of Ohio State's eight 2020 commitments from three-star prospects – Joe Royer, Ty Hamilton, Jakob James and Trey Leroux – are Ohio natives. 
Sometimes targeting three-star Ohio prospects works out – Pat Elflein, Malik Harrison, Darron Lee and Chris Worley say hello – and sometimes it doesn't. After four years, it's fair to say the late additions of Pickerington's Davon Hamilton and Dayton's Robert Landers panned out just fine for the Buckeyes. 
The two fifth-year senior nose tackles have played in a combined 79 games, both taking the field for key snaps since being underclassmen. They have combined to pick up 89 tackles, 28 tackles for loss and three sacks in their careers. Landers started 11 games last season, and Hamilton started the other three games due to an injury to his counterpart. 
"The guy is an absolute beast. He goes really hard. He has matured into a great player. You will feel him this year, for sure."– Jonathon Cooper on Davon Hamilton
As they head into preseason camp, which could begin as soon as next week, Landers might have an edge on the starting spot since he held it when healthy in 2018. But based on comments made by Day at Big Ten media days last week, Ohio State's coaching staff has had its eye on Hamilton.
"The one guy who I think has had a tremendous offseason and we're looking for big things from is Davon Hamilton," Day said. "He's really changed his body and had a great offseason. I think he has a chance to change the line of scrimmage for us up front."
Listed at 6-foot-4, 310 pounds, Hamilton offers a stark contrast to Landers, an undersized nose tackle in terms of both his height and weight who gets by with his quickness and leverage.
Hamilton has provided Larry Johnson with more of a traditional 1-technique who takes up blockers, is hard to move and opens up lanes for linebackers to make plays. With a change in his body, he could become more of a threat to get penetration up the middle this fall.
"The guy is an absolute beast," Jonathon Cooper said last week. "He goes really hard. He has matured into a great player. You will feel him this year, for sure."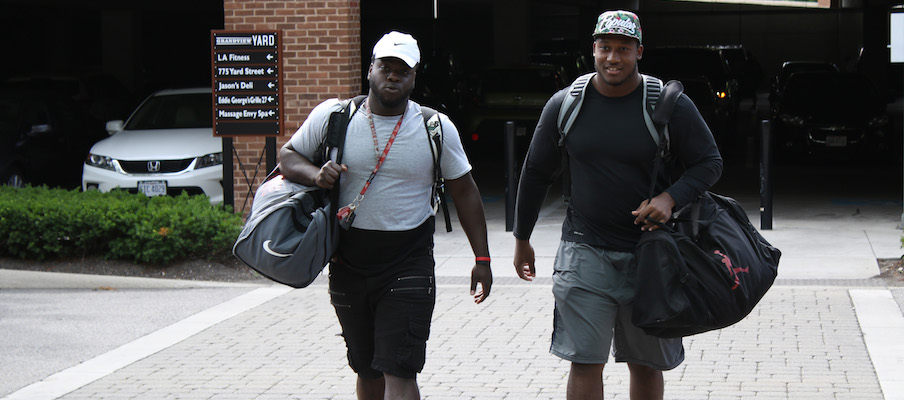 The often overlooked Hamilton pairs well with ever-gregarious Landers, who is expected to finally be healthy after battling injuries both last season and this spring.
Landers popped up on a couple analysts' early NFL draft lists last summer due to his potential up the middle, but his injuries hindered his performance. Provided he remains fully healthy, he has a chance to play at his highest level yet as a Buckeye.
"He's great. He's a character," Cooper said. "But he goes extremely hard and he's a leader. I rely on him for a lot of things. He is like an older brother to me. It's fun playing with him."
Based on how Johnson prefers to rotate his defensive linemen, whichever player starts doesn't automatically lead to a notable edge in snaps played. Both Landers and Hamilton will be on the field for significant portions of games this fall.
They'll also compete for playing time with Tommy Togiai, a second-year nose tackle who was the third-ranked defense tackle in his class, well above Landers and Hamilton, both of whom ranked outside of the top 25 at their position. Togiai, regarded as the strongest player on the team by a wide margin, made a strong impression in 114 snaps as a freshman. 
Togiai is likely in line for a bump in playing time. The steep jump in snaps, though, won't come until 2020 when he likely steps into a starting role. For one more year, he'll have Landers and Hamilton atop the depth chart.
"Having BB and Davon ahead of me, coaching me, it's just like extra coaches," Togiai said this spring. "So I use that to benefit me in ways. Even after coach J's done, I'll go to them, ask them if they have any tips for me after."
Hamilton and Landers have been around the program long enough to have plenty of advice for Togiai, but at one point they seemed to be headed elsewhere. 
Hamilton, the No. 998 overall prospect and 46th-ranked Ohioan in 2015, decommitted from Ohio, Pittsburgh and Kentucky before finally committing to Ohio State in January 2015. Landers, the No. 481 overall prospect and 26th-ranked Ohioan in 2015, ended a two-month commitment to West Virginia by flipping to Ohio State two months before National Signing Day.
In 2014, they were two of the many three-star Ohio prospects headed out of the state to play football.
Nearly five years later, the fifth-year seniors are Ohio State's two top nose tackles.