Once upon a time, Ohio State's coaching staff used to draft teams for its annual spring football game.
The Buckeyes have since eschewed that practice in favor of matching up the first-team offense against the first-team defense, just as they typically do in practice, but what if they were to play an actual competitive game between players on this year's roster?
As we look ahead to the upcoming Ohio State football season, Eleven Warriors' Dan Hope and Colin Hass-Hill decided to participate in that exercise, drafting players at each position on offense and defense to form 22-man rosters that could hypothetically go against one another, with the goal of ultimately forming the best possible lineups.
We've drafted those rosters, and now, we break down our draft picks for you before giving you a chance to weigh in on whose team would win each game.
Colin won the pre-draft coin flip for the No. 1 overall pick, so he got the first selection while the rest of the draft follows a snake format, with each writer making consecutive picks to reflect the draft order reversing each round.
Each writer was required to draft one quarterback, five skill-position players and five offensive linemen on offense, and to draft four defensive linemen, three linebackers and four defensive backs on defense. At the selector's discretion, players could be moved between positions they could realistically play (for example, Shaun Wade could be drafted to play either cornerback or safety), but selectors were not allowed to stack players at one position (for example, drafting both Justin Fields and Gunnar Hoak at quarterback) for the sole purpose of sabotaging the other writer's team.
Because both writers took positional depth into consideration in strategically making their picks, the draft order should not simply be viewed as a ranking of players on the team; some players moved up the board because of the perceived drop-off between them and their backup, while other players fell down the board because of the perceived strength of their backup.
The draft picks were solely intended to construct the best possible lineups for the 2019 season, and not intended to reflect the potential long-term value of drafting younger players with more remaining years of eligibility. Additionally, the lineups are only intended to reflect each player's contributions on offense or defense; special teams players were not drafted.
With all of that in mind, it's time to break down the draft and how the lineups could stack up. The analysis for each pick was written by the writer who drafted each player.
The Draft
1. Colin: Justin Fields, QB
No, Fields hasn't been named the starter. No, he has never started a game. No, he's not expected to be a top-five pick in the 2020 NFL draft. But yes, this was an easy pick. Had I opted to use my first overall selection to draft Chase Young, the only other player remotely in consideration, Dan undoubtedly would have used the second pick on Fields, forcing me to wait until one of my final picks to snag Gunnar Hoak. Fields is a dual-threat quarterback with an arm that won him the 2018 Elite 11 and helped make him the No. 2 overall recruit in his class. He immediately becomes my team's building block.
2. Dan: Chase Young, DE
3. Dan: Thayer Munford, LT
Young would likely be the first player drafted by an NFL team from Ohio State's roster right now, which is the same reason he's the first player drafted after Fields here. He has a strong case for being the Buckeyes' best player regardless of position, and he gives his team a potentially dominant pass-rusher who can wreak havoc off the edge.
Munford gets the nod as the third overall pick because of the importance of the position he plays and the inexperience of the rest of Ohio State's offensive line roster. Munford is the only returning starter on the Buckeyes' offensive line, and left tackle is as crucial as any position on the field outside of quarterback, making Munford one of the team's most indispensable players this season.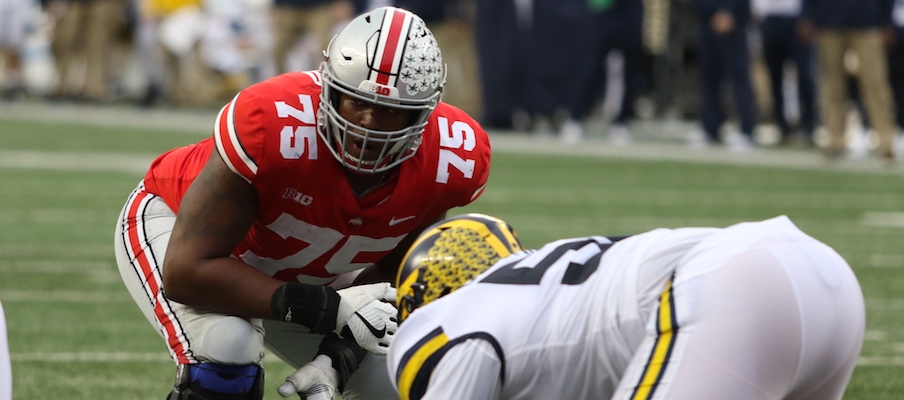 4. Colin: Jordan Fuller, S
5. Colin: J.K. Dobbins, RB
Fuller has two years of starting experience, and even though he didn't make as many game-changing plays as he hoped last season, he's one of the steadiest players on a defense that had a rocky 2018 season. Putting him at free safety as the deepest player in the secondary gives my team's defense a solid anchor. If Fuller can take the next step as a player by increasing his forced turnovers, he'd be even more effective on the back end.
Selecting Dobbins with the fifth pick gives me Ohio State's starting quarterback and running back, a backfield duo Dan can't top. Dobbins took a step back as a sophomore after averaging 7.2 yards per carry as a freshman, but he's undeniably the top back on the roster and one of the best in the Big Ten. I couldn't let Dobbins slip any further in the draft.
6. Dan: Jeffrey Okudah, CB
7. Dan: K.J. Hill, WR
Okudah appears to be on the verge of becoming a dominant cornerback in Ohio State's secondary, which could make him one of the Buckeyes' most valuable players this season (and one of their top NFL draft picks in the next two years). With Fields manning Colin's offense, my team's pass defense will need to be strong, and Okudah locking down one side of the field would go a long way.
I contemplated drafting another offensive lineman with the seventh overall pick, but ultimately decided I could not pass upon the reliability of Hill. His ability to move the chains in the short to intermediate passing game makes him a valuable weapon for any quarterback, and he's one of the Buckeyes' surest bets to have a productive 2019 season, while he is also expected to be one of the team's top leaders.
8. Colin: Malik Harrison, LB
9. Colin: Wyatt Davis, RG
Ohio State's linebackers didn't have a banner 2018 season, but Harrison came on at the end of the season, appearing to go through a minor breakout in a short sample size that featured a dominant performance against Michigan. If the uber-athletic weakside linebacker can perform like he did down the stretch last season with consistency this fall, getting him with the eighth pick in this draft could be a steal.
Even though Davis has just started two career games, he's a top-10 pick in this draft. I opted to make him my first offensive lineman drafted due to his impressive performance in the Big Ten title game and Rose Bowl. Late in the season, he looked every bit the No. 1-ranked guard he was listed as coming out of high school. It also increased Davis' stock that he plays a position without a ton of depth at Ohio State. 
10. Dan: Josh Myers, C
11. Dan: Brendon White, S/LB
Center, like left tackle, is one of the two most pivotal positions on the offensive line, and Myers has the chance to emerge as the Buckeyes' next great at the position. He's never started a game for Ohio State, so drafting him with a top-10 pick is admittedly a bit of a risk, but he appears ready to take a leading role for the Buckeyes up front and has tremendous upside.
White is one of the top playmakers and most versatile players on Ohio State's defense, which made him the most valuable player still on the board at this spot in my opinion. He's expected to line up as both a linebacker and a safety in his new Bullet role on the Buckeyes' defense this fall, but he'll start as a safety in the 4-3 defense for this exercise, though his ability to contribute in a multitude of capacities was a strong consideration in his selection with the 11th pick.
12. Colin: Shaun Wade, CB/S
13. Colin: Tyreke Smith, DE
With so much attention focused on Okudah, Wade has gone slightly under the radar. He'll be my top cover cornerback, though, as my team attempts to lock down Dan's team that features several impact receivers. His experience in the slot could help against K.J. Hill, too.
The Smith pick comes with more risk than any prior selection. I went with him due to his pass-rush potential, and he hasn't even recorded a sack. But seemingly everybody on the team had praise for the second-year defensive end this spring, and he appears poised to take a major leap. Dan already drafted Young, and I didn't want to give him the chance to pair him up with Smith.
14. Dan: Chris Olave, WR
15. Dan: Jonah Jackson, LG
After his breakthrough performances down the stretch of last season, I wouldn't be surprised at all to see Olave emerge as Ohio State's best wide receiver this season. He has demonstrated speed and big-play ability with a natural smoothness to his game, and could quickly establish himself as the Buckeyes' top target on the perimeter.
Jackson, a 16-game starter at Rutgers who arrived this summer is a graduate transfer, is the most experienced offensive lineman on the entire roster and gives my offensive line another strong presence and potential team leader between Munford and Myers.
16. Colin: Damon Arnette, CB
17. Colin: Nicholas Petit-Frere, RT
Had Dan not picked Jackson at No. 15, I would have made him my team's No. 16 pick. With him off the board, I opted for Arnette, who pairs with Wade and Fuller to give me three defensive backs among my first nine selections. Arnette has had the physical traits to be an effective cornerback, but he hasn't yet put the full package together. I'm banking on Jeff Hafley and Matt Barnes turning him into an improved player as a senior.
Petit-Frere was a reach here, but with Dan snapping up three offensive linemen already, I couldn't wait any longer. He had to be the pick. Petit-Frere was the top-ranked offensive tackle in his class two years ago, has plenty of potential despite lacking college experience.
18. Dan: Garrett Wilson, WR
19. Dan: Josh Proctor, S
Drafting a true freshman with the 18th overall pick, with two wide receivers already on my roster and Austin Mack and Binjimen Victor still on the board, is admittedly a somewhat bold play – but I simply couldn't pass upon Wilson's upside at this point in the draft. The five-star recruit had an excellent first spring at Ohio State and has the tools to be an immediate game-changer on the outside, and teaming him with Hill and Olave gives my team's receiving corps tremendous potential.
Proctor could also be viewed as a reach with the 19th overall pick, considering that he's not even currently in line to be a starter for the Buckeyes this year, but he's the best candidate on the roster to play deep safety outside of Fuller. He's coming off a strong spring and offers big upside as a defensive playmaker, and I didn't want to risk missing out on him by waiting any longer to select him.
20. Colin: Austin Mack, WR
21. Colin: Luke Farrell, TE
After waiting on a wide receiver for this long, I decided to pounce by going for Austin Mack. He would have set considerable career highs in all statistical categories last season, but his junior campaign ended prematurely due to injury. Considering Mack hasn't broken out in the way so many have projected throughout his career, he's not a sure thing, but he has always been viewed as a polished receiver. With Fields delivering him the ball, Mack becomes possibly the top wideout in my offense. 
Along with Mack, I went with Farrell, one of the most overlooked players on the team. He's capable of impacting games both as a receiver – he had 20 catches for 205 yards last season – and as a blocker. Tight end at Ohio State is deep, but I valued Farrell's versatility enough to take him at No. 21.
22. Dan: Branden Bowen, RT/G
23. Dan: Robert Landers, DT
Bowen's versatility to play both tackle and guard increases his valuable, and his six starts at Ohio State – all in 2017 – are the second-most among all offensive linemen on the roster behind only Munford. He's still competing with Petit-Frere to be the starting right tackle for Ohio State this season, so that's where he'll start for my team, but he also could have potentially factored in at guard depending upon how the board fell; either way, he adds another veteran with experience and leadership qualities to further solidify the offensive line.
No defensive tackles were selected in the first 22 picks because of the Buckeyes' depth at the position – any of their top six defensive tackles would have been legitimately valid choices in this draft – but Landers' value became too good to pass up at this point. He's the Buckeyes' most experienced and disruptive interior defensive lineman, and will provide leadership to the unit along with Young.
24. Colin: Joshua Alabi, LT
25. Colin: Binjimen Victor, WR
With offensive line depth continuing to dwindle, I made Alabi my starting left tackle with the No. 24 pick. It might be viewed as a bit of a reach since he's unlikely to start for the Buckeyes this fall. But had I not taken him, Dan could have selected him to play right tackle for him, further damaging my offensive line. Alabi has starting experience and should be a serviceable blocker on Fields' blind side.
Victor joins Mack to give Fields a pair of senior wide receivers to target. The duo already connected for a 98-yard touchdown in the spring game, and I'm aiming for them to add to their tally of big plays with this pick.
26. Dan: Taron Vincent, DT
27. Dan: Pete Werner, LB
With Landers in line to play the nose tackle position, Vincent gets the nod to fill the 3-technique defensive tackle position next to him. While it remains uncertain whether Vincent, Jashon Cornell or Haskell Garrett will ultimately start at the position this season, Vincent – a former five-star recruit – offers the highest upside among the group to pick up where Dre'Mont Jones left off.
Werner is the Buckeyes' most clear-cut starting linebacker outside of Harrison, with the expectation that he will start at strongside linebacker, so I viewed him as the most valuable selection for my first pick at linebacker. He had his share of struggles last season, but I believe he is a good football player who will be able to make more plays if the defensive scheme plays to his strengths, and he's the only linebacker on Ohio State's roster with substantial experience playing the Sam position.
28. Colin: Jonathon Cooper, DE
29. Colin: Jaelen Gill, H-Back
Dan snagged Werner one spot before I planned to take him, altering my plans. I opted to go with Cooper to play opposite Smith, giving my team a veteran to pair with a potential breakout underclassman. Cooper, a former near-five-star recruit, has talked about not yet living up to his potential. If he has made significant strides, this would be a value pick. Ohio State has plenty of depth at defensive end, but Cooper is a much safer option than Zach Harrison, Javontae Jean-Baptiste or Tyler Friday, cementing my decision to draft him.
What could Gill look like as a starter? I'm banking on his background as a running back and year of experience learning H-back to make him a playmaker on my offense. Brian Hartline mentioned him as someone who impressed this spring, so I took the plunge and went with the Westerville South graduate.
30. Dan: Zach Harrison, DE
31. Dan: Sevyn Banks, CB
I would have selected Cooper with the 30th pick if Colin didn't draft him in the previous round, but with Cooper off the board, I take my chances on Harrison's upside and pair him up with Young for a defensive end duo with tremendous physical tools. Tyler Friday could start the season ahead of Harrison in the defensive end rotation, but Harrison's explosiveness gives him huge potential as a pass-rusher that was tough to pass up.
With Wade and Arnette both drafted by Colin, Banks is my pick to start opposite Okudah at cornerback. After impressing his coaches with his development during his freshman year, Banks appears likely to be the next man up after the top trio at cornerback – a position where it is crucial to have two strong starters.
32. Colin: Baron Browning, LB
33. Colin: Gavin Cupp, LG
With Harrison and Werner off the board, I went with Browning, who has the ability to play both middle and weakside linebacker positions. He hasn't had a chance to start for the Buckeyes yet, but he was once a five-star prospect who will finally be given an opportunity on my team. Spoiler alert: my later picks force him to play strongside linebacker.
Cupp has floated well below the radar for the first three years of his career, but I'll need him to show the Buckeyes have been missing out by keeping him on the bench. He slots in at left guard on my team, which has an offensive line that doesn't inspire bundles of optimism.
34. Dan: Tuf Borland, LB
35. Dan: Matthew Jones, RG
I held off on drafting a middle linebacker because I was genuinely conflicted between selecting Borland and Teradja Mitchell, but at the 34th overall pick, it was time to end the returning captain's slide down the board. Borland is coming off a rough 2018 season, and could still be beat out by Mitchell or Browning for the starting middle linebacker job, but he was hampered by an Achilles injury last year and is one of the team's top leaders. As long as he is fully healthy, I expect him to play better this year and be one of the Buckeyes' strongest vocal presences.
Jones was the only interior offensive lineman still on the board at this juncture who was recruited as a scholarship player and is not a true freshman, so I drafted him to fill the final open spot in my offensive line at right guard.
36. Colin: Davon Hamilton, DT
37. Colin: Jashon Cornell, DT
I entered the draft with the intention of allowing Dan to pick whichever defensive tackles he preferred, and I stuck to that plan. With Landers and Hamilton at nose tackle and Cornell and Vincent at 3-technique, I viewed them as similar enough players to go with whichever players Dan didn't select.
In Hamilton, my team added a stout run defender who will prove difficult for Dan's offensive line to move. He'll man the interior of the defensive line with Cornell, a converted defensive end who moved back to his original interior position after the 2018 season. If his added speed translates to defensive tackle, he'll impact games with his penetration.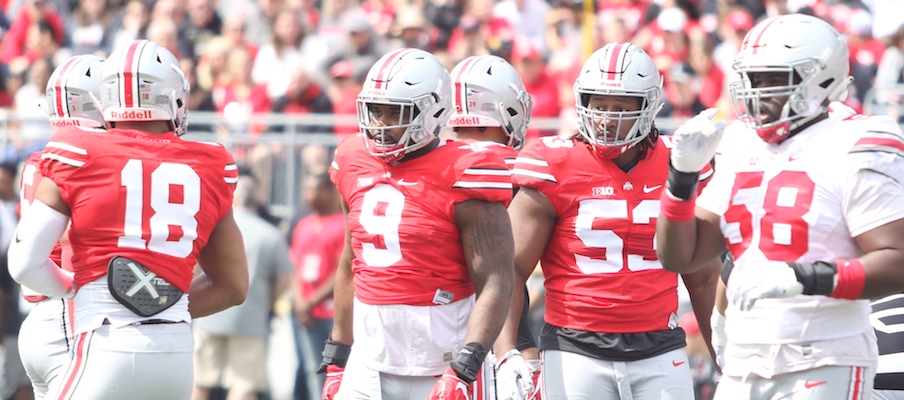 38. Dan: Dallas Gant, LB
39. Dan: Jeremy Ruckert, TE
Gant is a promising young player who is pushing for playing time as a sophomore despite being blocked by Harrison on the depth chart, so he stood out as the best option to fill the open spot in my lineup at weakside linebacker (since Mitchell and Borland are both middle linebackers) and complete my team's defense.
Rashod Berry and Ruckert both warranted consideration to be the tight end on my team's offense, but ultimately, I chose to go with Ruckert because I believe he offers the most potential of any tight end on the roster to emerge as a consistent playmaker in the passing game.
40. Colin: Isaiah Pryor, S
41. Colin: Teradja Mitchell, LB
Had Dan not taken Josh Proctor with the 19th pick, I would have taken him at No. 21. But when he made that selection, I decided to wait to pick my second safety until the end of the draft. Pryor struggled as a starter last season, but he's the top remaining option on the board. He entered Ohio State as a well-regarded recruit, so I'm banking on him reaching his potential at strong safety.
Dan selecting Borland leaves me with Mitchell, Ohio State's middle linebacker of the future and my team's middle linebacker of the present. Maybe no rising sophomore who played so few snaps last year has garnered as much interest as Mitchell, and that includes from both the coaching staff and fans. Al Washington talked up the second-year linebacker, who appears physically ready to begin making an impact on defense. He'll get a chance at middle linebacker on my team.
42. Dan: Master Teague, RB
43. Dan: Gunnar Hoak, QB
Demario McCall is another tempting option at the running back position because of his big-play ability, but I chose Teague because I believe he is more well-equipped to take on the between-the-tackles running and blocking responsibilities that are required for an every-down running back. Without Fields, the only true dual-threat quarterback on the roster, it's crucial for the running back on my team's offense to be a strong runner out of the backfield who can carry the load.
Hoak, who was penciled in as my final pick as soon as Colin drafted Fields first, gets the nod here by default as the best quarterback on Ohio State's roster who isn't Fields.
44. Colin: Harry Miller, C
Welp. Nothing like starting a true freshman at center.
I could do worse than to start a first-year player the caliber of Miller, a five-star prospect. He's likely the best option remaining on the board. Still, though, it's never comforting to imagine him protecting Fields, making room for Dobbins and attempting to handle Landers, who has been on the team since 2014, when Miller was a freshman in high school. 
Lineup Comparison
Dan's Team
Position
Colin's Team
OFFENSE
GUNNAR HOAK (43)
QB
JUSTIN FIELDS (1)
MASTER TEAGUE (42)
RB
J.K. DOBBINS (5)
GARRETT WILSON (18)
WR (X)
BINJIMEN VICTOR (25)
CHRIS OLAVE (14)
WR (Z)
AUSTIN MACK (20)
K.J. HILL (7)
WR (H)
JAELEN GILL (29)
JEREMY RUCKERT (39)
TE
LUKE FARRELL (21)
THAYER MUNFORD (3)
LT
JOSHUA ALABI (24)
JONAH JACKSON (15)
LG
GAVIN CUPP (33)
JOSH MYERS (10)
C
HARRY MILLER (44)
MATTHEW JONES (35)
RG
WYATT DAVIS (9)
BRANDEN BOWEN (22)
RT
NICHOLAS PETIT-FRERE (17)
DEFENSE
CHASE YOUNG (2)
DE
TYREKE SMITH (13)
ZACH HARRISON (30)
DE
JONATHON COOPER (28)
TARON VINCENT (26)
DT (3T)
JASHON CORNELL (37)
ROBERT LANDERS (23)
DT (NT)
DAVON HAMILTON (36)
DALLAS GANT (38)
WLB
MALIK HARRISON (8)
TUF BORLAND (34)
MLB
TERADJA MITCHELL (41)
PETE WERNER (27)
SLB
BARON BROWNING (32)
JEFFREY OKUDAH (6)
CB
SHAUN WADE (12)
SEVYN BANKS (31)
CB
DAMON ARNETTE (16)
JOSH PROCTOR (19)
FS
JORDAN FULLER (4)
BRENDON WHITE (11)
SS
ISAIAH PRYOR (40)
The Case for Each Team
Colin
Everything on offense starts with Fields and Dobbins, my pairing of Ohio State's starters who will work together to bring back an offense featuring both a quarterback and running back as threats to run. With an inexperienced offensive line, it's important for Fields and Dobbins to propel the offense.
Surrounding Fields, my team also has Farrell, Mack, Victor and Gill, which should give him enough options to attack Dan's linebackers and defensive backs, which are weaker than his defensive line. Farrell, Dobbins and Gill will work to force Borland and Werner to make plays in space.
On the other side of the ball, Dan's offensive line might give Hoak more time to throw than I'd like, but my experienced defensive backfield and athletic linebackers should make up for that. Wade, Arnette and Fuller all have ample experience, and Harrison might be the best defender on the team not named Chase Young.
Dan
Football is often said to be a game won in the trenches, and I believe that is where my team will have a clear-cut advantage. In Munford, Jackson, Myers and Bowen, my roster includes four of the Buckeyes' top six offensive linemen. On the other side of the ball, Young and Harrison will be a handle to deal with on the edges for Colin's inexperienced offensive line, while Landers and Vincent should both create regular disruption inside.
There's no denying that Colin's team features the more dynamic offensive backfield, but the quartet of Hill, Olave, Wilson and Ruckert should go a long way in helping Hoak make plays in the passing game, while the strong offensive line up front should give Hoak time to make those plays and open up holes for Teague in the running game.
Defensively, it will be necessary to put Borland and Werner in better positions to make plays than Bill Davis and Greg Schiano did last year, but both of them will provide veteran leadership – along with Young and Landers up front and Okudah and White on the back end – while Proctor, Gant and Banks are a trio of talented sophomores who could be on the cusp of breaking through as defensive playmakers.
Cast Your Vote