You know the names.
Chase Young. J.K. Dobbins. K.J. Hill. Jeff Okudah. Garrett Wilson. Justin Fields. The list goes on. All of those players will undoubtedly make significant impacts on the field this fall for Ohio State.
But with the season creeping closer – we're almost two months away from kickoff on Aug. 31 – it's time to focus on a crop of the most overlooked players on the team.
Luke Farrell, Malik Harrison, Jashon Cornell, Binjimen Victor, Davon Hamilton and Jaelen Gill have spent 19 combined years at Ohio State, but they haven't received nearly as much attention as some of their teammates. Farrell doesn't have a flashy game. Harrison's play was overshadowed by the other linebackers. Cornell switched positions. Victor hasn't played with consistency. Hamilton has spent the majority of his career as a backup. Gill redshirted as a freshman and won't start this fall.
Let's dig into why each of them have been overlooked and what we should expect from them in 2019.
Luke Farrell (RS-Jr.)
Urban Meyer once called Jeremy Ruckert the best tight end prospect he has ever seen or recruited. Rashod Berry was singled out by Liam McCullough as the most likely Ohio State player to succeed as a WWE superstar.
Farrell doesn't have that hype or charisma, but he's the most well-rounded tight end on the roster.
If Ryan Day and Kevin Wilson actually intend to at least semi-frequently use multi-tight end sets, Farrell won't come off the field much. He doesn't have the downfield ability of Ruckert, who could situationally play in the slot, but he's a much better blocker than the rising redshirt freshman. And while Berry's physicality lends himself to blocking, he's not as proficient as a pass-catcher as Farrell.
As a redshirt sophomore, Farrell had 20 catches for 205 yards and a touchdown. He likely won't blow those statistics away in 2019, but that's just fine for the Buckeyes, who will put his versatility to work.
Malik Harrison (Sr.)
Two names always arise when discussing linebackers: Tuf Borland and Pete Werner. Will they start this fall? What happened to them last season? Was Borland's play affected by his Achilles injury? If they start in 2019, will they be improved?
Harrison consistently gets lost in the shuffle.
In 2018, he tied for the team lead with 81 tackles and had 8.5 tackles for loss, four pass breakups, three quarterback hurries, 2.5 sacks and an interception. Had he opted to leave for the NFL following the season, he likely could have been drafted in the middle rounds. But he chose to stick around.
Preparing for his senior season, Harrison finds himself as one of the surest starters on a defense that replaced four of its five assistant coaches. He'll slot in as the weakside linebacker on the unit now led by Al Washington. Beside him on the second level? Possibly Borland and Werner, once again.
But regardless of who plays with him, Harrison has an opportunity to develop into a high-round draft pick. He has enough athleticism at 6-foot-3, 240 pounds, that he could have played basketball in college. If Harrison can consistently put together performances like his seven-tackle, one-sack game against Michigan, he could be one of the top linebackers in the Big Ten. His name isn't yet often bandied about in those discussions, though.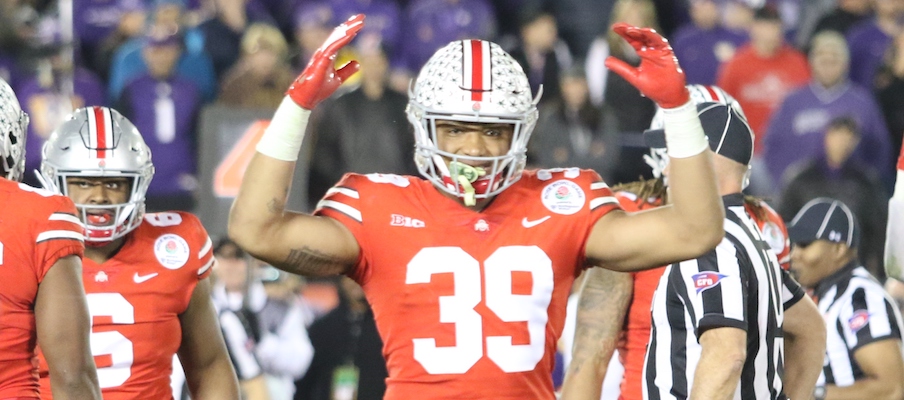 Jashon Cornell (RS-Sr.)
Cornell doesn't lack confidence, at least not now that he's back at his natural position of defensive tackle. 
"They won't see most 3-techs like me because I'm so twitched up and so fast off the line," Cornell said this spring. "It gives me a lot of different things. I can fit the run faster. I can go inside. I can do different types of pass rush. It just helps me a lot more."
No longer will the 6-foot-3, 280-pound Minnesotan rush off the edge. With an influx of young defensive ends, he moved back inside to play defensive tackle for the final year of his career. He didn't have as much effectiveness last year as he'd hope, and there's a chance he takes a late-career leap and becomes an impact 3-technique this fall.
Cornell has had seven tackles for loss and three sacks in his first three years of eligibility, and he believes those numbers will increase this fall.
Binjimen Victor (Sr.)
Early in Victor's career, hype around the Floridian grew – and for good reason. With a lanky 6-foot-4 frame, he stood out, even though it was clear he needed to add weight before earning a significant role.
But as the years passed and he hasn't consistently impacted games, the excitement surrounding Victor waned to the point where he's a relative afterthought in the receiver room right now. He hasn't shown the production of K.J. Hill. Chris Olave and Garrett Wilson, a pair of quick-rising underclassmen, have had plenty of people calling for breakouts this fall. Even Austin Mack has garnered more attention as he has battled back from a foot injury that suddenly ended his junior campaign.
It feels like most people have finally given in to the idea that Victor is who he is, and they've moved on to the shiny new objects in Brian Hartline's room.
But even if that play-to-play consistency doesn't come, Victor can be a weapon, which he showed last year. Ohio State would not have defeated Penn State without his unbelievable 47-yard touchdown with less than seven minutes remaining to cut into a 12-point deficit. He also had a hands-outstretched, diving touchdown catch in the back of the end zone to put away Indiana. Victor reminded everyone of what he can do on a single play with his 98-yard touchdown catch from Fields in the spring game.
Without Parris Campbell, Terry McLaurin and Johnnie Dixon, all of whom ran out of eligibility and headed to the NFL, Ohio State lost a trio capable of game-changing plays. Victor doesn't have their speed, but he has shown an ability to make seismic catches at the right time. 
He might not ever crack 30 receptions in a season for the Buckeyes. But just when you forget about him, he might make the play that alters a game.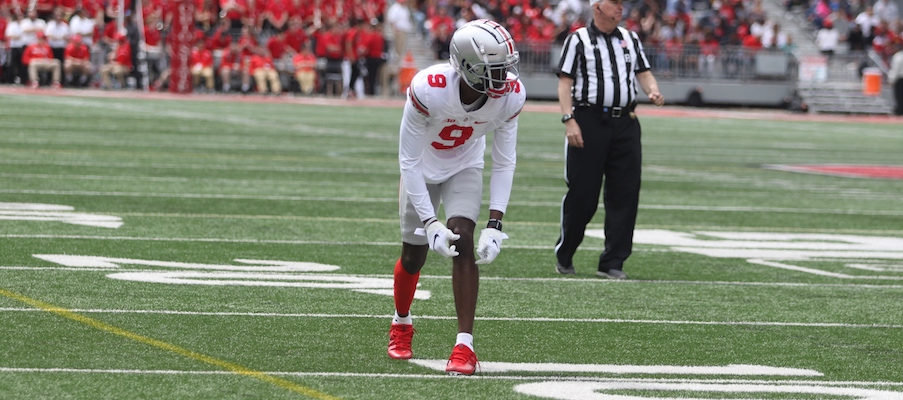 Jaelen Gill (RS-Fr.)
If Gill had his choice, he wouldn't have redshirted last season. Almost no player would prefer to essentially take a season off. 
But with Campbell and Hill ahead of him on the depth chart and the learning curve of changing from running back to H-back, Gill barely played as a freshman. He learned the intricacies of playing wide receiver from Hartline and the pair of veterans ahead of him on the depth chart. 
Finally, the former four-star prospect who teetered on five-star status will get a chance to work his way into Day's gameplans. 
Hill can't play every single snap. He joked about that this spring, saying he'll need to come off the field. And when he does, Gill could emerge as a backup H-back who offers defenses a completely different look. Unlike Hill, who's known for his hands and route-running, Gill has the speed and elusiveness of a running back. He could be used in a spot role similar to how Ohio State employed Campbell. 
Davon Hamilton (RS-Sr.)
How is Hamilton supposed to compete for popularity when the other fifth-year senior at his decidedly un-sexy nose tackle position – Robert Landers – wears cowboy hats before games, wears crop tops, gives out candy to children during spring games, conducted his own press conference to talk about his scoop-and-score, has a permanent smile, dyes his hair pink, calls himself "thick" and might have the most gregarious personality on the team? That's tough luck.
Hamilton has an interesting enough story, too, though.
He attended Pickerington Central and originally committed to Pittsburgh and Kentucky before Ohio State extended an offer to Hamilton, who barely cracked the top-1,000 recruits in his class. Quietly, Hamilton rose on the depth chart, eventually starting three games last season. His younger brother, Ty, committed to play for the Buckeyes on June 16.
Hamilton, similarly to Farrell, won't wow anybody with his play. He's not a pass-rush specialist, and he doesn't have flashy moves. But at 6-foot-4, 310 pounds, he's a classic run-stopping nose tackle with enough penetration skills to have picked up 10.5 career tackles for loss.
Splitting time with Landers and Tommy Togiai, Hamilton's opportunities will have a natural cap on them this season. He likely won't start, pushing him further into the background. Still, he has succeeded in that position before, and he'll have a chance to do so once again this fall.